When consistently refrigerated between 2°C to 3°C (35.6°F to 37.4°F), non-homogenized milk can stay fresh for approximately seven days. Alternatively, if stored in a cool temperature range of 0.6°C to 23.9°C, it can be considered shelf-stable and last up to six months. After opening, properly sealing, and refrigerating the milk can maintain its quality for several weeks.
So, it is necessary to know how long non-homogenized milk last before opening it. Go through this whole article to know more about non-homogenized milk.
Key Takeaways
Once opened, sealing and refrigerating the milk maintains its quality for several weeks.
Refrigeration enhances freshness and longevity, significantly benefiting the milk's safety for consumption.
The extended shelf life of non-homogenized milk is attributed to minimal processing, cream separation, and the absence of homogenization.
Non-homogenized milk suits individual preferences and dietary needs, offering rich nutrition and flavor.
How Long Can You Keep Non-Homogenized Milk?
The duration you can store non-homogenized milk varies from seven days to six months. It basically depends on the specific storage conditions you maintain. Let's explore each storage condition's impact on the milk's shelf life. The storage duration of non-homogenized milk under different conditions:
Optimal Refrigeration: 
When non-homogenized milk is consistently stored at the ideal temperature range of 2°C to 3°C (35.6°F to 37.4°F). Its freshness can be maintained for approximately seven days once opened. 
Refrigeration After Opening: 
If it's properly sealed and kept cold in the refrigerator, an opened non-homogenized milk can retain its quality for several weeks.
Overall, Refrigeration significantly enhances freshness and prolongs the duration for which the milk can be safely consumed. Properly sealing and refrigerating the milk after opening further ensures its quality and longevity.
Why Does Non-Homogenized Milk Last Long?
The extended shelf life of non-homogenized milk compared to homogenized milk can be attributed to several factors:
Less Processing and Minimal Heating
Non-homogenized milk undergoes minimal heating and processing, which maintains the fat globules throughout the product. This limited processing also ensures that while the milk is still pasteurized, it does not carry harmful bacteria.
Cream Separation
Fresh non-homogenized milk, after sitting for a period of 12-24 hours, naturally separates into a cream layer. These creme layers are rich in fat and have a larger lower-fat portion. This cream-top separation contributes to an extended shelf life by helping to preserve the milk.
Absence of Homogenization
Homogenization, a mechanical process used in the production of homogenized milk, disperses fat globules evenly throughout the milk. It enhances the stability and shelf life. 
In contrast, non-homogenized milk is not subjected to homogenization, which allows the cream to separate from the milk.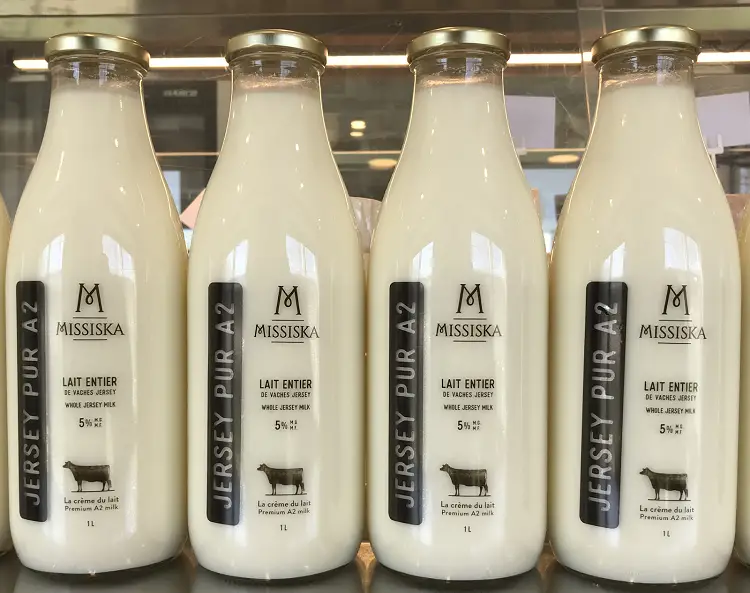 Overall, cream separation, and the absence of homogenization in non-homogenized milk help maintain its freshness over a longer period.
Is Non-Homogenized Milk Better for You?
Generally, the suitability of non-homogenized milk for individuals is contingent on their personal preferences and dietary requirements. Some individuals can favor non-homogenized milk due to its unique characteristics, but some won't.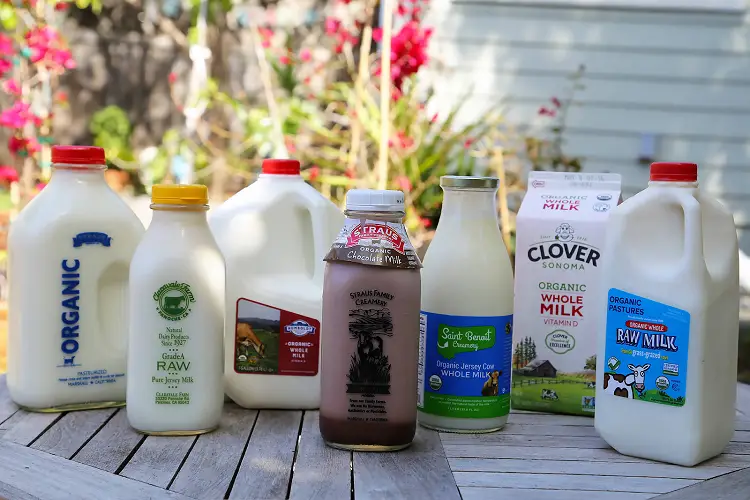 The presence of a cream layer is liked by many people as it rises to the top. Many people choose non-homogenized milk to experience food in its natural state as it avoids excessive processing. 
Flavor-wise, it's believed that non-homogenized milk offers a richer and creamier taste compared to homogenized milk.
From a nutritional perspective, non-homogenized milk provides a valuable source of raw nutrition. Additionally, the protein in non-homogenized milk is often considered more easily digestible than other protein types. 
Due to minimal heating, non-homogenized milk retains its natural state, aligning with the preference for less processing. Ultimately, non-homogenized milk is a safer choice in comparison with homogenized milk.
Why Buy Non-Homogenized Milk?
Non-homogenized milk is milk that hasn't undergone the process of homogenization. Non-homogenized milk has many benefits that make it the best choice for everyone. So here are some reasons why you should choose non-homogenized milk.
Rich nutritional source
Natural taste and texture
Enhance the immune system, alleviate allergies, and offer beneficial bacterial, enzyme, and nutrient content. 
Sweeter and creamier taste
However, non-homogenized milk retains its cream top and nutritional value, appealing to those looking for more natural milk. 
Best Non-Homogenized Milk Brands
Understanding the unique qualities of each brand can assist in making an informed choice based on your preferences and values. Let's know about some common non-homogenized milk brands:
Straus Organic Barista
This brand is customized for professional use and is recognized for its creamy and rich flavor. Designed for baristas and coffee shops, it likely offers a taste and texture that complement espresso-based drinks and beverages requiring high-quality milk.
Lifeline Farm Organic Whole Milk
Lifeline Farm's milk stands out for being both low-temperature pasteurized and biodynamic-certified. The low-temperature pasteurization process aims to preserve the milk's nutritional qualities to a greater extent than traditional high-temperature methods. The biodynamic certification signifies a commitment to sustainable and holistic farming practices.
Darigold
Darigold provides a wide spectrum of milk options, including both organic and non-organic varieties. This versatility caters to diverse consumer preferences, allowing individuals to choose based on factors such as sourcing practices and production methods.
Lewis Road Creamery Organic Non-Homogenized Milk
Recognized for its high quality, this brand is available in multiple countries, including New Zealand, Australia, and the United Kingdom. Its reputation for quality likely stems from factors such as meticulous production standards and sourcing practices.
Kalona SuperNatural Organic Dairy
This brand's emphasis on minimal processing aligns with its commitment to offering non-homogenized milk. The belief that milk should be processed as little as possible is reflected in its philosophy of providing milk. 
It's crucial to consider that the availability of these brands can vary based on your location. To determine which non-homogenized milk brands are accessible in your area, it's advisable to reach out to local grocery stores.
Frequently Asked Questions
Is Non-Homogenized Milk Still Pasteurized?
Yes, non-homogenized milk can undergo pasteurization. Homogenization is an entirely distinct procedure from milk pasteurization. Pasteurization is the process responsible for eradicating bacteria, while homogenization ensures even dispersion of cream and prevents separation.
What Happens If Milk Is Not Homogenized?
If milk is not homogenized, a separate layer occurs after it sits for around 12 to 24 hours. Fresh non-homogenized milk naturally divides into two layers. A lighter, high-fat cream layer often referred to as the "cream top," and a larger, denser layer of low-fat milk beneath it.
Is Non-Homogenized Milk Safe for 1 Year-Old?
Yes, non-homogenized milk is generally considered safe for a one-year-old. Similarly, non-homogenized milk, which undergoes minimal processing, is a favorable choice for children. It provides them with essential nutrients such as calcium, protein, potassium, and vitamin B in their natural form.
Conclusion
Now you know how long does non-homogenized milk last?
Drinking expired non-homogenized milk can potentially lead to health risks. As milk approaches and surpasses its expiration date, harmful bacteria can multiply and cause spoilage. So always try to consume your non-homogenized milk before it gets expired.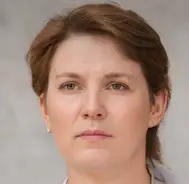 Latest posts by Leah Greenstein
(see all)