Caramel lattes are one of the best ways to refresh your mood. If you're having a stressful day, this recipe is just for you. This ultimate caramel latte will pull you right into a whole new world of taste. Interested? Just hop into this wagon.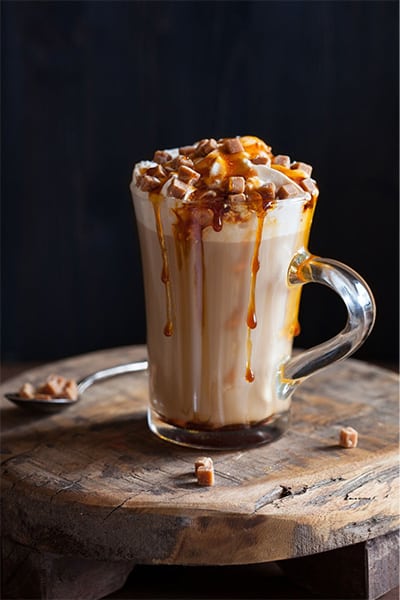 Difficulty Level: Easy
Serving Portion: 1 serving
Preparing Time: 5 minutes
Brewing Time: 15 minutes
Total time: 20 minutes
Nutrition Facts:
1 mug or 250 ml of caramel latte serves you with around 111.1 kCal.
Amount per serving (250 ml)
| | |
| --- | --- |
| Nutrient  | Value |
| Carbohydrate | 15.4 g |
| Sugar | 17.9 g |
| Fiber | 0.6 g |
| Protein | 4.3g |
| Fat | 2.5 g |
| Cholesterol | 9.3 mg |
| | |
| --- | --- |
| Supplemental | Value |
| Calcium | 154.3 mg |
| Potassium | 228.3 mg |
| Sodium | 209.8 mg |
| Vitamin B (Niacin) | 1.2 mg |
| Vitamin B6 | 1.2 mg |
| Vitamin C | 29.6 mg |
The values of nutrients and supplements in the table are approximate.
Required Cooking Equipment
Coffee Machine
French press
Ingredient List
espresso double shot [coffee]
sugar 150 gr 
fresh double cream 200 ml
water 45ml
vanilla extract 5ml
Salt
fresh cream 250 ml
sugar 2 tsp
vanilla extract 5ml 
caramel crystals for decoration 
Directions To Make The Ultimate Caramel Latte
Making a caramel latte is just like making any other coffee drink. You can make it if you can make your regular coffee. We have presented you with a 5-step guide to making the ultimate caramel latte.
Step 1: Making The Caramel
First, take a medium-size saucepan. Put it on medium heat. Add 150 g sugar and 45 ml water. Stir until they are completely dissolved. Simmer the mix for around 8 to 10 minutes until it turns golden brown.
Once the sugar syrup starts to get brown, it rapidly starts to become darker. So be careful not to burn it. Stir simultaneously, so that it can't cluster at the bottom. 
Take 200 ml double cream and slowly pour into the syrup. When adding the cream, stir the mixture continuously until it becomes completely smooth.
Now, add 1 pinch of salt and mix the solution well. Add 1 tbsp. vanilla extract to add essence. Boil it for 4 to 5 minutes and then let it cool on the side.
Step 2: Make The Topping
As the caramel is ready and kept for cooling down, let's start with the topping. Take a medium-sized bowl. Add 250 ml fresh cream, 2 tsp. Sugar and 5 ml vanilla extract. Mix them well with a mixer until they form hard peaks.
Step 3: Making The Coffee And Topping
Now let's start making the coffee. You have to make the coffee stronger than your usual one. So, add one or two extra teaspoons of espresso coffee into the coffee maker.
As the coffee is left to brew, get started on the vanilla syrup. Take a small pot. Fill it with 1 cup water and add ¾ c. sugar to it. Boil it for about 5 minutes. After that, remove it from the stove and let it cool.
Step 4: Preparing The Caramel Latte Milk
Start making froth in the bottom of the french press. Don't lift the plunger above the milk height. Or else, it will form too large bubbles. In this way, we can get smooth milk.
Step 5: Assembly and Final Touch
Now we have prepared all the components of a caramel latte. So, it's time to assemble and decorate.
Start off by adding caramel sauce to the bottom of your mug. You can also pour some caramel on the inner wall of the mug. Next, pour in the smooth milk you've prepared. Then add espresso coffee. Fill vanilla syrup at the top.
You might or might not mix it before serving. However, if you don't mix it, it will stay in layers. In that case, it'll look beautiful but you'll have to mix it before taking a sip.
Finally, add fresh cream to the top of the latte. Pour some caramel on top for garnish.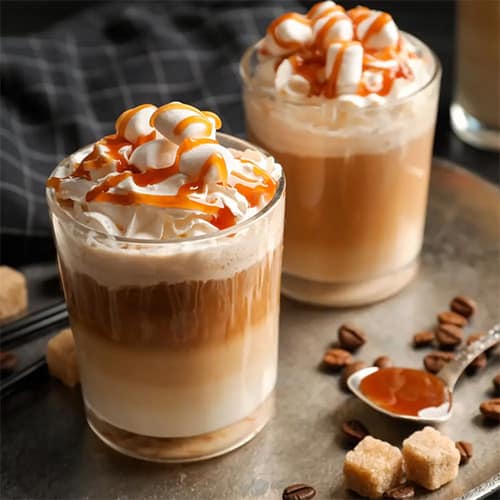 Some Information You Need To Know About Caramel Latte
This is not the only way you can make a caramel latte. The following is some information that you might have wanted to know. 
Is There Any Alternative To French Press?
French Press is a coffee plunger or coffee brewer. In this recipe, we used it to process our milk. If you don't have a French Press, you can use AeroPress and Clever Dripper. These two devices are as good as the French Press. 
Is There Any Way To Make This Lactose Free?
If you want to convert this drink to a lactose-free one, replace the milk with coconut milk. Coconut milk is free from lactose. So, you won't have to worry about it anymore.
Latte or Regular Coffee, Which Is Stronger?
Latte is made from espresso coffee. Espresso and ordinary coffee both have an almost equal amount of caffeine. Although, espresso has a slightly bolder taste than your regular coffee.
Aah! That's the smell of the ideal caramel latte every American dreams of. No day can start better than with a coffee like this. So, how does your one taste? Does it blow your mind? Let us know in the comment section. 
If you have any other ideas regarding caramel latte, feel free to share.
Till then, all the best.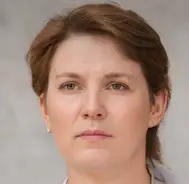 Latest posts by Leah Greenstein
(see all)