Pumpkin pies are one of the most favorite Thanksgiving desserts of all time. If you are a vegan, you'll surely like this recipe. We will guide you to make the perfect pumpkin pie. It may take a little time, but it sure is worth the effort.
So what are you waiting for? Jump right in.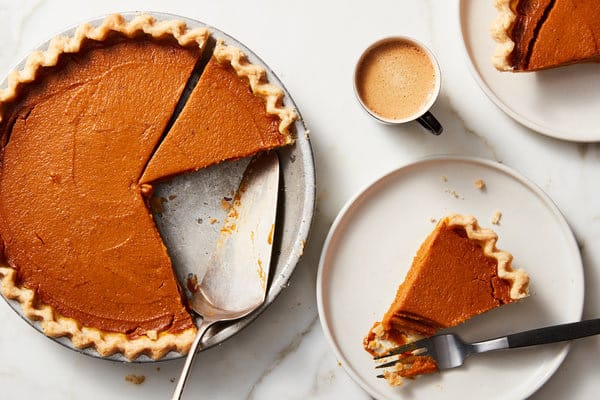 Difficulty Level: Medium
Serving Portion: 8 servings
Preparing Time: 15 minutes
Cooking Time: 3 Hours 30 minutes 
Total time: 3 hours 45 minutes
Nutrition Facts
A pumpkin pie serves you 120 calories per serving.
Amount per serving
| | |
| --- | --- |
| Nutrition | Amount (g) |
| Cholesterol | 0 g |
| Carbohydrate | 25 g |
| Saturated Fat | 0.3 g |
| Total Fat | 1.4 g |
| Protein | 2.8 g |
| Sugar | 12.5 g |
| Fiber | 2.5 g |
| Sodium | 231 mg |
| Calcium | 202 mg |
| Vitamin C | 2.7 mg |
| Beta Carotene | 5,721 mcg |
| Vitamin E | 2.6 mg |
The above nutrients show approximate values. 
Cooking Material
Ingredient List
For The Crust
Cooking spray
1 ½ cup of pecans
⅔ cup of old fashioned oats
3 tbsp. of brown sugar (packed)
¼ tsp. of kitchen salt or kosher salt
3 tbsp. of melted and cooled coconut oil 
For The Filling
1 can (15 ounces) of pumpkin puree
1 cup of coconut milk
¾ cup of brown sugar (packed)
2 tbsp. of cornstarch
1 tsp. of pure vanilla extract 
1 tsp. of ground cinnamon
½ tsp. of kitchen/kosher salt
¼ tsp. ground nutmeg
½ tsp. of ground ginger
For The Topping
1 can (13.5 ounces.) of coconut cream (full-fat), refrigerated overnight
3 tbsp. of powdered sugar 
Pinch of kosher salt
Directions To Make The Perfect Vegan Pumpkin Pie
We have come up with a step-by-step guide to make vegan pumpkin pie easily. If you follow them properly, you'll be done before you even realize it.
Step 1: Preheat The Oven
Take a 9-inch pie plate and grease it with cooking spray. Preheat the oven to 375° F for 15 to 20 minutes.
Step 2: Forming The Crust
Fill pecans, oats, sugar, and in a food processor. Pulse until they are ground coarsely. Pour in coconut oil and pulse again until all the ingredients are well combined. 
Here's a tip. At the time of processing, pulse for 5 to 8 seconds. Rest for 1 second and pulse again. Keep repeating this process until you get the finest grains.
Do this for 4 to 5 minutes and You'll get a perfect dough. You have to press down the mixture to a prepared dish. Make sure, it forms an even layer. Now, fill the crust with dried beans or pie weights and line it with parchment paper. 
Bake it blindly in this way for 15 minutes. After that, remove the weights and the parchment paper. Bake for another 15 minutes.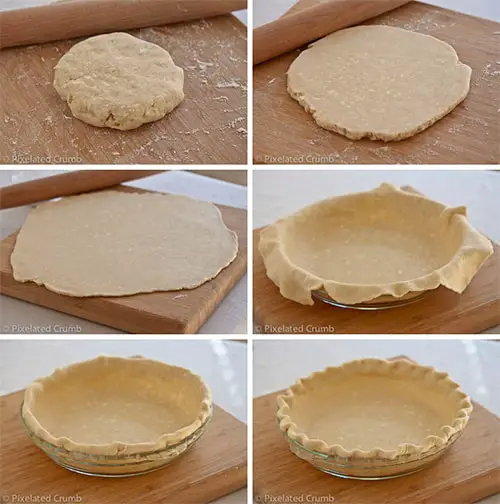 Step 3: Make The Filling
Take a large bowl. Put in pumpkin puree, coconut milk, sugar, and cornstarch. Add 1 tbsp. vanilla extract to add flavor. Put in cinnamon, kosher salt, ginger, and nutmeg. Whisk them together until all the ingredients are well mixed. 
Once the filling is made, pour it over the crust. Bake for 50 to 55 minutes at 375° F until it's slightly jiggly around the center. To test this, you have to open the oven and observe it closely. 
If the crust starts to get too dark, cover it with foil paper. Let it cool down completely for 20 to 30 minutes once it is done.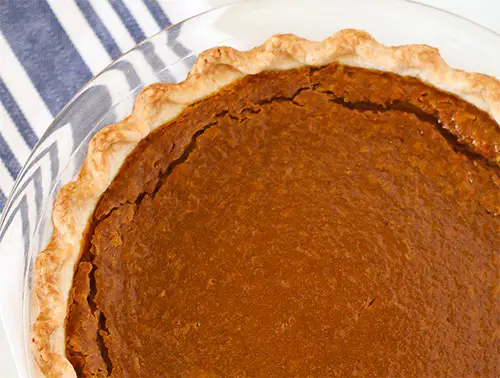 Step 4: Make The Topping
To make the topping, you need coconut cream. So, take a can of coconut cream. Scoop the hardened cream out from it. Put the cream in a large bowl and add powdered sugar and salt together. Beat it until stiff peaks form. Once done, place it on top of the filling.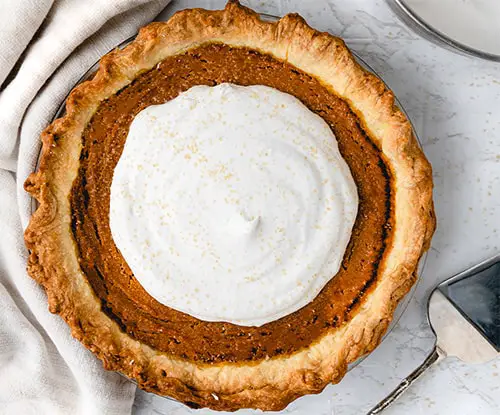 Step 5: Serving The Pumpkin Pie
Pumpkin pies can be served in many ways. As it is a custard-like dessert, you can serve it chilled. The pie holds together better at room temperature or when cold. You can also sprinkle 2-3 chopped almonds on top of the cream.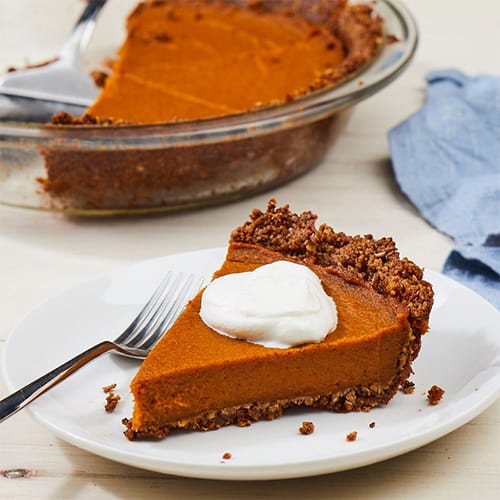 Suggestions For Making The Perfect Vegan Pumpkin Pie
Here are some quick tips you need to know to grade up your pumpkin pie. You can even learn about what to do with the leftovers!
What Pumpkins Are Best For Pies?
In the market, you can find labels like 'sugar pumpkins' or 'pie pumpkins'. These are the generic pumpkins you can use for pies. You can also find them by names such as – Baby Pam, Autumn Gold, Ghost Rider, and New England Pie Pumpkins.
Can Maple Syrup Be A Substitute To Sugar?
Yes, if you don't like sugar, you can use maple syrup instead. You can use 1 c. maple syrup. Boil it to gain thickness. It adds great flavor to the pumpkin pie.
What To Do With Excess Pumpkin Goop?
You can make other delicious meals or snacks using excessive pumpkin goop. For example, you can make french toasts made of pumpkin. It already has milk and spice in it. 
So, just dip bread in the goop and throw it on a skillet. It's a great afternoon snack for sitting and looking around.
So, there you are. This is all you have to know to make vegan pumpkin pies. Call your friends over. Let them taste your delicious thanksgiving dessert.
If you found this recipe of any help, make sure to express yourself in the comment section. If you have any other ideas regarding this recipe, feel free to let us know. 
Till then, all the best.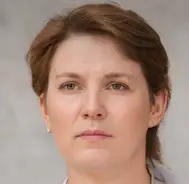 Latest posts by Leah Greenstein
(see all)