Boozy sherbert punches are one of the all-time favorite party drinks. This recipe has been served for years at holiday gatherings.
It's full of fruits, a lot of booze, and just enough sherbert to serve the deal. Its simplicity is what is loved the most. Its fun pop of color makes it look more fascinating.
The most interesting thing is that you can prepare it just before your guests arrive.

Difficulty Level: Easy
Serving Portion: 8 servings
Preparing Time: 15 minutes
Total time: 25 minutes
Nutrition Facts
Amount per serving (235 ml)
| | |
| --- | --- |
| Calories | 177 kcal |
| Carbohydrate | 42 g |
| Protein | 1 g |
| Saturated Fat | 1 g |
| Cholesterol | 1 mg |
| Sodium | 32 mg |
| Potassium | 161 mg |
| Fiber | 1 g |
| Sugar | 37 g |
| Vitamin A | 35 IU |
| Vitamin C | 21 mg |
| Calcium | 40 mg |
| Iron | 1 mg |
The nutrition values are approximate. So, you can't calculate the exact value of nutrients from this table for the punch.
Ingredient List
3 c. ice
1 (2-L) bottle lemon-lime soda
1 (750-mL) bottle Prosecco
1/4 c. grenadine 
2 c. pink lemonade
1 c. pineapple juice
2 c. chopped pineapple
1 c. sliced strawberries
½ c. raspberries
1 qt. Sherbet
1 c. maraschino cherries
Directions To Make The Perfect Boozy Sherbet Punch
Preparing a boozy sherbet punch is the easiest drink to make. You can make it even if you have absolutely zero knowledge about drinks. Follow the steps below, and you will be done within just 15 minutes.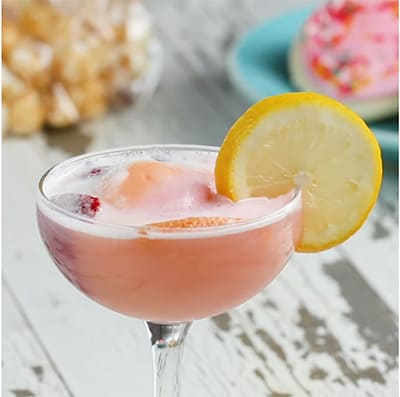 Step 1: Slicing The Fruits
Before the preparation of the drink, we have to prepare the toppings. This will bring a dazzling color to the punch. Here, we are going to slice and chop the following fruits respectively –
1 cup of strawberries
2 cups of pineapple
Make sure that the slices of strawberries are very thin. For instance, it should not be thicker than ½ inch. Chop the pineapples into very small pieces. The pieces should not be more than 1-1.5 cubic inches. You can take a peek at the picture below, to know the ideal size of the fruits.
Once this is done, keep them aside in a bowl. Now, let's prepare the drink.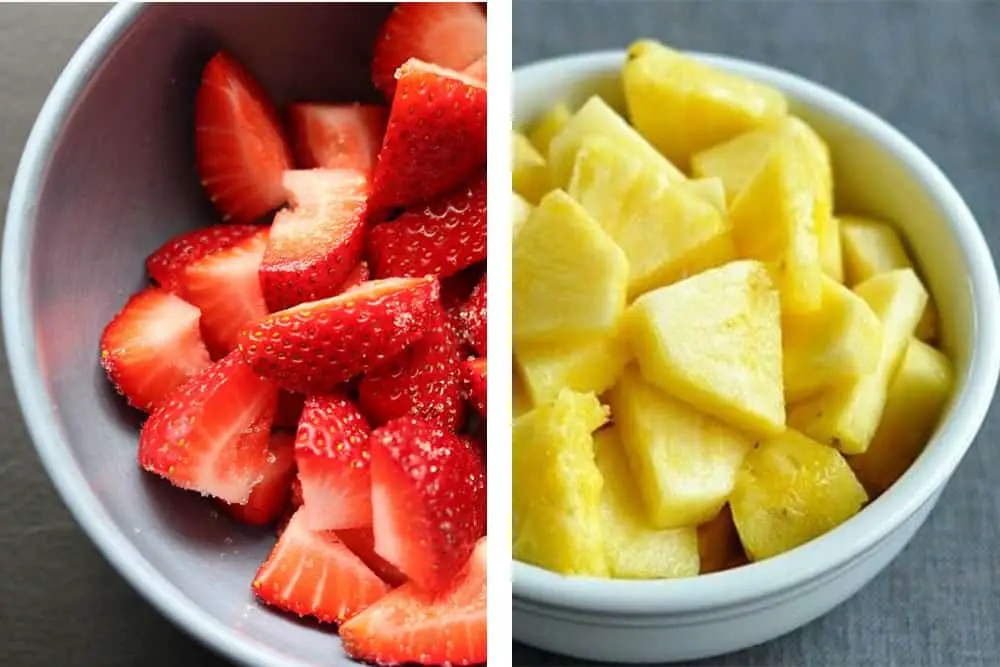 Step 2: Stirring The Liquids
Take a large punch bowl and add the following ingredients –
3 cups of ice
2 liters of lemon-lime soda
750 ml prosecco
¼ cup grenadine
2 cup pink lemonade
1 cup pineapple juice
Stir the above ingredients gently for around 30 seconds. This should create a good combination of fruit juices and soda.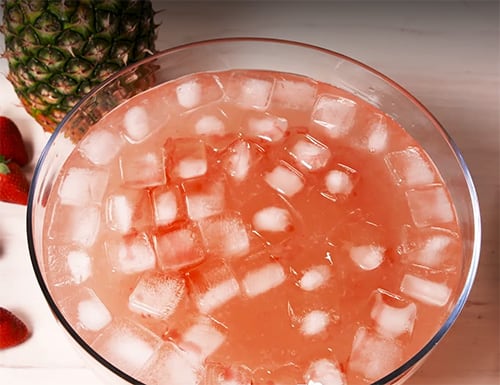 When you're done, go to the final step.
Step 3: Dip The Fruits In
So now you're done with preparing the juice. You have also prepared the toppings. 
So without any further ado, dip the toppings you've sliced before, into the mixture. Also, add ½ cup of raspberries.
At this stage, stir the mixture again.
Now, take 8 scoops of your favorite sherbet and add them to the mixture. It should be about 1 qt.  Adding more sherbet is not advised. It will ruin the taste of the punch.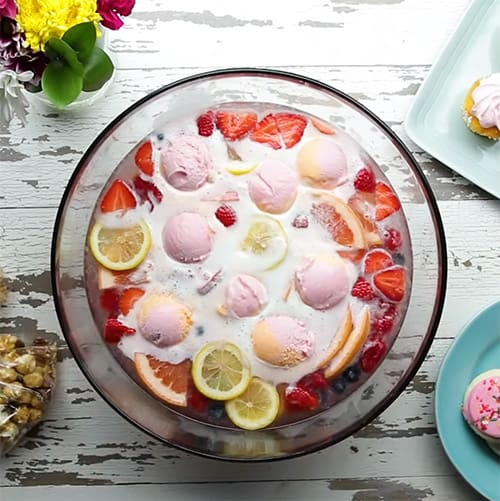 Finally, add 1 cup of maraschino cherries and you are ready to serve.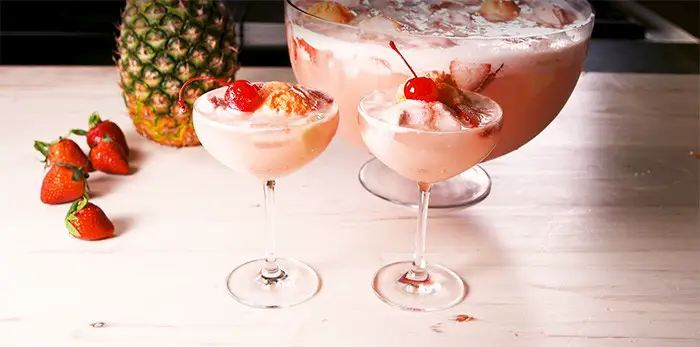 Secret Tips On Upgrading Your Sherbet Punch
Here are some secret tips that can make your boozy sherbet punch better than the others. Just a few little steps, but will come with a significant difference.
Should You Chill The Ingredients?
Always chill every ingredient beforehand. The more you chill the punch, the better it will taste. So keep the fruits, juices, and soda in the refrigerator for at least an hour before you start the recipe.
How Can You Make The Punch More Appealing?
This recipe, when done, comes with a pale pink-orange-ish color. So you might want your drink to have a more desired look. In that case, you can add a few drops of red food coloring to the punch. The red tint will make the drink more enchanting. In short, The redder it is, the more appealing it is.
What To Do If You Don't Like Pineapples?
If you don't like pineapples, you can substitute pineapple juice with grape juice. For sliced pineapples, you can use grapes.
These tips should make a huge difference in making the perfect boozy sherbet punch.
Bravo! Now you know how to prepare our boozy sherbet punch. What are you waiting for? Go ahead and call your friends over. This sherbet punch is going to blow everyone's mind. 
If you are happy with our recipe, feel free to share it in the comment section. Similarly, if you have better ideas, don't hesitate to share your opinion. We will be eager to know.
Till then, all the best.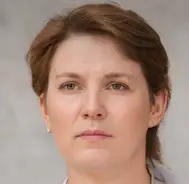 Latest posts by Leah Greenstein
(see all)