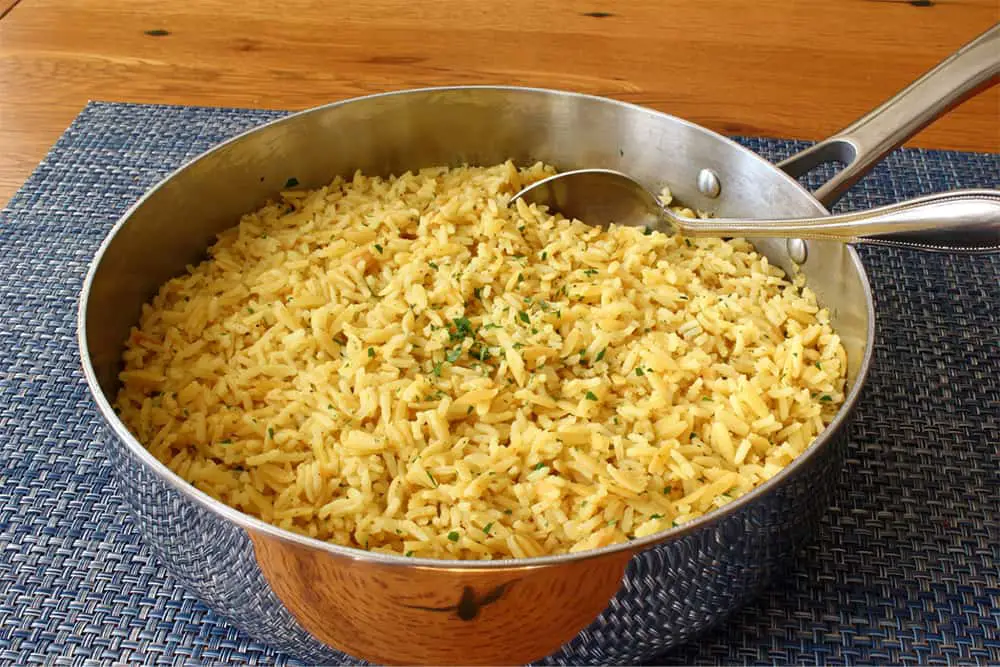 You made your favorite rice a roni but it's all mushed up. What a bummer! But hey you can surely turn this situation around quickly. 
So, how to make rice a roni not mushy? 
Well, first of all, you can easily drain the excess water and reheat the rice. Then you can even microwave the mushy rice. This will get rid of the excess water and dry up the rice. Next, you can refrigerate the rice a roni. This way you can remove the excess water within the rice too. Just make sure to microwave afterward. 
Now, this much info will never help you with your rice a roni. Hence, we have mentioned what causes the mushy rice, and how to solve it. 
Plus we have also discussed how to repurpose and cook rice a roni perfectly. 
So, let's get started! 
Is Your Rice a Roni Really Mushy?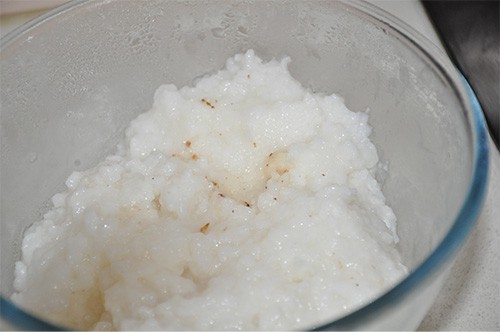 Now, before anything, it's necessary to do a little bit of investigation. By that, we mean understanding the condition of the rice a roni. 
Is it really mushy or not? 
To determine this, you should know how mushy rice a roni looks and feels. First of all, you'll see there's too much water. Moreover, it'll feel squishy and gooey. 
So, if your rice a roni is like that, be 100% sure it's mushy. 
Why Is Rice a Roni Mushy? 
Now that you know your rice a roni is mushy, let's find out the reasons. Why is that important? Well, so you can avoid this from happening again. 
Now, there are mainly 3 reasons why rice a roni can get mushy- 
Too Much Water 
The most common cause is excess use of water. To make proper rice o roni, you'll need to use a specific amount of water.
Most of the time, you might allow the water to completely boil down into your rice. And when you've added too much water, this task will obviously take more time. 
Within that time, you'll notice your rice has gone all mushy. 
Heat Issues 
The texture of rice will be impacted if you put the flame up too high. It's necessary to boil the rice at medium heat. 
This way the water will be on a good simmer level. This ensures bubbling at a mild rate. Because full rolling water can definitely make the rice mushy. 
Incorrect Pot Size
Yup, a wrong pot can also be a problem. How so? 
Rice needs to be cooked in a large skillet. Because the rice grains stay separated that way. So, you'll not end up with mushy, gooey rice a roni. 
In conclusion, cooking your rice in a small pot is forbidden. Because that type of pot is the wrong pot!
How to Fix Mushy Rice a Roni? [3 Easy Ways]
Done with reading the reasons? Let's look at the methods to fix the mushy rice, shall we? 
Well, there are 3 main options in your hand. These are all easy and don't take too much time. However, they still differ from each other a little. 
Hence, here's a preview before getting into the details- 
| | | |
| --- | --- | --- |
| Method | Good Side  | Bad Side  |
| Drain and heat  | The immediate solution. Can be done before too much damage, easy. | Rice can get too dry and burn with improper heat, which can be time-consuming. |
| Microwave | Easy, effective, and fast | Too much heat can cause the rice to get dryer |
| Refrigeration and heat | Effective  | Time-consuming, rice can dry up  |
So, you see? 
Different methods have different results.
Method 1: Drain & Heat
The first option is quite simple. This might actually be your first thought when you see your rice getting mushy. Because you can immediately fix your mushy rice even while it's in the cooking process.
So, how to fix the mushiness this way? 
Drain the Excess Water
First, turn off the heat and grab a fine mesh. You can use a colander as well. 
Grab the pot of rice and drain the excess water using the tool. This will take you a minute or so. But make sure all the water is gone. 
If your rice isn't too mushy, it can be saved because of just draining. But if it's gooey, you have to heat it again. 
Pour Cold Water 
When you consider heating the rice again, remember to wash it with cold water. This way you'll prevent the rice from sticking together.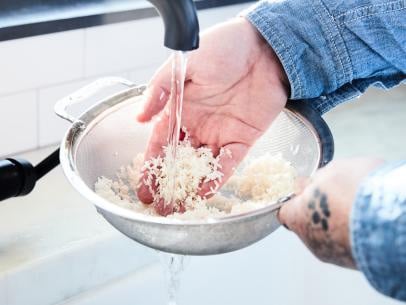 To do so-
Just pour cold water and use your fingers to unstick the rice grains. This should take 1 or 2 minutes. 
Heat the Cold Rice 
Once you're done, it's time to heat up the rice again. Remember, this is only applicable if the rice is cold and still soggy. Otherwise, you can start using the rice after draining. 
You can heat your rice on the stove at medium or low heat for about 5-8 minutes. Don't stir while you're heating it. That'll only make things worse. 
So, that's how you easily fix your mushy rice a roni without the help of an oven!
Method 2: Microwave for Easy Fix 
Don't have much time on your hand? 
Well, relax you only need 3 minutes to turn this mushiness around! Because you have your oven to the rescue. Microwaving is always a good way to heat up food. For example-
Baked potatoes need refrigeration or they'll go bad. To avoid that, you can easily reheat the refrigerated baked potatoes in your microwave. The same can be said for soggy rice!
Microwaving your soggy rice a roni can easily make it not mushy. How to do it? 
It's quite simple! Take your small or medium baking tray. Place parchment paper on it. Don't have it with you? No worries! A baking sheet is an excellent alternative. 
But for better results, do get yourself a parchment paper. To help you out, here are some of our suggestions- 
If You Care Parchment Baking Paper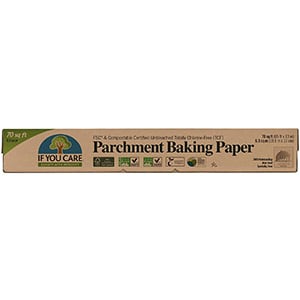 SMARTAKE 120 Pcs Parchment Paper Baking Sheets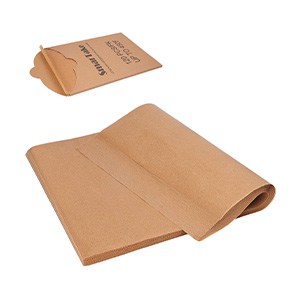 These will surely help you in the long run! 
Placed the paper?
Now, spread your mushy rice on it. Make sure the layer of rice is thin and even. Because that way you'll get crispy rice easily. 
Once finished, place the tray inside your oven. Microwave the rice for 2-3 minutes. Within that time period, all the excess water will evaporate leaving you with crispy rice! 
Method 3: Refrigerate & Reheat
This method will surely help you as well. Refrigerating the mushy rice can help you cool it down. This way you'll avoid it from getting extra mushy. 
So, again take the baking tray. Place your baking sheet on this and spread the rice evenly. Now, here's a catch- 
You have to cover up the rice before putting it into the refrigerator. Otherwise, the rice can dry up, smell different/bad, and even get contaminated. 
So, cover the rice with parchment paper or another baking sheet. Then place it in your fridge for 30 minutes. 
Once it's all cooled down, reheat it in the oven or on the stove. Just make sure you don't burn it! 
Understood the instructions? 
Well, these are some ways to restore your rice a roni.
What To Do with Mushy Rice A Roni?
Now, unfortunately, not everything can be fixed. Because sometimes you can be just too late to save your precious food. It's a great bummer!
But you can surely restore a mushy rice a roni. You only have to repurpose it somehow! The repurposing process is just as easy as turning marinara sauce into pizza sauce.
How can you repurpose mushy rice? 
Well, you can create four dishes with it. We have compared the two for you so you decide which to try- 
| | | |
| --- | --- | --- |
| Name of the Dish  | Positive Side | Negative Side  |
| Fried rice  | Easy, quick, and healthy. | Might still be a bit mushy.  |
| Rice pudding | Easy and healthy. | Time-consuming, needs more ingredients. |
| Porridge | Easy, healthy, and quick. Great for sick people.  | Time-consuming. |
| Rice crackers | Easy and quick. A good snack item. | Unhealthy and oily. |
So, these are your options! Now, let's get to know them in detail-
Healthy and Easy Rice Porridge
Now, this might be one of the easiest things to do with mushy rice.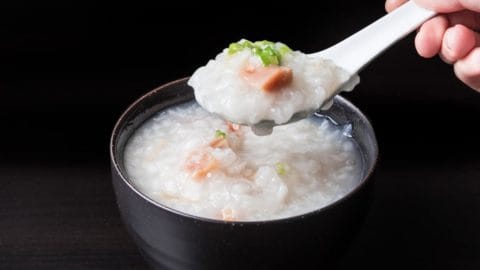 All you have to do is pour 1-2 cups of water into a large pot. The amount of water depends on the amount of rice. 
Just remember the ratio should be 1:1 in the case of mushy rice. Now, start adding the rice to the water. Whisk the rice to break them apart. Keep whisking till you see the rice bubbling. 
Now, season it with 2 teaspoons of soy sauce and 1 pinch of salt. Lastly, turn off the heat after seasoning. 
You can serve the porridge in different ways. The list includes cut scallions, crab meat, cubed and boiled veggies, or boiled chicken. Either way, it'll taste amazing. Moreover, rice porridge has lots of health benefits. So, it can cure your sickness! 
Tasty and Quick Fried Rice 
Can't eat mushy rice a roni?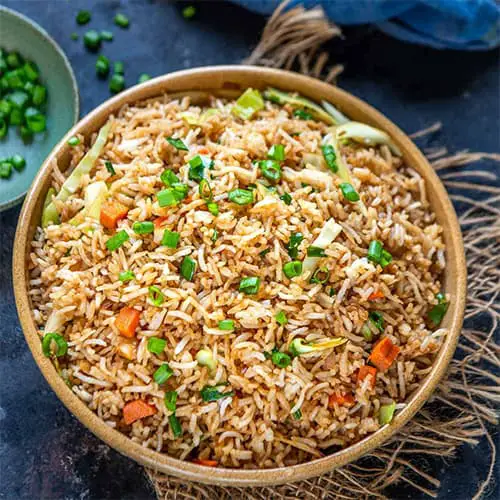 Just turn it into tasty fried rice. To do so you'll need- 
Cubed onion, garlic
Grated veggies 
Eggs (non-vegan option)
Ham, cubed meat, or sausage (non-vegan option) 
Now, pour a bit of olive oil on your frying pan. Fry the grated veggies along with the onion and garlic. After 1.5-2 minutes, add the rice. Mix them together and keep frying till you get a crispy texture. 
For non-vegans, you have to fry the meat first. Then add the other ingredients and fry till the mushiness is gone! 
By the way, you can grate some cheese to make it extra yummy! That's basically it!
Sweet and Easy Rice Pudding
Up for something sweet? Then rice pudding can be a great option for you!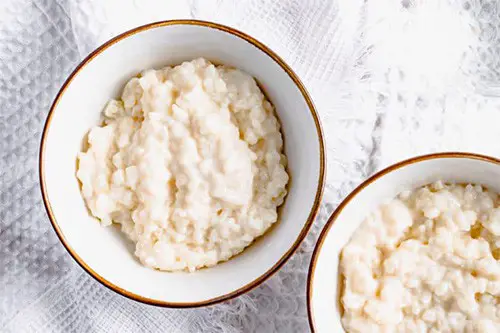 To make this you'll have to get- 
2-3 cups of milk (depending on the amount of rice) 
½-1 cup of heavy cream
½ cup of white sugar 
A whole vanilla bean/ 2 drops of vanilla essence
Once you have these, start adding them to the rice one by one. Remember to keep the heat low during this time. 
Wait for 30-35 minutes for the pudding to be done. Stir every now and then so the rice doesn't stick to the pot. 
Once the time is up, remove that vanilla bean you put in. Let the rice pudding chill for 15 minutes and that's it!
Crispy Fried Rice Cakes
Lastly, let's take a look at a guilty pleasure! Something crispy and tasty!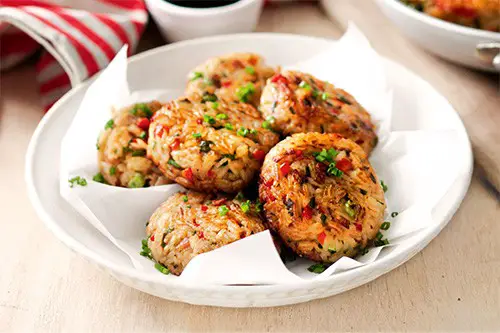 Mushy rice can be used to make rice crackers. To make this, season the rice first if you already haven't mixed the seasonings. 
For this, you can go for the seasoning packet that comes with the rice a roni. Or you can just pour 2 teaspoons of soy sauce and 1 pinch of salt into the rice. Add some chopped veggies of your choice. Then mix the rice with a wooden spatula or your hand.
After that, take some of the rice and make it into a ball. Now, flatten the ball and place it on a plate or tray. Keep doing this till the rice is finished. 
Place a pot on your stove and fill it halfway with oil. You can use any oil of your choice. Once the oil is at 400 degrees Fahrenheit, start frying the flattened rice balls. 
Fry them till they are golden brown. This should take about 8 minutes.
After you're done, serve the crackers with ketchup or chutney! 
So, you can repurpose the already ruined rice a roni in these easy ways. But next time make sure to follow the proper instructions to make it! We've mentioned that below for you.
How to Make Rice a Roni Properly?- Complete Guideline
Now, you might be thinking about how to make your next rice a roni perfectly. Well, we're here to help! 
We have provided a step by step guide on how to make proper rice-
Rinse the Rice 
First, you have to wash the uncooked rice. For this, grab a colander and put the rice on it. 
Rinse the rice with cold water till it's all cleaned. Using cold water will also prevent your rice from sticking while cooking. 
Add Water and Rice
Now, take a large skillet/pot and pour the right amount of water. 
But how much water do you put in rice o roni? 
You shouldn't add too much water to it. The rule of thumb is to add 400ml water to every cup of rice. The water should be at least an inch above the rice.
So, from now on, don't add more water than this. 
Start Cooking 
Yes, the time has come! Turn the heat on and set it at a medium setting. Place your kitchen towel in between the pot and its lid. This way you can avoid condensation from taking place in your pot/skillet. 
Allow the rice to cook for 15 minutes. Within this time, the water will be gone and the rice will be cooked. 
Test whether the rice is undercooked or with fingers by crushing a few grains. If they can be crushed easily, they're cooked. So, turn the heat off and let the rice rest for 10 minutes. 
Also, by the way, if you have leftover rice on roni, don't forget to store it properly. Otherwise, it'll go bad. Just how without the correct storage cooking sprays get spoiled.
There you have it! Perfectly cooked rice o roni! 
FAQs
Question: How to cook rice a roni in the oven?
Answer: Baking rice a roni is quite simple. First, preheat your oven to 350 degrees Fahrenheit. Then take a roasting pan and add ¼ cup of white rice to it. Pour 1 ⅔ cup of water into the roasting pan. Mix the seasoning of the rice a roni. Lastly, microwave till the water goes down. 
Question: How to cook rice a roni in rice cooker?
Answer: First add the content of the rice a roni package in the cooker. Add the seasoning as well. Then add the same amount of water as the rice to it. Now, just turn on the rice cooker and pick the white rice setting. 
Question: How long does rice a roni take to cook?
Answer: Well, it shouldn't take much time to cook rice a roni. You'll be finished cooking it within just 15-20 minutes. Just make sure to add the correct amount of water. 
Bottom Line
And we're done! Everything you needed on how to make rice a roni not mushy has been mentioned. Now, it's your turn to do the work! 
By the way, you can make chicken soup with your mushy rice a roni too. It's easy and tasty!  
Now, good luck dealing with mushy rice a roni!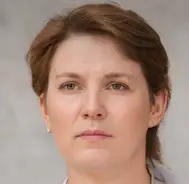 Latest posts by Leah Greenstein
(see all)