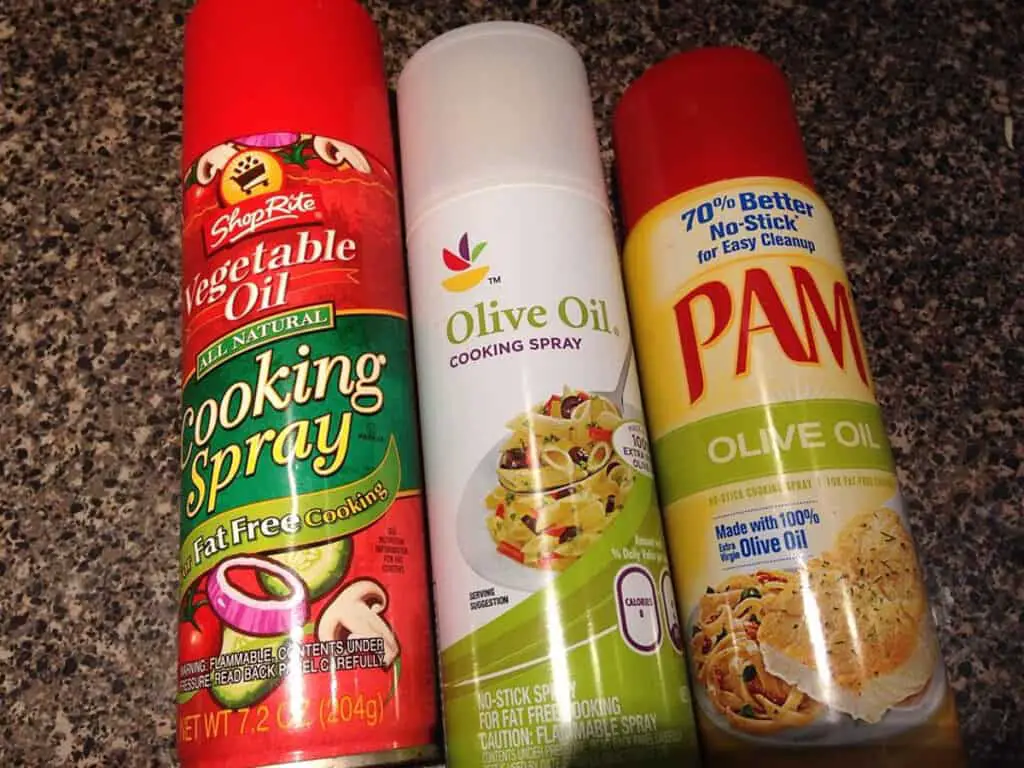 It's important to know whether or not your cooking oil spray can go bad. Because spoiled cooking spray can cause serious damage to both your dish and your health. 
So, does cooking spray go bad? 
Yes, it does sometimes. Most cooking sprays have a shelf life of 2 years if stored properly. However, in some cases, it can still be used even after the expiration date. But only if it doesn't have an odd smell, look, and texture. Because these are the signs of spoiled cooking spray. You should definitely discard the spray then. 
Now, there's more to know. Hence, we've tried to provide the necessary details regarding this matter. We've also tried keeping everything easy to understand. 
Therefore, let's not wait and start discovering the right answer! 
Can Cooking Spray Go Bad? 
Now, some might think cooking spray doesn't go bad. However, like any other food item, cooking oil spray can go bad as well. More specifically, it'll go rancid if you don't use it for a long time.
To be specific, cooking sprays can only perform best for a specific amount of time. After that time period, it starts getting rancid. 
However, there are some incidents where people might say that they used an expired cooking spray. To be honest, they suffered no problems because they stored the spray correctly. For that reason, its shelf life may have increased. 
But yes it's true! Cooking spray can go bad or rancid with time and without proper storage. 
How Long Does Cooking Spray Last?
As we've mentioned, cooking spray can go rancid after a certain amount of time. But how long can it survive or stay good?
Well, the shelf life of cooking spray is around 2 years. But it can increase or decrease depending on a few conditions. 
For example, different cooking sprays might have different expiration dates. So if you're wondering- does Pam go bad? Well, the answer is similar. It can go bad but it depends on the conditions.
The storing process can also affect the well-being of the cooking spray as well. 
Hence, we've discussed how long cooking sprays can last according to the two factors- 
| | | |
| --- | --- | --- |
| Different Types of Cooking spray  | Expiration Date if stored properly | Expiration date if not stored properly |
| Canola oil | 2 years  | 6 months to 1 year |
| Olive oil  | 2 years  | 6 months to 1.5 years |
| Butter  | 2 years  | 4-6 months  |
| Baking  | 2 years  | 4-6 months  |
| Grilling  | 2 years  | 5-8 months  |
Now, this is just an average calculation of the time. Nonetheless, mostly all the pam spray products last for almost 2 years. Hence, storing it correctly is super important. 
By the way, you might think of refrigerating the spray to increase its shelf life. Just how you refrigerate soda to keep it cold and fresh. 
However, doing this will only bring trouble. Because cooking spray doesn't need refrigeration. Moreover, by keeping it in the refrigerator, you're only making it easier for it to go bad. For example, the taste and texture of the spray will change within 2-3 weeks. 
Why Does Cooking Spray Go Bad?
Now, why do cooking sprays go rancid? 
Well, the first reason is pretty simple. You haven't stored it properly. Or you have kept the lid open. 
By doing so, air might get inside your pam can or spraying bottle. This later leads to the air messing with oil. If something like this happens, the cooking spray will start going rancid. 
So, with proper storage, no air should get inside the can. Therefore, it should be good too. 
How to Tell If Cooking Spray Has Expired?
Now, it's important to know if your cooking spray has gone bad or not. And to do that, you'll have to observe some changes. 
Because just like most other food items-
Cooking sprays will also show some common signs if they're rancid. We've divided the signs your cooking spray will show into 3 categories. So, let's check them out-
If Not Expired and Effective
Firstly, how to tell if the cooking spray is good? 
Well, it's easy! Just check the expiration date first. It should be alright if it's not past the 2 years deadline. Also, if you're using it daily, it should run out within a few months.  
However, sometimes even if the expiration date is fine, it can go bad. To understand that, shake the spray can and spray a bit on any surface. 
If the taste and texture are fine, it's alright. However, your cooking spray isn't fine if you get a sour taste. 
Also, you'll see the oil is coming out in fumes and not evaporating. So, it'll feel sticky.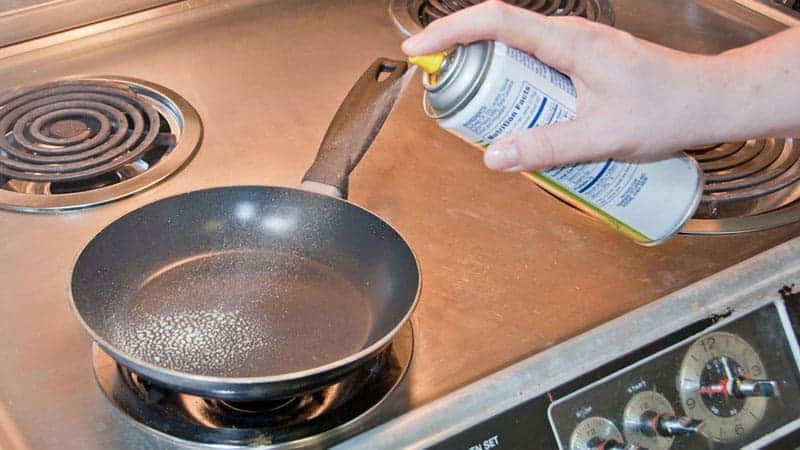 If Expired and Ineffective 
Now, it's pretty clear that if the cooking spray has expired, it won't be useful. For example, it'll pass off a bad, sour smell. Also, the texture of the oil will be off. 
More specifically, you won't be able to perfectly spray oil or butter. Instead, you'll have difficulty in spraying as the head will have a sticky residue on it. 
Plus if you have already used the cooking spray, your food will taste different. To be exact, you should have a bitter, soapy, or even metallic taste.  
If Expired and Effective 
Now, what if the cooking spray has expired but you want to use it anyway?
Well, then you have to make sure 3 things-
The smell isn't off 
The texture is fine 
There's no sticky residue on the head of the can spray 
You can only use the cooking spray if these are all checked! Otherwise, you have to discard the spray as soon as possible. 
Is It Okay to Use Expired Cooking Spray?
Now, using expired food items always brings in some unfortunate events. For example, if you use rancid cooking spray, you might get food poisoning. 
Moreover, consuming rancid oil in greater amounts can lead to serious health problems. So, clearly rancid cooking oil is bad for you. Thus, it's best to avoid using expired cooking spray. Instead, just discard it! 
What to Do If I Used Expired Cooking Oil?
Let's say you didn't know the cooking spray was bad and you used it. And now, you're getting an awful taste from your food while eating. 
Well, you won't get immediately sick from consuming expired cooking spray. So, it's best to get it out of your system by vomiting. But if you start seeing symptoms of food poisoning-
We suggest you see a doctor and get prescribed medicine for yourself. This way you can get better soon. 
Also, if you have accidentally sprayed your baking tray or frying pan-
We suggest washing the try and pan with dishwashing liquid and water. Then reuse them. But this time, go for an alternative to cooking sprays.
Some Alternatives for Cooking Sprays
Now, as your cooking spray has gone rancid, you might want another solution. And luckily, cooking spray has some amazing alternatives. 
Thus, we've come forward to help you with finding immediate and long term alternatives-
| | |
| --- | --- |
| Immediate Alternative | Long Term Alternative |
| Butter   | Different cooking oil  |
So, these two are your best options. Now, let's discuss in detail why and how to use them-
Butter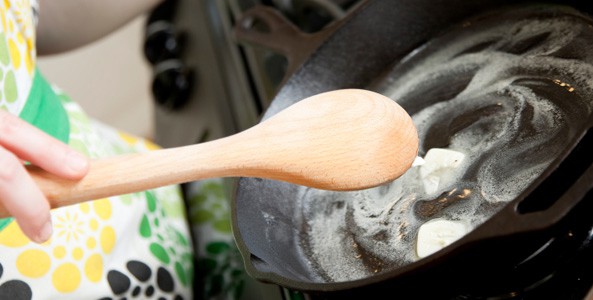 Butter is a great option for keeping your pan and baking tray non-stick. If the spray isn't good, you can just manually use butter. 
Cut a bit of butter with your knife and place it on your frying pan. To use it for baking, you can melt some butter. 
Then dip a silicone butter brush into the melted butter. This way you can spread the butter on your baking trays or muffin cups. 
Cooking Oil 
Cooking sprays might be easier to use and don't contain a lot of calories. However, they lack the rich flavor of canola, olive, etc.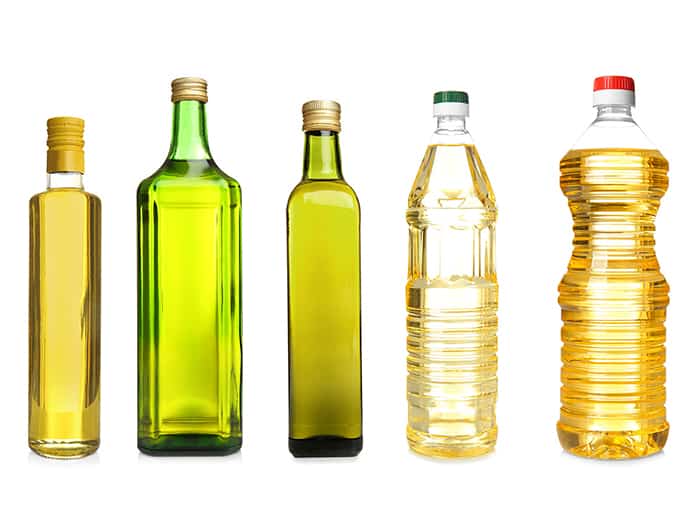 That's why if you want you can use cooking oil for better results with the flavor. Plus this is actually a long-term solution. 
So, if you want to switch from cooking spray to cooking oil. Then vegetable oil, olive oil, canola oil, coconut oil, sunflower oil are some great options. 
Now, we have discussed the expiration time for different types of cooking oil. This can help to make your decision easier!
| | | |
| --- | --- | --- |
| Cooking Oil Name | Expiration Date (Unopened) | Expiration Date (Opened) |
| Vegetable oil | 1 year  | 1 year  |
| Canola oil | 2 years  | 1-2 years  |
| Sunflower oil | 2 years  | 1-2 years  |
| Olive oil  | 2 years  | 2 years  |
| Extra virgin olive oil | 2-3 years  | 2-3 years  |
| Coconut oil | 6 months to 1 year | 6-8 months  |
| Peanut oil | 3 years  | 2 years  |
| Macadamia nut oil | 2 years  | 2 years  |
So, these are just some of your options when it comes to picking one cooking oil. There are lots of other choices and flavors too. 
Hence, if you want you can choose a cooking oil to use from now on-
Pompeian Smooth Extra Virgin Olive Oil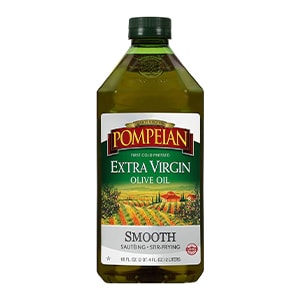 Amazon Brand – Happy Belly Vegetable Oil
So, just pick one and start using it to compare if it's better than cooking spray! 
Also, if you prefer the spray version more, we suggest getting a small can next time. This way you can finish using it before the expiration date. 
How To Store Cooking Spray Properly?
Let's say you have bought cooking spray again. Now, how to store it so it doesn't go bad?
Well, just follow our lead and you'll be fine-
The best location for storing cooking spray is a dark and cool area. Therefore, find a place that isn't above 120 degrees Fahrenheit. 
Because keeping it near a heat source can cause it to go bad quickly like alcohol. Plus it can even blow up as most cooking sprays are flammable.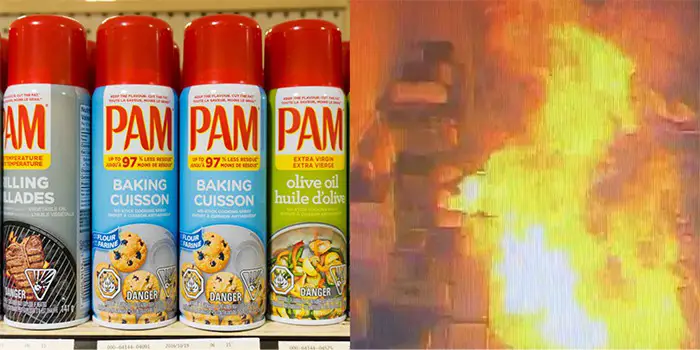 Thus, make sure to place the cooking spray in a cool cupboard. Also, don't forget to close the lid or cap properly after use. 
This way you can keep the cooking spray in its best quality for a long time!
FAQs 
Question: Can expired cooking spray make you sick?
Answer: Well, yes! But only if the cooking spray is expired and gives an odd smell. Using a rancid cooking spray can cause food poisoning. Then using it too many times can even cause cancer. 
Question: Can I refrigerate cooking spray?
Answer: Refrigerating cooking spray is a big no. Because this can make the cooking spray solid inside. This later affects the taste and texture of the oil. Hence, it's best to keep it in a cool area or room temperature rather than refrigerate it. It can last up to 2 years that way.
Question: Can I use expired cooking spray? 
Answer: You can if the cooking spray hasn't gone bad. For example, rancid cooking spray will have a sour taste, sticky or watery texture. So, if you spray and see the taste, the texture is fine, you can use it. Otherwise, just throw it out. 
Conclusion
Well, that's basically it! We've tried including almost all the information on – does cooking spray go bad. Hence, we're hopeful that you got what you wanted. 
We have another piece of advice for you as well. If you see the can of the spray is rusting, leaking, or dented, immediately discard it. 
Now, we'll have to stop here. But we hope you won't forget to give us an update! So, good luck with your cooking spray!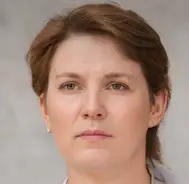 Latest posts by Leah Greenstein
(see all)