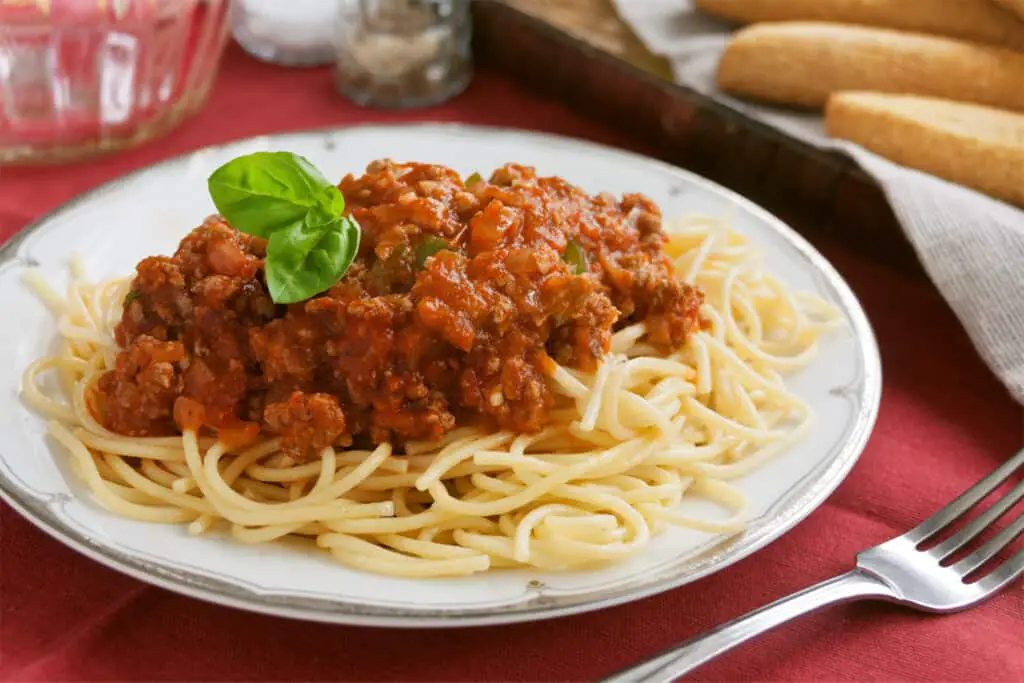 No one likes food if it's served cold. Moreover, spaghetti gets either squishy or really hard if it's not hot enough when served. That's why keeping it warm before serving is crucial.
So, how to keep spaghetti noodles warm in a roaster? 
Firstly, cook the noodles to al dente. Then keep the cooked spaghetti with the hot sauce in the roaster. However, this way, the spaghetti might not stay warm for too long. So, in that case, just warm up the noodles and sauce separately before serving. This way you can enjoy a warm spaghetti dish. 
Now, this might sound vague to you. For that reason, we explained in what way you can keep the spaghetti warm in the roaster. 
Therefore, don't get restless and keep reading! 
Can You Keep Spaghetti Noodles Warm In A Roaster? 
Cooked your spaghetti ahead of time and don't know how to keep it warm?
Well, don't worry! If you have cooked the spaghetti in a roaster, you can keep it warm. There are two ways you can enjoy a warm spaghetti right out of the roaster. 
The two options defer in terms of how long you want to keep it warm. Also, they might depend on whether you have electricity or not. So, we've provided a short difference between the two-
| | | | |
| --- | --- | --- | --- |
| Option  | Effective for how long | Need Electricity | Need Access to Kitchen |
| Cooking to al dente and adding hot sauce  | 30-40 minutes  | No | No |
| Warming up separately | 30-45 minutes  | Yes | Yes |
So, these options can help you keep your spaghetti warm if you're using a roaster. Thus, think of the one that'll suit you.
How Do I Cook Spaghetti Ahead of Time and Keep It Warm?
Now, you're already familiar with the ways to keep the spaghetti warm using a roaster. Let's see how you can keep the spaghetti warm. 
We've divided the two options according to your access to electricity-
No Access to  Electricity or Kitchen
Now, if you don't have access to electricity or a kitchen, don't panic! 
With the help of your hot spaghetti sauce, you can keep the spaghetti warm for a while. So, at first, boil the noodles to al dente in your roaster. Don't know what al dente means?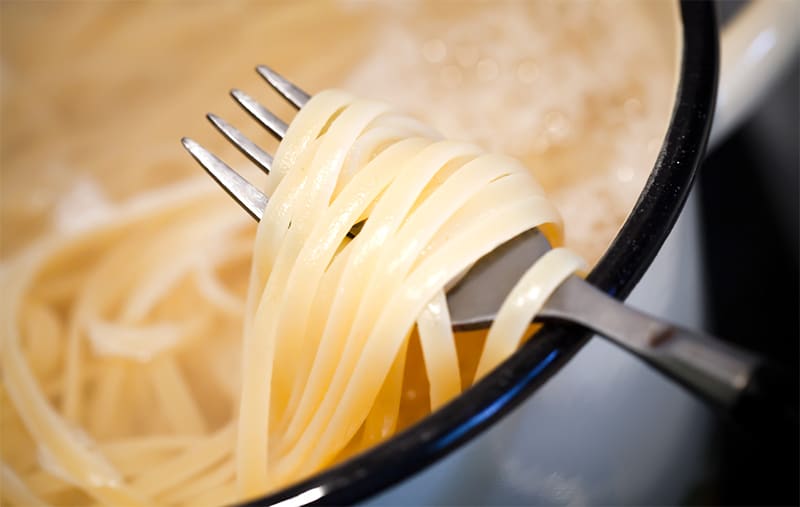 Well, it refers to cooking the spaghetti till it's firm to bite. Thus, the noodles will still be slightly undercooked. 
Now, after cooking the noodles for 8 minutes, get rid of the excess water. Then place the noodles back into the roaster. 
Is your spaghetti sauce hot and ready? 
Because you'll need to add the sauce to the spaghetti. But don't mix them together. Instead, just pour the sauce on top of the noodles. 
However, you can also place the hot sauce first in the roaster and then the noodles. Either way, the spaghetti should warm after you mix the two. Lastly, cover the roaster with its lid. 
Now, there's another way to do this. And this way the sauce won't make your noodles mushy or soggy. 
So, in this way, don't dry out the noodles fully. Keep at least ½ -1 tablespoons of hot water along with noodles in your roaster. Then put the hot sauce into a thermos. 
Wondering which thermos would keep your sauce warm? Well, here are some suggestions we have for you:
THERMOS Stainless King Vacuum-Insulated Beverage Bottle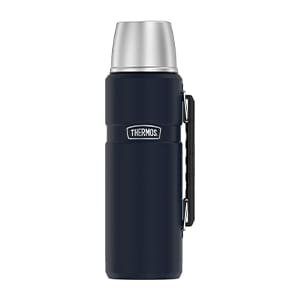 Stanley Classic Vacuum Insulated Wide Mouth Bottle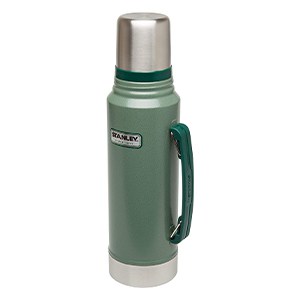 Now that you have the vessel for your sauce, you've got to wait. Only till you're ready to serve.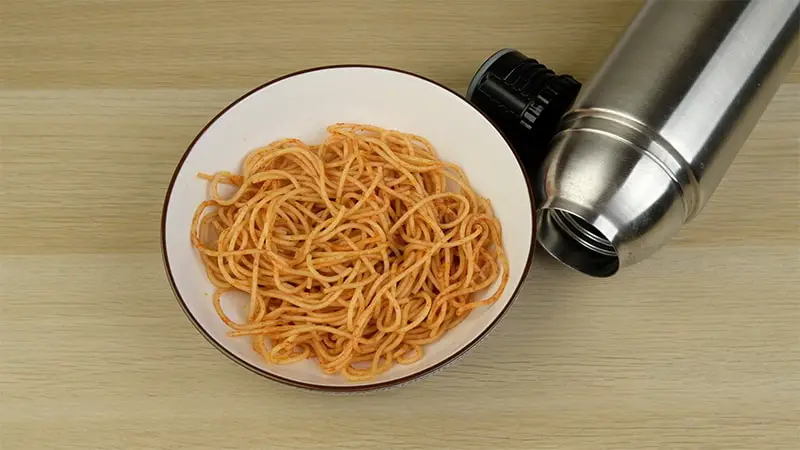 When it's time to eat, just pour the hot sauce over the cooked noodles. Lastly, mix together and wait for 5 minutes. Because within this time limit, the noodles will warm up. This will surely provide you with warm spaghetti. 
Access to Electricity
Now, if you have access to electricity, you don't have to worry at all! Because you can just warm the food right before serving. 
So, cook your noodles for 5-6 minutes. So, they reach less than the "al dente" mark. The texture of the noodles should be undercooked and a bit hard. Then wash them with cold water. 
Next, put them into the roaster and add 1-2 teaspoons of olive oil. Lastly, mix the noodles with a fork so that every strand is oily enough to not stick together. 
After that, prepare your hot sauce in another roaster. By the way, you can make yourself marinara sauce for spaghetti. Because marinara can be used in pizza, pasta, spaghetti to enhance flavor.
 Now, keep the noodle and sauce separately in the two roasters till you have to serve. Once the time has come, take the noodles out and place them on a plate. Because you have to boil water in the roaster. Make sure the water ratio is half of the noodles ratio. 
Then immerse the noodles into the boiled water till the noodles get warm and firm. You can check the warmth and texture by biting into one noodle. If it's firm while you bite it, the noodles are ready. 
Next, focus on your sauce-
Heat up the sauce in the other roaster. Keep providing heat till you see bubbles. 
Once it's done, pour it over the noodles and serve the spaghetti! 
Alternatives to Roaster for Keeping Spaghetti Noodles Warm 
Now, let's be honest-
Roaster might not be your best option when it comes to keeping food warm. Because this way your spaghetti can cool down soon. Plus sometimes you might end up serving mushy spaghetti. 
That's why it's best to look at some alternatives. Yes, there are alternatives. Just how there are other food items to use instead of adding eggs in your lasagna.
Use a Styrofoam Cooler 
Now, you might want to keep the spaghetti warm for a longer time. Plus you might be in a place where you have no access to electricity. 
In these cases, a roaster isn't the best choice. So, you'll have to pick alternative ways to help your spaghetti stay warm. 
Thus, using the help of a styrofoam cooler will be really helpful-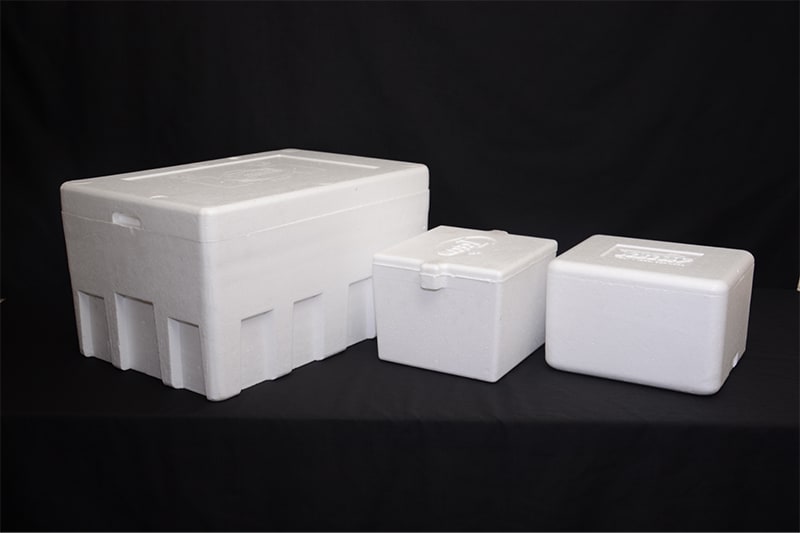 Firstly, take a stainless steel bowl or pan. Then blend your sauce with the noodles. Mix the two well and keep them aside. 
Next, nest the pan or bowl at the bottom of the styrofoam cooler. And make sure to line the cooler with towels that were soaked in boiling hot water. 
This little technique will keep the spaghetti warm for 1.5-2 hours. 
Chafing Dish Can Help Too 
Now, this is an effective way to keep pasta or spaghetti warm. Therefore, you should totally give it a try. 
First, set the chafing dish at a place that isn't near any flammable objects. Then place the food pan on the stand of the chafing dish and light the burner.
Now, pour 1.3cm of water into your pan. Add the lid to prevent the evaporation of the water. Because we need the steam to keep the spaghetti moist and warm. 
Now, some chafing dishes have a water pan. This pan is larger than the food pan and is made to cover it.
The water pan is designed to heat your food with steam. Therefore, if your chafing dish has one, you can skip the previous instruction.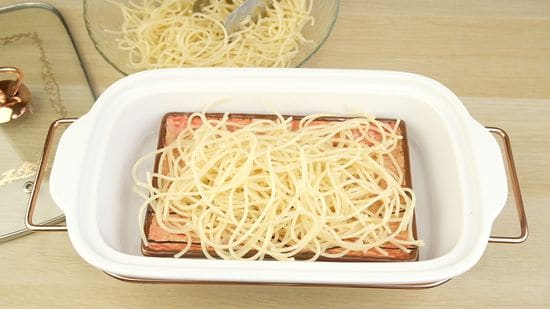 Now, place the cooked pasta on the food pan and cover the pan again. Also, make sure to replace that cover to help your spaghetti from getting dry. 
Furthermore, if the chafing dish doesn't have a water pan-
Add water again to the food pan after the water evaporates. Otherwise, the spaghetti will get dry. Because the water will keep evaporating. 
Lastly, stir your noodles periodically. Then serve with sauce when warm enough!
So, these are some ways to keep your spaghetti warm and tasty! 
FAQs
Question: How to keep spaghetti warm in a roaster oven?
Answer: Now, you might want to serve later and need to keep the spaghetti warm. In that case, set the roaster oven to 140F and close the lid. However, if you're serving people with the lid open. Then you'll need to set the oven to 180-200F. This way you'll be able to keep the spaghetti warm in your roaster oven. 
Question: Can I keep spaghetti warm in a crockpot? 
Answer: Yes, you can. You'll only have to add your spaghetti to the crockpot or slow cooker. Then pour the sauce and a little bit of olive oil. Mix all of them together. Lastly, close the lid and set the mode to "Keep warm".
Question: How do you keep pasta warm without sauce?
Answer: Well, boiling water is the solution if you want to keep pasta warm without sauce. Just boil water in a pot or roaster. Then dip the noodles or pasta in it for 1 minute. This way you won't lose the texture and serve it warm. 
Conclusion
This was all on how to keep spaghetti noodles warm in a roaster. Hopefully, you're crystal clear about the topic. 
Also, use olive oil if the spaghetti sticks while you're trying to keep it warm. 
Anyway, best wishes! Keep us posted with your experience regarding the issue!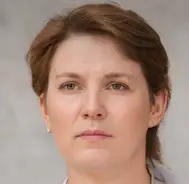 Latest posts by Leah Greenstein
(see all)