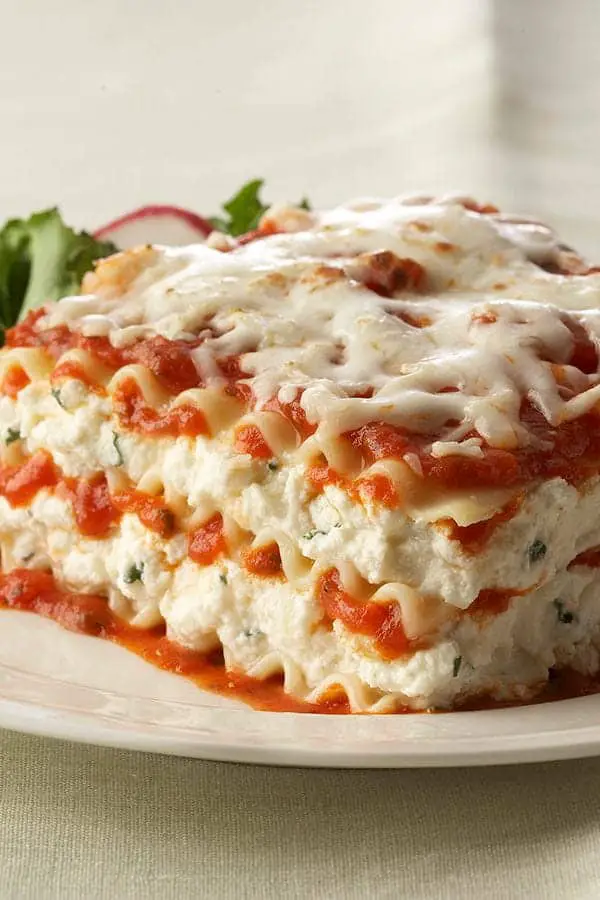 You might think eggs aren't a necessary ingredient for making lasagna. But are you really sure?
Well, to be honest, eggs are important. Because otherwise, you might not get the delicious tasting lasagna you're expecting.
So, why put egg in lasagna?
The reason behind adding an egg is to increase the firmness of lasagna. Lasagna has lots of layers within it. Thus, to keep the layers in their rightful place, egg in the lasagna is necessary. Moreover, the egg can improve the taste of your lasagna too.
Now, this isn't everything. To make your lasagna properly, you'll have to know more. That's why we're here with a comprehensive guide. This will help you to know why and how you can add the egg.
Why Do You Put Egg in Lasagna? 
Now, if you had a question- can you put egg in lasagna? 
Yes, you can. We have already mentioned it before.  But why is putting an egg in the lasagna important?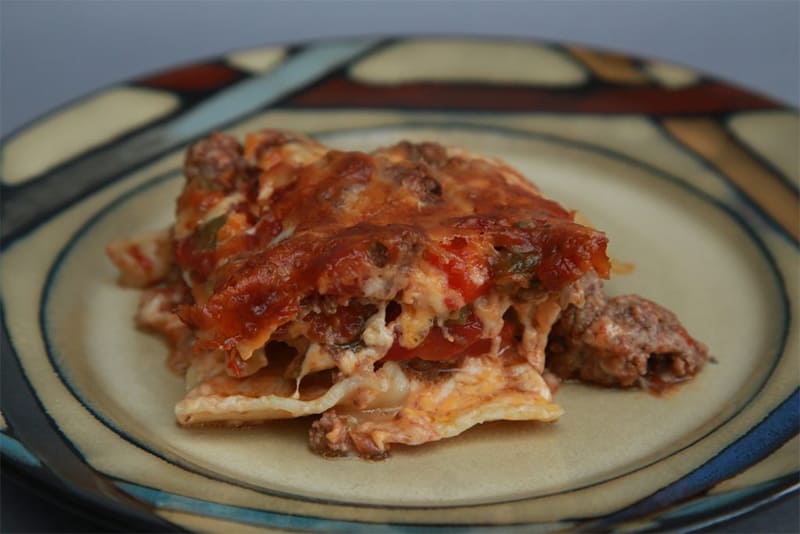 Well, you're actually putting the egg in your ricotta or cottage cheese in the lasagna. The reason for putting in an egg is to give the structure firmness. Because while making the lasagna-
You'll need to add herbs, vegetables, meat, lasagna pasta, ricotta cheese, etc. Therefore, there's a chance that the structure won't be as stable as you might expect. That's why you need something to keep every ingredient and layer in their place. 
This is where adding an egg will help you. Because eggs are known as a great binding agent. They can stick the food items and the layers together. You can use the whole egg after lightly beating it. Then you can also just use either the yolk or the white.
Hence, your lasagna won't fall apart before or after cooking. You can cut the baked lasagna without the ingredients oozing out. 
Therefore, in conclusion-
Adding the egg to the ricotta cheese can help you enjoy a proper-looking lasagna. Plus the taste of the lasagna can become a little bit creamier as well.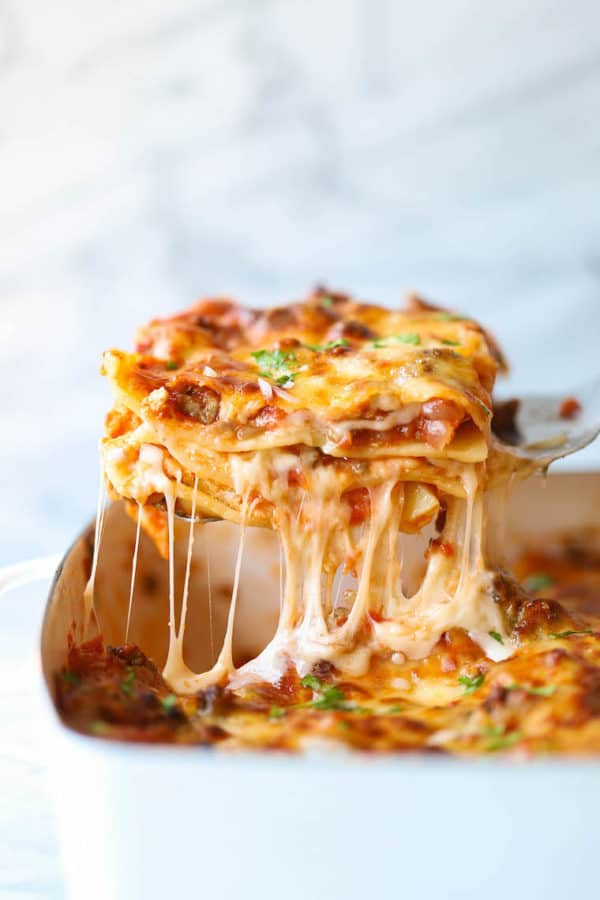 How to Put Egg in Ricotta Cheese in Lasagna? 
Now, let's talk about how to add the egg to your ricotta cheese. Because some of you might be confused.
So, just follow our instructions regarding the issue-
Start with Filling Cheese in the Colander
Firstly, you'll need a large colander to line with your cheesecloth. Then place the colander in a large bowl. Now, fill your colander with ricotta cheese. 
Once you're done, keep the bowl in your refrigerator. Lastly, wait for 3-4 hours so that the excess liquid drains off.
Now, having a large colander is really important for making ricotta mix easily. Therefore, if you don't have it, here are some suggestions-
KitchenAid Expandable Stainless Steel Colander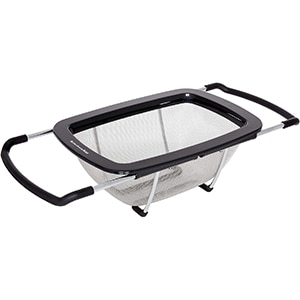 OXO Good Grips 5-Quart Stainless-Steel Colander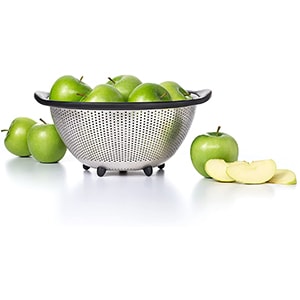 Choosing any of these options will work. Just make sure all the liquid is removed.
Place and Combine the Ingredients 
Now, get your drained ricotta cheese out of the refrigerator. Place it in another large bowl. Then add 2 eggs and 2 teaspoons of dried oregano. 
One important thing to know- you have to make sure the cheese and egg ratio is right. Thus, we've mentioned how many chicken eggs are necessary for how much cheese-
| | |
| --- | --- |
| Amount of Cheese (Ricotta, Cottage)  | Amount of Eggs ( Chicken) |
| 1 lb | 2 large eggs |
| 2 lb  | 4 large eggs |
So, the ratio of cheese and eggs is 1:2.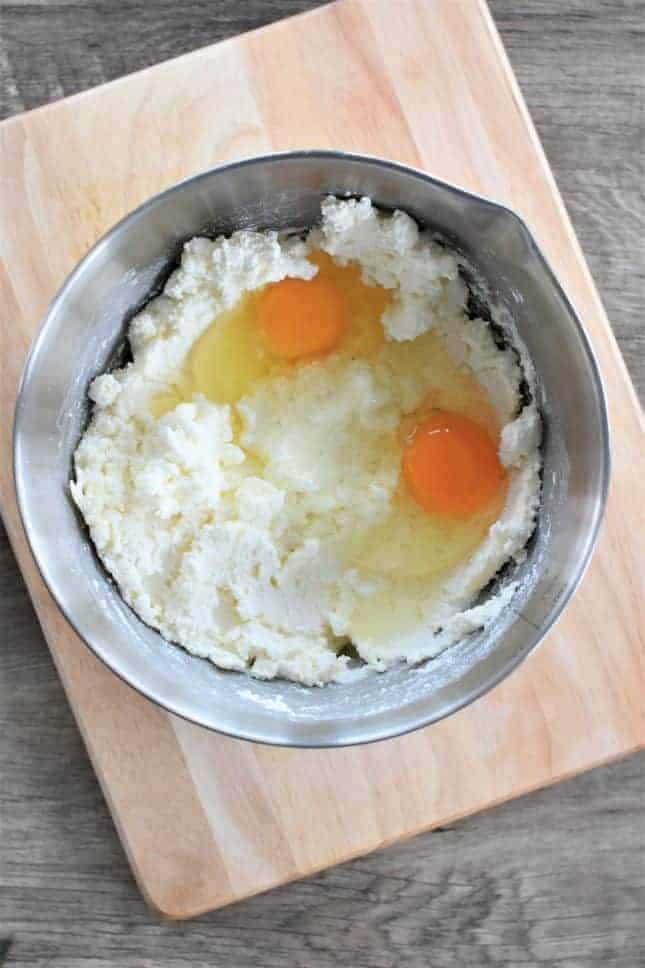 Thus, be careful while adding the eggs. Because if you add more eggs than necessary, the texture won't be right. 
Just combine all the items together and mix them with a spoon thoroughly. You can add some salt and pepper as seasonings too. Just make sure to mix everything properly again.
Spread the Ricotta Mix
Lastly, just spread the mix on the lasagna layers. You can add the mix after placing every lasagna pasta layer. 
However, you can also put it on the last level of lasagna. It's your choice! Just make sure that you don't leave out any nook or cranny.  
There you go! Now, your lasagna won't fall apart when you're trying to cut or serve it! By the way, you might wonder- do you add egg to cottage cheese for lasagna? Then the answer is yes! 
The instructions for adding eggs to cottage cheese are similar to that of ricotta cheese. Therefore, you don't have to do much, just repeat the same instructions.
Can You Make Lasagna without Eggs? 
Now, you might be a vegan or just allergic to eggs. Furthermore, some people just simply don't like eggs. Therefore, not everyone wants to add eggs to their lasagna. How to make lasagna without eggs?
Well, it's not impossible. There are some really great alternatives to eggs for providing firmness to the lasagna. 
Any food item can substitute eggs in your lasagna if they're sticky enough. Because the purpose of using eggs is to bind every ingredient together in the lasagna. So, we've come up with these tasty yet sticky substitutes-
| | | | |
| --- | --- | --- | --- |
| Alternative | Texture  | Taste  | Vegan Friendly  |
| Bechamel sauce  | Thick  | Cheesy and nutty  | Not always   |
| Plain Yogurt  | Thick | Unsweet and plain | Yes |
| Heavy Cream with cornstarch  | Thick and creamy  | Balanced between sweet and salty  | Not always  |
Now, that you've got the preview, let's get into the explained discussion-
Bechamel Sauce 
Now, the first substitute is bechamel sauce. It's a great alternative to both eggs and ricotta cheese. Because it can make your lasagna structure stable and give you a cheesy taste. Adding this sauce will also enhance the appearance of the lasagna. 
Therefore, do try this out. So, how to make bechamel sauce for lasagna?
Well, to serve 12 people, you'll need-
3 and ½  cups of milk, 
¼  cups of flour, 
4 tablespoons of unsalted butter,
1 cup of shredded semi-hard or hard cheese. 
Now, you can use parmesan, mozzarella for the sauce. But if you're vegan, you can also use your favorite vegan cheese.
Once you have the ingredients, melt the butter at first and add flour to it. While whisking, pour in the milk little by little till you have a smooth paste. Lastly, add in the cheese and stir to get a thick sauce. 
After you're done with making the sauce, add it to your lasagna layers. Lastly, spread the sauce nicely so that it covers the layers properly. By the way, you can use this if you don't want to add marinara sauce to your pizza.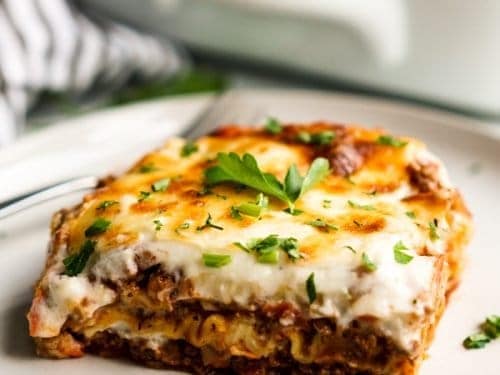 Unsweetened and Plain Yogurt
Yogurt is another good ingredient to keep your lasagna structure from falling apart. Just make sure you're using plain yogurt. That way it won't affect the lasagna's taste as much.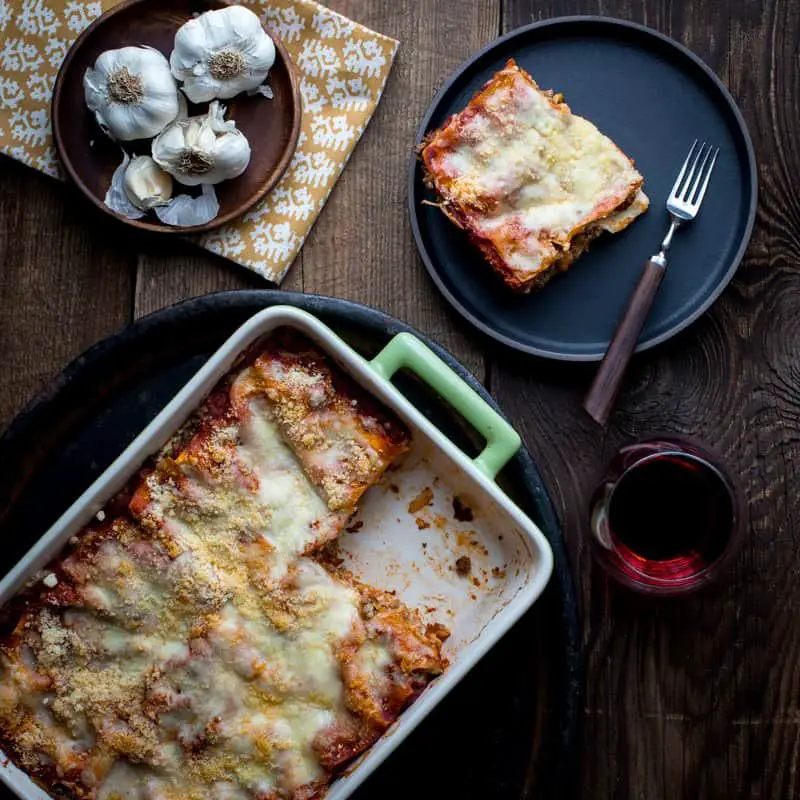 Now, you can use plain yogurt as an alternative to both ricotta cheese and eggs. 
But we suggest using yogurt in a ricotta mix instead of eggs. This way, the mix will keep the lasagna layers together more nicely. Because it'll be much thicker than the egg and ricotta cheese mix. 
To make yogurt sauce with ricotta mix, you'll have to get-
1 ¼ cups of plain yogurt 
1 cup of hot stock (beef, vegetable, or chicken)
1 ¾ cups of ricotta cheese
Once done, just spread the yogurt sauce after each meat sauce or vegetable layer. After you're done with the lasagna at least 5 people can enjoy it!
You know you can even add yogurt to thin out your cheese dip. It's a multipurpose cultured dairy product!
Heavy Cream along with Cornstarch
Lastly, you can also use heavy cream instead of adding eggs to the ricotta mix. This option will help you serve a thick and delicious-looking lasagna.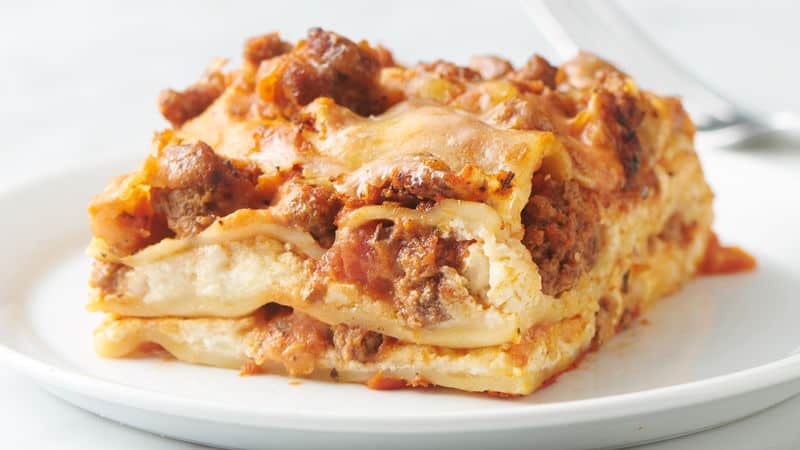 Thus, just mix your heavy cream with cornstarch. Now, the ratio of the two should be 70% heavy cream and 30% cornstarch. This way you'll get a properly thick cream. Once the cream is ready, add it to your ricotta mix. 
That's it! A great way to have the creamiest lasagna! 
By the way, heavy cream is not a vegan-friendly option. Hence, you can make your own vegan heavy cream. But if that seems difficult, just go for different heavy cream alternatives. 
So, that's how you can make a proper lasagna for yourself! You can make it with or without eggs.
FAQs
Question: Is Egg necessary in Lasagna?
Answer: It's important to add the egg as a binding agent. But if you don't want to add eggs, you can use alternatives. For example, bechamel sauce, plain yogurt are some good options. They'll provide the same firmness and texture. 
Question: What is the purpose of egg in Lasagna?
Answer: The purpose of adding egg is to help your lasagna layers to stay put. Because sometimes without the sticky texture of eggs the lasagna can fall apart after cooking. Using eggs will help to keep all the layers and Ingredients at their places. 
Question: Why put an egg in ricotta for lasagna?
Answer: It's important to put eggs in your ricotta cheese. Because this way the cheese won't ooze out of the lasagna. It'll stay in place and you'll be able to easily cut the lasagna.
Bottom Line
Now, these were all the important things on why put egg in lasagna. Hopefully, your concern is now gone! 
Also, you can use Zucchini or pumpkin puree in your lasagna instead of eggs. Mashed potato is another great alternative.
Anyway, it's time to say goodbye! So, good luck with making your lasagna!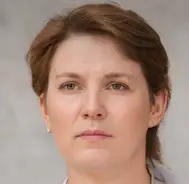 Latest posts by Leah Greenstein
(see all)