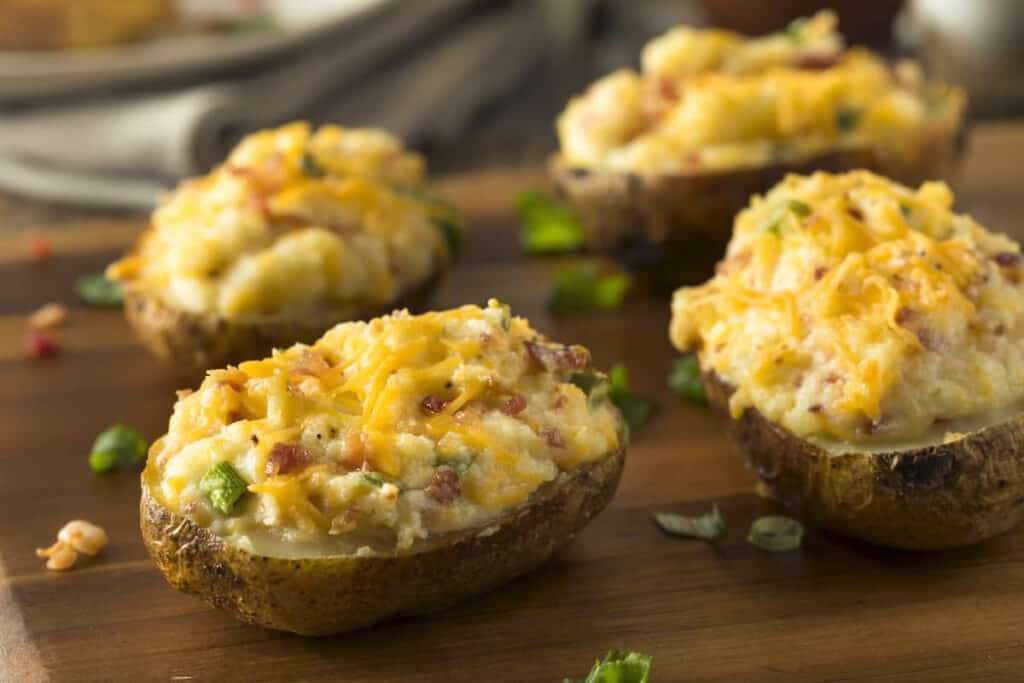 To refrigerate the baked potato or not to refrigerate?
To be honest, mostly all types of cooked food need refrigeration. That way you can keep them safe. Because not refrigerating can make the food go bad really quickly. 
So, do baked potatoes need to be refrigerated as well? 
Well, yes, they do. Because if you don't refrigerate them, they will start rotting. This happens due to the spread of bacteria. Thus, it's important to refrigerate your baked potatoes within 2 hours. Otherwise, you have to discard them. Because consuming rotten baked potatoes can make you sick. 
Now, that's just the preview. You have to know how to refrigerate the baked potatoes properly. We've provided a detailed explanation of it. 
Hence, take some time off your busy schedule, and please read along! 
Do Baked Potatoes Need to be Refrigerated?
Now, bacteria is literally everywhere you can imagine. Plus sometimes it can be in places you can't even imagine. Bacteria grows and spreads rapidly in places that favor it. 
To be more specific-
Every kind of food you eat can have bacteria. Because they have moisture in them. Also, another favorable situation for bacteria growth-
Keeping the food item at a temperature close to 40-140 degrees Fahrenheit. Because this warm temperature increases the growth of bacteria. Hence, Baked potatoes can go bad just how cooking spray can go bad. 
However, the shelf life for baked potatoes isn't the same as cooking sprays. Because the baked potatoes go bad within just 2-3 hours after cooking. A big reason behind that is the rapid spread of bacteria. 
That's why it's best to put the baked potato inside a refrigerator quickly after eating. Otherwise, you'll end up with spoiled baked potatoes. 
For a refrigerator, the storing temperature is below 40 degrees Fahrenheit. Hence, this is the way to keep your cooked food items safe from bacteria. 
How to Store Baked Potatoes in the Fridge? 
Now, along with moisture and temperature, incorrect storage can contribute to bacteria growth. Thus, you have to make sure you're storing the baked potato properly. 
Otherwise, they won't be safe to eat. For example, they'll go bad and cause illnesses like botulism. 
Plus there's another reason why you should store it properly. That's because potatoes can absorb scent from other food items. 
For this reason, they lose their own flavor. Therefore, after reheating the baked potato you won't get its original taste. That's a big bummer! 
So, how to store the baked potato in your fridge properly? 
Well, you have to follow 2 important steps- 
Let the Baked Potato Cool Down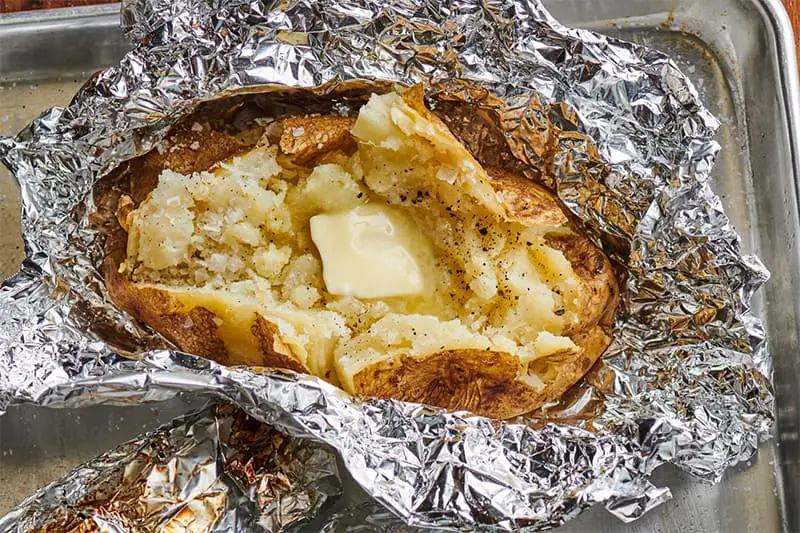 Before anything, you have to cool down the baked potato. Because placing a hot baked potato directly inside the fridge can cause problems. 
For example, the temperature of the baked potato will still be above 40 degrees Fahrenheit. This can easily trigger bacteria growth. 
The heat from the baked potato can raise the temperature of the other foods too. This only leads to more food being infected with bacteria and getting spoiled. 
That's why it's a must to cool the baked potato down. You can do it by opening the aluminum foil with which it might be covered. Then serve how much you're going to eat and keep the rest aside to cool. Or you can just serve the whole portion and cool it down while eating. 
Now, if you don't want to eat the baked potato right after cooking. Then you can cool the foiled baked potato down by putting it inside an ice-filled bowl or sink. This should cool down the baked potato within 30-45 minutes. 
Put It Inside Container, Bags, or Food Wrap 
Now, once the baked potato is cooled down, look for a way to pack the potato. For this, you can use plastic containers or plastic sealed bags. 
But make sure, these are air-tight and moisture-vapor-resistant. Because any contact with moisture or oxygen will lead to discoloration of the baked potatoes. Lastly, you'll end up with a rotten baked potato. 
Now, reusable food wrap can also come in handy. You can wrap the baked potato with it and keep it away from contact with air. 
However, plastic wrap isn't always useful in this case. That's why it might be best to use a good-quality food wrap. 
Therefore, these are some of our suggestions regarding the organic food wraps-
etee Beeswax Food Wraps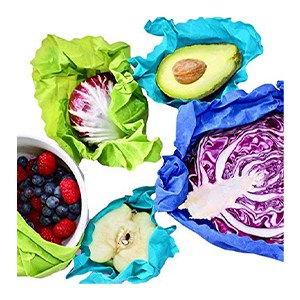 Beeswax Wraps Set of 8 Food Wraps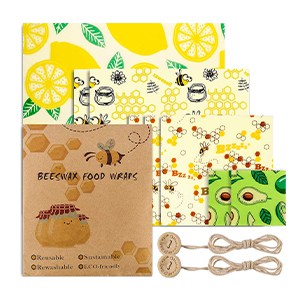 So, just pick the one you prefer, and let's get to the packaging quickly!
Now, firstly take the baked potato and keep it inside your plastic bag. Then seal the bag properly so that there's no air inside. 
Next, if you're using a plastic container, it's best to wrap the baked potato with plastic wrap. Then place it in the container and close the lid. 
Now, you might want to use aluminum foil for this. But we suggest not to. Because it can help to grow baked potato botulism. 
Lastly, if you choose the wrap instead of the bag-
You just have to wrap the baked potato with it. Then make sure it's perfectly covered. 
That's it! Just put the plastic bag, container, or wrapped baked potato inside your fridge. Also, if you served your baked potato with sauce-
Put it into a container and place it inside the refrigerator with the baked potato. 
That's all you have to do! So, as you can see it's pretty easy to refrigerate the baked potato. Just how it's easy to store an opened soda in the fridge. Therefore, don't hesitate at all. Store your food items in the fridge to increase their shelf life! 
How Long Can You Store Baked Potatoes in the Fridge?
So, we're done with putting the baked potato in your fridge. Now, you want to know how long it can stay in the fridge? 
Well, we're here to solve that issue. However, you should know- 
Not all types of baked potatoes last the same amount of time in the refrigerator. Yup, the time period is different for plain, sweet, Yukon gold baked potatoes. 
Here's how long they can last in your fridge- 
| | | |
| --- | --- | --- |
| Baked Potato Type | Lasting Time for Once Baked potato (Below 40 Degrees Fahrenheit) | Lasting Time for Twice Baked potato (Below 40 Degrees Fahrenheit) |
| Plain baked potato | 3-4 days  | 4-5 days  |
| Sweet baked potato | 3-5 days  | 3-5 days  |
| Yukon gold baked potato | 4 days  | 4 days  |
So, this is the shelf life of baked potatoes in your fridge. However, we suggest you should reheat and eat them within 2 days of refrigeration. That way, the baked potato will be at its best. 
How to Reheat Baked Potatoes? 
Now, after refrigerating the baked potatoes, you should know how to reheat them safely. Well, there are mainly 3 ways to reheat your baked potato-
| | | |
| --- | --- | --- |
| Reheating Option | Positive Side | Negative Side |
| Oven | The most effective way to reheat the baked potato. The potatoes will be evenly heated. | Time-consuming |
| Microwave  | Easy and quick  | The baked potato can dry up within the process. Not all parts of the baked potatoes will be evenly heated.  |
| Air fryer  | Quick, effective, and simple  | The moisture content of the baked potatoes will fall.  |
Now, let's go through the detailed version-
Reheating Baked Potatoes in the Microwave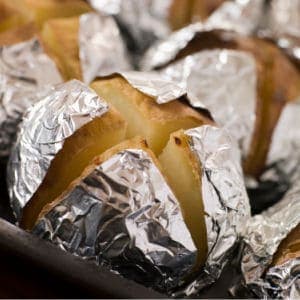 Microwaving the baked potatoes again might come to your mind at first. It's an easy and quick process. 
So, firstly, slice your baked potato in half. Then cover it with a paper towel that's damp. This will keep the baked potato moist. 
Now, place the baked potato slices on a plate or microwave-proof dish. Next, microwave it on medium heat for 2-3 minutes. That should be it. Cool your baked potato down a bit and enjoy!  
Reheating Baked Potatoes in the Oven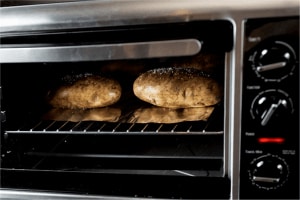 Another good way to reheat the baked potato is using the oven.  Well, this is a good way to reheat the potato without drying it up. 
First of all, you have to preheat your oven to 350 degrees Fahrenheit. Unwrap the baked potato and place it on the oven rack. 
If you don't want to put it directly on the rack, use a baking sheet. Now, just wait for 15 to 20 minutes for the potato to heat up.
Reheating Baked Potatoes in Air Fryer 
Now, you can also reheat the baked potato in the air fryer. This is a quick and easy option to try out. 
All you have to do is- 
Unwrap the baked potatoes and place them into the air fryer. Next, set your air fryer at 400 degrees Fahrenheit. 
Now, just wait for 4-5 minutes for the potatoes to heat up. When the time is up, take them out, cool them down, and start eating!
You can use these options to reheat twice-baked potatoes too. The only difference will be the time. You have to reduce the time to 2-3 minutes for the microwave and air fryer. Then set the time to 10-15 minutes for the oven. 
That's it! After the reheating, make sure to cool it down. Because that's how you can enjoy the baked potato properly!
FAQs 
Question: How to reheat baked potatoes in instant pot?
Answer: Firstly, put the baked potatoes on the wire rack of the instant pot. Then add 1 cup of water and let the potatoes heat up for 5 minutes. If you have smaller baked potatoes, 3 minutes should be enough. Once the time is over, drain the water and serve the reheated baked potatoes. 
Question: Can I freeze baked potatoes?
Answer: Yup, you can freeze baked potatoes. It's a great way to keep them safe if you aren't planning on eating them anytime soon. So, wrap the baked potatoes in plastic wrap or foil. Then put them into freezer bags. Seal the bags properly and keep them in the freezer. 
Question: Can I grill baked potatoes to heat them?
Answer: Yes, grilling is a good way to reheat your baked potatoes. Thus, firstly, take them out of the fridge. Give them some time to get to room temperature. Then use aluminum foil or baking paper to wrap them. Lastly, put them inside your griller and close the lid. Keep them inside for about 5 minutes. That should be enough to turn cold baked potatoes into hot. 
Bottom Line
Well, we're all done with providing info on do baked potatoes need to be refrigerated. Hopefully, you're all cleared about the refrigerating process of baked potatoes. 
By the way, if you didn't know- 
You can use a glass container to refrigerate the baked potatoes too. But it's essential to wrap them at first. 
So, that's basically it! Good luck with refrigerating and reheating your baked potatoes! Keep us updated on how it went!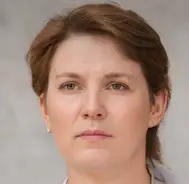 Latest posts by Leah Greenstein
(see all)