No, Taco Bell Meat items are not gluten-free. This is because the seasoned beef contains "Oats" as a filler, which is not gluten-free. It is important to know that the company doesn't claim any of their food items to be gluten-free, nor do they follow any methods to prevent cross-contamination. 
There are some items on the menu that have no gluten.
To know more about Taco Bell Ingredients and whether it's "Gluten-Free" or not, continue reading this article. 
Key Take Aways 
Gluten Cross Contamination Risk in Taco Bell? 
A Break Down of the Gluten-Free Taco Bell Menu 
Should A Celiac Disease Patient Order from Taco Bell?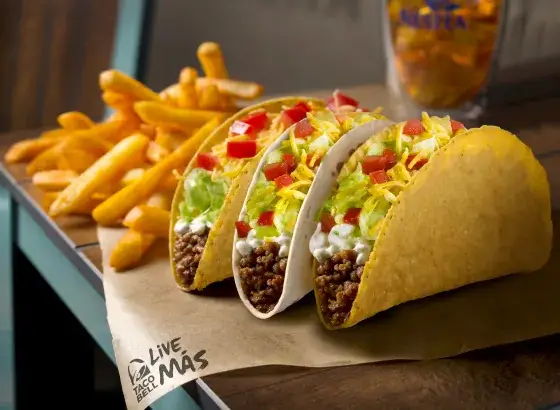 Source: Taco Bell
Is Taco Bell Meat Gluten Free?
No, Taco Bell meat isn't gluten-free. Taco Bell's meat menu has ground beef, chicken and steak. Taco Bell only offers pork in the Hawaii Outlets for a limited time. 
Beef
As per the company's ingredients list on its official site, they serve quality USDA-inspected beef. However Taco Bell Beef is not 100% pure beef, 88% of it is ground beef and the remaining 12% includes seasoning, salt, sodium phosphate and fillers (including oats). 
Here's a breakdown of the seasoned beef ingredients- 
| | |
| --- | --- |
| Ingredient  | Percentage  |
| USDA-inspected Quality Beef | 88% |
| Water (for moisture) | 3-5% |
| Spices | 3-5% |
| Oats, Starch, Sugar, Yeast, Citric acid, and others | 3-5% |
The Taco-bell seasoned beef does contain a small amount of gluten from the oats. People with gluten sensitivity should be careful while ordering this item.
Chicken 
Yes, the chicken meat served at Taco Bell is gluten-free as it doesn't contain any gluten ingredients. The ingredients in a Taco Bell's Power Bowl Ckicken are- 
White meat chicken with rib meat
modified potato starch 
salt
yeast extract 
spices 
sugar
citric acid
torula yeast 
2% or less of soybean oil added as a processing aid
Although the chicken in the power bowl doesn't have any ingredients with gluten in it, there's always a risk of cross-contamination.
Items on the Taco Bell Menu that are Gluten-Free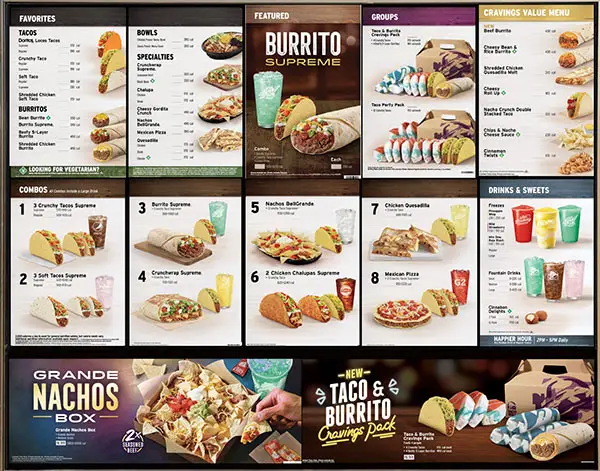 Source: Taco Bell
There is no separate section in the menu that claims to be gluten-free. However, there are some items with little to no gluten in them. These options are-
Power Bowl-

Power Bowl- Chicken
Power Bowl- Steak
Cartina Power Bowl- Chicken 
Cartina Power Bowl- Steak

Tacos and Nachos-

Crunchy Taco
Crunchy Taco- Supreme
Doritos Locos Tacos
Boss Nachos
Nacho Cheese Doritos

Sauce-

Diablo Sauce
Hot Sauce
Mild Sauce
Gluten Cross Contamination Risk in Taco Bell? 
Source: Business Insider
The cross-contamination risk of gluten in the kitchen during the preparation and serving of food is very high. All food items in Taco Bell are prepared in a common kitchen area. This is a risk because some food items don't contain any gluten-containing ingredients. 
The fact that common fryer oil is used also raises the risk of cross-contamination. In a common frier the oil carries residue or crumbs from food items containing gluten. For this reason, Taco Bell® does not recommend products for customers with celiac disease.
Breaking Down the Gluten-Free Meat Options on The Menu
In the following table we have listed the Ingredients and Nutrition facts of the Gluten-Free options suggested on the Taco Bell official site –
Power Bowl- Chicken 
Ingredients
Seasoned Rice
Black Beans
Onion
Canola Oil
Seasoning
Fresh Iceberg Lettuce 
Guacamole:

Avocado Pulp (Avocado, Lime Juice, Salt)
Onions
Tomatoes

Sauce
Reduced-Fat Sour Cream
Cheddar Cheese
Tomatoes
Avocado Ranch Sauce
Power Bowl- Steak
Ingredients
Rice 
Beef
Black Beans
Cheese
Guacamole
Tomatoes
Avocado Ranch Sauce
Power Bowl- Veggie
Ingredients
Rice 
Black Beans
Cheese
Guacamole
Reduced-Fat Sour Cream
Tomatoes
Avocado Ranch Sauce
Nacho Cheese Doritos Locos Taco
Ingredients
Seasoned Beef:
Doritos Locos Taco Nacho Cheese Shell:

Ground Corn,
Vegetable Oil
Corn Flour, 
Seasoning 

Fresh Iceberg Lettuce 
Cheddar Cheese
Milk [Certified Vegetarian]
Tips to Follow  
If you have celiac disease then Taco Bell products extremely risky for you. In that case, it is better to avoid Taco Bell completely. 
Carry a "Portable Gluten Sensor" along while eating out.
Try places like Chipotle or Qdoba as an alternate, for tacos or burrito bowls.
Should A Celiac Disease Patient Order from Taco Bell?  
Absolutely Not, a Celiac Patient should avoid Taco Bell completely. According to a blog article on Taco Bell's site, a disclaimer states that the company doesn't recommend products for customers with celiac disease. Furthermore, customers with gluten sensitivities should exercise judgment when ordering.
Gluten-Free Meat Recipes To Try At Home 
Eating out with gluten concerns can be a hassle. Why not try some of these recipes at home- 
The Downside Of Going Gluten-Free For Patients Without Gluten Sensitivity  
People without gluten-related health issues often buy into the "Gluten-Free" lifestyle thinking that it's more nutritious and contains more minerals and vitamins than conventional foods. This is a common misconception. 
Gluten-free diets may not be as beneficial as commonly believed. Here are some downsides of going gluten-free without health issues- 
Lack of essential nutrients like folic acid and iron compared to regular foods containing gluten.
Tend to have lower fibre content and higher levels of sugar and fat.
May lead to weight gain and obesity, even for individuals with celiac disease.
Generally more expensive than conventional foods.
If you think that you have celiac disease then there are reliable methods for diagnosing celiac disease, including intestinal biopsies, blood tests that look for specific antibodies, and genetic tests. The outcomes will help you to determine which foods, to stay away from.
You might discover that the problem isn't gluten but lactose, the sugar found in milk. It is possible that you suffer from a more typical problem unrelated to gluten. Said problems could be Crohn's disease, an ulcer, or irritable bowel syndrome. It is best to consult a Physician before jumping on the gluten-free bandwagon.
Frequently Asked Questions
Are There Any Gluten-Free Options for Vegetarians at Taco Bell?
For those who are craving fast food with vegetarian options, Taco Bell offers gluten-free vegetarian options. From Veggie Power Menu Bowls to customize other menu items, there are options to choose from.
How does Taco Bell Prevent Cross-Contamination with Gluten-containing Products?
No dish at Taco Bell makes the gluten-free claim. Although some menu items don't contain gluten, the corporation has no procedures in place to prevent cross-contact.
Does Taco Bell Offer Gluten-Free Sauces or Condiments?
Yes, there are gluten-free sauces on the Taco Bell menu like – The Diablo Sauce, The hot Sauce and The Mild Sauce. 
Bottom Line 
Anyone who is serious about eating gluten-free should avoid Taco Bell, as the meat served in Taco Bell isn't completely gluten-free. Consider avoiding Taco Bell if you have celiac disease or gluten intolerance. Unless you have celiac disease, don't let a professional athlete or other influential person convince you to restrict your diet if there is no valid medical need. It is up to you and your doctor to determine that.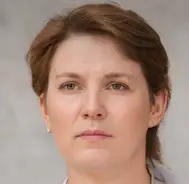 Latest posts by Leah Greenstein
(see all)