Consuming poorly cooked meat might affect your health, and it often has adverse side effects on the quality of food. Thus, owning one of the best BBQ thermometers might be the best solution for you. It takes a few seconds to use, and could potentially save you from poorly cooked meals. 
A reliable thermometer is an essential tool in any savvy cook`s arsenal. The thermometers save lives and money. Furthermore, using these tools is the only safe approach for determining whether your food is cooked at the right temperatures. According to a 2014 report, food health professionals tested well over 300 chickens and discovered that close to 89% contained harmful bacteria. Thus, its vital that you check your meats using a thermometer. Some meats require sustained heat for several minutes to achieve the best cooking results. 
Without further ado, here are some of the best thermometers to consider:
Top 11 BBQ Thermometers for 2021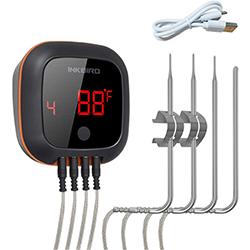 Inkbird IBT-4XS Bluetooth Wireless Grill BBQ Thermometer ​
Cooking your BBQ meats has never been this easy. The Inkbird IBT-4XS provides one of the best solutions for temperature management while preparing. 
This one of a kind thermometer can pair with an android device or iPhone, which lets you read the temperature from anywhere. Furthermore, the high-temperature accuracy means that you enjoy crispy and juicy meat each time.
Even more, the magnetic design on the back of the thermometer makes it simple to place into a smoker or oven. The thermometer has an exceptional LED reading, which you can rotate by double touching the power key for your convenience. This way, you can access the temperature reading for any convenient side. 
It also features an alarm, which will be triggered on the device and the phone once you achieve the optimal temperature. The ample sized LED screen is streamlined and user-friendly as well. Thus, you can read temperature readings more clearly, even when far in the distance. The display is rotatable in case the probe wires compromise the performance of the grill. You have to double touch the rotatable button twice. 
Thanks to the inclusion of a powerful battery, the BBQ thermometer can provide as much as 40 hours of power when full. The remote range of this unit also averages 150 feet, even in extreme places. The thermometer even has an accompanying app, which lets you review the temperature levels through a graph.
Available with wireless features and an accompanying app

Has an internal LED screen which is visible outdoors

Can provide 40 hours of power when full

Simple to use and convenient thermometer
Markings are not durable

The thermometer is too small for some users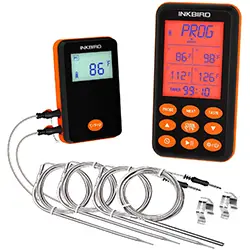 Inkbird IRF-4S Wireless Remote Meat Thermometer for Smoker
Make your barbeque cooking experience much more convenient with the Inkbird IRF-4S meat thermometer. This unit will deliver a super-strong wireless signal and stable performance through the wall.
This way, you can enjoy the time to entertain your friends while also enjoying meals. The ports and panels on the cooking thermometer are also IPX5 waterproof lister. Therefore, you can use the thermometer outdoors when it's raining.
The unused sockets on this unit are also simple to install. More so, the inbuilt 1000mAh rechargeable lithium-ion battery provides years of reliable longevity. The battery can last for well over 40 hours when fully charged. 
The thermometer brand has also done well to make the back on this unit magnetic, to make it simple to install. This wireless BBQ meat thermometer even features a three-meat probe and one ambient probe. It also has a digital over countdown timer, which is convenient to use and for checking the cooking temperature. What's more, the transmitter and receiver will automatically connect to the unit for optimal convenience. With a backlit LCD screen, you can customize this unit even in poorly lit conditions. It also has a digital oven thermometer count timer, which is convenient when you want to monitor the progress of cooking your meals.
1500 feet remote grill thermometer for optimal signal coverage

Waterproof and IPX5 waterproof listed

Magnetic design and four probes for ease of installation

Timer, alarm and backlit LCD included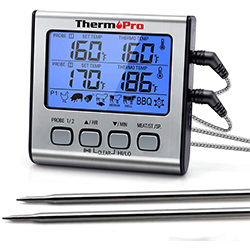 ThermoPro TP-17 Dual Probe Digital Cooking Meat Thermometer
This unit has a rigid design and can provide several years of reliable power. Furthermore, the dual grill thermometer lets you monitor the temperatures of as many as two pieces of meat or grill temperature without swapping probes. With a backlit and large LCD, the thermometer displays the temperature for both food, grill, and smoker. 
It even comes with a timer to provide the most intuitive user experience even when you prepare meals outdoors. The unique flip-out countertop and magnetic stand makes it easy for you to put the thermometer anywhere in the kitchen. 
Also, the oven thermometer with step down design will retrieve the temperature levels quickly and precisely. Thus, you will receive adequate information about the temperature changes in a few seconds. The unique 40-inch stainless steel mesh cables are rated 716°F, and you can connect them to a base, which is outside the grill. 
You can either place this unit on your counter or perhaps flit out the stand or magnetize it to the metal surface. You also won't have to worry about losing track of time, because the thermometer features a powerful timer. The thermometer brand has also done well to include preset temperature settings to make the tool simple to use.
Dual probe grill thermometer is accurate

Backlit and large LCD suits poorly lit conditions

Step down probe tip design

Stainless steel mesh cables rated 716°F
The steel mesh cables are not durable

The preset temperature levels are not suitable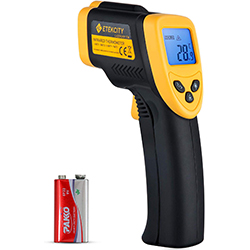 Etekcity Lasergrip 774 Non-contact Digital Laser Infrared Thermometer
This unit can accurately measure the temperature, even when measured at greater distances than most thermometers. With a response time of ≤500Ms and a temperature range of 58 °F to 715 °F/ -50 °C to 382 °C, this unit makes up for an excellent addition to your backyard cuisines. It even comes with a backlit LCD screen, with an auto-off function, thus improving battery life.
The inclusion of a low battery indicator means that you will never run out of battery power for your temperature measurements. It also features infrared technology, which makes it simple to measure the surface temperature of many objects. Therefore, you can use the thermometer conveniently when barbequing, performing auto maintenance, and home repairs.
The thermometer provides accurate readings without you having to touch or coming close to any hot or cold item. With the Etekcity Lasergrip, 774 can measure high temperatures, hazardous and inaccessible objects with ease. 
As one of the best thermometers in the world, this unit even features infrared technology. Thus, the thermometer is handy to use, also when the item is above boiling points and below freezing point. Aside from cooking, you can use this versatile unit to measure temperatures when doing home repairs, performing auto maintenance, and more.
Backlit LCD screen with auto-off function

Infrared technology makes this unit handy

Inbuilt laser provides accurate temperature readings

Heavy-duty and durable thermometer construction
Could use much larger temperature readings

Warms up when left close to the cooking area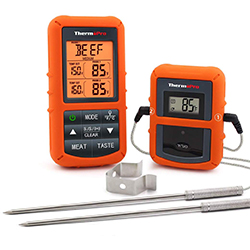 ThermoPro TP20 Wireless Remote Digital Cooking Food Meat Thermometer
A good thermometer lets you eliminate the guesswork and prepare your meals with ease each time. This is why the ThermoPro TP20 features dual-probe technology, which allows you to monitor different types of meat each time.
It has an exceptional mobile receiver range, that averages at an outstanding 300 feet away, to keep you updated on the temperature of meals. Thus, you can feel free to do chores, mingle, and watch TV without having to be close to the food at all times. 
The developers of this unit were fully aware of the extreme temperatures that this tool had to undergo. Thus, it comes with a probe and wire that can withstand temperatures of as much as 716°F. The thermometer also has a receiver that will flash and beep when the food temperatures get to a specific temperature level. Thanks to the inclusion of a countdown and count up timer, you have access to various options that suit your cooking experience. 
The large LCDs shows both food and over temperatures, along with an intuitive timer for hassle-free user experience. The backlit LCD is sturdy, even poorly lit conditions, and with an easy to use interface.
Wireless digital thermometer with dual probe

No synch required and equipped with large LCD

Thermometer with preset temperatures for nine types of meat

Stainless steel probe with step down design
Customizing the LCD is difficult for some users

Not suitable for super large meats
ThermoPro TP01A Instant Read Meat Thermometer
Take your BBQ regimen to the next level with the ThermoPRO TP01A thermometer. This unit lets you get fast and accurate results, thanks to a high-performance sensor.
Thus, you can get food temperature measurements in as little as 4 to 6 seconds. Furthermore, the grill thermometer has an exceptional 5.3-inch food grade probe, which means you can measure food temperatures without having to get close.
Like all the best BBQ thermometers in its category, this unit features a heavy-duty design that offers years of reliable temperature measurements. It even comes with a fast reading system that lets you get a temperature reading with 5 seconds. The high precision sensor is suitable and dependable, either cold or hot, temperature measuring applications. 
You can even lock the current temperature, and the reading won't change even when you remove the probe from the meat. The smoker with a backlit display lets you work in dim light conditions, thus enabling you to enjoy full nights of BBQ meats. Furthermore, the food thermometer has an exceptional temperature range that averages between 58°F ~ 572°F (-50°C ~ 300°C).
With such a unique combination of temperature measuring features, the TP01A lets you monitor the cooking process like a professional.
Equipped with a high precision sensor

5.3-inch good grade stainless steel probe

Powerful backlit display for poorly lit conditions

Durable plastic construction offers longevity
The LCD could be much clearer in poorly lit conditions

The high precision sensor is not durable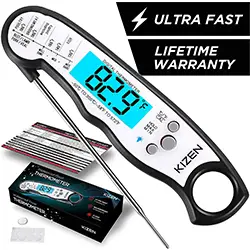 Kizen Instant Read Meat Thermometer - Best Waterproof Ultra Fast Thermometer
Tired of undercooked or overcooked meats each time you want to enjoy meals? Eliminate such hassles by getting the Kizen Instant Read Thermometer, which is perfect for your needs.
Featuring an ultra-fast premium probe, this unit can record accurate temperatures in as little as 2 seconds. Furthermore, it is dynamic, and you can use it for cooking different types of foods, including candy, soups, and beverages. 
The instant ready probe already makes up for an excellent addition to your cooking regimen. However, this particular brand goes a step further by providing various innovative and unique features that set it apart from the competition. For instance, it comes with a waterproof body that lets you get the thermometer into wet food, and it's easy to clean. 
Equipped with a bright LCD screen, you just a small amount of assistance to get accurate temperature readings. You won't need to fumble with the phone, and the LCD light has you covered in temperature regulation. As far as longevity goes, this best BBQ thermometer features a durable ABS body, which is both durable and suitable for your active cooking lifestyle. 
It also has a convenient battery-saving auto-off function, that lets the probe retract after 10 minutes have passed without use. The thermometer also comes expertly calibrated, and you can customize it to provide precise temperature readings.
Waterproof body and durable thermometer design

Can fully retract to make it safe and straightforward to store

High-quality ABS plastic material construction and IP67 waterproof rated

Auto-off functionality and bright LCD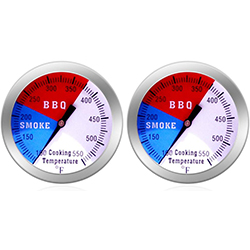 NEWSTART BBQ Thermometer Gauge - Temp Gauge Grill Thermometer
NEWSTART is among some of the leading brands when it comes to measuring the temperature. This is why the NEWSTART BBQ thermometer gauge is the perfect solution for your cooking needs.
It comes with a unique 2-inch dial for reading the temperature easily and conveniently. Furthermore, the grill and meat thermometer is safe, as well as convenient to use. It comes with a screw thread and wing nut, which makes it easy to mount or use. 
The surface of the grill thermometer is also waterproof, and will not get foggy when in use. With a wide temperature range, you can expect this unit to have a range of between 100°F – 550°F. It even comes with a 3-inch-long probe rod, to provide precise temperature readings each time. Thus, the thermometer is ideal for adding or replacing a gauge in your smoker or grill. The thermometer is also dynamic and can be used in the chemical, machine, and light textile industries. 
As one of the best BBQ thermometers on the market, this unit is simple to install, as you place the stem through a hole on the smoker. Thanks to the unique screw thread and wing nut, you can be sure of a thermometer that is simple to set up and install.
2-inch dial for reading the temperature easily

Screw thread and wing nut for easy mounting

Waterproof design will not get foggy

Dynamic design suitable for use in many industries
The metric readings are small

Warms up quickly when left in the oven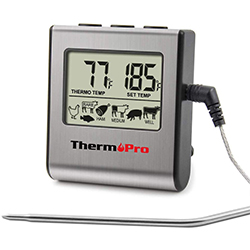 ThermoPro TP-16 Digital Cooking Food Meat Thermometer
The TP-16 food thermometer lets novice and experienced cooks enjoy the simples of temperature management functionalities. Whatever meat type you want to cook, the TP-16 provides optimal temperature for cooking. Furthermore, you can even customize a timer to suit your vegetable meals that need to cook for a few minutes. 
For instance, the thermometer comes with a programmable alert and preset temperature features for various types of foods. You can even reset all the preset temperature to suit your specific meal tastes. 
Furthermore, the digital kitchen timer also has a countdown and count up the ability of as many as 99 hours. The inclusion of a meat probe and wire can withstand extreme temperature of as much as 716°F. Takings things to the next level, the accurate grill meat thermometer with a 6.5-inch food grade step down design makes it easy to get the temperature quickly.
There is also an exceptional 40-inch stainless steel mesh cable that lets you connect the thermometer to the base.
Thermopro cooking thermometer is suitable for a smoker, stovetop, and oven

Digital kitchen timer with count-up and countdown functionality

Meat probe and wire that can withstand temperatures of 716°F 

40-inch stainless steel mesh cable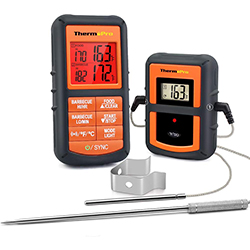 ThermoPro TP-08S Wireless Remote Digital Cooking Meat Thermometer
By now, you should have realized that the Thermopro brand is among some of the top brands when it comes to producing BBQ Thermometers.
This is why this list would not have been complete without the TP-08S wireless remote digital cooking meat thermometer. The thermometer is highly accurate, with an exceptional 8.5-inch steel food probe, which lets you monitor food and ambient temperature easily. Thus, this best digital thermometer is perfect for long smokes or grilling sessions.
You can even use it to set your desired food temperature and to make it easy to add fuel to the smoker. In fact, this unit features a receiver that will flash and beep to remind you if the temperature goes out of range. It even has an alarm that is loud and audible, for your convenience when cooking delicate meats and more. As a modern-day chef, you should expect this unit to let you maintain the food temperature levels conveniently. Thus, this unit features a countdown and count up timer, that can stay active even as you monitor the BBQ and meat temperature levels. 
The wireless meat thermometer monitors your food and grill temperature to about 300ft away, thus providing the freedom to address other crucial issues. More so, unlike Bluetooth thermometers that have a limited 100ft range, this unit has a receiver and transmitter that are presynchronized. You just insert batteries, and the thermometer will be ready to use.
Has dual probes for both BBQ and food

Food and ambient temperature alarm

300 ft remote range and hassle-free setup

Convenient kitchen timer and durable structure
The wireless function is prone to connectivity issues

The thermostat readings are prone to staining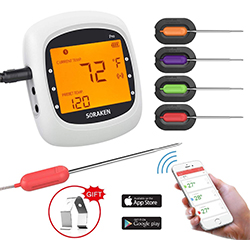 Wireless Meat Thermometer for Grilling, Bluetooth Meat Thermometer
It comes with preset temperatures and cooking levels to suit different types of food. 
You can even customize the temperature range and set the timer to suit your preferences. When the time or temperature is up, the machine will beep and flash with a backlight for your convenience.
The wireless meat probe also features as many as four probes, which lets you monitor as many five different foods at the same time. The material on this unit is made using metal braiding and upgraded Teflon core that can withstand up to 716°F. The cooking thermometer even features a strong magnet on the back, which makes it simple to install on a grill. You can place this unit on most surfaces, such as the oven and sits stable.
Comes with four probes for optimal dynamism

Probe wraps to make it simple to store

Magnetic on back function for ease of installation

Phone remote monitoring food
The wireless function could use a better range

The magnetic back does not stick on plastic components
Best BBQ Thermometer Buying Guide
Since you often have different cooking needs and perspectives, you will notice that BBQ thermometers fall under three main categories. They include:
Instant Read Digital Thermometer
These thermometers are simple to use because you have to turn them on.
Furthermore, they usually have exceptional response times and are suitable for various types of meat. The thermometers are also simple to use when it comes to checking the temperature for multiple locations. Moreover, these thermometers are often used toward the end of cooking times to determine the ideal cooking temperature level. Other thermometer brands come with hand features such as temperature hold and auto shut off. These are functionalities that let you evaluate the displayed temperature level for longer. 
In some cases, you might come across a fork, which often features a thermistor integrated on the tines of the form. More so, the meat temperature is then displayed on a digital screen or through the use of an indicator light. Similar to most instant-read thermometers, the fork should be removed as soon as it makes an accurate reading.
Leave in Digital Thermometers
These thermometer types require that you leave the probe in the meat during the cooking process. The probe lets you monitor the temperature without having to open the door oven. In some cases, these thermometer types can be used as an instant-read. They feature a long cord that you can use to connect the probe to a unit that has a digital screen.
Furthermore, you can place a leave-in thermometer on a counter, and magnetic surfaces install some types. The leave-in thermometers often have the best diversity in temperature measuring functions. The common ones include audible alarms, programmable machines, and timers. Some thermometer types are wireless, which makes it simple to observe the temperature even when you are 100 ft away. Usually, you use a wireless device such as a smartphone or wireless device that is compatible with the device. 
Instant-Read Analog (Dial) Meat Thermometers
Similar to its counterparts, this type of thermometer is also relatively simple to use. You just have to place it into the meat as it cooks and notes the temperature. However, you will have to remove the thermometer as soon as it provides a temperature reading. Analog thermometers are sometimes challenging to read and can give poor response times. Furthermore, these types of thermometers often have a much lesser diversity when it comes to thermometer features.
Best BBQ Thermometer Factors to Consider
The following are some few features to consider when you want to buy the best BBQ thermometer:
Accurate readings – accuracy is an important value to consider in any thermometer. After all, it's your meal and health, which are both at stake, when you consume poorly cooked meat.
Fast readings – the ability of a thermometer to provide quick readings is crucial because some meals have specific cook times. While fast readings might not be necessary for leave-in thermometers, they are still useful for ensuring that you can determine the best temperature readings. Also, getting fast readings is important because it means you can remove your hand from the food area as fast as possible. 
Broad temperature measurements range – a good thermometer should be able to do accurate readings, regardless of the scope of the temperature. Being able to make accurate readings over a vast scope means that the thermometer can withstand high levels of heat. Thus, this makes it suitable for use even in a grill or even. Some of these units come also record below freezing temperatures. 
Automatic shut off – most, if not all, digital thermometers today are powered by rechargeable batteries. Thus, having an automatic shutdown feature would be suitable when it comes to saving battery life. This way, you can cut down on the lifetime expenses associated with the device. 
A backlit screen – this feature is essential, especially when you want to make readings of food that are placed inside an oven. A backlit display makes it easy to do readings, regardless of the lighting conditions. 
Well labeled controls – the modern-day meat thermometers nowadays have smart features, such as temperature alerts, timers, and even graphing tools. While thermometers can become useful with intelligent features, you also have to control how you use the tools. Thus, having one with well-labeled controls is vital. For the wireless types that you can sync with your phone, consider an intuitive and straightforward to use app. 
Durable probes – the probe on the end of a meat thermometer is, in most cases, delicate. Most of these tools have sizes that measure a few millimeters across. Also, the best probes can withstand exceptional temperatures and have robust cables that are heat resistant. The probes and cables tend to be a weak aspect for various thermometers, so they can withstand exposure to water.
Do you like to move around in your cooking area? If this is the case, then you can own an instant-read thermometer, which is convenient. If you want to move around the cooking area, or perhaps engage with the guests, then leave in thermometer is perfect. Furthermore, if you have poor hearing range, or want to move around, then consider the wireless models. These types can communicate with your phone and are often coupled with a receiver handset.
With most kitchen timers incorporating smart temperature measurement features than ever, it makes sense to get brands that you can measure even when not in the room. For instance, there are some wireless meat thermometers which you can view through a smartphone. Some brands go as far as incorporating their products with an RF signal. This way, you don't need a smartphone to track the cooking process. Even more, most of these thermometer brands are also fully loaded, with customizable features and the ability to monitor two temperatures at the same time.
There is no room for poor decision making when you want to enjoy the best of your meals cooked at home. To be specific, the best BBQ thermometer is perfect for making accurate readings and for your user convenience. These thermometers help you to enjoy properly cooked meats and a safer cooking experience each time. 
Before getting a thermometer, learn about the types of thermometers, with the instant-read types being among the most common on the consumer market. Some brands have even done well to incorporate their products with wireless features, to provide easy temperature readings.