There is nothing better than when you can enjoy hot meals served off from a grill. However, only a clean grill can produce meals that have a sumptuous and smoky taste.

The 

GRILLART Grill Brush 

is a top pick because it's perfect for cleaning various types of grills, and it's also easy to use.
Whether you are an experienced barbecue enthusiast or a seasoned grilling professional, keeping your grill clean each time is important. Why? It's because the low-quality cleaning techniques such as using clothes are not effective. They won't get to the slats or the hard to reach areas in the same way as the best grill brush would do. 
Indeed, keeping your grill clean is more than just about preparing a clean and crisp cooking surface. Any residue that accumulates on the cooking surface or the grill can have adverse side effects on the taste of your meals. The bits of food that remain after grilling sessions can be issues that are beyond basic aesthetics. Bacteria can accumulate in your meals, so it's good that you can scrape the bars and grates after each cleaning procedure.
Note: You should always use some grill covers to protect them from dust
Below is an excellent guide to get you started:
Best Grill Brush Comparison Chart
Has a soft and strong 18-inch handle

Comes with a stainless-steel scraper for convenient use

Provides effective and faster cleaning results than most brushes
16 inch long brush works perfect for reaching hard to reach places 

The stainless steel scraper is reliable for grill cleaning

The comfortable grill handle improves your cleaning perfomance

Has a heavy duty and easy to clean design for longevity
Small to medium sized grills
18-inch-long brush complements most grill sizes

Provides 3 rows of cleaning bristles

The comfortable grip handle is angled for optimal leverage

The stainless steel bristles are woven in 3 rows of aluminum
Top 5 Grill Brush You Can Buy In 2021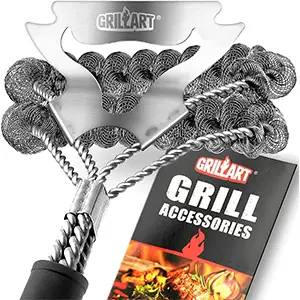 GRILLART Grill Brush Bristle Free & Scraper
Enhance the hygiene levels of your modern kitchen when you have the GRILLART Grill Brush. The brush is perfect because you will find it easy to use on most modern grill types.
Its 100% safe, and you can even keep it safe away from your family. You will be pleased with the performance of this brush because you can use it to clean large areas or stubborn areas with efficiency.
Plus, the hollowed-out design lets you target the most remote parts of the grill and to remove stubborn stains with efficiency. The brush is also 150% flexible on the short sides, which makes it perfect for penetrating the slats on your grill. 
Thanks to the double helix design, you are sure of a comfortable and straightforward to use grill brush. It does not matter whether you want to clean ceramic, infrared, or porcelain – this unit gets the job done right each time. Since it has a superior stainless-steel construction, this brush is resistant to issues such as rust and more. The no bristle design ensures the brush won't wear down, and it even comes with a 17" long handle for optimal protection.
Hollowed out scraper that provides a 150% flexible hex 

Double helix design makes it handy and flexible 

Superior stainless-steel construction offers longevity
Could use an anti-slip design for added grip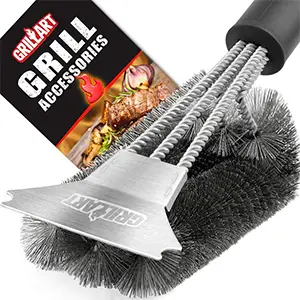 Grill Brush and Scraper - with BBQ Cleaner Accessories
Cleaning your grill is simple when you have the right solutions. The Grill Brush and Scraper make up for a reliable and convenient way to keep your grill clean.
The brush has a stainless-steel scraper that works well to scrub and remove stubborn stains from your grill. Thus, you save effort and time – perfect for having fun as you clean your grill.
You will be pleased with the fact that this unit has three times more bristles than the conventional grill brush you will find on the market. Why? Its because this brand comes with a sharp and robust lateral flex – perfect for removing stubborn stains. Plus, the brush can also reach more areas than the conventional brush would be to able to reach at the same time. 
Being able to handle your brush the right way is essential, and it usually boils down to the quality of the handle. The manufacturers of this kitchen accessory have done well to include an ergonomic and durable handle on this unit. It contours to the specific design of your hands – perfect for high levels of efficiency when cleaning your modern kitchen grill. 
When shopping for a grill brush, go for one with bristles that are gentle but highly effective at cleaning grill surfaces. Its nothing short of what you can expect when you have the Grill Brush and Scraper. It works like a charm on most types of modern grills. These include the porcelain, stainless steel, cast-iron types and more.
Has a soft and robust 18-inch handle

Comes with a stainless-steel scraper for convenient use

Provides 5X faster cleaning results than most brushes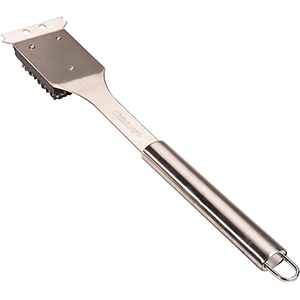 Cuisinart CCB-5014 Grill Cleaning Brush
There is no denying it, Cuisinart is among some of the leading brands when it comes to producing high-end kitchenware. Thus, the Cuisinart 16.5-inch-long brush is an excellent way to complement the functionality and style of your modern kitchen.
Owning heavy duty resources is important in your kitchen is important, and its why we recommend the CCB-5014 cleaning brush. 
The handle on this unit is also exceptional. Why? Well, because it is made using a smooth stainless-steel material, that makes the brush comfortable on the hands. The good thing is that the brush is comfortable, without being overly heavy – making it perfect for hours of cleaning. The brush is made using stainless steel, which means it won't deteriorate and is ideal for years of cleaning performance.
The brush has a scraper on one section, which you can use to remove debris and clean with optimal efficiency. The scraper is powerful and its excellent for reaching all those "hard to reach areas" that exist on your modern grill. You rinse the brush under the water and scrub it using a sponge – perfect for fast cleaning results.
The 16-inch-long brush works perfectly for reaching hard to reach places 

Comes with a stainless-steel scraper for the best results

The handle sits comfortably in the hands 

The brush is durable and easy to clean for most applications
The bristles are not durable enough for every day use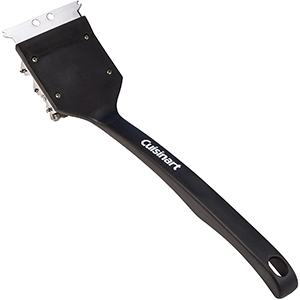 Cuisinart CCB-100 Triple Cleaning Brush
Improve the quality of your grilling regimen when you have the Cuisinart CB-100 cleaning brush that is simple to use and reliable. The grill brush is 18 inches long and available in various sizes.
Thus, you will find it convenient for cleaning different types of grill surfaces with efficiency. 
Plus, with the three rows of cleaning bristles, this unit can cut at several angles, that giving you an optimized pattern. This way, you will enjoy triple the power you would expect when using a single bristle brush. The brush also has an ergonomic handle, that is angled. Such a unique design makes the brush suitable for cleaning the tightest spots. Made using lightweight plastic, this brush is perfect for hours of cleaning, such as if you have a restaurant with many grills. 
The brush has an optimized pattern which means it's way more effective at cleaning than a single bristle brush. The ergonomic handle is also angled to provide optimal leverage, and it comes with a metal scraper that has notched ends. These ends are excellent for cleaning individual rungs and for reaching tight spots.
If you are passionate about grilling, you will be pleased with all the high-end features that you will find on this unit. It's a dependable grill brush that has thoughtfully made handles and durable construction for years of reliable grilling cleaning performance.
18-inch-long brush complements most grill sizes

Provides three rows of cleaning bristles

The comfortable grip handle is angled for optimal leverage

The stainless-steel bristles are woven in 3 rows of aluminum
Slips in the hands when wet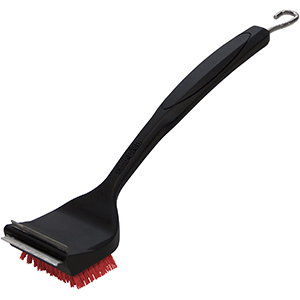 Char-Broil 8666894 Head Nylon Bristle Grill Brush
The Grill Brush is laboratory tested to provide over 10,000 cleaning cycles without any compromise on the brush performance. Plus, the heavy-duty tool hook can also double as a grid lifter and an underwire scraper for your convenience.
Thanks to the bright red and nylon bristles, you have a grill brush that is 5x thicker for optimal visibility when cleaning. It's ideal for cleaning various types of surfaces including chrome wire, porcelain and more. The brush features a removable head to make it easy to clean and replace for your grill cleaning projects. 
The unique aspect of this grill brush is that a unique head, when compared to most brushes you might have noticed on the market. Why?  It is because the head comes with a multi-blade scraper, that is tough enough to remove various types of debris from the surface of your modern grill.
Comes with bright red and nylon bristles for cleaning

5x thicker for high levels of visibility

The removable head is easy to clean and replace

The head comes with a multi-blade scraper for tough deposits
Could be available in a better finish
Features of the Best Grill Brush
Handle length – a good grill brush has a long handle, which will make it easy to get to the "hard to reach spots" in your grill. Anything between the 13 to 20-inch handle size should be perfect for your grilling needs
Bristle quality – some are made using plastic, while others are made using materials such as stainless steel. Take these into consideration before getting a suitable brush for cleaning your modern grill. Remember to go for durable bristles, and can also withstand exposure to the high-temperature levels associated with most grills. 
Brush comfort – a good brush for cleaning your grill should be comfortable and convenient to use. Usually, most brushes feature

contoured handles

which also sit stable in your hands when working on the cleaning process.

Brand maker – even its not often an indicator of quality, you will benefit from going for products made by reliable brands.
How to Clean A Grill Brush
Preheat the grill

Get the grill scraper and use to scrape off dirt or grease gently from the grill

Get a small container, and fill it with some water. Then, get a brush and use it to clean the top section of the grill.

Clean the grill by working in square sections, that you can define through horizontal grates. Avoid gliding over the horizontal grates as you would do when using a wire brush

You may have to angle the grill backwards slightly to provide a better clean and result 
Pro Tip! – You can watch this Youtube Video by Red Meat Lover, and get more insight into the right way to use a cleaning brush for your modern grill 
Best Grill Brush: Final Thoughts
People who are passionate about preparing quality meals look for resources that can provide the best value for money. In this guide, we have been going in-depth into some of the best grill brush brands on the market. Plus, we have also outlined some of the critical factors to consider when investing in a suitable brush for your modern kitchen. Yes, that's right, getting the right solution for your grill cleaning also requires research and informed decision making. Why? Grill brushes are different and unique in many ways.