Let's face it. There are many different ways of slicing bacon. Bear Carver from the Smoking Meat Forums, for instance, believes that you can cut bacon in whichever way it looks nicest.
However, we believe that slicing bacon the right way entails a little bit more. Things such as the direction and thickness of the cuts are immensely important too. 
And that's exactly what we'll be discussing in this article.
From thick cuts to thin cuts, we'll help you understand which bacon slices you should go for in different situations. We'll also point out which tools will push you closer to making the cleanest cuts.
Ready to kick things off? Let's get right into it!
3 Important Ground Rules For Slicing Bacons
To get the best bacon slices, these are the three important rules you need to know regarding:
How cold to freeze bacon
The thickness of bacon slices
The direction to slice bacon
1 of 3: How Cold Should You Freeze Bacon?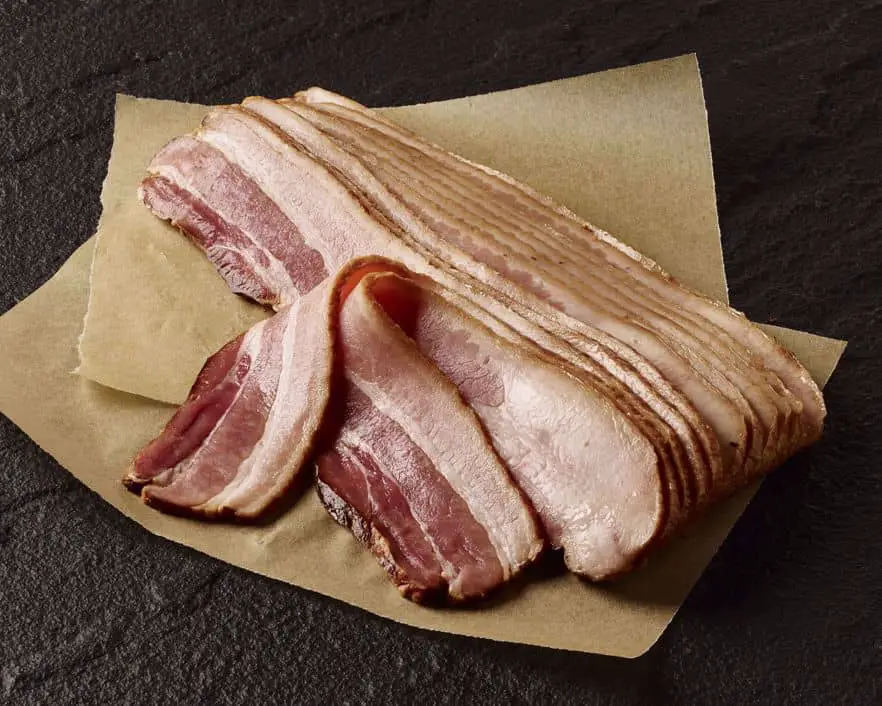 Image Source: lobels.com
Naturally, bacon is squidgy at room temperature. This makes it very difficult to cut into perfect slices.
However, a good deep chill is all it takes to make slicing bacon super easy.
Freezing solidifies the bacon and its fat so that your knife has something firmer to slice through. 
As such, you should aim to keep the temperature of your slab bacon between 23°F – 25°F (-5°C to -4°C) before slicing
If temperatures in your refrigerator are not within that range, don't worry. Here's what you can do to bring your bacon to the ideal temperature range for slicing.
| If Bacon Is in: | Procedure | Waiting Time |
| --- | --- | --- |
| Fridge (32°F – 40°F) | Toss your bacon in the freezer then remove it after a good deep chill. | 10 – 15 minutes |
| Freezer (0°F – 40°F) | Remove frozen bacon from the freezer. Then, wrap it in an aluminum baking sheet to soften it. | 15 – 25 minutes |
2 of 3: How Thick or Thin The Slices Should Be?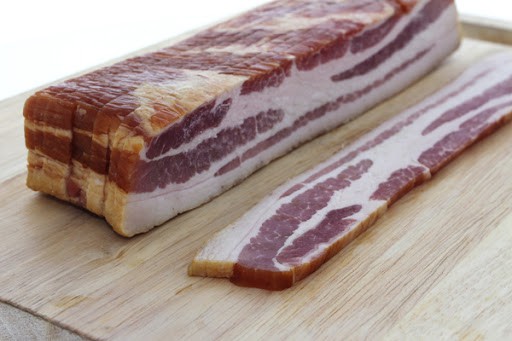 The thickness of the cut is equally important because each has its own special use cases as you can see below.
Type of Slice

Average Thickness

Best For Making:

Thin Bacon Slices

1/32" thick

Crispy bacon
Diner-style bacon
Bacon meatballs
Bacon wrapped steaks

Thick Bacon Slices

⅛" thick

Campfire bacon
Smoked bacon
Bacon sandwich
Thin slices pack in the rich flavor of bacon we all love. This makes them good for breakfasts. 
On the other hand, thick bacon slices can absorb more flavor than thin slices. You can thus feed a bigger and hungrier lot with thick bacon slices.
3 of 3: With or Across The Grain? The Slicing Direction
By default, you should always slice your bacon across the grain and not with it. 
This is because the tenderness of your bacon will depend on the direction in which you slice your bacon. 
Slicing across the grain ensures every slice has a little bit of the fat and the meat. It is also easier to chew bacon that's been cut across the grain. 
However, you could consider cutting it with the grain if you were slicing jerky.
The 2 Methods of Slicing Bacon [w/ Steps]
How you slice your bacon will depend on the tool you have. Thus, the two methods of slicing bacon will use either slicing knives or meat slicers.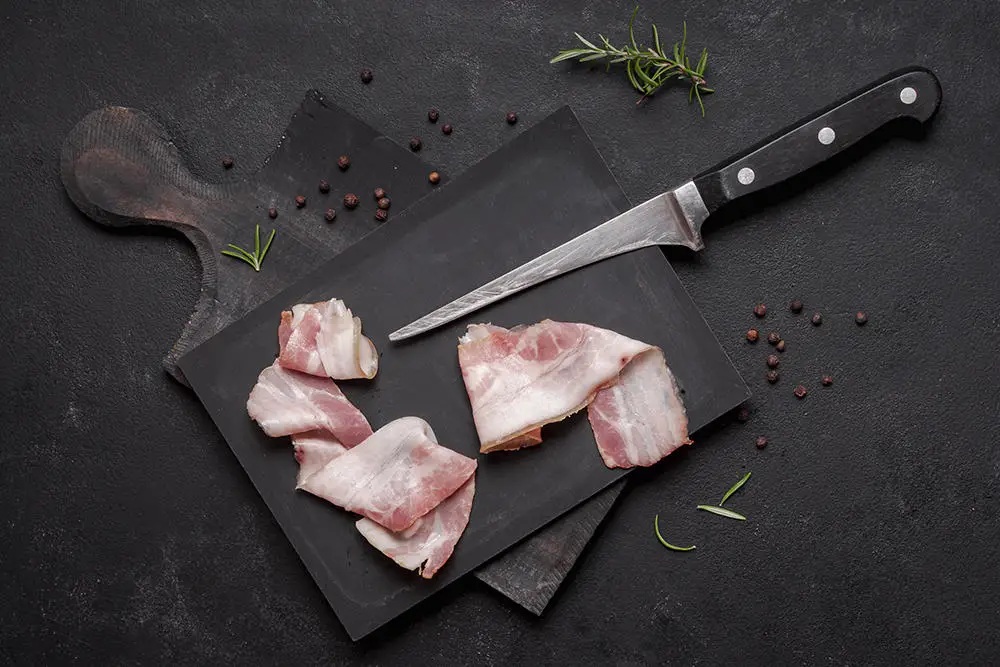 Method 1: How to Slice Bacon With a Knife
Slicing bacon with a knife is the easiest and most popular method. But intricate details such as the length of the knife can also have a big impact.
You might probably be tempted to use any kitchen knife for slicing. However, you should use a slicing knife if you want to get the best results.
Tools You Need
Picking the right tools will push you closer to a cleaner slice. With that said, here is a list of slicing knives and additional tools you'll need to slice bacon the right way.
Item

Types

Our Pick

Purpose

Slicing Knife

Small blade

For bacon strips, diced bacon, or lardons.

Medium blade

For bacon lardons, cubed bacon, and bacon strips.

Large blade

For bacon steaks, long bacon strips, bacon dices & cubes.

Hand Glove

Multi-purpose BBQ gloves

For handling the raw bacon.

Plastic Wrap

Cling film

To wrap the bacon before a deep chill.

Chopping Board

Bamboo cutting board

To provide a surface for cutting bacon.

Aluminum Baking Sheet (optional)

General purpose

To soften frozen bacon that's pulled out from the freezer.
6 Steps To Slice Bacon With a Knife
Though there's no wrong way of using a slicing knife, our simple 6-step guide below simplifies the process while ensuring your safety too.
Step 1 of 6: Put On Your BBQ Gloves
Wear your BBQ gloves first to avoid coming into contact with fat from the bacon. The gloves will also make it easier to hold the bacon just before cutting it.
Step 2 of 6: Freeze Your Bacon To a Deep Chill
Wrap your bacon in plastic wrap and place it in your freezer for about 10-15 minutes. If your bacon was in the freezer, take it out and wrap it in the aluminum baking sheet.
Step 3 of 6: Align Your Bacon With The Chopping Board
Place your frozen bacon on the chopping board such that you can cut it on the shorter side. Try to align it such that you can easily make straight cuts through the bacon.
Step 4 of 6: Position Your Hands For The Cut
Place your left hand on top of the slab bacon and hold it down. Use your right hand to firmly slice the bacon with the knife. Ensure the first slice is straight as it will help shape the next slices.
Step 5 of 6: Repeat Steps 3 and 4 For More Bacon Slices
Realign your bacon so that its edge is parallel to the chopping board again. Slice the bacon thinly or thickly using the slicing knife until you have the number of slices required.
Step 6 of 6: Clean The Knife Then Store It
You shouldn't leave your sharp slicing knife on your counter once you're done with it. As such, run it through water then gently clean it after use. Remember to store it in a safe place too.
Important Safety Tips
Working with a slicing knife will need you to follow some safety precautions. Here are a few things to look out for when using them:
Tip 1: Always keep your fingers away from the knife's cutting edge
Tip 2: Use a sharp knife for safer and faster slicing
PROS
Use up very little space
Can make different types of cuts
Easy to clean
Cheaper than slicing machines
CONS
Difficult to make even-sized slices
Needs regular sharpening
Requires more time to make even slices
Method 2: How to Slice Bacon With a Meat Slicer
Meat slicers are a big upgrade from slicing knives. Why? Because they can help you get more precise cuts from different kinds of raw or frozen meat.
But to explain how to slice bacon with a meat slicer, we would have to talk about its two main categories:
Electric/Automatic slicers
Manual slicers
Electric/Automatic Slicers
The name says it all. Electric slicers have to be plugged into the mains to work. But they are fast and can make super precise cuts.
Tools You Need For Slicing Bacon
An electric slicer won't be the only thing you'll need. Below are a few more tools that will make your work easy.
ITEM

Type

Our Pick

Purpose

Electric Slicer

Entry-level slicer / Mini slicer

For making home-made bacon strips and bacon steaks

Mid-level slicer

For making bacon steaks, bacon strips.

Premium-level slicer / High-speed slicer

For commercial slicing of bacon steaks or strips

Hand Gloves

Cut-resistant gloves

To protect your hands while operating the slicer or when cleaning it.

Vinyl gloves

To put on top of your cut-resistant gloves for easier handling of bacon.

Wax Paper/Deli Tissue

Dry wax paper

To hold bacon slices after they're cut.
9 Steps To Slice Bacon With an Electric Slicer
Electric meat slicers are more intricate than slicing knives and manual meat slicers. Thus, using them calls for a few extra steps:
Step 1 of 9: Read Your Electric Slicer Manual
Automatic meat slicers differ depending on the manufacturer. As such, set up the slicer as per the instructions in its manual while paying close attention to the safety recommendations.
Step 2 of 9: Choose The Slice Thickness
Locate and adjust the slice thickness knob so that you can have your ideal number of slices. Electric meat slicers can make cuts of anywhere between 0 – 15mm. So, choose the right thickness for your slices.
To ensure your safety, put on the food-grade cut-resistant gloves followed by the vinyl gloves. Using the vinyl gloves will help you hold both the bacon and the bacon slices a little better.
Step 4 of 9: Freeze The Bacon For a While
Place your bacon in the freezer for about 15 minutes to give it a deep chill. If the bacon is in the freezer, wrap it in aluminum foil for 15 – 25 minutes. This will help soften it up.
Step 5 of 9: Put Wax Paper/Deli Tissue Beneath The Slicer
Line up the wax paper and place it on the sliced meat exit under the slicer. Ensure you place it in such a way that bacon slices will always drop on the wax paper.
Step 6 of 9: Place Frozen Bacon on Meat Holder
Put your frozen bacon on the food pusher and confirm it's tightly gripped before proceeding. If you have a long slab of bacon, consider cutting it into a smaller piece that will fit perfectly on the food pusher.
Step 7 of 9: Turn On Slicer and Start Slicing
Turn on the slicer then start cutting the bacon by gently pushing the carriage towards the blade. Once a slice leaves the exit, use your left hand to collect it and place it on the wax paper. Repeat this process to get more slices.
Step 8 of 9: Turn Off, Unplug, and Reset Thickness Dial to Zero
After you're done slicing, turn off the slicer and unplug it from the mains. Next, set the thickness dial back to zero so that the blade remains secured.
Step 9 of 9: Clean and Pack Slicer For Next Use
Disassemble the removable parts of the slicer then remove your vinyl gloves. With your cut-resistant gloves on, clean your slicer with warm water and mild detergent. Once done, reassemble and pack it up for next use.
Important Tips
Tip 1: Always keep your hand away from the moving blade
Tip 2: Consider slicing small pieces of bacon with a slicing knife
Tip 3: Never slice cooked bacon after slicing raw bacon
PROS
Easy to set up
Makes evenly sliced batches with precise thickness
Fast operation
CONS
Difficult to clean depending on the model
Takes up a lot of space
Costs more than slicing knives
Manual Meat Slicers
Manual meat slicers can still help you slice your bacon just as good as an electric meat slicer would. While they aren't as fast, they have more precision than slicing knives.
Tools You Need
Below are the most essential tools you'll need if you wish to go manual.
Item

Type

Our Pick

Purpose

Manual Slicer

Short blade

For making home-made bacon strips, and bacon lardons

Medium blade

For bacon strips, steaks, and lardons.

Long blade

For bacon strips, bacon steaks, bacon cubes, and bacon lardons

Hand Glove

Multi-purpose BBQ gloves

For handling the raw bacon.

Plastic Wrap

Cling film

To wrap the bacon before a deep chill.
4 Steps To Slice Bacon With a Manual Meat Slicer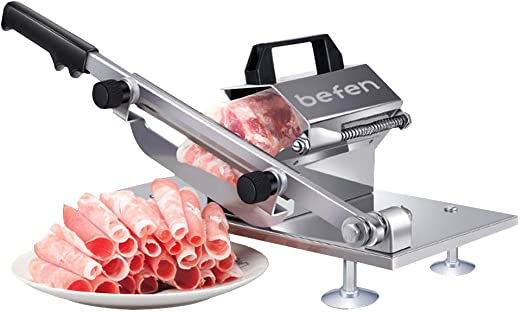 Using a manual meat slicer is almost like using a slicing knife, but with a bit more control over the cuts. If you happen to have one, here's how you can go about slicing bacon with it:
Step 1: Freeze The Slab Bacon
Wrap your bacon with plastic wrap and toss it in the freezer for about 15 minutes to give it a deep chill.
Step 2: Place Bacon On Meat Slicer Holder
Put your semi-frozen slab bacon on the meat slicer holder and adjust it to ensure it has a tight grip on your meat. For the best slices, your bacon should remain perfectly still.
Step 3: Set Slicing Thickness
Set the slicing thickness you desire by adjusting the blade position so that it can slice precisely. Remember that manual meat slicers also have limits when it comes to the thickness of the cuts.
Step 4: Proceed To Slice The Bacon
Lower the slice blade firmly to cut your bacon into slices. Take care by keeping your fingers away from the slicing blade. Repeat the process until you have the number of slices you were aiming for.
Step 5: Disassemble Slicer For Cleaning
First, set the thickness knob back to zero. Next, take apart the manual slicer by removing its pieces. Place them in warm water with mild detergent and clean the individual pieces before storing it for next use.
Important Tips
Tip 1: Always set the thickness dial back to zero
Tip 2: Sharpen the slicer's blade regularly for best performance.
PROS
More affordable than electric meat slicers
Relatively easier to clean
Simple and easy to use
CONS
Not all meat slicers come with a good blade
Takes up counter space 
Replacing blades is costly
Can You Use a Mandoline Slicer?
A mandolin slicer can slice up many different things. But we would not recommend you use it if you have a slicing knife lying around. 
Why? Because mandolin slicers are best used for cutting fruits and vegetables. They also give you very little control on the thickness of a slice. 
As such, a mandolin slicer may not give you consistent bacon slices. While you can still slice bacon with it, you won't always be happy with the results.
Bacon Slices Per Serving
How thick or thin the slices are will also determine a few other things. Below is a table showing how many slices you can get from one pound of bacon.
| Thickness of cut | Thickness in inches | Slices in 1 pound bacon | Weight per slice |
| --- | --- | --- | --- |
| Thin | 0.031 inches | 25-35 | 12-14 grams |
| Regular | 0.062 inches | 16-20 | 24-28 grams |
| Thick | 0.111 inches | 10-14 | 36-45 grams |
You stand to get more slices when you make your cuts thinner. But that will also affect how many cups of crumbled cooked bacon you can fill.
| Number of regular slices | Cups of crumbled cooked bacon |
| --- | --- |
| 4 slices | ¼ cup |
| 8 slices | ½ cup |
| 12 slices | ¾ cup |
| 16 slices | 1 cup |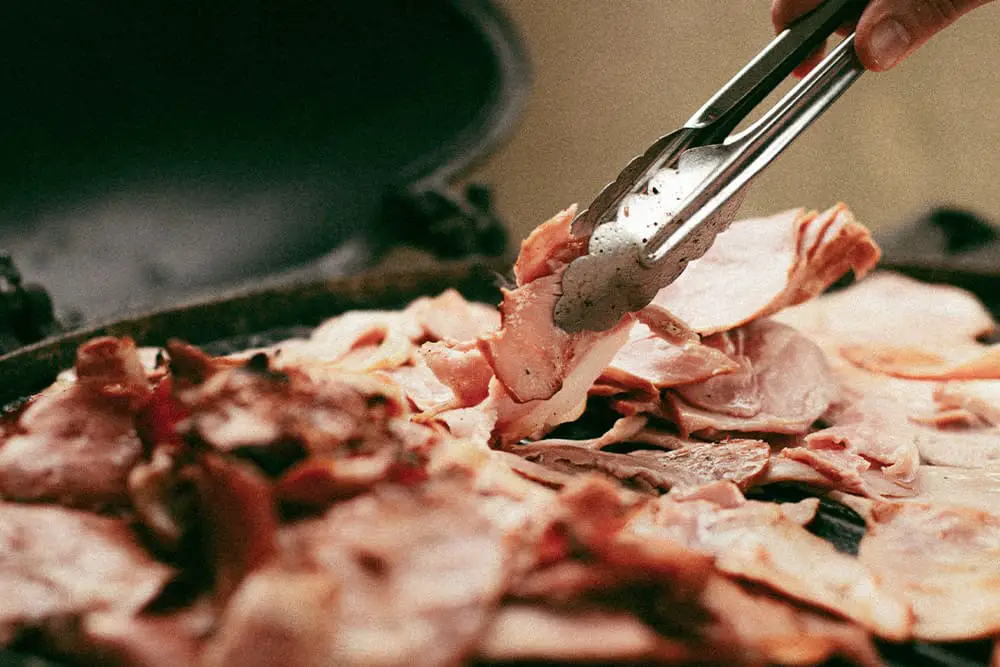 The 5 Different Ways of Slicing Bacon
Regardless of the type of bacon you have, you will probably end up slicing it up in one of the 5 ways below:
Strips
Steaks
Lardons
Dices
Cubes
We bet you already have an idea about how each should be cut. But there's a lot more to know especially since some methods of slicing bacon are ideal for particular types of bacon.
Below is a table that will help put things into perspective before we dig into the individual processes:
| Type of Cut | Bacon Type To Use | Best Tools To Use |
| --- | --- | --- |
| Strips | Slab bacon (pork belly), peameal, jowl, buckboard | Slicing knife, Meat slicer |
| Steaks | Slab bacon | Slicing knife or manual slicer |
| Lardons | Frozen bacon, Slab bacon (pork belly) | Slicing knife |
| Dices | Slab bacon | Slicing knife |
| Cubes | Slab bacon | Slicing knife |
Slicing Bacon into Strips
These are probably the most common types of cuts, and they can either be thick or thin depending on your taste. 
Slab bacon or pork belly are the best kinds of bacon to slice into strips. However, you can also do the same for most other kinds of bacon such as peameal, jowl, and buckboard.
To cut your slab bacon into strips, these are the 5 steps you'll need to make:
Step 1: Place the bacon slab flat with the fatty side facing up
Step 2: Trim down excess fat if there's more of it on one side than the other
Step 3: Take your slicing knife and place one hand on top of the slab with your fingertips curled under for safety purposes
Step 4: Place the knife blade against your knuckles and cut thin slices of the bacon on the short side and across the grain
Step 5: Continue the process until you have your desired number of bacon strips
Expert Tip: If you have an uneven slab bacon that is thick on one side, you can use it to make broad strips and save the thinner side for lardons.
Slicing Bacon into Steaks
These are ideally thick strips which you can place on your grill or even smoke using a smoker. Here too, slab bacon is the best kind of bacon to cut into steaks. 
The process for cutting slab bacon is also the same as cutting strips if you'll be using a slicing knife.
However, if you use a meat slicer, remember to adjust it such that you can get the thickness you desire. 
This will be important since you'll use the same process for other types of cuts like dices and cubes.
Slicing Bacon into Lardons
To slice your slab bacon into lardons, simply follow the procedure for steaks above. Once you have 3-5 thick slices of bacon, here's what you should do next:
Place the slices of bacon on top of each other so that they line up perfectly

Cross-cut the thick slices of bacon so that you end up with thick rectangular-shaped pieces of bacon

Repeat the same procedure for other slices until you have the ideal serving
Slicing Bacon into Dices
To make diced bacon, all you have to do is slice thick strips of slab bacon into tiny little pieces. 
As such, you will follow the same procedure for making steaks. After you've cut your slab bacon into thick strips, these are the subsequent steps:
Cut the thick bacon strips into thin and long ribbons.

Cross cut the long ribbons to make small diced pieces
Slicing Bacon into Cubes
Cubes can be thought of as larger but evenly sized pieces of lardons that have a cube-like shape. Typically, you can cut up about five pieces from one thick slice of bacon. 
To slice up your slab bacon into cubes, simply cross-cut the thick slice of bacon. Since you control the sizes of the cubes with each cut, there's no right or wrong size.
FAQs (Frequently Asked Questions)
How long does sliced bacon last in the fridge?
Sliced bacon can last for 1-2 weeks in your refrigerator. If opened and uncooked, it can last for just a week. However, sliced bacon can last for up to 6 months if left in the freezer.
How much does a slice of bacon weigh?
On average, a single slice of bacon weighs about 12 – 14 grams. If you have a slightly thicker slice, it could then weigh in between 20 – 40 grams.
How long is a slice of bacon?
Most of the bacon you buy from the supermarkets are anywhere from 6 – 8 inches long. However, the length of your homemade slice of bacon will depend on how long your slab bacon was and which side you cut it from.
How many calories are in a thin-sliced bacon?
A single slice of thin-sliced bacon can have anywhere from between 140 – 180 calories of which 144 calories are from the fat content.
How much grease does a slice of bacon produce?
On average, a single slice of bacon with an average weight of 12g can produce 1.4 – 1.8 grams of grease or more. However, this varies depending on fat content in your slice of bacon. 
How long does it take to microwave one slice of bacon?
One minute on high setting is enough to cook a single slice of bacon properly. You can leave the piece of bacon for a little longer (3-6 minutes on medium) to make crispy bacon too.
Wrapping Up
Whether thick or thin, pork belly or jowl, one thing still stands. The ultimate decision on how to slice your bacon will depend on your needs. 
We can literally spend a whole day laying out the guidelines for the perfect way of slicing bacon. 
However, the most important things to remember are the different cuts you want to achieve and the ideal bacon slicer to use.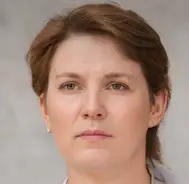 Latest posts by Leah Greenstein
(see all)