Nothing screams "sweet summer," like being able to share tasty meals with family or friends cooked over an open flame. Whether it's for the lightly seared or salty sweetness or freshly grilled meats or corn, summer is the perfect time to enjoy meals outdoors. You want a cooking appliance that is both portable and can still prepare high quality meals when you need it the most. The best propane gas grill under 300 might be an excellent place to start. 
Sure, most cooking enthusiasts are outdoors observing the temperatures on their smokers, and perhaps even when its cold and heat read single digits. However, for the savvy cookers, grilling season beings on Memorial Day, and things pick up as the year follows through. Cooking with gas is convenient because you can prepare meals at picnics, camps, tailgates, and more. 
We have identified some useful information for you to consider if you want to buy a propane grill on a budget.
How to Buy the Best Grill Under 300
You have probably gone to the store and wondered which best propane gas grill would be suitable for your needs. Furthermore, you probably come across salespeople that tell you about a host of factors to consider when buying a grill. From side burners, rotisserie burners, BTUs, and more, all these are crucial factors to consider in the best grill. We have developed this grill to help you make a much more informed in such a situation:
The first rule when buying grills is that you always get you pay for. A significant portion of good gas trills falls under the $300 category. That said, some brands can surpass this mark, and this is often when you want specialized meals. There are several grills on the market, and new models come out each year. Get a sense of some of the features you want in a grill, and then get on the consumer market for some suitable options.
Another critical factor to consider is the type of fuel the gas uses. Will it use natural or propane gas? Natural gas might require a gas supply line at the specific place you wish to use the appliance. Furthermore, you can buy several grills in either configuration, but you can't operate a propane grill on natural gas. Most affordable grills don't have the natural gas option, but propane gas is still outstanding. That said, you can even get some natural gas conversion kits, that average at $100.
Another critical factor to consider is the material construction of the unit. The main body should be made using cast iron, stainless steel, or sheet metal. Stainless steel is perfect because it works best for cooking equipment, and it's also affordable. However, not all stainless-steel materials are made equally.
 Consider evaluating the body of the grill, and the frame construction as well. Several grills have painted frames, which will still rust – and this is not good. Thus, ensure that you evaluate the quality of the steel to ensure you get the best material for your cooking needs.  Furthermore, you also want a grill that is made using materials which are easy to clean. This is especially true if you like using sauces and pastes during the cooking process.
It would be best if you had a grill that has a suitable size for your cooking space and cooking needs. As far as the size goes, you want to evaluate the grill for the functions, you will need the grill to perform. More so, you also want to consider the number of people the grill should serve at any moment. If you're going to serve several people, or if you perhaps want to cook large meals such as turkey, then you need a relatively large grill. An excellent way to check for the grill size would be to determine its weight against the cooking capacity.
You have to evaluate the BTU rating of the grill as well before making a decision. It's a metric that assesses the amount of heat produced by a grill. A grill that has high BTU levels won't necessarily provide high levels of heat. It's a factor of the heat produced, the average grill size, and its ability to hold and distribute the heat. Never buy a grill because it has a high BTU indication level. Consider comparing the BTU number, shape, and size of the grill. The compact and smaller grills tend to produce higher levels of BTU to make them ideal for various types of cooking. 
The density of metals and the quality of the parts also play a significant role in the longevity of a grill. That said, the most considerable lifespan of your grill relates to how well you take care of the appliance. A durable grill can last for many years, and the last thing you want is rust or degradation. Thus, material such as porcelain enamel and stainless steel should be at the top of your list. Why? Its because grills made out of these materials are exceptionally durable and suitable for modern-day cooking applications.
Top 10 Propane Grill Under 300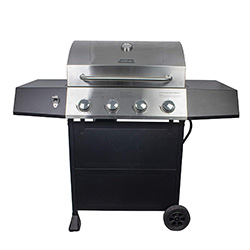 Cuisinart CGG-7400 Full Size Gas Grill, Four-Burner
Cuisinart is a massive brand when it comes to producing high quality cooking appliances. This is why the CGG-7400 might be an excellent recommendation for your needs.
It's a cabinet grill that can provide well over 24,000 BTUs of heat across a small 300 square inch cooking surface. Furthermore, the grill also features porcelain cast-iron grates, which are rust-resistant and can prevent food from sticking on the grill. On the inside of the grill, you will find two stainless steel burners that are durable and ensure reliable cooking performance results.
Equipped with an electronic ignition system, you can be sure of fast and reliable startups each time – all with the simple push of a button. The grill even comes with two metal side shelves for optimal workspace, and can also fold down for convenient storage. On top of that, the convenient storage cabinet with a door offers easy access to the propane tank, while also ensuring that it stays out of sight.
Sitting on four casters, this grill is mobile, and can also sit stable on one surface. You will love the swing-away warming rack that offers an outstanding secondary cooking area. This way, you have a grill that is ideal for sides or making fresh kababs. The grill features a lid-mounted gauge, which offers optimal heat control benefits. More so, the electronic ignition system provides reliable and fast startups each time. The makers of this unit have even included a removable grease pan, which is made using porcelain material.
Lid mounted temperature gauge

Electronic ignition offers fast start-up

Porcelain-coated grease pan

100 sq. inches swing-away warming rack
Small cooking surface for some users

Could use an improved cooking surface area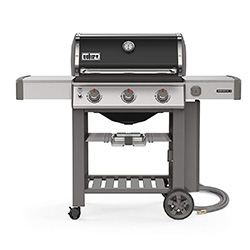 Weber 66011001 Genesis II E-310 3-Burner Natural Gas Grill, Black
You are one step closer to grilling like professional with the Weber 66011001 Grill. This unit comes with a powerful GS4 high-performance grilling system for the best cooking results.
Even more, the porcelain-enameled and cast-iron cooking grates ensure optimal heat retention results. It also has a fuel gauge that lets you check the amount of fuel left in the tank. The porcelain-enameled and cast-iron grates offer optimal heat distribution across the entire grill surface. 
To take things to the next level, you can even control this unit through the use of a mobile app. The IGrill app lets you observe the thermometers, from beginning to end. It will also display the real-time temperature levels on your mobile device. Thanks to the easy to read fuel gauge located close to the tank, you are always ready for the next fill-up service.
Any drippings that are not vaporized by the bars are funneled away from the burners to a disposable tray. The tray is conveniently placed within the removable catch pan under the cook box for your convenience. Even more, this grill has a unique design that helps to keep food warm, toast buns all while the main meal finishes grilling on the main grate. You can even leverage side tables to keep seasonings, platters, and more within your arms reach.
Comes with a sturdy grill system

Porcelain-enameled and cast iron cooking grates

Convenient fuel gauge makes it easy to check remain gas

Compatible with mobile apps
The mobile app has a specific operation range

Cast iron grates are not easy to clean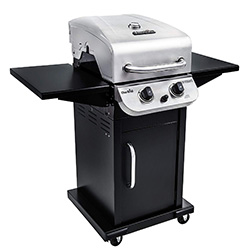 Char-Broil Performance 300 2-Burner Cabinet Liquid Propane Gas Grill- Stainless steel
It's a heavy-duty grill, packed with all the useful features that you would wish for in a reliable grill for your needs. For instance, this unit comes with a 2-burner cabinet gas grill that can deliver an exceptional 24,000 BTUs of total power. 
More so, this unit has an outstanding 300 square inch cooking surface, which is more than perfect for your meals. The cooking surface also has porcelain-coated cast-iron grates, which provide optimal heat direction results. The grates are rust-resistant and will help prevent any issues such as food sticks and are simple to clean.
On the inside, the grill comes with two stainless steel top ported burners. The burners are durable and can provide reliable cooking performance. More so, this unit comes with an electronic ignition system for fast and reliable startups, all when using a simple push of a button. The inclusion of two metal side shelves will provide optimal cooking space for your needs. You will also appreciate the convenient storage cabinet with a door that offers easy access to the propane tank. 
The grill also sits on as many four casters, two of which provide optimal mobility and stability over surfaces. The Grill lid and UFC are made using stainless steel material for enhanced style and durability, especially if you want to use the grill outdoors.
Stainless steel lid and UFC

100 sq. warming rack and 300 sq. cooking surface

Metal side shelves and stable casters

Offers 24,000 BTUs of heating power
Somewhat heavy in size

Could use ergonomic handles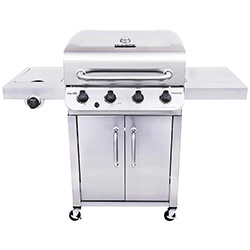 Char-Broil 463375919 Performance Stainless Steel 4-Burner Cabinet Style Gas Grill
This unit has an exclusive stainless-steel finish for enhanced style and durability benefits. Furthermore, it also comes with a stainless steel burner that emits the flame from the top to allow for even cooking. Thanks to the porcelain-coated grease pan, you can be sure of a durable and reliable cooking surface of your needs.
The porcelain-coated cast-iron grates are rust-resistant and built to provide longevity. More so, the reliable electric ignition does well to fire up the grill, and it also features an exceptional 10,000 BTU burner. A good grill is not only suitable for cooking applications, but also complement the appeal of your space as well. This is why the Char-Broil grill comes with a stainless-steel structure and sleek look that will appeal to your cooking pals. 
The grill has convenient side shelves that offer added prep space for your cooking needs. You will also appreciate the four stainless steel top ported burners that provide durable and reliable cooking performance. The inclusion of an electronic ignition system offers fast and reliable start-up results, with the push of a button.
10,000 BTU lidded side burner

The lid folds down to protect the burner

Four stainless steel top ported burners

The electronic ignition system for fast and reliable startups 

Two side shelves for increased storage and prep space
The supply line is not well positioned

Temperature metrics are not well indicated and small in size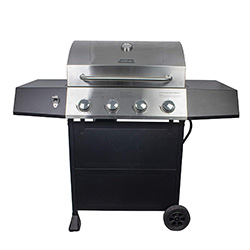 Cuisinart CGG-7400 Full Size Gas Grill, Four-Burner
The generous cast iron grate does well to retain heat longer and radiates more heat than a wire grate. Furthermore, the grate provides an exceptional 443 square inches of cooking space and a durable warming rack. The warming rack on this grill is an excellent feature for managing the timing of your foods, while also keeping other foods warm. 
It's an excellent platform for keeping grilled vegetables warm, or perhaps for placing hamburgers or focaccia. With four stainless steel burners, this unit provides optimal control over the heath levels. You can use it to maintain the temperature in one area warm, and another to be sizzling hot. Use this unit for cooking delicate foods such as shrimp, fish, and more, to perfection.
An outdoor grill should be resistant to the weather elements without facing an issue such as rust. The cover, fascia, control knobs, and burners are made using steel, such that they provide longevity. On top of that, this grill is functional and can be used on various types of stable surface. With its heavy-duty enameled steel cart, the grill gets optimal support to make it stable on most surfaces. It even comes with wheels, such that you can move it to any location, in or outdoors.
Solid stainless steel construction

Twist start ignition for ease of use

Heavy duty cart with wheels

Convenient control knobs included
The cart wheels increase the weight of the grill

The twist start igniton knob is not ergonomic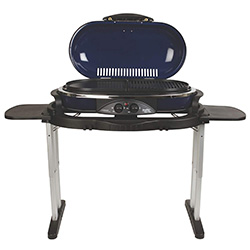 Coleman Roadtrip LX Propane Grill
Whether you are a seasoned cook or perhaps just a novice, the Coleman Roadtrip Grill is the perfect solution for your needs.
It's an excellent grill for camping, picnicking and more. Capable of producing over 20,000BTUS, this unit heats up independently, and with two adjustable burners included. The swap top also comes with interchangeable cooktops, which makes it easy to switch out the grill grates for your needs. 
It's a grill with outstanding cooking technology, such that you can enjoy consistent performance even in extreme cooking conditions. This unit also has collapsible stands, that can fold down for convenient storage. This dynamic powerhouse will let you show off your grilling skills at picnics, camps, parties, and more. Thanks to the unique side handles and hooks, you will gain easy access to your utensils during the cooking process. 
The makers of this unit have also done well to include an InstaStart ignition, which makes it simple to light the burners with a push button. The durable design of the grill means that it excels well in chilly conditions thanks to the inclusion of PerfectFlow Technology. The technology ensures you enjoy optimal heat and with a massive 285 square inch cooking surface area.
Portable grill for picnicking and camping

Can produce 20,000 BTUs of heat

Swaptop interchangeable cooktops are convenient

Collapsible stand folds for compact storage 
Cleaning the grates requires dexterity

Some users find the controls knobs to be small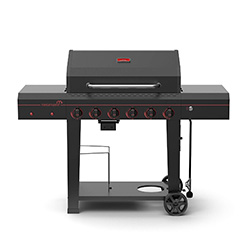 Megamaster 6 Burner 753 Sq. Inch Propane Gas Grill, 720-0983 Black
This unit can provide as much as 54,000 BTU of flame roasting energy and over 753 sq. Inches of space. Furthermore, this unit features an electronic ignition, which instantly fires up the burners for your convenience. To make things better, the grill comes with an in-built thermometer that provides precise temperature regulation results. 
With an upper level warming rack, this unit makes up for an excellent place to keep your buns and foods toasty. The heavy-duty cart-style wheels are durable and make the grill stable on most floor surfaces. The grill also comes with a control panel and side shelves, which make it simple to operate during the cooking process. 
The porcelain enamel flame tamers help to protect the burners and provide optimal heat distribution across the cooking surface. More so, the oversized 13.5 full shelves offer adequate space to place the supplies required to cook your masterpiece. On top of that, the inbuilt thermometer provides precise temperature control, such that you cook meals as needed. The grill even has an easy to read gauge, that lets you achieve perfectly cooked food.
Offers an exceptional 754 sq inches of cooking space

Battery operated electronic ignition

Excellent heat retention and oven style burning

Cart hole with tank hole and lock
The cart hole is too small

The ignition battery requires replacement at some point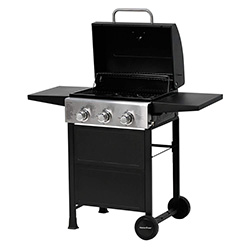 MASTER COOK Classic Liquid Propane Gas Grill
You can never go wrong with products from the MASTER COOK brand. This is why this liquid propane gas grill might also be an excellent consideration for your needs.
Featuring a unique three burner system with an exceptional 340 square inch cooking space, this gas grill can cook several meals at the same time. It even features a control panel on the front and two collapsible side table for optimal maneuverability. On top of that, the grill is suitable for use in various settings, including decks, balconies, small potions, and more.
The porcelain-enameled wire cooking grates provide optimal heat retention results. Equipped with a piezoelectric ignition system, the grill starts conveniently, and it heats up fast. The makers of this unit have done well to add a stainless thermometer to provide accurate temperature control results. Also, the inclusion of an easy to read temperature gauge lets you achieve perfectly cooked food results each time. 
Additionally, the grill features a stainless steel handle, which is comfortable, and won't warm up during the cooking process. The stable design of the grill means that you can place it on most floor surfaces without toppling.
340 square inches of cooking space on porcelain grates

30,000 BTU heat level 

Three stainless steel in-line burners 

Piezo ignition system for fast and reliable startups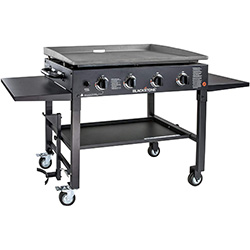 Blackstone 1554 Station-4-burner-Propane Gas Grill
Get your old grill replaced with the Blackstone 1554, and you will never look back. Why? Well, this unit is simple to assemble, and it also comes with a quick ignition button for ease of use.
Furthermore, the top griddle top is easy to detach, and this unit is also simple to set up. You will also appreciate the inclusion of four independently controlled burners, that regulate the low to high-temperature settings with ease. Equipped with four industrial strength caster wheels, this unit is easy to move around, even the smallest of spaces.
The solid stainless-steel burners provide a long life, and the thick rolled surface ensures optimal heat retention benefits. Since it's a propane grill, you don't have to worry about issues such as charcoal, kerosene, or matches. It's a grill with a simple start and battery-powered push buttons for convenient use. Thanks to the unique flat top on this unit, you get a grill that retains all the flavor and juices in your food – but you also get to enjoy crispy results as well. 
It's a common thought among cooks that standard grills can make good hamburgers. Well, this unit sets the facts straight. Its only high-end grills that can get the job done right. You can even make use of griddles, which are ideal for breakfast foods and preparing stir fry. Make everything from kababs to veggies on this unit. Whether you want to cook for an entire family or the whole neighborhood, this unit is up to the task. The four burners on this unit mean that you have more than sufficient space for your cooking needs.
Easy assembly and quick ignition button

Four independently controlled burners with temperature settings

Solid stainless-steel burners for long life

Heavy duty and durable grill design
Takes a lot of time to set up correctly

Could use foldable legs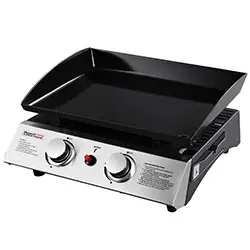 Royal Gourmet 22 Inch Tabletop Grill, Portable Propane Gas Griddle
This unit comes with two separately controlled burners, that can provide over 17,000 BTU of cooking power. Furthermore, the grill also has a durable stainless-steel control panel, with a piezo ignition system. Equipped with a side grease cup, you can easily collect the remaining oil as you cook. The grill also features a regular for large tanks, thereby making it ideal for hiking and various outdoor applications.
You will also appreciate the porcelain-enameled griddle top, which provides an exceptional 328 square inches of space. Don't let the compact size of this unit fool you. It can grill various types of meals, and it won't leave any sear marks on your meats. 
Designed to be portable, this unit is convenient for various types of outdoor activities. You can use it for camping, nights on BBW, camping and more. The Royal Gourmet brand has also done well to incorporate the grill with a large cooking surface. This way, you can prepare various types of meals, including French toast, bacon, eggs, hash browns, and more.
Durable stainless-steel control panel

Piezo ignition for easy starts

Side grease cup to collect oil while cooking

2 separately controlled burners
Could use more than two burners

Small grill in size for people with large families
The ability to cook your favorite meals when and where you want is undoubtedly a remarkable privilege. However, you can only enjoy such benefits when you have the correct cooking resources. The best propane gas grill under 300 are excellent for people who want to enjoy meals on a budget. These grills are designed to be durable, but also provide high quality cooking performances each time.
A good propane gas grill not only has outstanding cooking functions, but buts its also safe and easy to use. Get a propane grill, and start enjoying the best quality meals today.