Whether you are outdoors camping, tailgating, fishing, or perhaps relaxing at the beach, it would be great if you can enjoy cooked meals. This is why getting the best-infrared grill might just be the perfect recommendation for your needs. Aside from cooking through the use of infrared technology, the grill should also be portable and with a large cooking surface area to match. Perhaps the most significant benefit of using an infrared grill would be that it heats up fast and cook various types of meals. You can use it to grill burgers, chicken, vegetables, slices of meat, and more. 
Unlike traditional gas grills that involve the use of convection heat to prepare food, an infrared grill limits hot airflow. It uses natural and radiant heat to cook food directly without any drying process involved. While convective cooking will compromise the moisture in your food, infrared penetrates deep into your food, while simultaneously locking in food juices. It's a grill that eliminates any issues such as flare-ups, while also offering adequate heat for the cooking process. 
The following is a useful guide and some useful product suggestions for you to consider if you want the best of grilling.
Why is Infrared Cooking Popular?
Over the past few years, several brands have launched infrared products, as a response to increasing consumer demand. Why exactly are infrared cookers conventional? Well, these machines provide a host of unique user benefits. Infrared cooking does not involve the use of traditional fuel methods such as kerosene or heat. It consists of the use of light, which has many benefits over the traditional method of cooking.
For instance, such grills heat your food using light, which does well to lock in and maintain the moisture of the food. Most, if not all, grills are made using unique ceramics, metal, or glass. When the grill comes with a sear burner, then you also know the section of the grill, which can provide searing benefits. 
Furthermore, infrared is much more effective at cooking, than convection cooking. The food heats up fast, and such appliances can reach temperatures of as much as 700 degrees Fahrenheit. This means that you can easily cook large meals such as turkeys indoors, minus the hassles of smoke and poisonous gases.
Factors To Consider When Buying The Best Infrared Gril
Many grills today seem to have more bells and whistles to choose from than technological devices. Some brands go as far as attaching kitchen sinks to their appliances. Without further ado, here are some key things to look out for when buying a grill.
You Need a Grill with Several Burners
A good gas grill should have no less than two burners. This is important because it lets you cook more than one meal at the same time, and Is essential when you have many guests. Some grills come with burners that line up from the side, which you can customize to suit your needs. Furthermore, some good grills are designed to cook meals through direct and indirect heat for the best results. 
The size of the cooking surface provides optimal flexibility for meal preparation. The best set up would be when you have burners that line from the side for the best cooking results. Also, front to back is ideal for applications such as rotisserie cooking. Grills that have knobs on the front usually indicates that the burners are placed from side to side. 
You also have to beware of some grills that have multiple burners but fail to deliver adequate heat for your cooking needs. A good grill should be made using materials such as brass, aluminum, and stainless steel.
You Need A Lid
A significant number of grills don't come with lids. That said, without a cover, your cooking ability is limited. A grill with a lid, lets you set up two cooking zones. Without such a component, you cant come up with such a setup. A grill without a top is ideal for preparing meals such as burgers, dogs, and small cuts of meat. However, it won't be the same when you want to make thick ribs, turkey, and even chicken. Other brands also feature double-layered lids for enhanced heat retention.
You Need a Sear Burner
Regardless of the BTU rating of the gas grill, most of these units can sear or steak burgers properly. The ideal sear mark should be from dark brown from each side of the meat, with no grill marks left. To achieve the best sear results for your meat, you need a grill that can produce high levels of energy. Some grills have a single burner that can provide adequate power, and you have to consider this too.
Ease of Use
The grill should also be easy to use and portable. Most grills let you just connect a standard gas tank, and turn a knob for the supply unit to start working. Also, the grill should functions, such as removable grease trays, for ease disposable and mess-free cleanup. Some brands go as far as incorporating their grils with ergonomic and cool-touch handles. These are handles that are comfortable on your hands, and will never warm up during the cooking process.
Grill Functionality
A good grill also provides sufficient surface area for cooking your meals. To be specific, it might feature a removable grill grate, which is perfect for various types of meals. This includes chops, burgers, wings, steaks, and more. The cooking surface should not lead to flare-ups when you cook, and the food should not fall between the grates.
On average, you want a grill that provides a surface area of 500 to 1500 sq. Inches of cooking space. It all depends on the number of people you want to serve with food at a time. You will also appreciate owning a grill that comes with a side-mounted smoker box. The smoker box should be convenient to access from outside of the unit, to make it easy to add wood chips without opening the lid. The typical flavors for cooking include hickory, pecan, apple, and more.
Top 8 Infrared Grill Reviews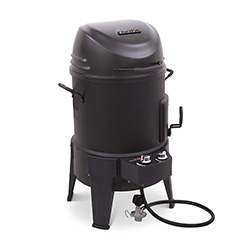 Char-Broil The Big Easy TRU-Infrared Smoker Roaster & Grill
Infrared cooking is at the cutting edge of modern-day cooking solutions. This is why we recommend the Char-Broil The Big Easy Tru Roaster Grill as a good place for you to start.
Aside from grill your food, this unit can also smoke and roast. It comes with TRU infrared technology, which helps to cook food evenly and ensures juicy results. Furthermore, the powerful grill can evenly cook a turkey, ribs, and various types of meat. 
The Char Broil Brand is also well known for making cooking appliances that are also appealing to look at. This is nothing short of what you can expect when using this unit. It not only prepares the best meats, but also lets you do so with style. 
The grill can hold up to 25lbs for roasting and offers an exceptional 180 square inches of cooking area for your grill needs. You can use the smoker box for added flavor, and the grill even comes with unique temperature control functions. These functions allow you to control the temperature range from 9,000 to 18,000 BTUs.
You will also appreciate the side-mounted smoker box, which you can access from the outside of the unit. This way, you can easily add wood chips without having to open the lid. You can use a host of unique flavors, including hickory, cherry, apple, and more. The grill even features two sides mounted carrying handles to make it easy to move the grill with ease. Its portable design makes it perfect for tailgates, picnics, and more.
The Good
Can hold up to 25lbs of meat and offers 180 square inches of cooking area
Heavy duty and stable grill design
TRU infrared technology cooks food evenly
Convenient temperature controls
The Bad
The metric indications on this unit are small
Could use improved gas supply line design
Magma Products, A10-918-2GS Newport 2 Infra Red Gourmet Series Gas Grill
When grilling your foods, you need a unit that is up to the task. We also recommend the Magma Products, A10-918-2GS Infrared Gas Grill, as an excellent solution for your needs.
This unit comes with all the features that you would wish for in a reliable and dependable addition to your cooking area. You should have this grill ready and setup for cooking with a few minutes – and with no tools required for the process. 
For instance, the grill features a new tempered glass viewing window, which makes it simple to observe your meals as they cook. Furthermore, this grill is not only built for functionality and cooking performance. Magma Products, A10-918-2GS, also features a beautiful and rounded-edge design that easily complements your cooking area. As one of the best grills on the market, this unit also comes with a marine-grade mirror stainless steel material construction. The heavy-duty design means that this grill is a roadworthy powerhouse, which does not mind getting tossed around in your car. 
Equipped with convenient fold-away legs, the grill is easy to store regardless of the size of your space. It also comes with a locking front access grease tray, which makes it convenient for your needs. The heavy-duty grill can also use 1lb disposable canisters and is an excellent addition to most modern-day cooking settings. Why? The disposable canister is convenient and does not add any unnecessary weight to your cooking appliance.
The Good
Marine-grade polished stainless-steel construction
New tempered glass viewing window
Electronic ignition and infrared radiant screens
Fold-away legs and locking front access grease tray
The Bad
Somewhat heavy for some users
The electric button is not well placed for some
Tenergy Redigrill Smoke-Less Infrared Grill, Indoor Grill
Discover the excellence of using the Tenergy Redigrill, which also boasts of many unique features for the best grilling results. For instance, this unit features a unique grill design for optimal heat distribution.
The grill not only directs heat to the rack`s surface but to the side areas as well. This way, your meal cooks in the same way it would cook in the oven. The grill also comes with a cooling tray, which will catch oils and grease before they get the chance to become smoke.
Heat is evenly spread when you use this grill for cooking. Thus, you can enjoy meals with no cold zones or weak spots. The unique two-piece setup home grill requires less than a minute to start the cooking process. You just place the grill on top and slide the drip tray inside. More so, cleanup is also simple thanks to the nonstick cooking surface and the dishwasher safe components.  The handles on this unit also stay warm, regardless of the temperatures you use to cook your meals. 
Designed to let you grill like a professional, this unit heats up to an ideal temperature of 446°F within 6 minutes. This way, you can enjoy searing meats and vegetables with steakhouse quality results. You will also appreciate that this unit features inbuilt heat overheat protection functions. The machine will shut off automatically when the temperature levels become excessive.
The Good
Quickly heats to 446°F within 6 minutes
Comes with overheat protection
Drip pan design reduces smoke
Easy cleanup and assembly
The Bad
Could use ergonomic grills
Exterior finish is prone to dirt and dust
Kushi Infrared Smokeless Indoor Grill for BBQ, Kebab and Yakitori (Table Top)
The Kushi Infrared Smokeless Grill is an excellent solution for cooking your meals and sharing it with your friends. Portable, convenient, and straightforward.
These are just some of the few benefits you can expect when using this heavy duty grill. It can heat up to 480 degrees Fahrenheit and have your food ready to cook in as little as 20 seconds. This powerful grill also works well to sear your favorite meals, including poultry, fish, and meat. This way, you can enjoy juicy and tender meat each time.
With such a unique combination of features, this unit is perfect for the barbeque lover who wants to stay at home and enjoy food with others. Its equipped with Advanced Infrared Cooking technology, and a unique reflector. This way, it creates a no smoke cooking area, for you to enjoy your meat regardless of the indoor setting. 
The grease from the fast is also separated during the grilling process, thus making your food healthier and tastier. Aside from providing convenient infrared heating benefits, the grill should also be simple to use. The grill also sits stable on the cooktop, and it has convenient LED lights to show the current functionality of the machine. Designed to be easy to clean, this is a highly suitable grill for on the go cooking. All parts of this unit are detachable and dishwasher proof for optimal longevity.
The Good
Heats up to 480 degrees Fahrenheit for optimal cooking
Easy to clean and simple to wipe cooker
Heavy duty and durable grill design
Sets up easy and suitable for small spaces
The Bad
Zaigle ZG-HU375 Handsome Infrared KBBQ Electric Grill
Enjoy the best of infrared cooking with the Zaigle ZG-HU375 KBBQ Electric grill. This unit cooks your food cleaner, faster, and more comfortable through the use of infrared technology.
It's an excellent tool for cooking various types of meals indoors. To make things convenient, this grill also comes with several unique accessories. They include a height extender, oil collection tray, and cover to protect the cooking appliance. Moreover, the temperature controls are conveniently placed and easy to use when cooking temperature specific meals. 
The makers of this unit have also done well to incorporate this unit with easy to use temperature controls. This way, you can customize the temperature levels of the grill, to suit your specific meals. Whether you want to grill kababs, meats, chicken, or even a few veggies, this unit can take it all. A portable grill should have a heavy-duty design to make it simple to move around. Thus, this unit is made using heavy duty stainless steel, which does not add any unnecessary weight to the overall structure. 
The ZG-HU375 ensures that you cook foods faster, cleaner, and more comfortable with infrared heat. More so, the infrared heat cooks your food through gas, which removes lingering odors or pollutants. The grates on this unit are simple to detach and to clean, thereby making maintenance as simple process. It also has a heavy duty design, which makes it suitable for cooking as you go through different locations.
The Good
Available with convenient accessories
High quality temperature controls
Heavy duty and stable grill design
The Bad
Runners Up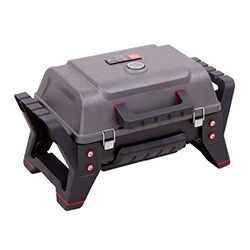 Char-Broil Grill2Go X200 Portable TRU-Infrared Liquid Propane Gas Grill
Grilling on the Go has never been this easy. Why? The Grill2GO x200 gas grill provides one of the best ways to cook your meals conveniently.
This unit comes with a durable die-cast aluminum construction that makes it durable for years of cooking. On top of that, the grill comes with a sturdy and convenient design structure, so that you can set it up where you need it the most.
It's a roadworthy cooking powerhouse, which does not mind getting tossed around as you move around the road. To make things better, the grill features a push-button ignition, which requires no batteries to operate. With the 9,500 BTU burner powered with a small and easily portable cylinder, you are sure of a reliable grill for years to come. 
To make things better, this unit also has a no flare-up TRU infrared cooking system that can even cook in the coldest of climates. Whether you are camping, tailgating, or simply relaxing at the beach, this unit makes up for one of the best ways to enjoy meals.
Customizing the grill to avoid any cold spots when you are cooking is also a simple process. It also weighs less than 20 pounds, but don't let its size fool you! The grill is powerful, and grill several burgers and hot dogs at the same time.
The Good
Can produce 9,500 BTU of heat
The compact grill weighs 20 pounds and is also durable
Push-button ignition requires no batteries
Easy assembly and durable grate
The Bad
Controlling cold spots take some experience
The grill could use a much better exterior finish 
Char-Broil Performance TRU Infrared 450 3-Burner Cart Liquid Propane Gas Grill
Realize what you have been missing in your contemporary kitchen with the Char-Broil TRU infrared burner gas grill. This unit provides an exceptional 450 square inches of cooking space to make it perfect for your needs.
More so the 150 square inches porcelain-coated swing rack is ideal for warming applications. The grill also features top ported tube burners, to ensure long lasting performance and optimal temperature control results.
Thanks to the surefire electronic ignition system, you can be sure of a reliable spark at every burner. The grill starts up with a push of a button, and advanced infrared technology ensures that it starts up fast. Equipped with a 10,000 BTU side burning function and fold-down cover, you will have optimal space for food preparation. The Char-Broil brand has done well to include easy to use controls on the grill. This way, temperature customization is a breeze, and you get the best sear and grill results – with no marks left on your meat. 
An excellent and portable grill should be compact and easy to move around as you look for the perfect grilling spot. This is why the Char-Broil Performance TRU infrared burner is an excellent recommendation for your needs. It's compact and portable, with cool-touch handles that never warm up during the cooking process. The durable porcelain grates are easy to clean, and you can easily adjust the burners to deliver superior heat control results.
The Good
Three top ported tube burners for long lasting performance
10,000 BTU side burner
Surefire Electronic ignition system
450 inches of primary cooking surface
The Bad
All grills produce the same heat
Cleaning the grills is not easy
Solaire 30-Inch Infrared Propane Cart Grill with Rotisserie Kit, Stainless Steel
The Solaire 30 inch infrared grill heats up fast and can cook twice as fast as most grills. You will be enjoying your seared meats when your neighbor's coal grill is still getting ready.
With time saved, you can enjoy grilled food whenever you need it the most. This grill also leverages the use of infrared and direct heat to cook your meals. This way, you can enjoy well-cooked meals, regardless of the weather or cooking conditions.
Thanks to the outstanding burner turn down, and various accessories, this unit is an all-inclusive cooking appliance. It has flexible heat management functions that offer the versatility to prepare multiple types of meals. Whether its fish, burgers, steaks, vegetables, or fruit – this unit is perfect for your needs. You can complete the sear process after turning down the burner to a lower setting or perhaps moving it through a convention burner.
As one of the best grills on the market, this unit even has v shaped grids. The unique grids help capture drippings and reduce issues associated with flare ups. More so, the high heat of the burner helps to vaporize drippings back to the food, as smoke and flavor. Maintaining this unit is also easy. Once you are done with the cooking process, you can turn the burners on HIGH for a few minutes, to help remove the debris. This is an innovative technique for maintaining your grill, and you won't find it on most grills today.
The Good
Dual infrared burners and electronic push-button ignition
Stainless steel welded construction
V shape stainless grill grids for optimal workspace
Offers an outstanding 703 square inches of cooking space
The Bad
Cleaning the v shape grill is not easy
You might have to get griddle if you want stir fry
Overall
When it comes to cooking, you want to enjoy using appliances that are at the cutting edge of cooking technology. We have identified some of the best-infrared grills, along with some useful information for you to consider. An excellent infrared grill is simple to use and is ideal for cooking in indoor spaces, where everything should be controlled. Also, most infrared grills heat up fast and comes with a host of temperature customization functions.
When buying an infrared grill, ensure that you go a brand with high quality features for your cooking needs. This way, you get a reliable grill that provides the best value for your money, while also letting you cook with style and functionality.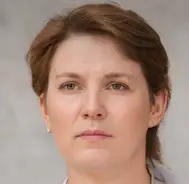 Latest posts by Leah Greenstein
(see all)