For those who love to enjoy grilled foods, terms such as "grilling season" doesn't have any meaning for you! Yes, that's right! With a good grill, you can pretty much grill at any time of the year. So while some people are busy rolling their grills into their garage, you can be sure of enjoying the best-seared meats with the appliances in this list. 
Whether you want to cook plenty on thanksgiving, or Christmas, you can do it with the best gas grills under 300. A good gas grill not only lasts for many years, but it has the features that you would wish for in a suitable cooking appliance. More so, the features that matter to you are not necessarily similar to the need for the next person.
Thus, we have compiled this comprehensive buyers guide to help you make informed decisions.
Gas Grills from A Glance
Cuisinart CGG-059 Grillster 8,000 BTU Portable Gas Grill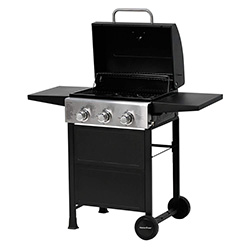 MASTER COOK Classic Liquid Propane Gas Grill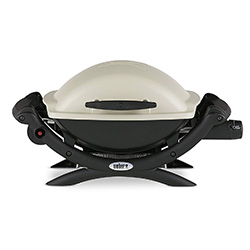 Weber 50060001 Q1000 Liquid Propane Grill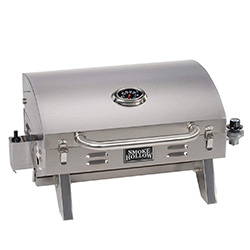 Masterbuilt SH19030819 Smoke Hollow PT300B Propane Grill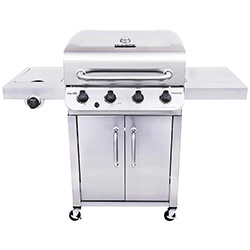 Char-Broil 463375919 Performance Stainless Steel 4-Burner Cabinet Style Gas Grill
How to Buy the Best Gas Grills Under 300
Types
The type of grill you settle for determines the quality of meals you can enjoy, and even where you can prepare them. The are various grill types, with as many different features on the consumer market. The grill types can range from small portable units to the outstanding outdoor grills. Consider these tips highlighted below if you want an excellent grill for your needs:
Type of Grill
Freestanding – these are perhaps the most popular types on the market. They are simple to repair and can use many fuel types and have different sizes as well.
Cart mounted – these types are similar to the freestanding models, and are also easy to move around. More so, these grills are attached to a cart, which offers added space for placing plates and utensils. 
Portable – these types often classify as the electric grills. That said, some charcoal grills are also common in this category. A portable grill is compact and has convenient carry handles.
Inbuilt grills – these are also a common occurrence in outdoor kitchens. They tend to cost more than the freestanding versions but are usable all year long. Furthermore, most people believe that cooking outdoors makes meals tastier and enjoyable.
Post mounted – the post mounted types provide a more convenient solution for those who want inbuilt grills. They can also classify as gas or charcoal-based units, which are suited to use all through the year.
Grill Style
The style of your grill determines whether you get access to functions such as hinged lids or not. You should note that barrel grills tend to provide large surface areas. The common styles you will notice include:
Kettle grills – George Weber made these in the 1950'S. More so, these types are also suitable for direct and indirect heating techniques. Some brands can use charcoal, wood chips, or even propane gas. 
Barrel grills – these types were initially made using oil drums that were thrown away, and cut into two. In the past, these types were larger than the kettle grills, but are nowadays available in myriad shapes and sizes. One primary difference in these units is that most tend to have a hinged lid.
Size
The size of the grill plays a significant role in the size of the cooking space available for your needs. Furthermore, it also determines how easy you can cook your meals by using ambient heat. Consider these key factors when buying a grill
Grilling surface area – the grilling surface area is an essential factor to consider when you want to get a grill. For instance, do you cook for many people, or do you just want to prepare for a loved one? Also, if you get a gas grill, how efficient is the surface area in terms of hotspots and cold zones. 
The number of burners – the number of burners on the grill is a crucial factor to consider when you want to buy a propane grill. On average, the number of burners ranges between two to five units. Thus, you must take the size of each burner into perspective and the average cooking surface area. The large burners mean that your meals are less likely to have cold spots during the cooking process. 
Burner Output (BTU energy rating): BTU is a term that refers to the British Thermal Unit. It provides a rough estimate of the amount of energy a grill should produce at a time. Note that while BTU is a good indicator of the power a grill can provide, more efficient grills can produce well over 600 degrees Fahrenheit.
Premium Options
The premium options include functions that are not imperative to your barbequing experience. That said, these features should improve the flavor of your meal while also making the tool easy to use. The common options available include:
Side burners – these are the burners that exist to the side of the grill. You can cover them using hinged lids and can use them for cooking extras in the kitchen when the central area is packed. These include extras such as cooking beans, sauces, or even corn. 
Rotisserie – this function mostly exists on the high end and premium grill designs. It's a function that lets you cook large meals such as chicken, turkey, and more. You can even spin them around slowly in a grill, and the food will cook evenly on each side. 
Searing station – you need a searing station for high-performance cooking, and to sear meats. These tools are different from the conventional burner, especially in regards to how hot these things can get. Some can reach temperatures of as much as 1000 °F. Searing meat is a crucial technique that lets you caramelize the outside of the meat, while also trapping essential juices inside.
Smoker box – these are components on the grill or trays, which you insert wood chunks to provide flavor to your food. There are various types of flavors, including apple, hickory, cherry, and more. 
Modular grates – the modular grates are typical in higher-end gas grills. They let you switch between various components in the grill. These include wok, griddle, pizza stone, and more. This way, you can create almost any type of meal you want with your grill.
Thermometer – a thermometer measures the average temperature inside the grill, such that you can achieve the best cooking results. The thermometer should also have a screen, to provide accurate readings and measurements of the temperature levels.     
Wi-fi functions – this feature lets you evaluate the temperature levels inside the grill, through the use of a smart device. Some top-notch brands come with this feature, but some come with retroactive sensors, which are also convenient.
Top 7 Gas Grills Reviews
Cuisinart CGG-059 Grillster 8,000 BTU Portable Gas Grill
Designed to be light enough so you can take it anywhere, the Cuisinart CGG-059 is an excellent addition to your cooking regimen. 
This unit provides an exceptional 146 square inches of enameled steel glass cooking space to make it ideal for your needs. More so, the unique cooking surface is also dishwasher safe, which makes cleaning the grates a breeze. Equipped with an 8,000 BTU burner with a 1lb tank, this unit provides optimal cooking power for your needs. 
The detachable propane tank means that this unit is simple to carry as you move around. Weighing in at just 10 lbs, this grill takes up a small amount of space in your cooking area. The grill hood also lifts out of the way, to provide optimal access to the grate. It is also attached to the base, and you easily latch and lock it back in place. You can use this grill to make burgers, steak, seafood, vegetables, and more. 
For fast and easy setup, this grill requires no assembly and can be ready for use in 10 minutes. Aside from being suitable for your cooking needs, this unit also has an appealing design. Thus, it makes up for a sleek addition to your contemporary cooking space. The porcelain enamel cooking grate also does well to provide optimal heat distribution results.
The Good
8,000 BTU burner is powerful and efficient
Liftable grill hood and streamlined grill design
Fast and easy setup
Weighs only 10 lbs. for easy transport
The Bad
Somewhat small for people with many visitors
Could use ergonomic structures
Char-Broil 463375919 Performance Stainless Steel 4-Burner Cabinet Style Gas Grill
With the Char Broil 4 burner cabinet style grill, you are sure of excellent addition to your cooking regimen.
This unit provides an exceptional 425 square inch cooking surface, to make it perfect for large sized meals for the family. Furthermore, porcelain-coated cast-iron grates are rust-resistant and suitable for modern-day cooking applications. More so, such a unique cooking surface does well to prevent food from sticking and is easy to clean. 
The Grill also comes with a 10,000 BTU lidded side burner, and lids that fold down to protect the machine as well as to provide optimal workspace. On top of that, the four stainless steel top ported burners are durable and ensure reliable cooking performance. With an electronic ignition system, you can be sure of fast and reliable startups with the simple push of a button. The durable stainless-steel construction can withstand exposure to the elements.
The grill also comes with a host of convenient features that you should consider. For instance, it features two side shelves for optimal storage and prep space. It also features a swing-away warming rack that provides a secondary cooking area, which is ideal for toasting buns. You will also appreciate the included lid-mounted temperature gauge, which is highly convenient.
The Good
Four stainless steel top ported burners
The electronic ignition system for fast and reliable startups
Two side shelves for increased storage space
10,000 BTU lidded side burner
The Bad
Controlling the four burners at once is not easy
Electronic ignition system users batteries
Megamaster 820-0065C Propane Gas Grill, Red + Black
Meet the Megamaster 820-0065C gas grill, which provides an exceptional 360 sq. Inches of cooking space.
This gas grill is an excellent addition to any modern-day cooking space. While it only features one stainless steel burner, it starts up simple and can offer reliable performance for your needs. The grill also comes with porcelain-enameled cooking grate, which is superior to most stainless-steel grills. To be specific, the porcelain material is simple to clean and offers years of reliable cooking.
The main burner fires up fast with the simple press of a button each time. Capable of producing 11,000 BTUs of heat, and a large cooking surface, this grill can roast close to 15 burgers simultaneously. Made for easy transport and easy storage, you can take the grill wherever you want to go. 
Equipped with a black and powder coated lid, you can be sure of a grill that heats your meals for the best results. It even features an in-built thermometer that provides accurate temperature readings each time. The lid also locks the legs conveniently to make it easy to transit the grill for your next adventure.
The Good
Offers over 300 sq. inches of cooking space
Can deliver 11,000 BTU of heat
Push-button piezo ignition
Rugged and heavy-duty grill design
The Bad
Weber 50060001 Q1000 Liquid Propane Grill
With the Weber Q1000 Propane grill, you can be sure of an excellent solution for preparing your favorite meals.
This unit comes with an all-inclusive design that lets you enjoy the best of meats, vegetables, and more. Perhaps the most notable feature on this unit would be the stainless steel burner that can deliver well over 8,500 BTU per heat levels. This is more than sufficient heat for a 189 square inch total cooking area. More so, porcelain enameled cast iron grates, and aluminum body means that this unit is durable enough for years of use. 
Thanks to the unique push-button ignition and infinite control burner with valve settings, you are sure of a grill that is simple to use each time. The push-button function means that the grill starts easy, and it also heats up fast. The infinite control settings make the grill easy to customize to suit your meal and cooking needs. Burgers, dogs, and brats, this unit can handle it all. On top of that, the grill can also work on various types of food, which can cook at your chosen temperature levels. 
Even more, the unique design of this unit means that it's easy to incorporate with disposable cylinders for cooking meals. Thanks to the inclusion of splint grates, you can enjoy convenient grate and griddle combination cooking. The durable and lightweight cast aluminum design of the grill makes it easy to carry around.
The Good
One stainless steel burner that can deliver 8500 BTUs
Porcelain cast iron cooking grates
Push-button ignition
Infinite control burner valve settings
The Bad
Push button requires batteries
The heating surfaces could use better positioning
Masterbuilt SH19030819 Smoke Hollow PT300B Propane Grill
Are you searching for a rugged but portable addition to your cooking regimen? Introducing the Masterbuilt PT300B propane grill, which offers an exceptional 200 square inches of cooking space.
Furthermore, the grill has a cooking a stainless-steel U burner, which can provide 10,000 BTU of heat. The foldable stainless-steel legs mean that this grill is simple to store and convenient to set up as well. It's the perfect grill for outdoor use. 
As a good gas grill, you can expect various unique features on the PT300B grill. For instance, it has a stainless-steel construction that lets you experience outdoor cooking when you need it the most. Whether it's on picnics, boating, or even tailgating activities – this grill does it all. Additionally, the grill has a compact design with a locking lid and folding legs for convenient operation. The large front carry handle also makes the grill portable and simple to store. 
This unit operates on a small and disposable cylinder, which is easy to find.
The Good
Comes with a 10,000 BTU stainless steel U burner
Foldable stainless-steel legs
200 square inches of total cooking space with warming rack
Stainless steel drip tray for your convenience
The Bad
Megamaster 820-0033M Propane Gas Grill, Stainless Steel
Realize what you have been missing in your modern kitchen with the Megamaster 820-0033mm propane gas grill. This unit offers an exceptional 200 sq. Inches of cooking space, and with a total of 16,000 BTUs of heat.
Furthermore, the grill also has a rugged and portable design, which makes it simple to transport in small spaces. 
It's a roadworthy grill that loves the outdoor adventures more than you do. Made using stainless steel for added durability, this grill loves life on the road, and it's also durable. On the inside, the grill provides an exceptional 199 square inches of cooking area. Below this section, you will find two stainless steel burners that offer controlled cooking. Each of these units is controlled through the use of a push and turn ignition system. 
Capable of producing as much as 16,000 BTUs of power, this unit provides adequate heat for cooking various types of meals. With its durable and stainless-steel lid, you can lock this unit conveniently as you move to the next outdoor cookout area. Thanks to two foldable legs, you can always grill anywhere the surface is level, and then conveniently fold the grill away for storage.
The Good
Made using stainless steel for durability
It comes with 199 sq. inch cooking space
Capable of producing 16,000 BTUs of heat
Lockable and durable stainless-steel lid
The Bad
The stainless steel structure is prone to dirt
This grill takes some time to set up correctly
MASTER COOK Classic Liquid Propane Gas Grill
Are you ready to take your cooking results to the next level? Well, the MASTER COOK classic grill is an excellent recommendation for your needs.
The grill can provide well over 30, 000 BTUs of heat, across a 300 square inch cooking surface. Furthermore, the grill can accommodate large meals for the whole family, and it's also simple to use. With the control panel placed conveniently on the front and two collapsible tables, this grill sets up fast. The unique combination of features on this unit makes it ideal for grillers with patios, decks, balconies, and more.
It even comes with porcelain-enameled wire cooking grates that will provide exceptional heat retention results. With its integrated piezo electric ignition system, the grill lights up fast and is a convenient solution for your needs. The grill also comes with an easy to read gauge, that lets you achieve perfectly cooked food results. 
The MASTER COOK brand has also done well to ensure that this unit sits on as many as 6-inch wheels for easy portability. More so, the two fixed legs work well to keep in place, and the grill has a heavy-duty design for longevity. Thanks to the unique swing-away warming rack, you have a reliable secondary cooking area, ideal for toasting buns, and more.
The Good
Three stainless steel in-line burners for the best results
30,000 BTU burner offers optimal cooking space
Piezo ignition system provides fast and reliable start-ups
Porcelain-enameled wire cooking grates
The Bad
The lid locks but releases some heat
The grills produce the same amount of heat
Finally
Cooking has come a long way ever since the first propane grills were launched in the 1960s. The consumer market has several options and cooking appliances for you to consider. When it comes to investing in the best gas grills under 300, you want to get the best features at a specific price. Thus, you have to make an informed decision, and we have outlined some useful factors to get you started.
A good gas grill is simple to set up and cook your meals to perfection. The grill should be safe, dynamic, and reliable for many years to come. Get a good grill and start enjoying quality grilled meat regardless of the time of year.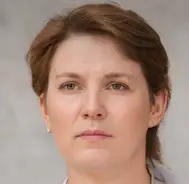 Latest posts by Leah Greenstein
(see all)