High-performance stainless-steel burners with porcelain enameled bars
Grease management system to reduce flare-ups and ease of grease removal
Porcelain grates provide over 500 square inches of cooking space
Infinity ignition makes it simple to ignite and start each burner
Stainless steel side workspaces with convenient storage hooks
Introduction
The snow has thawed, the robins are back, and it's the perfect time to get your grill out and start enjoying sumptuous meat with your friends. However, an online search or a trip to a local store can be a hassle. There are various types of grills, with as many different features to consider. This is why the Weber Genesis II E-310 review is an excellent place for you to start. 
The weber brand is famous for making some of the best cooking grills on the consumer market. To be specific, the brand is well known for producing reliable Grills, with the Weber Genesis II E-310 being one of the best versions. It's a stainless-steel grill that combines high-quality design features with the convenience of a unique grilling area. Also, the cooking grill lets you enjoy exceptional heat retention and even cooking your meats to deliver an exceptional cooking experience.
To be specific, this best grill sets a new standard when it comes to preparing your favourite backyard cuisines. Set in a class of its own, this unit has an innovative grilling system, based on 30 years of grilling experience and culinary expertise. Also, the Weber brand has done well to produce a grill that incorporates the needs of the people who matter the most. Each component of this unit offers ease of use and unmatched cooking performance to your kitchen.
Features Of Weber Genesis II E-310
Three Stainless Steel Burners
Perhaps the most crucial aspect of a gas grill is that it should produce and retain heat conveniently. If the grill produces excessive temperatures but fails to maintain them, then you have to ensure the flames burn at the highest setting. Usually, this results in undercooked meat, which sometimes is not tasty. Hus, the Weber Genesis II E-310, delivers the right heat consistency to alleviate any such heating complications. 
It comes with three stainless steel burners that cook evenly and can deliver as much as 37,500 BTUs of heat. More so, the grill also takes an average of eight minutes to reach the highest temperature of as much as 500 degrees. Thanks to its unique construction, the grill can maintain high-level temperatures, while using less fuel than the conventional grill. 
The reversible cooking grates provide you with the power to get creative with your meals. Furthermore, the thin side of the cooking grate is also perfect for meals such as shrimp and fish, while the broadside can produce a thick smear mark. Such a unique grill design improves the quality of your food. You can even use the side tables to keep items such as seasonings, platters and more within your reach. Also, hang essential items son the hooks on the grill for easy access, and improved organization in your backyard. This unit even features side tables that are simple to fold down for your storage convenience.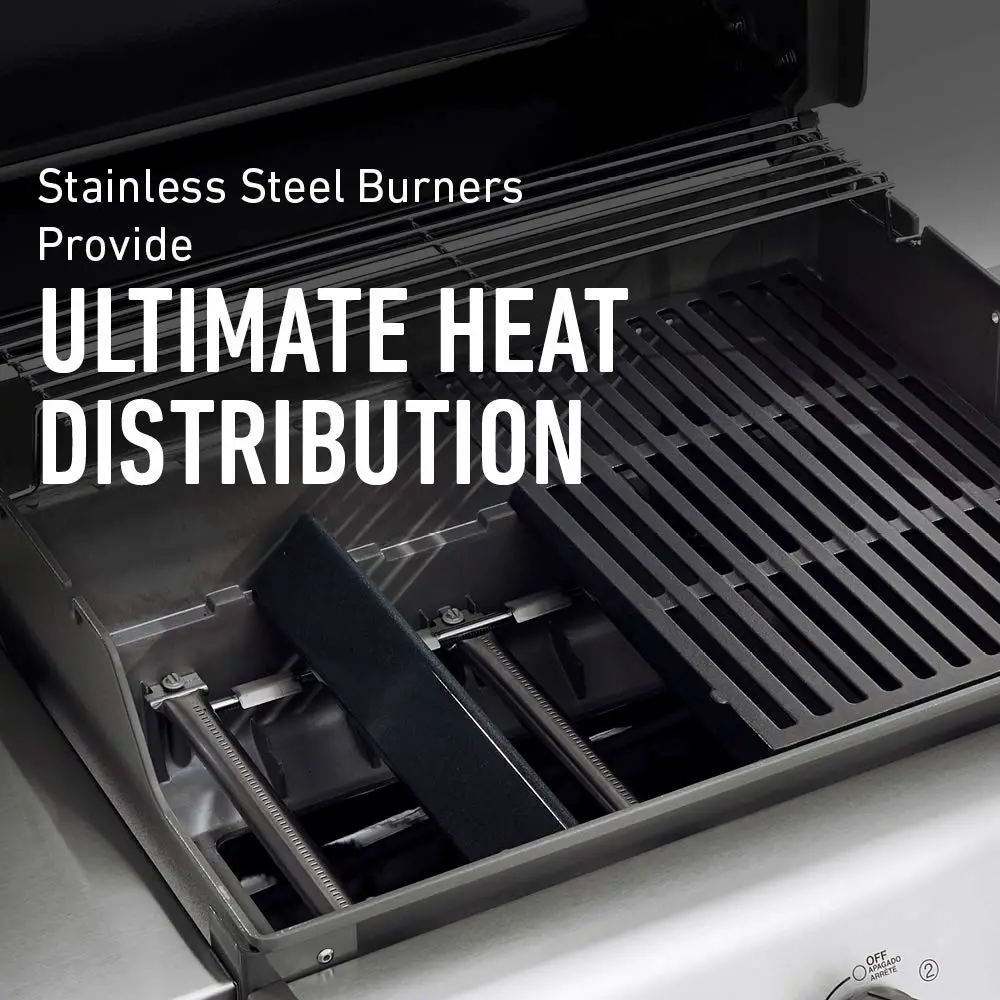 Simple to Set Up
The Genesis II is also designed to work conveniently with the conventional gas connections systems. Using natural gas does well to save you money in the long run, but the location of the grill might limit your ability to position the grill correctly.
The main grilling section of this best gas grill features two porcelain coated and cast iron grates. Combined, all these components will provide an exceptional 513 square inches of grilling space. Based on cooking research, this more than sufficient space to cook as many as 20 burgers together. 
To make things better, the iGrill 310 also comes with a digital Bluetooth thermometer. This tool lets you monitor the cooking process from beginning to end. You can expect it to display various metrics, including the real-time temperature and the fuel tank level on your handheld device. All you have to do is just set up the Weber iGrill App and connect it using the Bluetooth function. Using this app, you can run as many as four thermometer probes.
Compact Design
To make things much better, the space-saving design of the grill does well to make it a unique addition to your deck or porch. When it's not covered with juicy meat, the grill can comfortably accommodate a large number of ribs. However, you may have to cut the large ribs in half to make them fit appropriately on the grilling system. 
The Genesis II E-310's deep grate saves space on your porch or deck and still allows you to cook a lot of food. When it's not covered with burgers, this grill can handle a sizable rack of ribs or a fair-sized brisket, although you may need to cut the ribs into two half racks to fit them comfortably if they are very long.
Side Tables and Tuck-Away Warming Rack
When cooking, being able to access components such as seasonings, platters, and tools is highly convenient. This way, the Weber Genesis II E-310 has side tables that you can use to hang tools within arms reach. Use the side tables to hang your essential grilling tools on hooks, to provide easy access and improved organization to a backyard space. Furthermore, the side tables are foldable, which means that you will experience convenient storage benefits. 
Also included with the grill is a tuck-away warming rack, that does well to keep your food warm and even toast burger buns. It is a unique tuck away function, which you can fold down when not in use. This way, you will enjoy adequate grilling space for different types of meals. 
What We Really Liked
The grease management is unique and reduces any issues such as flare-ups as you cook
It also has a unique ignition system that provides easy machine operation
The stainless-steel side workspaces make the grill convenient to use
This unit is also highly portable and equipped with stay-cool handles
The grill offers a total average of 500 square inches of cooking space
It comes with high-performance burners made using porcelain material 
What We Did Not Like
Cleaning the grills on this unit is not easy
Best Accessories for the Weber Genesis II E-310

Turn your grill into a backyard Rotisserie, with the Weber 7653 Rotisserie. This fork has a design that can accommodate both large and small cuts of meat. Furthermore, the Weber 7853 also features stainless components such as the forks, handle, hardware, and more. Designed to be dynamic, this unit can suit both the Genesis II and Genesis II LX 400 and 600 series gas grills. The tool is dishwasher safe and easy to clean as well. You will also appreciate that this Rotisserie is suitable for use with succulent and self basted meats.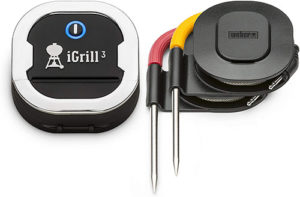 Cooking has never been this easy. The Weber 7204 iGrill 3 grill thermometer offers the perfect way to measure your food temperature. This unit features a four-probe capacity, which delivers accurate and precise temperature results each time. Furthermore, the thermometer is suitable for various Genesis Grills, and you can mount permanently to the side table. Capable of providing well over 250 hours of battery life, this thermometer is exceptionally reliable. It also comes with various settings such as preset temperatures, a Weber iGrill App, and temperature monitoring resources.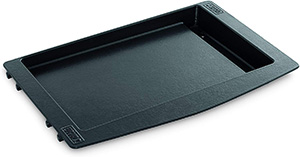 The Weber 7599 Genesis II Griddle does well to distribute heat evenly for consistent and caramelized food quality. It even comes with a semi-gloss enamel surface that makes it easy to clean with ice cubes or through water. More so, the angled cooking surface drains grease to a reservoir, which you can then filter into a cook box in the flavorizer bars. Designed to be both durable and suitable for modern cooking settings, this best griddle is as a reliable addition to your cooking regimen.
You can now improve the longevity of your grill with the Weber 7130 Genesis 11 cover. The cover is made using a heavy-duty polyester fabric, which offers both water and UV resistant benefits. Furthermore, the cover is also breathable, which does well to protect your grill for various forms of damage. The weber brand has also done well to ensure that the cover installs securely on the grill to provide optimal coverage over the grill. It even comes with Velcro straps, which provide a more fitting appearance and help to keep the cover in condition.
Top Tips for Grilling Like Pro!
Know the Lingo
There are two important terms you should consider and are sometimes used interchangeably. However, they are entirely different methods of cooking. They include:
Grilling – with the lid up, you use high temperature and direct heat on food, rather than heating it all around. Thus, grilling is a cooking process that also involved conduction heating, and food is also cooked through direct contact. Using high levels of heat will produce minimal smoke. The best meat to grill include fillets, vegetables, and burgers. 
Barbecuing – this a slow form of convection cooking, which also involves the use of low temperatures. It lets you bathe the food surface, thereby transferring heat directly to the food for several hours. Using slow cooking will help you break down the connective tissue on your meats. Besides that, using high-quality smoke is vital in the quality of your food.
Master the Reverse Sear
According to common cooking concepts, the first step in grilling a steak is to sear it using heat. The goal of searing, in this case, should be to help you lock in the juices. However, more goes into the process that you would believe. A small amount of moisture is lost when you use the proper techniques to grill your meat. Furthermore, searing during the end of the cooking process will provide a much better cooking result.
Meat cooks less evenly when you sear it first. Using excessive levels of heat will overcook the exterior surface of the meat before the juicy interior warm-up. Thus, ensure that you sear your meats after the cooking process to achieve the best cooking results.
Grilling White Meat is a Delicate Process
Good examples of white meat would include turkey or chicken. Both white and dark types of beef are made up of different kinds of muscles, which are the fast and slow-twitch muscles. The dark meats consist of slow-twitch muscles, which are used during slow movements. Usually, these muscles contain more myoglobin and energy, which makes the meat darker and enhances the flavor as well.
The fast-twitch muscles are suitable for small bursts of energy and do not have any fat or moisture. Thus, they tend to lose water faster when cooked. Poultry is an excellent example of meat with fast-twitch muscles and is popular among consumers.
Temperature Regulation is Crucial
If you want to make the most of your Weber Genesis II E-310 grill, then remember that heat is crucial towards the cooking process. The best approach for cooking the meat would be to use a suitable thermometer. Most grills come with basic thermometers, that won't get you accurate readings for our needs. Thus, it would be best if you would go for a digital thermometer. These types of thermometers provide reliable ways to monitor and regulate the temperature. This way, you prepare correctly cooked meats.
Learn About the Two-Step Zone
The best approach to achieve versatility with both hot and radiant heat is to leverage the two-zone system. The indirect zone, which is typically much cooler, can roast various types of meats, including ribs, chickens, and more. Once the meat are cooked to a crisp, you can then transfer them to the direct zone for searing or perhaps to caramelize. On a gas grill, ensure that you switch off all burners except for one component. 
Using this approach will improve the circulation of air in the hot zone. Then, adjust the burner until it reaches temperatures of about 220° F. If you want to sear later in the hot zone, ensure that you increase the burner temperature. When using a charcoal grill, place all the coal into a pile on one section of the grill. This will create the perfect hot zone for the searing process, and ensure that you start cooking the meat at a lower temperature. Then, put some wood chips into the pile of coal, along with a water pan.
Best Grill Buying Guide
Before buying a suitable grill for your needs, there are some key features to consider to ensure the best user experience. They include:
Fuel – you have to decide whether you want an electric, charcoal, wood, or gas smoker. Below is a review of some of them:
Electrics – will not provide the same flavor as when using grills that can perform combustion procedures. The combustion gases are perfect for smoking food because they create a unique flavor. More so, the temperature regulation is also convenient and can cook your meat tender.
Wood pellet burners – these are by far the most sophisticated brands on the market and often feature thermostat controls. The wood burners are ideal for smoking, all though achieving the perfect flavor is a delicate process.
Gas smokers – these brands warm up quickly and require a small amount of clean up. That said, only those with infrared or sear burners warm-up effectively to cook your steaks. When cooking soft foods such as pork, chicken, or even veggies, the gas burners are as effective as the electrics. 
Charcoal – charcoal might require a longer duration to set up and clean effectively. However, charcoal delivers quality heat, and might also impart a unique flavor to the food. That said, some cooks are not often comfortable with the fumes that emanate from the burning charcoal.
Temperature Control
The key to successful barbequing is to be able to control the temperature. Thus, the best grill should let you set up a multizone, whereby you can cook in relation to meals available. For instance, you can dedicate one zone for high heat cooking and another zone for slow cooking.
Meat-Smoking Functions
Is the grill dynamic, and can it grill smoked meats? Well, if the smoker can achieve this goal, then you won't need to buy a separate smoker for the process. An important of the smoking process is to control the flow of air. Some high-end grill brands even come with dampeners, which you can use to incorporate your meal with unique flavors. 
Starter or igniter – gas grills require a start or igniter to function. In some cases, you might come across the electric versions that need a battery to function. Some brands even feature a dial that can produce a spark. The crossover ignitions are designed to work by triggering one burner fast. Then, the flame crosses over to other burners to provide a large cooking surface area.
Overall
Grilling is perhaps one of the best ways to enjoy meals at home with friends or family. During a lazy summer month outdoors, the Weber Genesis II E-310 is an excellent place for you to start. It has a unique design to provide ease of use and exceptional satisfaction when grilling foods.
It's a burner that will ignite every time, and provide smoke infused food that cooks evenly and consistently. More so, the grill also sets up a simple and has a heavy-duty design to provide years of reliable grilling performance.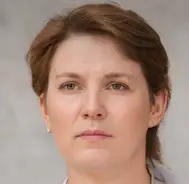 Latest posts by Leah Greenstein
(see all)