Enjoying a backyard barbeque can be an exceptional experience. While you may take great care in choosing and preparing the food you want to serve, cooking great meals depends on the quality of the grill.
First, you may have to choose in between the common types of grill power available. These are charcoal, gas, and the relatively new pellet grills. Furthermore, research from Consumer Reports into the benefits of these sources of power has provided some great insights. The gas brands are highly convenient because they are simple to use and maintain. The charcoal brands offer improved control of the amount of heat and fire you can use. More so, the pellet grills, are also ideal for customizing the taste of your meat, because you get to add pellets. Moreover, these brands often come with features such as digital thermostats, which you can use to achieve precise cooking temperature levels.
Gas Grills Factors to Consider
The gas grills are highly popular among those who want portable yet fully functional grills for outdoor applications. Before buying a gas grill, there are a few key factors to consider:
They Make More than Burgers
The gas grills are suitable for cooking various types of meals, including hot dogs and burgers. However, if you also enjoy eating fish and steaks with sear marks, then evaluate the average gas grill ratings. The score level is directly proportional to the performance of the grill when cooking meals. If you prefer ribs or roast in the food menu, then consider a grill the performs well in the indirect cooking tests. The indirect cooking is an excellent approach for cooking large or tough meats by placing the meat next to the fire, rather than on top of it. Also, the lid has to stay closed to maintain optimal heat levels.
Delivering the Heat
The BTU level provides information on the amount of gas the grill requires, and the heat it can produce. However, it's not a useful metric when it comes to determining the performance of a specific grill in searing steak. Most consumers find that BTU does not necessarily provide fast preheating or cooking. Instead, consider a grill brand that does well when it comes to preheating. 
Learn About Burners
You also have to note that in gas grills, burners are the most prone to damage. In fact, expect a burner to last for an average of five years. Thus, ensure that you choose a grill that comes with a powerful burner, which is also durable. 
Avoid Infrared
Most gas grills are equipped with infrared burners, which use intense heat for cooking steaks and meat. Our advice? Keep away from the burners when you want to buy a grill. While infrared seems to be useful for cooking food, it's not as effective as the conventional forms of power for searing and more. Research has shown that infrared burners won't sear better when compared to the traditional gas burners. Instead, consider using the temperature range score to determine the specific grill that can achieve the best searing temperatures. 
Evaluate the Grill Construction
When looking for a Green Mountain Grill, ensure that you evaluate the structure of the grill. You want to look at various aspects of the structure, such as sturdiness. Other factors to consider on the grill include the wheels, lid, firebox, and the car. The stainless-steel carts that have a seamless design and welded joints are often sturdier than their counterparts. You might have to evaluate the construction of the gas grills and determine whether they meet portability factors. Most charcoal grills are not often sturdy. Best of all, the grill should also have wheels or caters at all corners, to make it simple to move around. Also, wheels that have a full axle are better performers than the types that are bolted directly to the frame. 
Recipe for Safety
The sturdy grills will not only provide longevity, but they are also safe for outdoor applications. Thus, grill stability is crucial to prevent issues such as tipping. Keep away from grills that have sharp metal corners or edges. Consider testing the handle because your fingers or knuckles should not be too close to the lid. More so, even if you might experience some flame flare, the grill should provide an improved distance range. Also, consider aspects such as the inclusion of cool-touch handles, which make the grill convenient to use. 
Pellet Grills: Factors to Consider
These types of grills provide the dynamism of a charcoal grill and smoker, with the ease of use of a gas grill. Furthermore, these grill types often have similar appearances and might consist of large metal bins or hoppers, which you use to add flavor. These include flavor wood such as oak, hickory, mesquite – which you can purchase from local stores in your area. Also, these types often have features such as electronic igniters, which helps to pull out the pellets and lights them. This process produces heat and smoke, which appends your food with a unique flavor. A convenient feature would be the inclusion of a thermostat. It's a resource that makes it easy to adjust the temperature, which is a function you can't achieve with most charcoal or gas grills. 
The hopper – the size of the hopper determines the number of pellets the grill can accommodate, and how long the grill will operate. Thus, the size of the hopper determines the rate at which the grill can cook on a single load.
Temperature range – search for a pellet grill that has a diverse temperature range. The standard grills range between 170° F and as high as 600° F. In some cases, the temperature might even be higher in searing zones. These gas grill types tend to be more dynamic because they can sear foods at intense temperatures. 
Smoking ability – broadly speaking, smoking foods on a pellet grill is a simple process. You have to fill the hopper with pellets and then set a specific temperature on the grill. This process is much more convenient than fine-tuning a gas or charcoal grill 
Searing zone – Most pellet grills come with heat deflectors on the cooking surface to stop any flare-ups and burning. However, this can make it much more challenging to sear the food, because all the heat classifies as indirect. Using this type of heat won't produce grill marks on your meat, and tends to be a slower cooking process. When it comes to searing, consider a grill that features a dedicated searing zone. This will make it easy to detach the heat deflector, such that foods like steak can experience direct heat during the cooking process.
How a Pellet Grill Works
It features a digital thermostat which regulates the internal temperature by controlling oxygen and fuel levels in the firebox
A motor that controls the auger and directs pellets to the firebox
A heated rod in the firebox to ignite pellets and combustion fan to maintain the burning process
A micro-adjustable fan and auger to keep track of the food in the grill and to suit the specific temperature level
A firebox to provide the ultimate wood-burning fire, and to circulate smoke for a unique flavor
Charcoal Grill Features
Even if having additional features on a gas grill is convenient, these components can easily compromise your cooking experience. Since charcoal grills require that you control the coal level, ease of use is an essential factor to consider. Features that make it simple to use will ensure the best results when using a charcoal grill. They include:
Adjustable-Height Cooking Grates
A grill with adjustable height makes it simple to raise and lower the food when cooking. This is similar to customizing the burner on your gas grill. If you want to sear the meat, then move it close to cool. However, if you're going to cook chicken or fish, then place it farther away from the fire.
Easy to Clean Ashtrays
Cooking with charcoal can become a complicated process. Issues such as ash, food droppings, and residual coal are essential factors to consider. These are waste components that might collect at the bottom of the grill. Grills that have detachable ash pans that are simple to clean.
Easy-Open Grates
According to consumer reports, charcoal will reach the peak level at an average of 20 minutes after heating. If you want to maintain the fire, then consider adding coal to the fire as you cook, or perhaps invest in a dedicated coal door. Furthermore, you can also consider grates that are easy to open, and which also make it simple to add coal without moving the food or removing the grates.
Vents and Damper Construction
Being able to control the heat in a grill relates to the amount of coal and airflow you are using. Exposing the grill to more air will increase the burning of coal and lead to higher temperatures. Furthermore, a grill with at least two vents provides added flexibility in heat control. 
Wheels for Portability
The charcoal grills are not always reliable when compared to gas or pellet grills. Thus, the grills should have at least a caster or wheel on each leg to provide convenient movement. Ensure that you evaluate the structure of the wheels and determine whether they can accommodate extra weight in food.
Top 3 Green Mountain Grills To Buy in 2021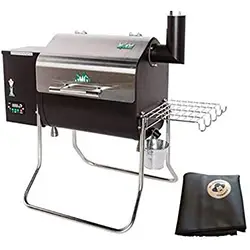 Discover the excellence of the Green Mountain Grill 2019, which is perfect for various types of cooking. The grill is ideal for multiple outdoor cooking applications, such as tailgating. Furthermore, the unique excellent tray design offers the ideal way to slather your meat with flavors. Designed to be portable, this unit is simple to move around even in small spaces. It comes with folding legs, which you can also use as handles. The GMG brand has also done well to provide an additional cover for ease of storage.
Thanks to the convenient Wi fi feature, you can easily control the grill performance from your home next level. It even has a convenient server mode that lets you connect the grill remotely to and to monitor the cooking process. The entire set also features various additional components such as the meat probe, peaked lid, and a convenient tray. Also included with grill is a thermal sensor that does well to regulate the grill temperature. 
This unit can also run on a 12v battery pack, so it's perfect for various types of outdoor purposes. Weighing in at 57 pounds, you can easily place this unit in the trunk of your car for portability. Best of all, this grill comes with benevolent features such as the cool touch handles and well-insulated lid. This way, you can maintain optimal control of the grill regardless of the state of your cooking process.
The Good
Grease tray design is highly convenient
Portable and folded legs double as handles
All-weather and durable, water-resistant cover
Server mode connect for convenient use
The Bad
The wireless network range is short
The finish on the grill is prone to scratches and dirt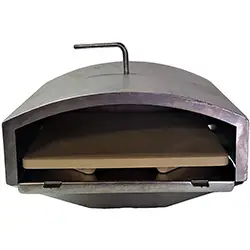 This list of Green Mountain Grills would not have been complete without the GMD-4108 grill. This unit can cook a pizza in less than four minutes, and it has various other unique features for your needs. Designed to be both portable and convenient use, the GMS 4108 makes up for an excellent addition to any cooking setting. It is made using high-quality stainless-steel material, which is simple to clean and convenient as well.
The grill even has handles, which can double as feet for storage convenience. The GMG brand has also done well to incorporate the grill with a thermal sensor that provides accurate temperature readings each time. The sensor will alert you on the cooking process, thus ensuring that you never cook any poorly cooked meats. You should have this unit set up and ready to use within a few minutes of unpackaging it. 
To make things better, this best grill for outdoor cooking is simple to use and convenient. The controls are well-positioned, and it even has side racks, which doubles up as an excellent surface for storing seasoning and more. It also has unique slots, which you can use to install a convenient cover to protect the grill against weather issues such as the rain.
The Good
Made using high-quality stainless steel material
Thermal sensor provides accurate readings
Convenient and straightforward to use grill design
Foldable legs for ease of storage
The Bad
Cleaning the grills requires lots of effort
The thermostat takes time to deliver readings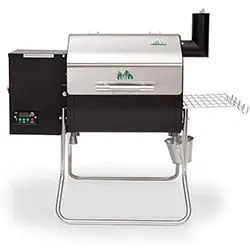 Are you searching for the perfect way to enjoy meals at home with friends and family? Well, the GMG DAVY crockett grill might be an excellent recommendation. This unit has distinct features that let you enjoy seared meats like a pro. For instance, the grill comes with a unique Sense-Mate sensor, which will continuously evaluate the grill temperature. Even more, this unit features a meat probe, which goes deep into your meats for accurate measurements. 
Thanks to the inclusion of a peaked lid for rib cracks, you can also use this unit to retain heat for optimal cooking results. The pellet grill also features a convenient tray, which you can use to slather your meals with sumptuous flavors. Weighing in at 68 lbs., this unit will easily fit into your trunk. Thus, the grill makes up for an excellent addition to your tailgating escapades. 
Designed to be dynamic for outdoor applications, this grill can run on both 12v or 120AC. This way, it's perfect for various types of outdoor activities, including house boating, tailgating, camping, and more. The stainless-steel metal construction is also durable and offers years of reliable longevity.
The Good
The sense-mate thermal sensor is powerful
Also features a meat probe and peaked lid for convenience
Weighs 68lbs only and comes with portable handles
Can work with three power options to make it dynamic
The Bad
The cover straps are not well positioned
The power plug is somewhat short for some users
Finally
Why should you settle for a smoker that is only capable of one task, when you can also get a dynamic unit that works like a grill? Products from the Green Mountain brand are equipped with unique temperature control mechanisms. This way, you can choose in between low and slow settings when cooking, or higher and intense temperatures for burgers. Thus, the best green mountain grill reviews would be an excellent place for you to start enjoying the best barbeques. 
The GMG brand is famous for being reliable and for producing some of the best cooking appliances in the world. They have every type of grill in the product listing, and you can even order for custom made grills for your needs.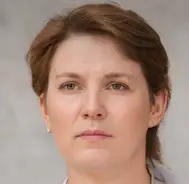 Latest posts by Leah Greenstein
(see all)