Your testicles turning red ain't a good sign, and so is the avocado. Avocados; you've probably used, or you'll use them your entire life. 
Whether it's in your shampoo, face mask, hair products, or simply just eating them, you will agree they do pack quite a punch. 
Good job! way to go Bravocado! Well, and if you think you can have my guacamole, I ain't sharing. You can kiss my Hass!
First spotted in Puebla, Mexico, almost 10,000 years ago, this pear-shaped, green-colored fruit continues its dominance on our household tables. 
It's so versatile and can go down with literally anything– an avocado coupled with a pair of dumplings powers you up so much that you could withstand a Thanos snap.
That aside, further from its awesomeness and wholesomeness, why do avocados turn red? Is it a good thing? 
We seek to answer this and many more questions regarding this super fruit. Trust me, you're in the right place.
Indulge your senses.
What Does A Red Avocado Mean?
Why does an avocado turn red? A common scenario where avocados turn red outside is due to scarring due to excessive rays from the sun. 
Typically, there isn't enough foliage to shield the fruit from the sun leading to scarring, though the flesh remains perfectly fine. 
Under such circumstances, the fruit's value plummets, only being used as guacamole for local consumption.
Though this is a cosmetic issue, no amount of aloe vera can help it. A seasoned avocado farmer should know when to pluck their fruits– not too early before maturity nor too late. 
Further to this, storage and delivery play a critical role in ensuring that the fruits attain their required standards. 
Next time you bump into a red avocado, understand that it's due to exposure and not a different variety as most of us get inclined to believe.
Turning Red vs. Brown – Do They Mean the Same For All Avocados?
Your typical avocado fruit may either turn red or brown. However, don't fret. It shouldn't be reason enough to dump an otherwise healthy fruit into your dumpster. 
Since we already know that the outer redness results from too much sun, its flesh should otherwise still be palatable if unaffected.
On the other hand, if the redness happens inside, it should be due to tannins from the avocado pit. You could eat it, though the flesh will have an accompanying bitter taste.
A chemical reaction similar to one in apples known as oxidation has the resultant effect of an avocado flesh turning brown. 
It doesn't necessarily mean it's spoiled. Though the brownness makes the fruit less appealing, it assumes a bitter taste though it's still safe to eat. 
However, exposing it to air for a few days will lead to decomposition through excessive oxidation.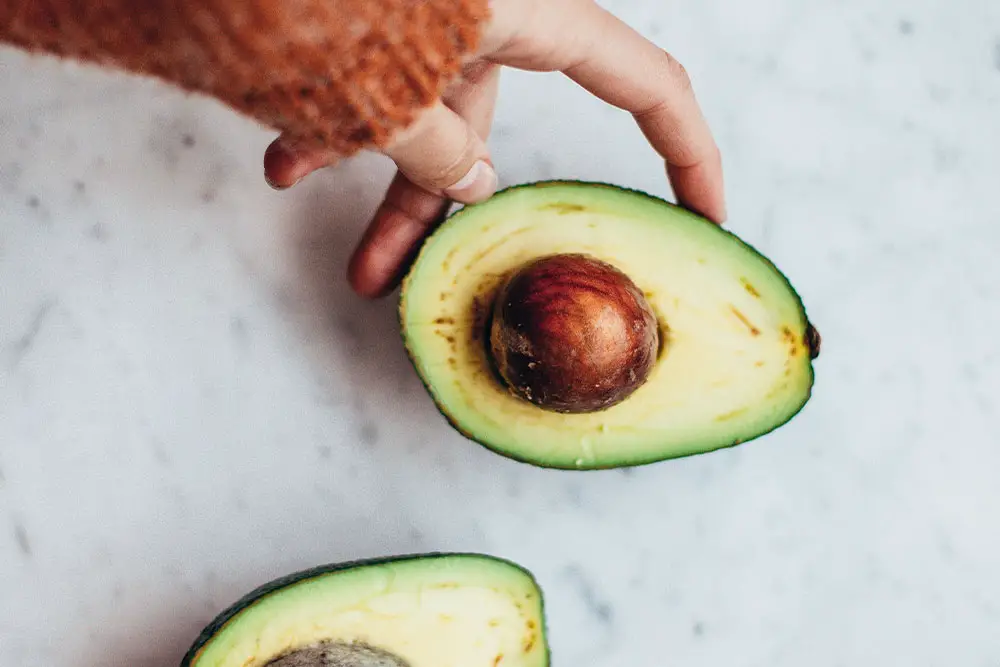 Turning Red vs. Purple – Do They Mean the Same For All Avocados Too?
We've seen that red discoloration is a result of tannins in avocado. However, you may be wondering why the fruit assumes a purple color. We can look at it in two ways. 
First off, an unripe fruit bears a deep green color which changes with time to light, then deep purple during the ripening process.
However, when it comes to the flesh, a purple color should be a cause for worry. Such color indicates that the fruit was either bumped, dropped, or, at worst, point to the existence of an infection.
Dropping the fruit leads to weakening the flesh, making the particular area soften faster. In most cases, such injuries create openings for fungi, turning them purple, or at worst, black. 
That doesn't mean that all is lost. It's advised that you chop off the affected area and consume the rest. However, a taste test would be appropriate before chowing it down.
So,
Avocado Has Red Streaks Inside (Flesh) Plus Solutions
Anyone who has ever bought an avocado can attest that they maintain that perfect state of ripeness for a short time. They end up turning into a sludgy, gooey mess. Worse still is when you cut it.
They end up forming red or brown streaks. Unbeknown to most of us, a chemical reaction takes place. Avocados contain polyphenol oxidase enzymes that convert phenolics from the seed coat leaking into quinones (no wonder the bitter taste).
Quinones polymerize, banding together small molecules to form a chain of polymers called polyphenols. 
Such a chemical reaction (oxidation) manifests itself in red or brown streaks on the flesh.
The quinones do have their purpose. Since they aren't bacteria friendly, they ensure that the fruits last a little while longer after their exposure to oxygen before rotting.
Is It Safe To Eat An Avocado With Red Streaks Inside?
The inside of the avocado is quite a busy place, characterized by the transportation of nutrients, sugars, and water, invisible to the naked eye. 
Professor Elhadi Yahya studied the handling of the fruit and quips that freezing avocado once picked would ultimately interfere with its nutrient transport channels.
Once ripe, the disrupted transport paths manifest as reddish streaks or dots, depending on how the fruit is cut. The professor indicated that he had no issue eating such fruit with the caveat that its severity will determine your palatability. 
With time, it will bring about an icky flavor change as it continues reacting with oxygen hence eventually turning rancid.
Since we can't prevent the chemical reaction in fruits from taking place, we can delay it. Below are some of the solutions to apply to ensure your avocado maintains its brightness.
Solutions
Cutting With a Non-stainless Steel Knife
As earlier said, it's practically impossible to stop veggies and fruits from browning– the chemical reactions are unstoppable. 
However, we can delay the reaction, but you will need to choose your knives carefully to achieve this. Well, Food- info got our backs on this.
According to them, copper and iron tend to make both fruits and veggies brown. Unfortunately, most kitchen knives are made of either the two or a mix of both. According to Food-info, your best bet entails slicing your avocado with a ceramic knife.
Fun fact: The avocado word originated from the Nahuatl Indians or Aztec word, "ahuacatl," meaning testicles? 
The reference came about due to the fruit's shape resembling a pair of testicles. It's also thought that the tree had aphrodisiac qualities by the Aztecs.
The word guacamole was also derived from the Nahuatl word ahuacamolli, which is a combination of "ahuacatl" and "molli," meaning "soup" or "sauce." Yummy!… Testicle sauce, anyone?
Storing Sliced Avocado in an Air-tight Way
It's entirely impractical to eat an entire avocado in one sitting for some of us, if not most. Ask how to store the remainder, and you'll get a whole lot of ideas. 
Below are some of the ways in which you can store the rest in an air-tight manner.
Storing it in a Ziplock in The Fridge
If you need to use half of your avocado, you are normally advised to leave the pit or the seed on the other half to reduce the area of exposure to moisture and air. 
Brush it lightly with edible oil and wrap it with cling film. Better yet, you can place it inside a ziplock and extrude air from it.
Air Tight Container
Under some circumstances, ziplock bags may be hard to come by. Once brushed with oil, you could store the remainder inside an air-tight container. 
The principle here is to eradicate the presence of air responsible for oxidation.
Banding Avocado With Bermuda Onion
The principle behind coupling the avocado with onion in an air-tight container is that onions produce sulfur. 
Sulfur inhibits the avocado enzymes from interacting with air, thus keeping it fresh for a couple of days.
According to WonderHowTo food hacks, a quarter red onion, chopped into large chunks and placed at the bottom of the container, does the job best. 
However, the only downside to such a method is that the fruit assumes an oniony taste.
However, this shouldn't be a cause of worry if you intend on using it as guacamole. A good thing, though, is that your fruit remains firm.
Using Lime Juice To Keep Avocado From Oxidizing
Sometimes, it's tricky to find ways of using up avocados once they reach that narrow window of ripeness. 
We want them to maintain that emerald green glow. You can achieve such by using lime as below;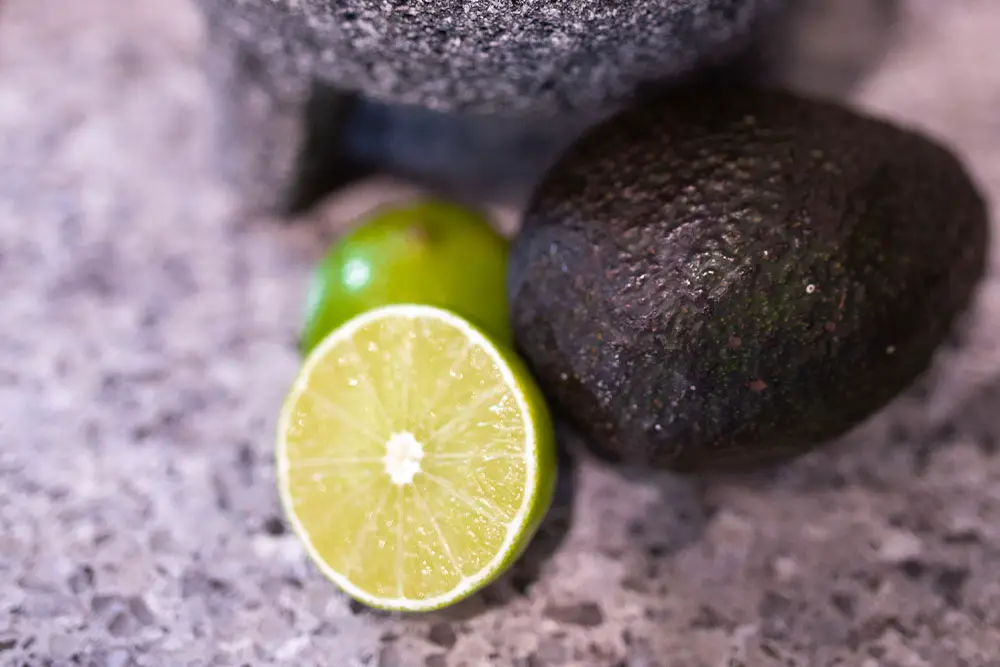 Spraying Diluted Lime Juice
Giving your avocado a citrus twist ensures it survives another added day of freshness. Spraying lightly with diluted lime juice and storing it in air-tight containers reduces the oxidation rate since lime juice contains citric acid.
The acid, a strong antioxidant, slows down the browning process, ensuring freshness. 
You'll further find guacamole recipes that contain small amounts of lime juice to ensure freshness.
Submerging Under Lime Juice
Like submerging the avocado in water, submerging it in lime juice and covering it with plastic wrap has the same effect on reducing oxidation. 
The caveat here, however, is that you risk turning your avocado slimy, mushy and soggy after 48 hours. 
Furthermore, it won't be that appealing during serving and would only accentuate the citrusy flavor.
Avocado Has Red Skin Outside: Reasons & Solutions
Reasons
Why does my avocado turn red? Apart from the red avocado variety out there, we discussed why your avocado has outer red skin. 
Such an outcome is due to prolonged exposure of the fruit to the sun's rays. Due to insufficient foliage cover, the fruit gets exposed to the sun's rays leading to the skin turning red and ultimately scarring. 
However, it is essential to note that it's still safe to eat if the flesh is unaffected.
Is it Safe to Eat Avocado Seed/Pit With Red Outer Skin?
While the avocado continues to make waves and be all the rage, we can't divert our attention from its pit/seed. 
For a long time now, the seed got disregarded due to its characterized bitter taste.
Quite frankly, it's a mixed bag as to whether to consume it or not. Before you toss that seed away, you may want to tune it as to its potential benefits. 
For instance, it's richly packed in antioxidants, reduces bad cholesterol (LDL) and diabetes in mice, and reduces blood pressure. Further, its usage acts as an anti-bacterial and anti-fungal.
On the flip side, there are some safety concerns regarding its consumption. The safety tests of the avocado seed are in their early stages, and none has been conducted on humans yet. 
While you won't die from eating an avocado seed, you should think carefully, considering the toxicity levels and the number of toxins therein.
As with most seeds, the avocado pit contains some small quantities of cyanide converted to hydrogen cyanide once consumed. 
However, the amount of cyanide is quite minute to harm you.
Persin, an active compound also found in the seed, aids the plant by protecting it from decay by fungi. It further acts as an insect repellant on the seed. 
Though not toxic to humans, its presence in the seed and fruit can cause adverse reactions to those taking tamoxifen, an anti-cancer drug. 
Persin heightens the drug's toxicity to body cells.
Bear in mind that the safety of consuming the avocado seed is up in the air, with major studies geared towards animals and not humans. 
At this point, it would be advisable to enjoy the fruit itself but steer clear of the seed. So,
Solutions
The major culprit here is the sun's rays. That being known, your fruits should be plucked from their stems early and stored in the shade once they reach maturity to avoid scarring. 
With proper care, they are sure to maintain their characteristic green color. If satisfied that there's enough foliage cover for your fruits, by all means, let them continue ripening slowly.
Scenario 1 of 2: Red Spots On Avocado Seed/Pit
Reasons
According to fruit experts, the tannins in avocado are more concentrated at its pit/seed. The pit has a bitter, milky liquid that combines with oxygen and turns red when the fruit is broken. 
Additionally, the liquid is released when the fruit overripe and decays. Remember, the tannin is also responsible for the characteristic bitter taste.
It's worth noting that tannin isn't a compound in itself but rather a group of biomolecules. They are responsible for the dry or puckering sensation experienced upon biting into an unripe fruit or drinking dry wine. 
It's found in almost all plants and is an essential component in the flavoring of many fruits.
Is It Safe To Eat An Avocado Pit/Seed With Red Spots?
As usual, divisions at camp exist as to whether the pit is a superfood or a super-fast way to send you to the emergency room. 
Well, it's a definite yes and no. While the red spots are a sign of oxidation due to chemical changes, it is not life-threatening once consumed.
However, it's worth noting that the presence of cyanide and persin, an antifungal agent present in the seed, can be quite toxic to both animals and humans if consumed in copious amounts.
However, note that persin can be harmful to birds and large animals such as cattle and horses.
Note: Since the pit is bitter, most people incorporate it in their meals by grinding it into powder and mixing it with other strong flavors to make smoothies, among other beverages.
How To Prevent Red Spots on Avocado Seed/Pit
We already know that the concentration of tannins in avocado is highest at its pit. The pits contain a milky, bitter liquid that turns to a red color once exposed to oxygen.
The only way for this to happen is if the fruit's surface is broken or overripe to the point of decay. Thus, it goes without saying that to prevent reddish spots on your fruit, avoid instances of breakages or injury on the fruit. 
Further, constantly monitor your fruits to avoid instances of over-ripening.
If you need to store the fruit, ensure you leave the pit intact and lightly coat it with a thin layer of edible oil to delay the oxidation process.
Scenario 2 of 2: Avocado Turned Red Outside and Brown Inside
Reasons
Is It Safe To Eat An Avocado That Is Red Outside and Brown Inside?
Solutions
In most cases, avocados in such conditions tend to be overripe. Storing them in such conditions for a further few days or weeks will lead to fruit sprouting. 
It's always advised to eat your avocado when they give slightly, not waiting till they soften completely.
As to whether it's safe to eat avocados with reddish outside and brown inside, it depends. Though the oxidation process isn't harmful, too many tannins through continuous oxidation will alter the taste quality of the fruit.
You can cut out the browning part and consume the rest if you find it repulsive. You can also scrape off the top part if the browning hasn't progressed much and consume the rest.
Let's focus our attention on microbial action. Such an action involves feeding microbes hence multiplying. 
Further browning can also result from rot brought about by enzymatic action, oxidation, and microbial action.
Though microbes are generally harmless when consumed, the pathogenic type can be hazardous to human health with dire consequences.
Therefore, is it safe to consume such a fruit? Microbes are likely to blame for this. Once cut and you find brown spots, cut it off and consume the rest. 
If storing the rest, brush it lightly with oil and store it in an air-tight container. If possible, extrude the air from the container/zip bag.
The only solution towards thwarting such fruit conditions is consuming them while at their peak– not waiting for them to over-ripe.
How Would Red Avocados Taste Like?
I would be pretty shocked if I heard this question in person, but hey! Your secret's safe with me. Normally, your first observation and feeling when eating a slice of your avocado is its thick consistency and creaminess.
Flavor-wise, there isn't any accentuated or overwhelming taste. The flavor has to do more with the variety and how ripe it is. 
While others have a creamy feel to them, others pack a nutty flavor. The avocado would definitely fall under umami if categorized under the five taste categories.
On the flip side, though, would the red avocado taste the same? Not in a million chances! The redness is usually associated with bitterness due to the presence of tannins. 
Whether on the skin or at its pit, its characteristic bitter taste tends to turn people off on an otherwise delicious fruit.
When Are Red Avocados Non-Edible?
For starters, obvious reasons for not eating an avocado rely on the sight. If it's moldy, it's a sure-fire sign that the fruit isn't in its best condition for consumption.
Note 1: Do not smell the fruit in the presence of molds. Mold spores can cause breathing difficulties.
Secondly, when such avocados develop a distinct color change from red to black. When partially ripe, the fruit has a bright green skin which develops to a brown and finally black color. 
If dark and has a mushy feel to it, most probably it's overripe or rotten. However, if it's firm and doesn't dent upon slight pressure, it's underripe.
Note 2: Never apply pressure using your fingers; you'll end up bruising the fruit. Instead, use your palms while gently applying pressure.
As with any other fruit, if the avocado emits an odor, it should raise a red flag.
Frequently Asked Questions (FAQs)
Why does an avocado turn brown when exposed to air?
Just like bananas and apples, the avocado flesh turns brown due to oxidation. Oxygen combines with polyphenol compounds in avocado's flesh aided by polyphenol oxidase enzymes resulting in a brown pigment.
Can I eat a brown avocado?
The brown part usually is bitter and looks unappetizing. However, it's still safe to eat. However, it's best to use your judgment. 
If it's exposed for a week, chances are it's squishy, and you missed the window to eat it. It's best if you trashed it.
Can you eat an unripe avocado?
By all means, Yes! However, it's not recommended since it won't have the characteristic creamy, buttery, or nutty taste that it usually has. 
Boiling it will further make it bitter due to the presence of tannins.
Is a red avocado ripe?
Not necessarily. Apart from the red variety of avocados, redness normally indicated sunburn leading to scarring. 
However, the flesh is still edible as long as it is unaffected.
To Cap it off
Avocado has been getting a bad rap lately due to its high-fat content… but hold on! They are packed with monounsaturated fats that are actually good for your heart. 
We won't even mention antioxidants and vitamins. Guacamole further aids one's body in absorbing nutrients from other ingredients. Good job, avocado! Way to go!
Let's be honest with each other–avocados remain to be the superfood at each family table, and they aren't going anywhere anytime soon. 
No matter your preference, like or dislike towards them, they are a healthy status symbol packed with natural goodness, not to mention their versatility.
Despite all its goodness, knowledge and care must be taken to ensure we don't miss out on its goodness. We believe that this article has shone the light on the pertinent questions that revolve around this wonderful gift of nature. 
Why not grab one? We'd love to hear about your wonderful experience.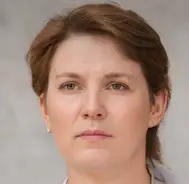 Latest posts by Leah Greenstein
(see all)