Cooking or eating something you don't know can be a problem. That's why you have to know what a shrimp roe looks like. Or else you might end up with just orange-looking shrimp fat or cholesterol. 
So, what does shrimp roe look like? 
Well, oftentimes shrimp roe or eggs look like orange-colored jelly balls. These are really small in size. However, sometimes shrimp roe can be light orange or yellow in color. Some shrimp roe can be pink or even black in color. Lastly, the cooked shrimp roe color should be lighter than the raw roe. 
Now, this is surely not all info regarding shrimp roe. But we've provided other important details that are necessary to know. 
Hence, let's just keep reading!
What Is Shrimp Roe?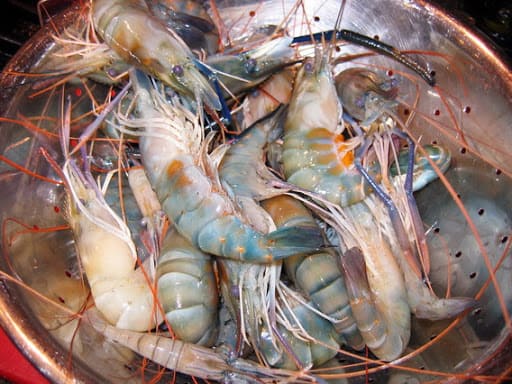 Shrimp roe is known as a popular seafood item. It's also called shrimp eggs. The eggs come in different colors because of the different types of shrimp. 
Confused?
Well, don't be! Because we've mentioned different types of shrimp roe in short-
| | | | |
| --- | --- | --- | --- |
| Shrimp Roe Appearance | Shrimp Roe Color  | Shrimp Roe Location | Shrimp Roe Taste  |
| Jelly-like small circular balls  | Orange, pink, yellow, and black | Along the belly, under the back | Sweet and salty  |
So, you know the basics now! Thus, let's get into the details, shall we? 
Shrimp Roe Appearance 
Now, sometimes while cleaning the shrimp one might think- what is orange stuff in shrimp? 
Well, it's actually the shrimp roe. However, the appearance of shrimp roe isn't always the same because of its color. 
No matter what shrimp you have, the roe should be like small circular balls. They are like tiny versions of ping pong balls. Bright, semi-hard, and circular but not bouncy.
The color mostly differs because there are different types of shrimps. So, here's a table mentioning different colored shrimp roes- 
| | |
| --- | --- |
| Shrimp Name | Roe Color  |
| Tiger shrimp | Black  |
| Gulf shrimp  | Orange and pink  |
| Red cherry shrimp  | Yellow or green  |
This is how the shrimp roe should look. Plus after cooking the roe, there's a possibility that they'll get lighter. They might have a similar color to raw half chicken breasts if they were pink.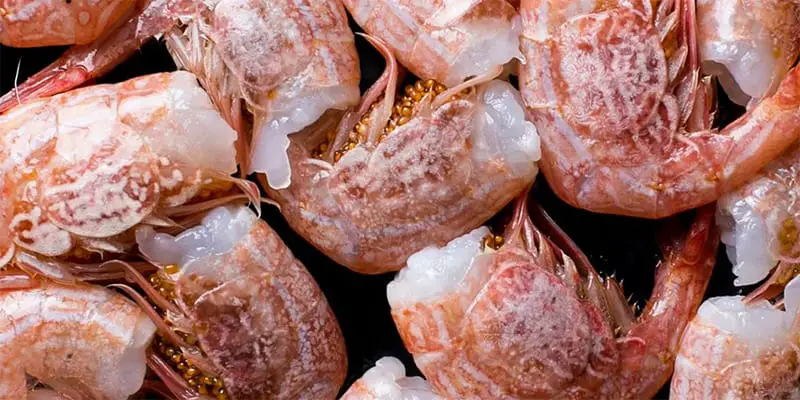 Shrimp Roe Location 
Now, shrimp roe is located along their bellies. Some might say they're under their backs which is also true. Because you'll see the belly is right under the back. 
And no, the roe isn't in the head. The orange or yellow stuff you see in the head is actually fat and cholesterol. 
Shrimp Roe Nutrition Facts
Now, shrimp roe is a good source of protein. It has lots of zinc and copper too. So, you'll take care of your mineral level by consuming it. 
Even though there aren't really any exact numbers on the nutrition facts. But it's a good seafood item to lead a healthy life. 
Shrimp Roe Taste and Texture 
Now, the texture of the shrimp roe before cooking is semi-hard, gelatine. But after cooking, the texture should feel soft. Because it'll break apart when you take a bite.
Then the taste of the shrimp roe is actually quite unique. It doesn't have a fishy taste like codfish. The taste of shrimp roe is actually between salty and sweet. If the shrimp is from the ocean-
It should have the flavor of the sea which is fresh and a bit salty. But don't worry, it shouldn't be too salty!
What to Do with Shrimp Roe?
So, now you know how a shrimp looks and tastes. So, do you want to remove or eat it? 
Well, it's totally up to you. Hence, we've mentioned a way to remove the roe and also different ways to cook it-
How to Remove Shrimp Roe from Shrimp?
Now, if you're going to take out the shrimp roe, just follow our lead- 
Take your thumb and place it under the head. More specifically, in the middle of the head and belly. Then start gently rubbing the shrimp eggs out. This technique works best for large and medium-sized shrimps.
You have small-sized shrimps and you have also removed the head?
Well, no worries! Just put your finger right under the spot where the roe is. Then start gently pushing the eggs out and that's it! The roe is removed and separated from the shrimp. 
Now, there's another way to do it! And that's- you can break up the sac a little with your thumbs.
Then rinse the shrimp bellies with gentle flow over a mesh strainer. This should do the work!
A piece of advice- don't freeze your shrimp with the roe. Because thawing shrimp roe afterward can ruin both the shrimp and roe. 
How to Cook Shrimp Roe?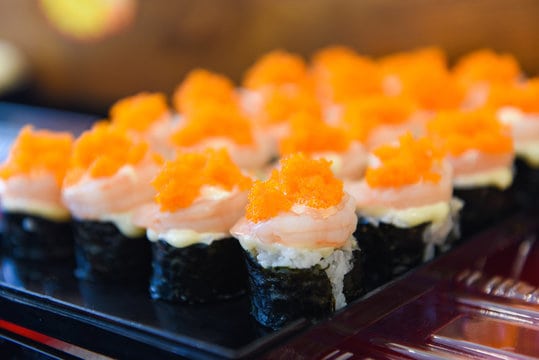 Now, if you don't want to throw out the roe and think about cooking it. Then there are lots of ways to cook it. 
Are you thinking- is shrimp roe edible? 
Well, yes, my friend! They are! Some common ways to cook shrimp roe recipes are shrimp roe noodles, shrimp roe sushi. You can even try making shrimp roe kimbap, steamed shrimp roe. 
You can also cook the roe however you want. So, do use your own creativity. But make sure to always keep soy sauce or hot sauce around. Because that takes the taste of the roe to the next level. 
For that reason, we wanted to help you out with picking some sauces. So, here are your options regarding the sauces-
Kishibori Shoyu – Premium Artisinal Japanese Soy Sauce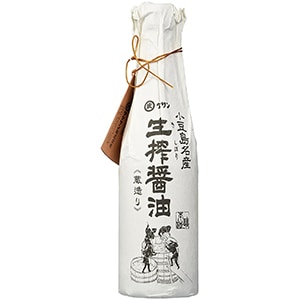 TRUFF Hot Sauce, Gourmet Hot Sauce
Now, just make your own recipe with these sauces and enjoy shrimp roe!! 
FAQs
Question: What is the orange stuff when cleaning shrimp?
Answer: Well, the orange stuff is the roe of the shrimp. It's basically the eggs of the shrimp which are totally edible. 
Question: What color is the shrimp roe?
Answer: The shrimp roe is oftentimes orange. However, depending on the shrimp the color of the roe can be different as well. For example, tiger shrimp has black roe and gulf shrimp can sometimes have pink roe. Then for cherry shrimps, the color is either yellow or green. 
Question: What can I do with shrimp roe? 
Answer: Well, you have two options. And those are either you can throw them out or cook them for a delicious meal. If you decide to remove the roe, you can do it while peeling the shrimp. And you can cook the roe by following different recipes.
Final Words 
So, that's all! Hope you've got your answer regarding what does shrimp roe look like. 
By the way, you can even take inspiration from some prawn recipes too. Because they kinda have similar appearance, taste, and texture. 
Anyway, best luck dealing with the shrimp roe! Have a good day!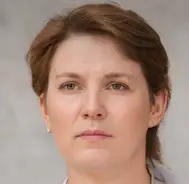 Latest posts by Leah Greenstein
(see all)