The recipe for cauliflower soup is completely vegan. However, the taste would never lead you to believe it. It's very creamy, flavorful, and rich. Pureed cauliflower provides a lovely texture in this recipe. 
It simply requires ten basic components! The soup tastes luxurious despite the fact that all of the ingredients are healthy. Moreover, all the ingredients are absolutely plant-based. 
You'll enjoy how easy this cauliflower soup recipe is to make. This can be the ideal way to warm up on a chilly winter evening!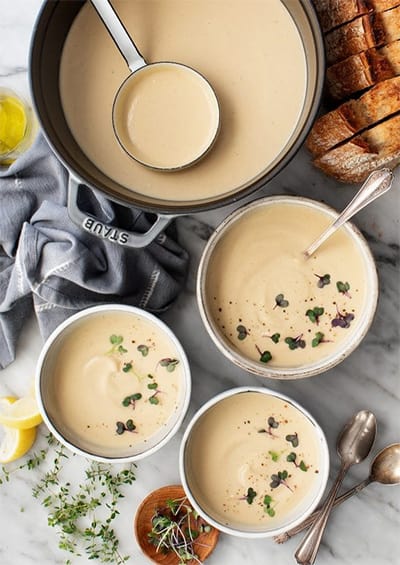 Yields: 6 servings
Preparing Time: 15 minutes
Cooking Time: 45 minutes
Total Time: 1 hour
Nutrition Facts 
| | |
| --- | --- |
| Saturated Fat | 1.3 g |
| Total Fat | 5.5 g |
| Calories | 129 |
| Trans Fat | 0 g |
| Cholesterol | 4.6 mg |
| Sodium | 408 mg |
| Potassium | 418 mg |
| Total Carbohydrates | 16 g |
| Dietary Fiber | 3.6 g |
| Sugars | 4.1 g |
| Protein | 5.4 g |
| Vitamin A | 2% |
| Iron | 4% |
| Calcium | 8% |
| Vitamin C | 92% |
Ingredient List
1 medium head cauliflower, about 2 lbs.
2 peeled and sliced shallots
4 garlic cloves, unpeeled
4 cups of vegetable broth
Leaves from 5 fresh thyme sprigs
½ tablespoon of white miso paste
½ teaspoon of Dijon mustard
3 tablespoons of extra virgin olive oil
1 tablespoon of lemon juice
Salt 
Ground black pepper
Microgreens for garnish, optional
Direction To Cook Cauliflower Soup
Here, we tried to cover the recipe of cauliflower soup in a very simple way. So that you can prepare this appetizer very easily. We have divided the entire recipe mainly into 3 steps.
Step 1: Chopping And Tossing The Cauliflower
Preheat oven to 400 degrees Fahrenheit. Line a large baking sheet with parchment paper. Then chop the cauliflower, including the core portions. Toss the cauliflower and drizzle a bit of olive oil. Additionally, season the baking sheet with pepper and salt.
Roast for around 35 minutes. You would see the edges of the cauliflower gradually turning brown.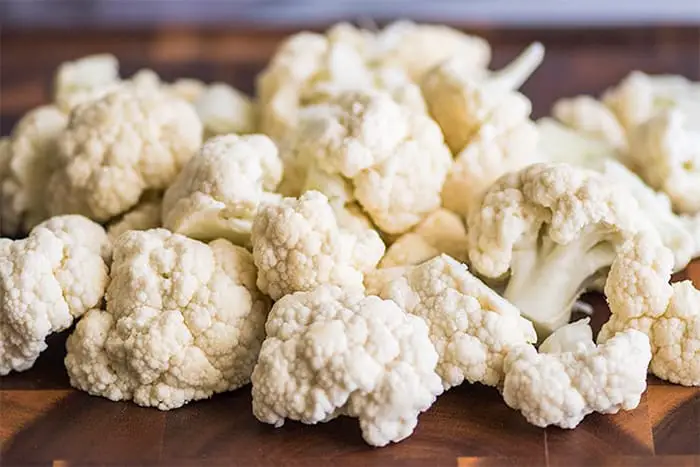 Step 2: Cooking The Soup
Bring the veggie broth to a moderate simmer in a large pot. Cook, covered, for 15 minutes with the shallots, roasted cauliflower, thyme, and peeled garlic. Before combining, let the mixture cool slightly. Combine the mustard, miso paste, lemon juice, and olive oil in the blender. Blend until the mixture becomes completely smooth.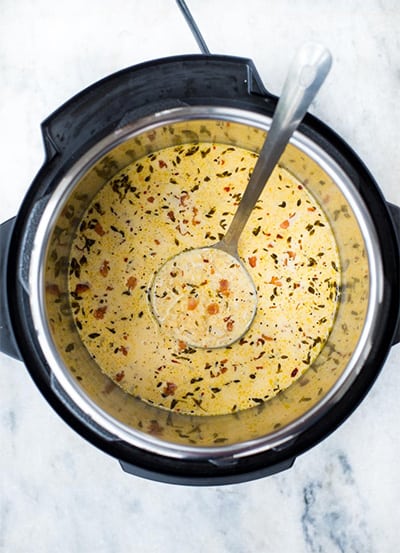 Step 3: Garnishing And Serving The Soup
To the soup, add another ¼ to ½ teaspoon of salt. Additionally, you can also add lemon juice. If preferred, garnish with microgreens before serving. Finally, your delicious cauliflower soup is ready!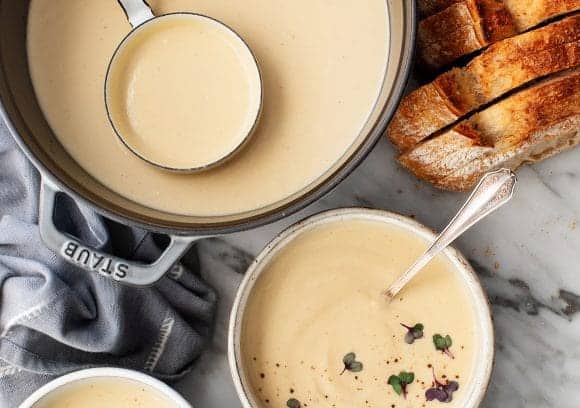 Important Tips
We've come across the entire recipe already. But you might still need some important tips on the recipe for cauliflower soup. The tips are provided below.
How Do I Fix Bland Cauliflower Soup?
Cauliflower can be transformed by steaming or boiling it. It needs to be poured and mashed into potatoes-like consistency then. Using orange cauliflower would be great. Because it adds a little more color to the puree than plain white mush.
How Do I Thicken My Cauliflower Soup?
If you want your soup to be extremely thick, only use 4 cups of stock instead of 5. We think 5 is the best option for us. However, your soup might be too thin for some reason. In that case, thicken it with a cornstarch slurry (1 part cornstarch to 2 parts stock).
Can I Leave Out The Soup Overnight?
Soup or stock that has been allowed to cool overnight is still safe to eat. It must be reboiled for 10 minutes and properly refrigerated. This soup is still okay to eat because the germs couldn't grow to harmful levels.
How Can I Let The Soup Cool Before I Refrigerate It?
Before refrigerating soup, place it in shallow containers. Then refrigerate the soup for 2 hours.
Is It Better If I Eat This Soup The Next Day?
Dishes containing too much water generally taste better the following day. Because the starch absorbs the water. After a night in the fridge, the soup becomes thicker and more flavorful.
How Long Do I Microwave The Soup?
It is recommended to boil a bowl of soup for 3 minutes. Cover the cup or dish with a damp paper towel in order to let it steam.
Finally, we've come to the conclusion of the recipe of this mouth-watering dish. We hope our recipe could be really helpful to you guys! Don't forget to try it out!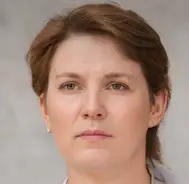 Latest posts by Leah Greenstein
(see all)