Yes, the super tasty BLT Sandwich you had the other day tasted delicious. But too bad, you can't visit a fancy restaurant every day, huh?
So, want to try the perfect BLT on your own to soothe your taste buds whenever you want?
Come on, you deserve a treat once in a while! With certain tricks and fresh ingredients, you're bound to succeed. Then, what are we waiting for? 'Lettuce' start making the Ultimate BLT for a luscious experience!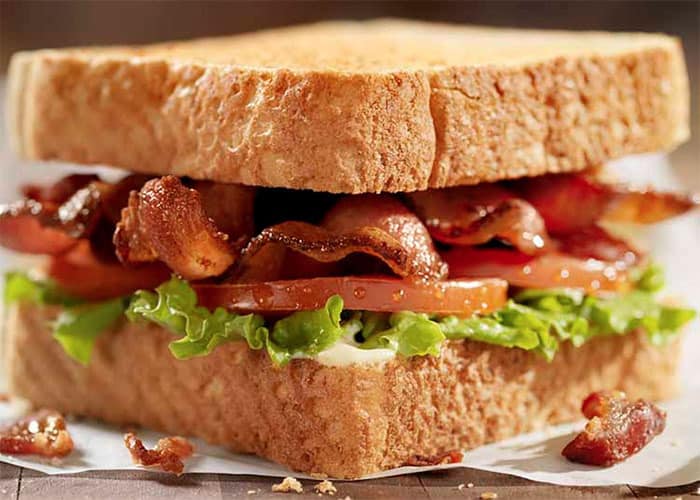 Source: redsunfarms.com
Level: Easy
Serving Size: 4 Sandwiches
Preparation Time: 15 minutes
Cooking Time: 25 minutes
Total Time: 40 minutes
Nutrition Facts:
| | |
| --- | --- |
| Calories | 344.4 kCal |
| Carbohydrate | 35g |
| Fiber | 32.5g |
| Starch | 2.5g |
| Sugar | 4.9g |
| Sugar Alcohols | 11.6g |
| Mono-unsaturated fat | 17.5g |
| Poly-unsaturated fat | 5.5g |
| Saturated fat | 6.6g |
| Cholesterol | 3.8g |
| Glycemic Load | 21.3g |
Ingredients List
8 pieces of bread loafs
12 Bacon slices
2 large, ripe tomatoes
8 green lettuce leaves
½ cups Mayonnaise (Optional)
2 tbsp sour cream (Optional)
3 tbsp yellow mustard (Optional)
¼ cups Maple syrup (Optional)
¼ tsp cayenne pepper (Optional)
½ tsp kosher salt (Optional)
In our recipe, we'll add a special sauce for a richer taste of the BLT. Along with that, we'll add a special glaze so your bacon has more flavor. 
So, let's get started on making the Ultimate BLT!
Step by Step Instructions
Now that you're done gathering your ingredients, it's time to move into action! 
Follow the steps below to get yourself an amazing meal-
Step 1: Cooking the Bacon
First of all, you need to preheat your oven to 400 degrees Fahrenheit. Now, take a big tray. Place your aluminum foil over the tray firmly.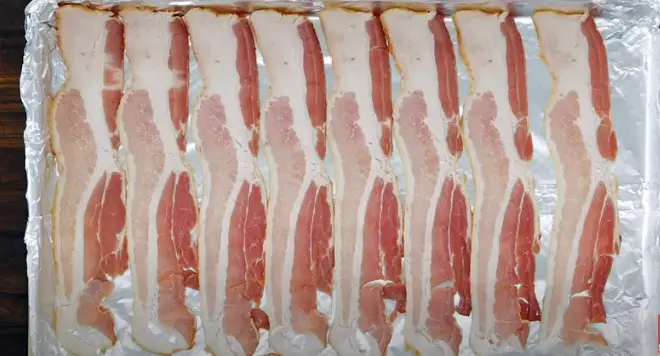 Image Source: Natasha's Kitchen (Youtube)
Next, start placing your bacon slices on top of the foil. Make sure that are bacon slices are placed in a single layer. That is, avoid placing the slices on top of one another. 
Now, place the tray containing the bacon slices inside the oven. Cook the bacon inside the oven for around 20 minutes. Start a timer when you place it inside the oven. Make sure to take it out after 20 minutes!
After taking the cooked bacon out of the oven, place them over a plate. Make sure that the plate has tissues on top of it before putting the bacon. They'll l help soak up the extra grease from the bacon.
Step 2: Toasting the Bread
Since your bacon slices are being cooked now, it's time to toast the bread. BLT sandwiches taste way better if you butter and toast the bread! So, butter both sides of each bread you'll use.
To toast your bread, you can easily use the oven or the toaster. However, we won't recommend that. The secret trick to making a delicious BLT is to toast the bread on a skillet pan. 
So, turn on the stove to medium or medium-high heat. Place the skillet pan and the buttered bread on top of it. Toast the bread until it is golden-brown in color.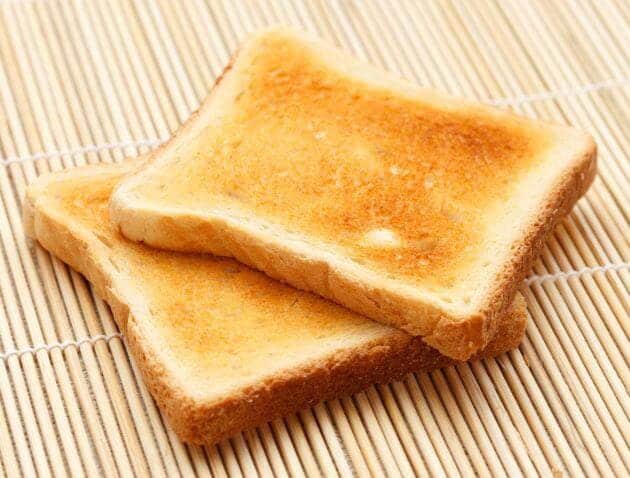 Image Source: foodfanatic.com
Step 3: Slicing the Tomatoes and Lettuce
For this step, take out the tomatoes you bought. Start slicing them with a knife. In BLT sandwiches, thick slices of tomatoes are the norm. So, make sure to cut them into thick pieces of 1-1.5 centimeters.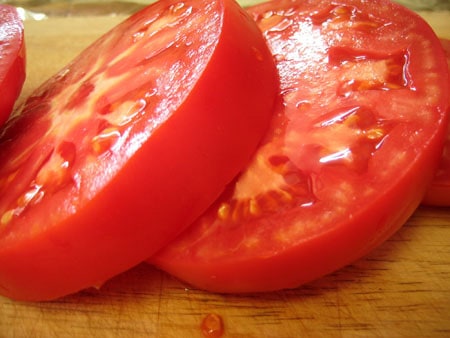 Image Source: stitchandboots.com
Next, it's time to slice your lettuce leaves. You don't have to do much here. Just cut off the stems of the lettuce leaves. This will help to position it inside the sandwich more easily.
Step 4: Making the BLT Sauce
This step is not mandatory. However, this is one of the special tricks of enhancing the taste of the sandwich. We'll now prepare a special sauce! Take out a small bowl.
Now, pour half a cup of mayonnaise inside it. Then add two tablespoons of sour cream and two teaspoons of yellow mustard. Mix all the three ingredients together and you're done!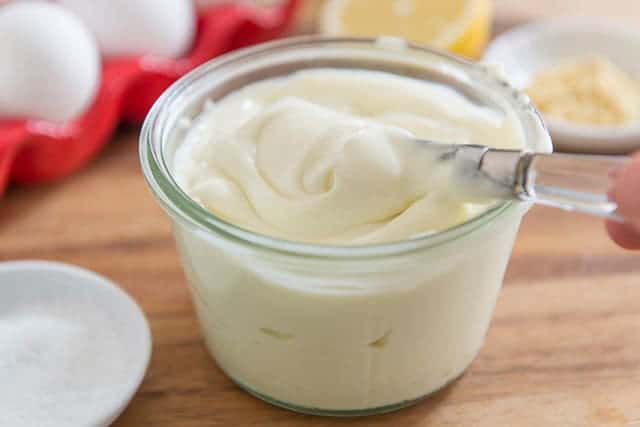 Image Source: fifteenspatulas.com
Step 5: Preparing the Maple-Mustard Glaze
Like the previous step, this one isn't mandatory either. But to get a rich taste of your bacon, this will help immensely. 
For the glaze, take a whisking machine and a small bowl. Whisk the maple syrup and mustard together. Then add your cayenne pepper and kosher salt. Now whisk all four ingredients again. Your maple-mustard glaze is now ready!
Take the glaze and brush it over the bacon slices. After that, put the bacon in the skillet pan with medium heat. Toss and turn the bacon until you see small bubbles in the pan. This indicates that your bacon is now caramelized.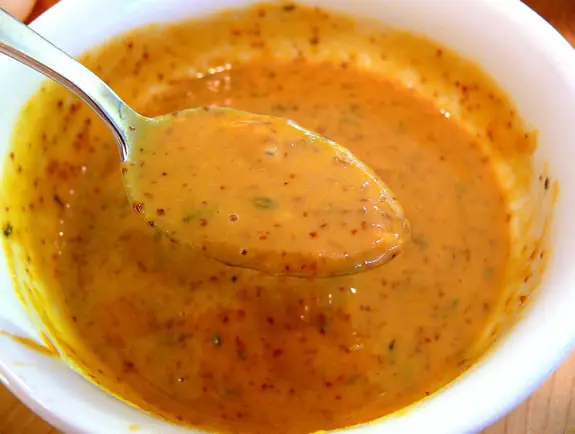 Image Source: noblepig.com
Step 6: Prepping the Sandwich
We're at our last step! Now, all we need to give is the final touch to the BLT.
Place a single bread slice on a plate. Smear the special BLT sauce over it generously. Next, place the lettuce on top of the sauce. Following the lettuce, place 2-3 thick slices of tomato on top. 
Now it's time to put the glazed bacon! Put 3 slices of bacon over the tomatoes. Then, on the second slice of bread, smear the sauce once again. Place it on top of the bacon slices and voila! It's time to enjoy a luxurious meal.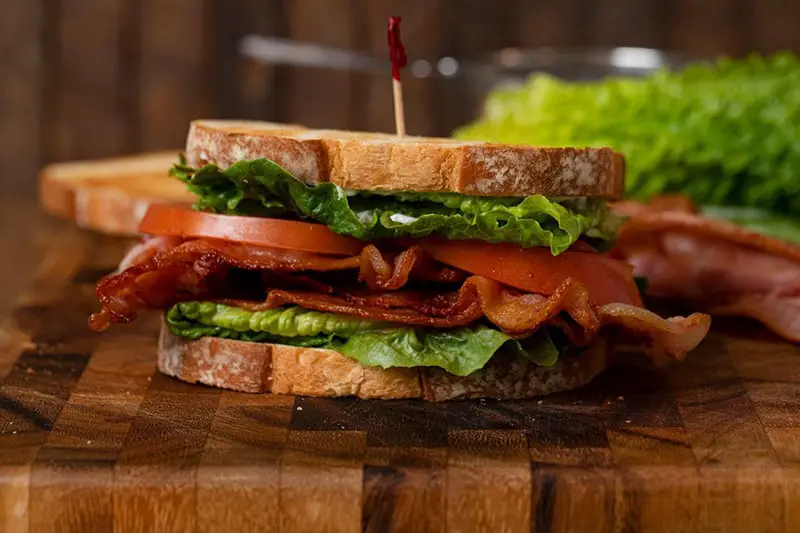 Source: dinnerthendessert.com
Important Tips
There might still be some queries that you want to ask. For your convenience, we're stating them below-
Is There A Vegan Option for BLT sandwiches?
Of course! Coconut bacon is a wonderful replacement for regular bacon. And, instead of mayonnaise, you can use avocado and you're good to go. 
Can I Use Avocado in BLT sandwiches?
It's a unique choice that is rarely used, but you can definitely use it. The creamy flavor of the avocado blends well with the sandwich. Just make sure to sprinkle some salt and pepper on top of it. 
What Else Can I Use As A Substitute for Mayonnaise?
The guacamole acts as a great substitute if you don't prefer mayonnaise. You can also add parsley for a different flavor in your BLT. There are vegan options for mayo too.
So, enjoy your own perfect BLT!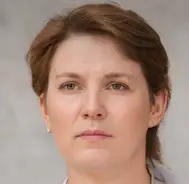 Latest posts by Leah Greenstein
(see all)