One-pan mushroom and spinach chicken is a very special and easy dinner. You can make this dish at a short time's notice and for any family occasion. You can also call anyone over for dinner and satisfy them by making this. The creamy mushroom flavor will charm anyone who tastes it.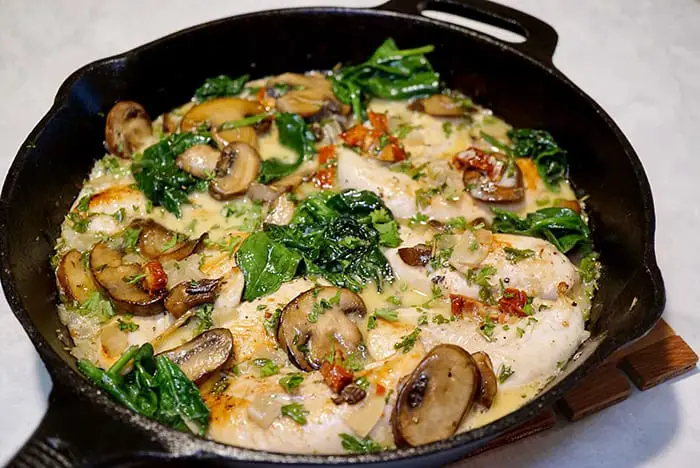 Difficulty Level: Medium
Serving Portion: 4 servings
Preparing Time: 10 minutes
Cooking Time: 20 minutes 
Total time: 30 minutes
Nutrition Facts 
1 serving of one-pan mushroom spinach chicken serves you 532 calories or 2225 kilo joule energy.
Amount per serving
| | |
| --- | --- |
| Nutrients | Amount |
| Fat | 28 g |
| Fiber | 3 g |
| Protein | 60 g |
| Sodium  | 186 mg |
| Carbohydrate | 8G |
| Sugar | 6 g |
| Saturates  | 12 g |
The values mentioned in the table above are approximate.
Required Cooking Equipment
Ingredients
2 tbsp olive oil
4 Fillets of chicken breasts
1 thinly sliced leek (only pale section)
200 g sliced cup mushrooms
1 tsp. of garlic (minced)
1 tbsp plain flour
300 ml light cooking cream
60 gm packet of  baby Spinach
1 tbsp. of chives (chopped)
2 rosemary sticks for garnish
Directions To Make One-pan Mushroom And Spinach Chicken
Making one-pan dishes is not tough at all. One-pan mushroom and spinach chicken are no exception. We have come up with a 5 step guide so that you can learn to make this recipe in no time.
Step 1: Marinating The Chicken Breasts
Take 4 pieces of chicken breast fillets. Using a sharp knife cut 3 slits on top of each chicken. Put in ½ tsp. of salt, ¼ tsp. of black pepper, and 1 tsp. of paprika. Mix them well with your hand and keep them covered. Marinate them for at least half an hour.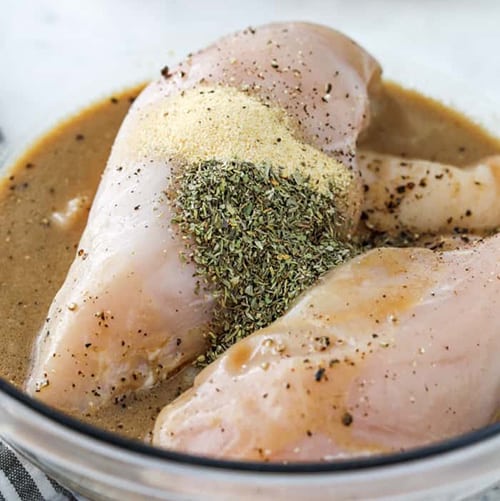 Step 2: Half Cook The Chicken Breasts
Take a large deep frying pan. Fill the pan with half of the oil. Heat it at medium-high temperature. Slowly dip all 4 of the chickens into the hot oil. Cook each side of the breasts for 4 minutes. 
Once the chickens are done, transfer them to a plate. Keep them covered to avoid getting cooled down.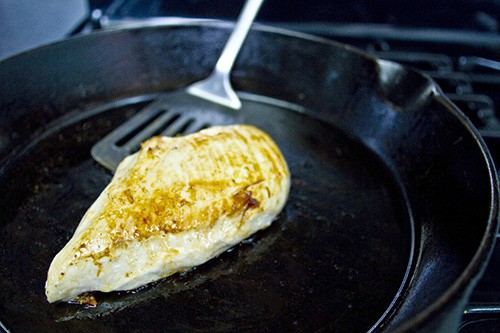 Step 3: Cooking The Vegetables
Take 200 g mushrooms and slice them thinly. Next, take the pale section of 1 leek. Slice the leek with a sharp knife.
Now, pour the other half of the oil into the pan. Then, put it on the stove over medium heat. 
Afterward, toss the vegetables and mushrooms in the pan. Add 1 tsp. of minced garlic and 1/2 tbsp. of salt. Stir for around 2 minutes. The leek should be soft by now. You can test this by pressing it with a spoon. 
Once it becomes soft, put in 1 tbsp. of plain flour. Cook them all together for 1 to 2 minutes until the vegetables are well coated. During this process, stir them consistently.
Step 4: Combining And Cooking
Take the previously half-done chickens and put them in the pan. Mix them with the vegetables and mushrooms that are being cooked already. Throw 60 gm of spinach in the pan. Add 1 tbsp. of finely chopped chives. 
Pour 300 ml light cooking cream into the pan. Mix all the ingredients well and then, cook all the ingredients covered for 3 to 4 minutes. 
After that, pick up the lid and stir the ingredients again. Cook them uncovered for 2 more minutes. Take the pan out from the stove. You will know the chickens are done when the internal temperature of the chickens is 165° F. You can measure it with the kitchen thermometer.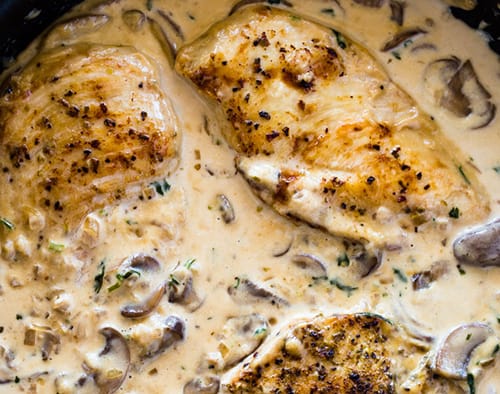 Step 5: Serving The Chicken
From the name, you can understand that this recipe is served in a pan. Top the chickens with 1 or 2 rosemary leaves. You can also sprinkle ¼ cup freshly chopped cilantro.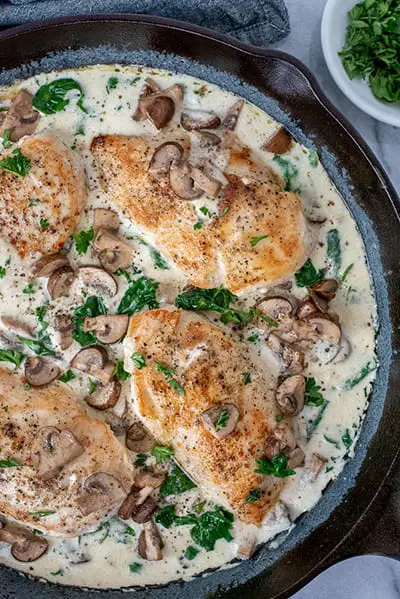 Some Facts About One-Pan Mushroom And Chicken Spinach
Here is some information that you might want to know about this recipe. This can help you to get into this recipe and cook them in a better way.
What Variety of Mushrooms Are Best For This Recipe?
Common table mushrooms are generally used for cooking. Chicken-of-the-woods mushrooms are also available for most of the year. So, you can use any of these mushrooms for this recipe.
Can't I Use Any Chicken Piece Other Than The Breasts?
Yes, of course, you can use any other pieces of chicken. However, chicken breasts are more likely to give you the finest taste.
How Can You Make This Dish Lactose Free?
If you're lactose intolerant, you can reduce adding cream by 2 to 3 tablespoons.
How To Make This Recipe Creamier?
If you want the dish to be creamier, add 2 to 3 tbsp. of cream to the pan during step 4. In that case, you'll have to give extra time to condense the cream. Cook for an additional 3 to 5 minutes keeping the lid covered for enhanced taste.
Here you are, folks. Cooking one-pan mushroom and spinach chicken is simple yet special. So, don't wait anymore. Try it tonight.
Let us know if you have liked this recipe in the comment section below. If you have any other suggestions to add to this recipe, feel free to share them. We're all ears.
Till then, all the best.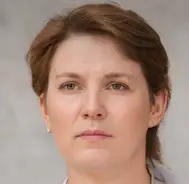 Latest posts by Leah Greenstein
(see all)