Rotisserie chicken and potato chowder is very similar to your Mom's soothing chicken soup. But it has delicate chicken pieces and potatoes in it. It's also much creamier and cheesier! 
The flavor profile and texture are on a whole new level. That's the nicest chicken soup imaginable. Moreover, this dish is great as it uses grilled chicken breast leftovers!
Well, this mouthwatering dish might seem complicated, but it's simpler than you think! And today is your day! We've got the recipe in detail.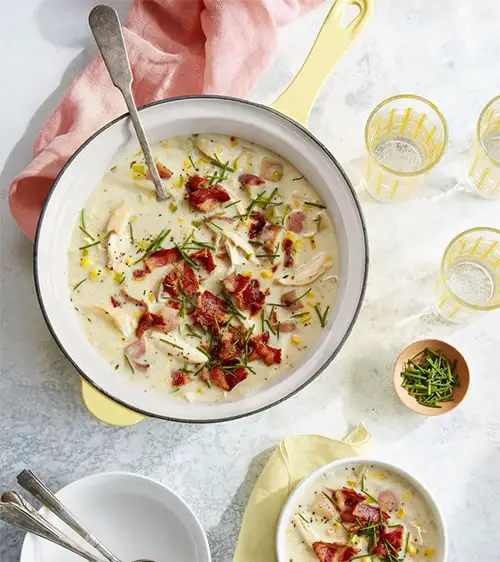 Yields: 7 cups
Preparing Time: 15 minutes
Cooking Time: 25 minutes
Total Time: 40 minutes
Nutrition Facts
| | |
| --- | --- |
| Calories | 396 |
| Total Fat  | 22 g |
| Saturated Fat | 9 g |
| Trans Fat | 0 g |
| Unsaturated Fat | 12 g |
| Cholesterol | 79 mg |
| Sodium | 1089 mg |
| Carbohydrates | 26 g |
| Sugar | 6 g |
| Fiber | 3 g |
Ingredient List
¼ cup of butter, unsalted
1 diced onion
3 peeled and diced carrots
2 diced stalks celery
1 teaspoon of dried thyme
¼ cup of all-purpose flour
3 cups of chicken broth
2 cups of milk. You can add more as per your need
2 peeled and cubed russet potatoes 
2 cups of chicken breast, diced cooked
1 ½ cups of shredded sharp cheddar cheese
Kosher salt 
Fresh black pepper as taste, ground 
2 tablespoons of fresh parsley leaves, chopped 
Direction To Cook Rotisserie Chicken And Potato Chowder
You already know about the ingredients required for the recipe of the dish. So, we hope you're ready now. It's time to cook! 
We've wrapped up the entire recipe in just 4 simple steps. These are discussed below.
Step 1: Cooking The Ingredients
Over medium heat, melt the butter in a Dutch oven. Combine onion, carrots and celery in the pot. Keep stirring occasionally. Keep cooking for 4 minutes. The mixture would gradually become tender. Stir until aromatic, after adding the thyme.
Step 2: Whisking in Flour
Whisk the flour until the mixture is faintly colored. Gradually whisk in the milk, and chicken broth. Then cook, stirring constantly, for about 1 to 2 minutes. Gradually, it will thicken slightly. Toss in the potatoes after the broth thickens.
Step 3: Cooking The Chowder
Bring the mixture to a boil. Cook for 15 minutes, reducing the heat to low. Continue cooking till the potatoes are prepared properly. Stir in a handful of chicken and cheese at a time until smooth. Do this for about 2 minutes. 
To taste, season with salt and pepper. You may see the chowder is too thick. In that case, add more milk until it achieves the desired consistency. 
Step 4: Garnishing And Serving The Soup
Garnish with parsley and tomato, if preferred, and serve right away. Finally, your mouth-watering dish is ready! You're up to taste it now!
You can even add some bacon bits on top if you want!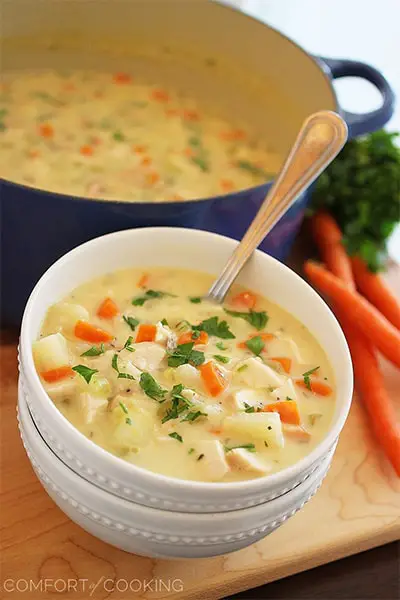 Few Important Tips Regarding Rotisserie Chicken And Potato Chowder
We have already explained the recipe in detail. But some of the important tips would surely put a significant impact on the dish. Thus, few tips have been given below.
What Can I Add to Rotisserie Chicken And Potato Chowder To Make It Taste Better?
Sometimes all a soup needs is a pinch of pepper and some salt. But it needs, even more, most of the time. Toss fresh basil, minced garlic, rosemary, or parsley in your chowder. You can also consider using acid as it's a good idea. To make the soup more gourmet, add a dash of lemon juice or a drizzle of balsamic vinegar.
How Do I Make The Chowder Thicker?
Thicken with flour, cornstarch, or another thickening agent. Chowder thickens and gains body with the addition of starches. 
In a separate dish, whisk a few teaspoons of starch into a small amount of broth before adding it to the main pot. This helps the starch breakdown evenly in the soup and prevents it from clumping.
What Is The Substitute of The Dish for Those Who Are Lactose Intolerant?
Well, for people who cannot take lactose, this recipe may not have a suitable substitute. If you still desire to have this, you'll have to replace the dairy products. The alternatives to milk could be soy milk. Besides, butter and cheese could be replaced with coconut butter, and vegan cheese respectively.
We're finally done with the recipe and necessary tips regarding the dish. We hope we could wrap up the recipe in a very simple way. Don't forget to try out our recipe!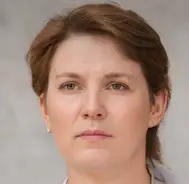 Latest posts by Leah Greenstein
(see all)