Have you ever tried Brooklyn-style Sicilian pizza? Its spongy soft bread is thickly coated with Sicilian pizza sauce. Mozzarella cheese is used as the middle layer. Pecorino Romano cheese is coated on the top. Each bite will give you sheer satisfaction.
L&B Spumoni Garden is one of the oldest pizza chain restaurants in Brooklyn. Over time, they upgraded their pizza recipe. Now they are one of the best pizza spots in Brooklyn.
If you're wondering how their pizza tastes, this segment is for you. We've presented a complete step-by-step process of their pizza recipe.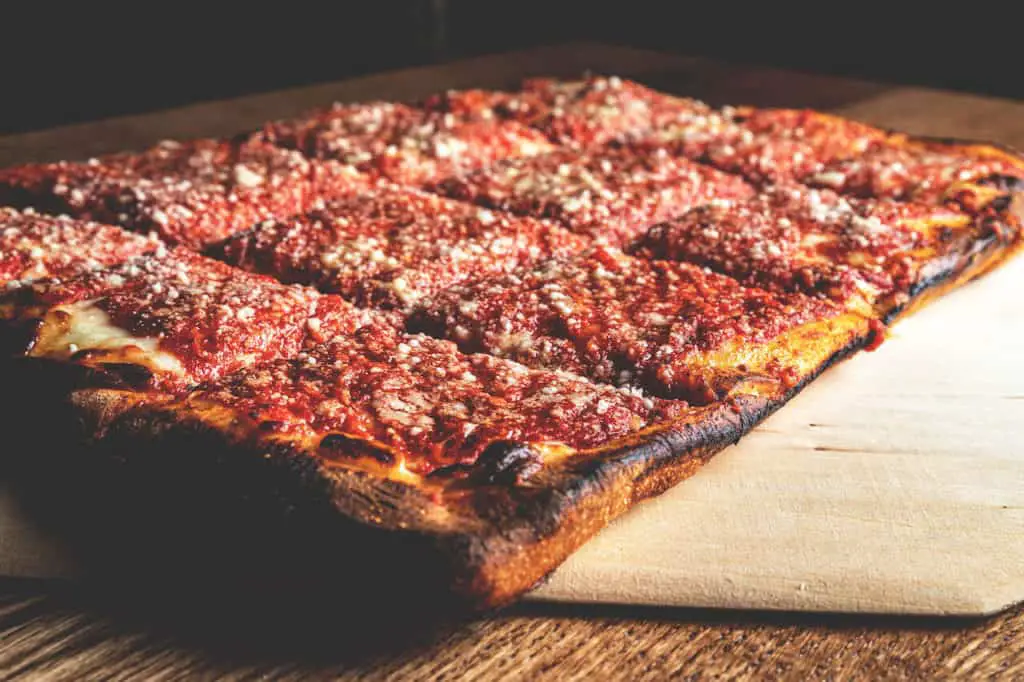 Difficulty Level: Intermediate
Serving Size: 16-inch pizza (6-8 servings)
Required Time: 2 hours for dough + 1 hour for the sauce+20 minutes to bake
Total Time Taken: 3 hours and 20 minutes
Nutrition Facts (per slice)
| | | | | |
| --- | --- | --- | --- | --- |
| Serving | Calories | Carbs (g) | Protein (g) | Fat  (g) |
| Per slice | 450 | 82 | 30 | 1 |
Ingredient List
Dough
4 cups of bread flour
1 ½ cup of lukewarm water
1 tsp salt
1 tsp sugar
1 tsp active dry yeast
4 tbsp extra virgin olive oil and more for later use
Pizza Sauce
1 quarter-sized can of San Marzano tomato 
1 can of tomato puree
1 tbsp of dried Sicilian oregano
1 tbsp sugar
½ tsp garlic paste
¼ tsp Pepper flakes
½ tsp black pepper
½ tsp sea salt
Toppings
2 salted mozzarella balls
1 cup of pecorino romano cheese
Pepperoni
Required Cookware
18-inch pizza dish
Food processor (optional)
Blender
Step-by-Step Process of Making Spumoni's Special Sicilian Pizza
We hope you gathered all the listed ingredients. Now you can start making L&B Spumoni Garden's mouthwatering Sicilian pizza. Follow our step-by-step process to get an amazing result.
Step-1: Make The Dough
Take ½ cup of lukewarm water in a bowl. Add 1 tsp dried yeast and 1 tsp sugar. Stir it properly. Then let it rest for 10 minutes.
Now grab a mixing bowl. Add 4 cups of bread flour and 1 tsp salt. Also, add ¾ cup of warm water and start kneading the dough. If the dough feels dry, add 1 tsp water at a time. Add 2 tbsp olive oil and keep kneading for 8-9 minutes.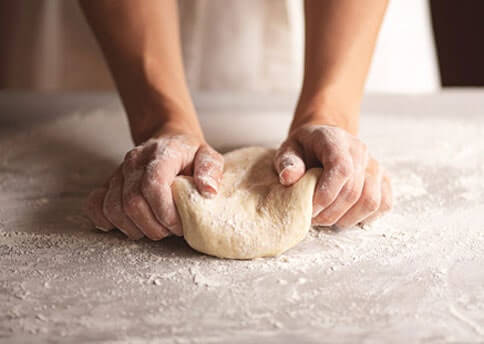 Once the kneading is complete, give a round shape to the dough. Apply a coat of olive oil all over its surface. Keep the remaining oil for coating the pizza pan.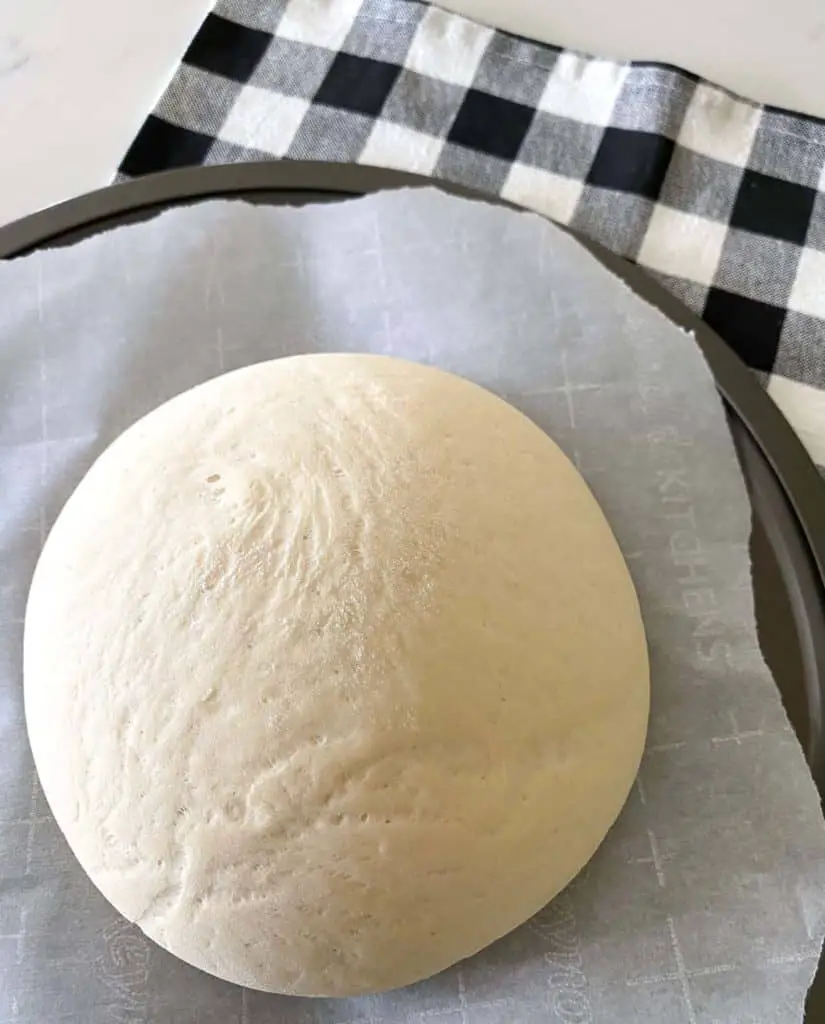 Wrap the bowl with plastic paper and keep it near the stove. It only takes 1 hour to make the dough rise. But in this recipe, it's better if you wait at least a day. You can even preserve the dough for 1 to 3 days for better results.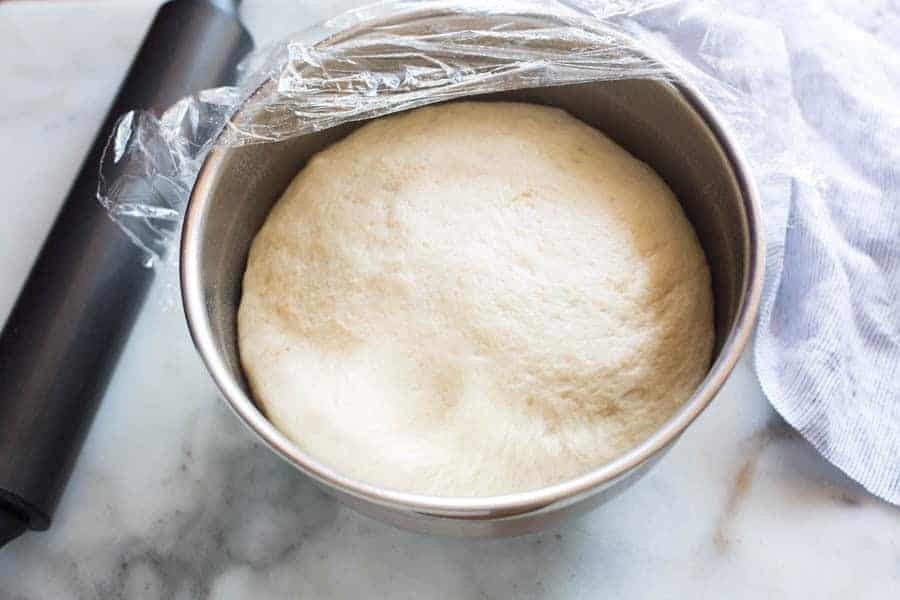 Preserve the dough in your refrigerator. Take it out 1 and ½ hours before you start making the pizza.
Step-2: Make The Pizza Sauce
While your dough rests, prepare the pizza sauce. Take the quarter-sized can of San Marzano tomatoes. Put it in a blender or a mixer. If you don't have the tools, you can compress them using your hand. Now, add 1 can of tomato puree and 1 tbsp of sugar. Make a smooth tomato paste.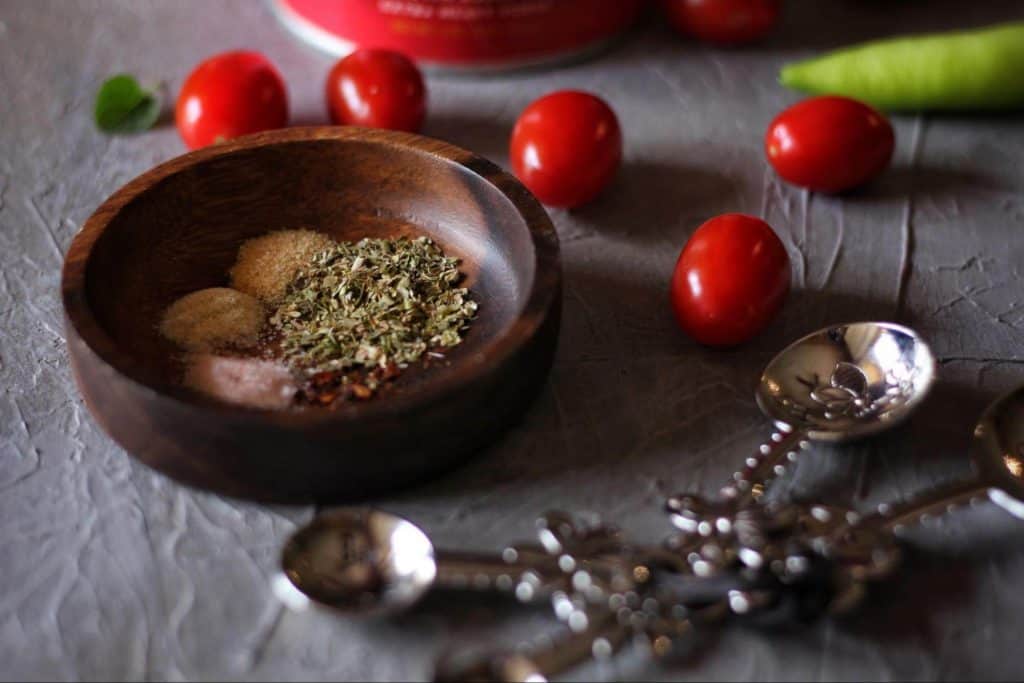 Place a cooking pan on the stove. Add 1 tbsp of dried Sicilian oregano and ¼ tsp garlic paste. Cook the ingredients for 2 minutes before adding the tomato paste. Add ½ tsp black pepper and ½ tsp of sea salt.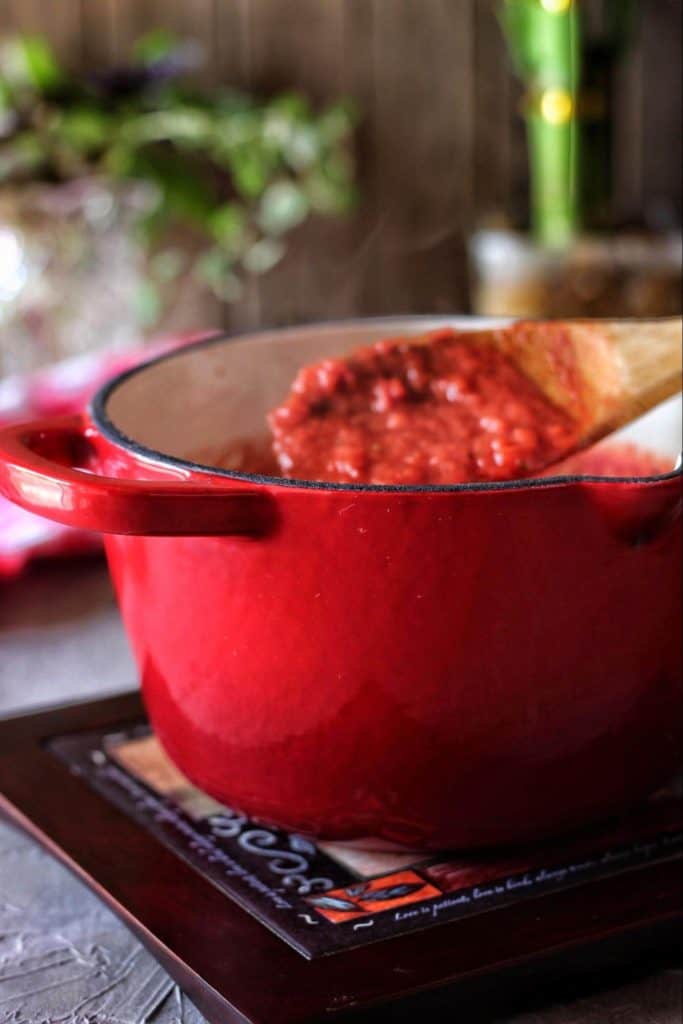 Simmer the sauce in low medium heat for 15-20 minutes. When it gets a thick texture, the sauce is complete. Let it cool down before using it.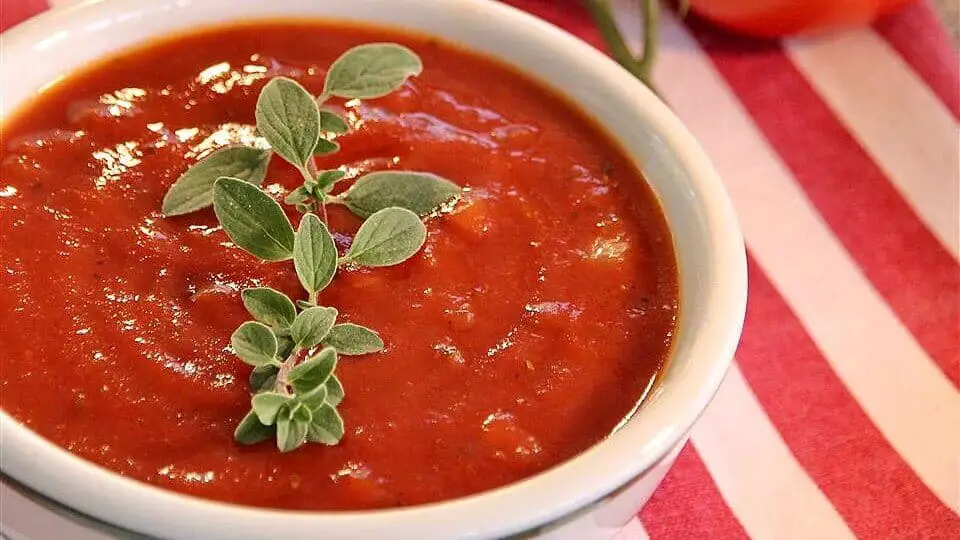 Step-3: Assemble The Pizza
It's time to assemble everything. Spread a good amount of olive oil over your pan. It's better to use an 18/10 inch pizza pan. However, you can use anything you have in your hand.
Take the dough and press out all the air.  Place it on the pizza pan and start stretching it with your hand. Now let the dough adjust it to the pan's size.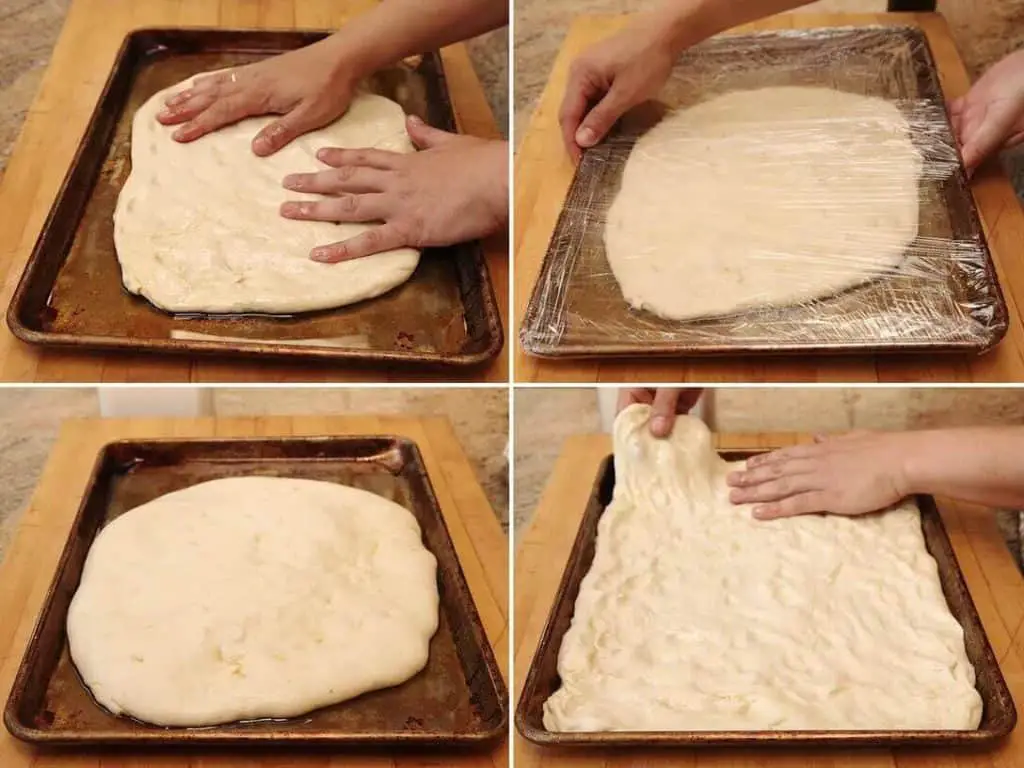 Use a fork to make some holes over the bread. It prevents forming any air bubbles inside. Also, it helps to reach the sauce inside the crust.
Now, cut the salted mozzarella balls into thin slices. Put them all over the crust. Cover the dough with mozzarella cheese slices.
Take 1 big scoop of tomato sauce and spread it over the cheese. Cover the whole pizza with the tomato sauce, even the edges. Add some pepperoni or any toppings to your liking.
After that, take 1 cup of finely grated pecorino romano cheese. Sprinkle it all over your pizza.
Lastly, drizzle some olive oil over the pizza. And you are done with the layering. Now you can start baking your pizza.
Step-4: Bake The Pizza
Preheat your oven to 450-500 degrees Fahrenheit or 250-260 degrees celsius. Once the oven is properly heated, put your pizza in the oven.
Bake it for over 10 to 12 minutes. Rotate the pizza every 5 minutes so the crust is evenly cooked. 
Check the bottom to see if it's gotten a light golden color. Bake it for 5 to 10 more minutes to get a satisfactory result.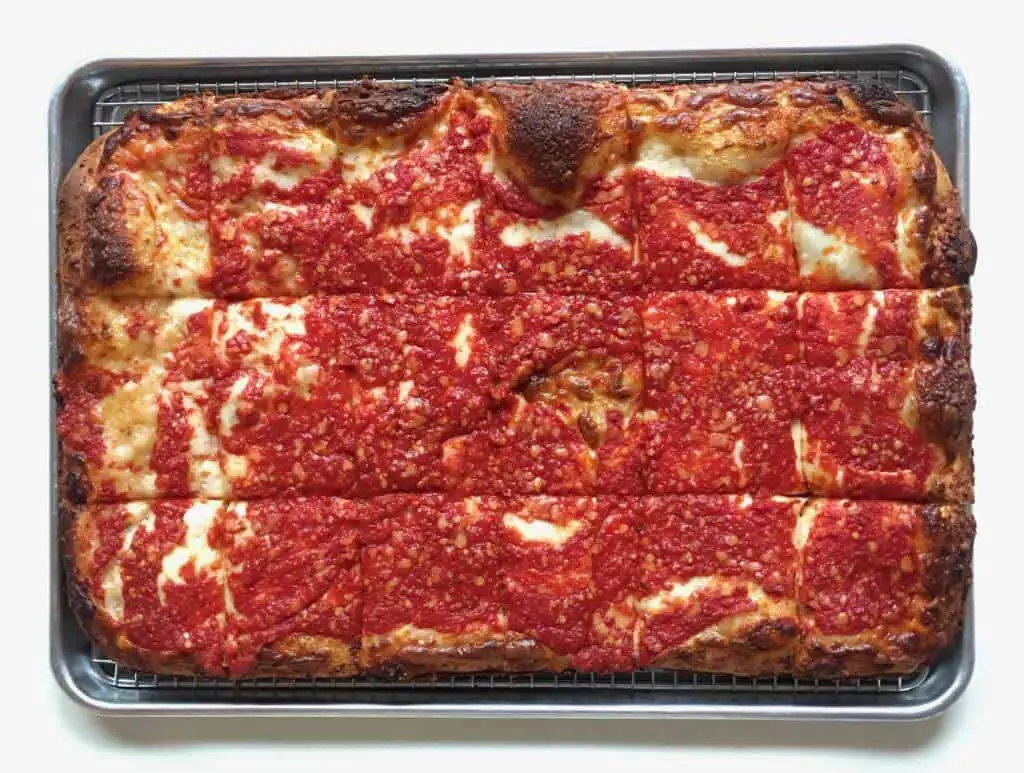 After the baking is done, let it cool down for 20 minutes. Cut the pizza into 12 slices and it's ready to be served.
Expert Tips to Getting the Authentic L&B Spumoni Garden's Pizza
We've added some tips to make the recipe more people-friendly. I hope you can make use of it.
What Can I Use Instead of San Marzano Tomato?
Use similar brand products that are D.O.P approved. The DOP label ensures that the product is produced traditionally.
You can buy original Italian pizza products by using the DOP label.
What Are The Substitutes for Pecorino Romano Cheese?
Parmesan, asiago, or any pecorino cheese will suffice as substitutes.
How to Reduce Calories in Spumoni Pizza?
Reduce the amount of sugar from the dough and the sauce. Use less amount of cheese. You can also try making the dough a bit thinner. For this, you can decrease the amount of flour.
There you have it, folks. So what are you waiting for? Start baking and enjoy this delicious dish with your family.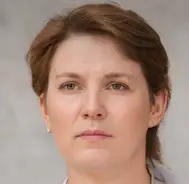 Latest posts by Leah Greenstein
(see all)