Rosemary strawberry daiquiri is a perfect combination of ice, rosemary, strawberries, and sugar. This refreshing strawberry cocktail recipe is the perfect way to cool off summer. 
It's simple to create in your blender with only a few ingredients. With its herbal edge, this recipe stands out!
Well, it's your lucky day today! Because we've got this mouth-watering daiquiri for you. And that is easier than you think! Without a waste of a second, let's jump into the recipe!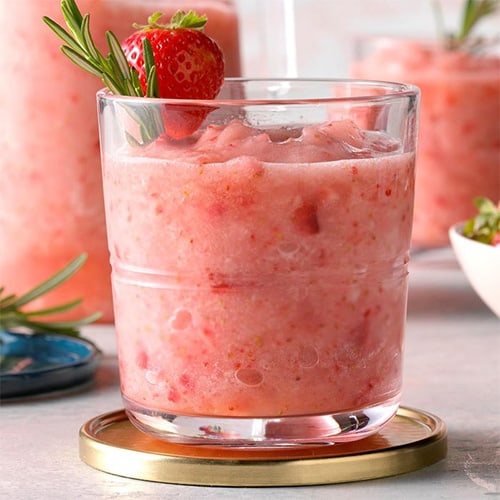 Yields: 8 servings
Preparing Time: 4 hours
Cooking Time: 20 minutes
Time to Mix Drink: 3 minutes
Total Time: 4 hours 23 minutes
Nutrition Facts
| | |
| --- | --- |
| Calories | 548 |
| Sodium | 164mg |
| Fat | 3g |
| Total Carbohydrate | 126g |
| Dietary Fiber | 23g |
| Sugar | 69g |
| Protein | 9g |
| Calcium | 230mg |
| Vitamin C | 492mg |
| Iron | 5mg |
| Potassium | 1656mg |
Ingredient List
4 cups of frozen strawberries which should be 1.04 lbs
1 cup of sliced strawberries which should be 0.30 lbs
1 cup of rosemary syrup, chilled
¾ cup of fresh lime juice, squeezed well
½ teaspoon of rum extract
1 thinly sliced fresh lime, to garnish
Direction To Prepare Rosemary Strawberry Daiquiri
Rosemary strawberry daiquiri looks very delicious. But the recipe seems confusing. So, the recipe has been divided into 4 main steps. Follow the recipe given below, if you want to prepare this drink easily!
Step 1: Preparing The Ingredients
Take the strawberries and rinse them off. Hull and slice them till you get 1 cup of strawberries which should be about 136g. For garnishing, squeeze fresh lime juice. Additionally, slice a fresh lime.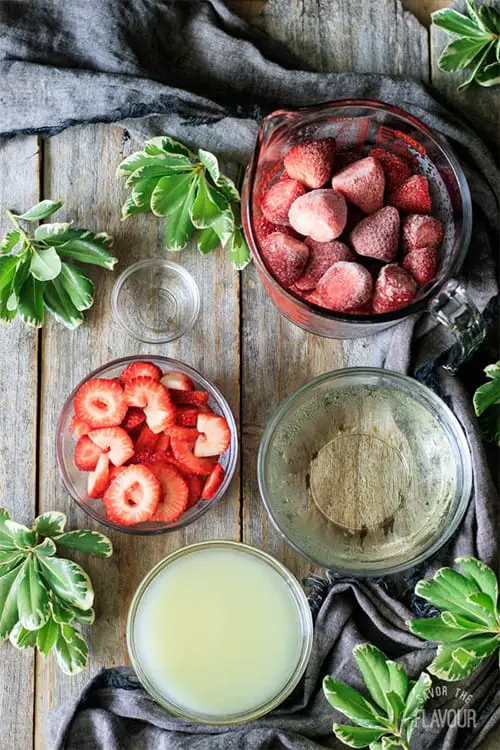 Step 2: Thawing The Strawberries
Now, remove the frozen strawberries from the freezer. Then put them aside for two minutes for thawing.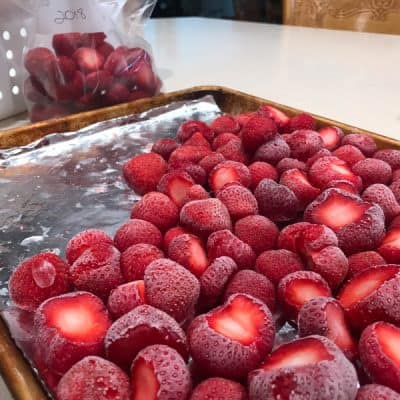 Step 3: Blending The Mixture
Put the fresh strawberries, rum extract, and lime juice in a blender. Now, put in 2 tablespoons of rosemary syrup. Blend them all. Do it until the mixture is completely smooth. Then add the frozen strawberries and process until no pieces remain.
Step 4: Finishing And Serving
Now take the daiquiri and pour it into hurricane glasses. Then take the lime slices in order to garnish the rims. Finally, it's your time to enjoy this mouth-watering daiquiri. 
You can even garnish with a few strawberries on the rim!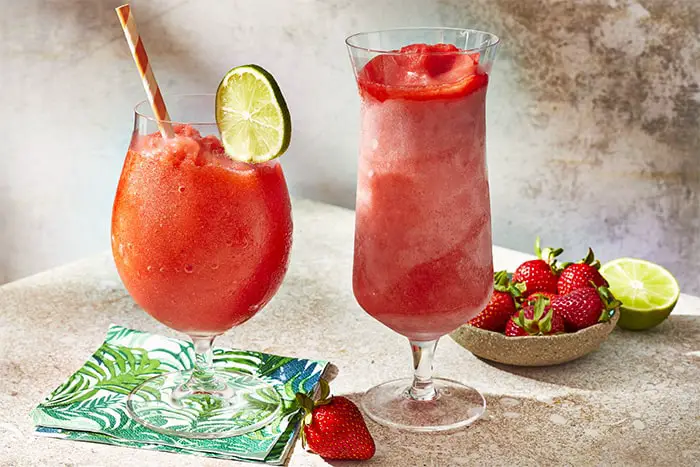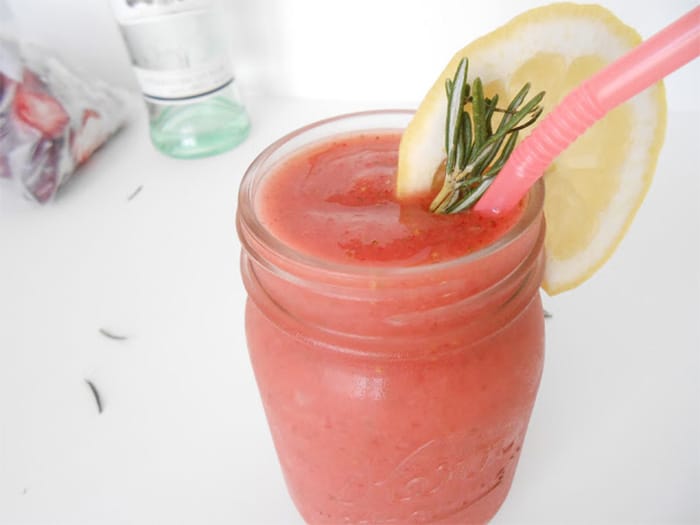 Important Tips Regarding Strawberry Rosemary Daiquiri
You might already have enough idea about the recipe after reading our article. But tips and suggestions are never a waste, right? So, a few tips are given below for your convenience!
How Do I Refrigerate Daiquiri?
Place the daiquiri in the freezer after pouring it into the proper glasses. Remove the daiquiris from the refrigerator. After a few minutes, serve and break the daiquiri up with a fork. If it's completely frozen solid, wait about 10 minutes and try again.
How Do I Get The Best Taste Out Of This Daiquiri?
For the finest texture and flavor, combine fresh and frozen strawberries. Make sure not to allow the frozen berries to defrost. As it will result in a less thick and chilly drink.
Can I Make My Own Syrup For This Daiquiri? If Yes, How?
Yes, you can make your own syrup. In a saucepan over medium-high heat, dissolve 1 cup of water (236 ml) and 1 cup of sugar (200g). Mix it properly. Before using, allow cooling. It will keep good in the fridge for a week.
How Long Does This Daiquiri Last?
Daiquiri mix is a cocktail made of citrus juice, rum, and any sweetener. When properly stored at room temperature it can be stored for a long time. In fact, an unopened daiquiri mix will keep its finest quality for around 12 to 18 months.
 Although, it is usually safe to drink even after that. But you might see the daiquiri mix acquires an unpleasant odor, or flavor at times. Don't hesitate to discard it then.
How Can I Make The Daiquiri Kid-friendly?
To make it kid-friendly, you can substitute alcohol with a lemon-lime soda drink.
Well, we tried to present the recipe as simple as we could. Please share our recipe if you find it helpful. Also, reach out to us for any queries!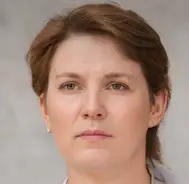 Latest posts by Leah Greenstein
(see all)