Looking for an authentic new york style pizza sauce recipe? Well, that's where Sbarro flourishes.
For over six decades they have been selling pizzas. Thin crust, romano crushed tomato sauce & 100% whole milk cheese- are their distinguished identity.
However, every pizza is evaluated significantly for the sauce they use. Sbarro is no exception. Even, most of its secrets actually remain in their sauce.
In this segment, you'll definitely find the easiest way to recreate their pizza sauce. Follow these special dos and don'ts and you are done.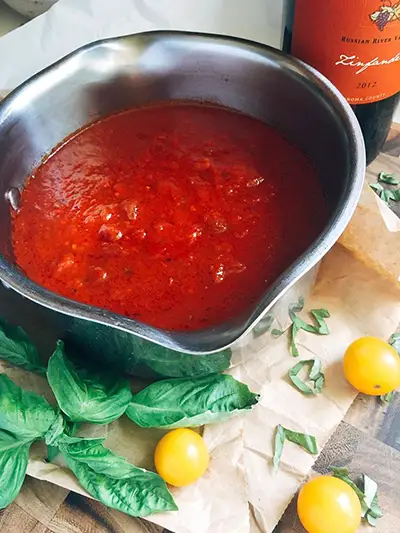 So buckle up. Let's recreate the sauce goodness and enjoy a tasty pizza experience.
Difficulty level: Easy
Serving size: 10-15 people 
Total time: 1 hour 15 mins
Nutritional Information
Serving Size: 1 (3683) g
Servings Per Recipe: 1
| | |
| --- | --- |
| Total Fat  | 373.9 g |
| Saturated Fat  | 66.9 g |
| Cholesterol  | 117.9 mg |
| Sodium  | 18784.4 mg |
| Total Carbohydrate  | 156.1 g |
| Dietary Fiber  | 27.8 g |
| Sugars  | 75.4 g |
| Protein  | 54 g |
| Total Calories | 4402.3 Kcal |
Ingredients List
2 (28 ounces) cans of crushed tomatoes
1 (28 ounces) tomato can cold water (more or less to desired thickness)
4 ounces grated Romano cheese
12 ounces olive oil
10 ounces diced onions
1 ounce chopped fresh garlic
1⁄2 ounce chopped fresh Italian Parsley
3 ounces cooking sherry Cooking wine
2 tablespoons salt
2 teaspoons oregano
1⁄2 teaspoon crushed red chili flakes/crushed red pepper (tips)
1⁄2 teaspoon black pepper
2 teaspoons basil
3 Easy Steps for Cooking Sbarro Pizza Sauce
The steps of making the sauce are really easy. However, we will provide you a step-by-step guide to make it perfect.
Step 1: Sauteing The Ingredients
Pour oil into your saucepan. Wait until the oil and pan are heated. Add freshly chopped onions & saute until it becomes brown.
Remember to keep the heat low. Otherwise, the onions will be overcooked. After the onion becomes almost brown in color, add chopped garlic. Stir & saute until garlic becomes brown too.
Step 2: Pouring Some Wine!
This is maybe the most important part. Because the most significant ingredient now will be added.
Carefully glaze the pan with sherry wine. Keep a safe distance as wine sometimes attracts fire from the pan.
Now add the finely chopped fresh parsley. Keep stirring until the flavor of parsley comes out.
Step 3: Simmering The Sauce
Add crushed tomatoes and some water to cook it. Now, add the yummy romano cheese. Before it starts melting, add oregano, black pepper, and red pepper. Finally, put some salt to taste.
Give it a final stir and let it simmer for at least 35 to 40 minutes. Simmer for 1 hour for better consistency.
Your finger-licking delicious pizza sauce is now ready. Refrigerate it as long as you want. Remove from the refrigerator before 2 hours of making the pizza.
Some Important Tips to Make The Perfect Sbarro Pizza Sauce
You may face some common problems while making the sauce. For your ease, here are some tips for you.
My Sauce Has Become Too Sticky While Cooking, What Should I Do?
Well, as we mentioned you have to apply all the spice mix before the cheese melts. Otherwise, it will become sticky. You won't be able to stir before leaving it to simmer.
Is It Possible to Cook Without Wine?
You can substitute the sherry wine if you don't have it. You can use any other cooking wine you have. Cooking completely without wine won't provide the perfect taste.
How Often Do I Have to Stir the Sauce?
You don't have to stir the sauce continuously. Just stir while mixing the ingredients. Then just leave it to simmer.
Hand Crushed Tomato or Puree?
Hand crushed tomato is recommended. If not, the puree will also do. It's no big deal actually.
Why My Sauce Has Become too Oily?
Well, the recipe itself is a bit oily. You can use less oil if you want. But it's even confirmed by the Sbarro staff that they use extra oil in this recipe.
Hope we've cleared all the hindrances for you for creating the beautiful sauce. Try it and enjoy it with your favorite people. See you next time!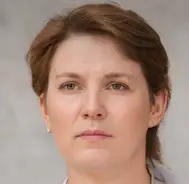 Latest posts by Leah Greenstein
(see all)