Sbarro is a Neapolitan-style pizzeria. The restaurants provide Neapolitan-style pizzas cooked to order with fresh and high-end ingredients. Furthermore, it's baked in woodstone ovens in under three minutes.
This Sbarro Pizza Dough Recipe is great for any beginners. Especially for those who want to make a soft homemade pizza crust. 
To make this the perfect, soft, and fluffy dough, it's essential to have the right recipe.
As a result, in this recipe, we'll walk you through the steps. We will help you recreate this absolutely delicious Sbarro pizza dough. 
Just follow these easy steps, and we guarantee you a hassle-free cooking experience. Now, what are we waiting for? Allow us to take you through this adventure by following our simple steps-
Difficulty Level: Easy
Serving Size: 1 (14-inch pizza)
Preparation time: 30 minutes 
Cooking time: 1 hour   
Required time: 1 hour 30 minutes
Nutrition fact: This chart has all the nutrition facts the Sbarro Pizza Dough contains. 
| | | |
| --- | --- | --- |
| Servings  | Ingredients | Calories |
| ¼ cup  | Yeast | 105 |
| 1 cup  | Water | 0 |
| 3 cups | Wheat Flour | 1,365 |
| 1 Tbsp.  | Extra Virgin Olive Oil | 119 |
| 1 Tbsp | Sugar | 60 |
| 1 Tbsp | Salt | 0 |
| Total number of calories | | 1649 |
Required Ingredients:
¼ cup yeast
1 cup water
3 cups wheat flour
1 tbsp extra virgin olive oil 
1 tablespoon sugar
1 tablespoon salt 
Steps of Making Sbarro Pizza Dough
All pizza dough starts with the same fundamental ingredients. And they are yeast, water, flour, olive oil, and salt. With these basic ingredients, we are going to make the pizza.
Here's a breakdown of what we'll be using in the Sbarro Pizza Dough recipe-
Step 1 of 2: Form the Dough Ball
First, preheat the oven to 500°F. Then, in the bowl of your stand mixer, combine the white flour, sugar, yeast, and salt. Allow for a 20-minute resting period for the yeast mixture. However, it might take a bit longer. 
Now, start the mixer. Add the water, oil, and knead the dough while the machine is running. Once you're done, make it into a ball. The ball should be in a good shape. 
Moreover, the ball might not form properly and it can also be sticky. In that case, add a spoonful of flour to the dough. Then wait until the dough forms a solid ball. 
If the dough continues to be too dry, add a tablespoon of water at a time. The dough should now be scraped onto a lightly floured surface. Knead it gently into a smooth and firm ball.
Step 2 of 2: Bake the Dough 
In this step, first, grease a large mixing bowl with the remaining olive oil. Then place the dough in it and cover it with plastic wrap. 
Set the bowl aside in a warm place to double in size. Now, you must now wait around an hour for the dough to rise.
It could take less than an hour, or it could take longer. You must keep an eye on the dough at all times.
Once the dough has risen enough, sprinkle 1 teaspoon of flour on the surface below the dough. To protect it from drying out, cover it in a clean kitchen towel or plastic wrap. Allow 10 minutes for the dough to rest.
The dough is now totally prepared. Now, you can make your own Sbarro pizza at home.
Additional Tips  
Can I Let My Dough Rise Overnight?
Yes, you can leave your dough in the fridge overnight to rise. Keep in mind, though, that you will need to bring the dough back up to room temperature. Before you start baking it.
Does a Metal Bowl Kill Yeast?
No, there isn't enough of the bowl's surface area in interaction with the yeast for it to have any effect. When the flour is drier, you may need to add extra water. Furthermore, until the dish is made of something specifically toxic, nothing occurs to the yeast.
Is It Possible To Store The Dough In The Refrigerator?
Yes, the dough can be frozen. You can put the dough in a clean plastic shopping bag. After that clipped the top of it and shut it with a plastic clip. Then place it in the freezer. The dough will age slightly after freezing. But it will still be fine once defrosted; also perfect for pizza.
How Can You Determine The Temperature Of The Water For The Yeast?
To determine the temperature use a thermometer. It will ensure if the water is at the right temperature (110-115°F) for the yeast.
That's all from us. Now, it's time for you to take action and make the dough. Please share any further questions in the comments area.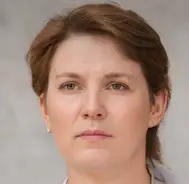 Latest posts by Leah Greenstein
(see all)