Who doesn't want to eat healthy? 
Well, in today's world, people are more into vegan food and cooking. Because this way they can ensure a healthy diet. So, vegan bread is also a part of that. 
To be honest, we're thrilled to present an easy vegan bread recipe. Moreover, the recipe is also suitable for people who prefer gluten-free and soy-free bread. 
The bread also has a rustic look and taste. Thus, you'll definitely love it when you're done baking it!
Level: Easy
Serving Size/Yield: 8 slices of bread
Prep Time: 20 minutes 
Rise Time: 60-90 minutes 
Cook Time: 40 minutes 
Total Time: 2 hours to 2 hours 30 minutes
Nutrition Facts (Per Serving): 
| | |
| --- | --- |
| Calories | 165 |
| Fat | 2.5g |
| Saturated fat | 0.4g |
| Sodium | 0.368g |
| Carbohydrate | 32g |
| Fiber | 2.4g |
| Sugar | 1.7g |
| Protein | 3.6g |
List of Ingredients
⅔ cups of 95-105 degrees Fahrenheit warm water for proofing 
3 cups of gluten-free all-purpose flour
3 teaspoons of active yeast (Dry)
3 teaspoons of sugar 
1 ½ teaspoon of kosher salt 
1 tablespoon of baking soda 
3 teaspoons of xanthan gum 
2 tablespoons of olive oil 
1 tablespoon of apple cider vinegar
½ to ⅔ cups of warm water (extra)
Instructions for Making Vegan Bread 
Now, we're all set! Thus, let's get into the instructions-
Step 1: Proof Your Yeast 
Firstly, take the yeast and add it to the warm water. Then set aside the yeast and wait for 5 minutes
Pro-tip– If you see bubbles, you'll know the yeast is active. Hence, your yeast is not expired. 
Step 2: Mix All The Ingredients Properly
Now, take a large mixing bowl or even a stand mixer bowl. Then place all the ingredients that are dry in that bowl. To mix the ingredients properly, use a good-quality whisk. 
After that, add the right amounts of olive oil and vinegar. Now, mix all the ingredients and add the extra warm water.
Keep adding water till you have a soft and sticky dough. However, if the dough feels too sticky and slimy, add more flour to it.
Step 3: Start Kneading the Dough
After you get the right dough, proceed to knead it. For this, you can either just rely on your stand mixer. Or you can make your hands useful!
If you're kneading the dough by hand, keep kneading it for 7-10 minutes. Then for a stand mixer, the time limit is 5 minutes. 
Within this specific time limit, you'll have a sticky and proper dough for the bread.
Step 4: Move the Dough to the Bread Pan 
Once you have a sticky dough, you'll need to proceed to the baking part. For that, firstly, line parchment paper in your bread pan. 
Then spread the dough in that pan. Now, while doing so, you'll have to keep your hands wet.
Step 5: Allow The Dough to Rise 
Now, after you have moved the dough to the pan, cover it with a cotton towel. Then locate a warm place and keep the pan there.
After that, wait 60 to 90 minutes for the dough to rise. Now, make sure the dough has risen 2x its original size.
Step 6: Let's Start Baking the Bread
Finally, preheat your oven and set it to 350 degrees Fahrenheit. 
While your oven is in preheating mode-
You can score the top of your dough gently with a knife. And take a little bit of flour and dust it on the dough too. This will give it an aesthetic look!
Now, place your dough with the pan in the oven properly. Keep baking for about 40-55 minutes. 
Before getting it out, make sure the internal temperature of the bread is 210-212 degrees Fahrenheit. To check the temperature, use a baking thermometer. 
Brush 1 tablespoon of melted vegan butter on the bread 10 minutes before taking it out. 
Lastly, just let the bread cool for 10-15 minutes. Then proceed to slice and enjoy it! Also, you can put this vegan bread in your freezer too and eat it later!
Some Important Tips to Look Forward
Now, we know some of you have some questions regarding the recipe. Therefore, we've gathered the most asked questions and answered them to help you out! 
Is It Possible to Get Vegan Bread without Using Yeast?
Yes, my friends! You can enjoy the bread even if you haven't used yeast. Just use equal amounts of baking powder and lemon juice instead. These two ingredients will help the dough to rise just like yeast. Thus, you won't have any problem at all. 
Why Is My Bread Dough So Sticky? 
The obvious answer is- you added too much water. To get the dough to the desired condition, add more flour to it. But be super careful while adding the flour. Because we want the dough to be sticky and soft. Excess amounts of flour will make your dough hard. Therefore, start by adding a little portion of the flour. 
Well, that's it, bread lovers!! Isn't it super easy? So, don't hesitate and give this recipe a try.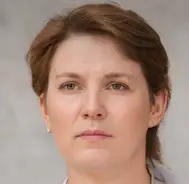 Latest posts by Leah Greenstein
(see all)