Pumpkin bread is loved in America. It previously was a seasonal food. Because during October and November, pumpkin is widely available in the United States. So that time families used to make dishes by sun drying, baking, boiling, and blending pumpkin flesh. This way they also come up with the idea of making pumpkin bread.
Archeologists found pumpkin remnants on the Anasazi. That ruin is about 800 years old and located in the southwestern United States. So pumpkin bread has somehow proved to be a part of American cuisine.
Now that you know more about this pumpkin delight!
Level: Easy to Medium
Serving Size: 3 loaves of bread ( 8 pieces of bread from each loaf)
Preparation Time: 5 minutes 
Mixing Time: 20 minutes
Baking Time: 60 minutes
Serving Time: 2 minutes
Total Time: 1 hour 27 minutes
Nutrition Facts
| | |
| --- | --- |
| Nutritions (24 pumpkin bread slices) | Amount |
| Dietary fiber | 1.1 gram |
| Niacin equivalents  | 1.8 mg |
| Protein | 3.1 gram |
| Sugar | 25.7 gram |
| Fat | 11.8 gram |
| Vitamin A lu | 2803.7lU |
| Vitamin C | 0.8 mg |
| Folate | 39.6 mcg |
| Calcium | 13.8 mg |
| Iron | 1.3 mg |
| Magnesium  | 9.3 mg |
| Potassium  | 69.4 mg |
| Sodium | 305.4 mg |
| Thiamin  | 0.2 mg |
| Cholesterol  | 31 mg |
| Carbohydrate | 40.6 gram |
| Calories per serving  | 263.2 |
Ingredients Needed
To make the pumpkin bread you'll need the following ingredients-
4 eggs
1 cup vegetable oil 
 1 teaspoon baking soda
 1 teaspoon baking powder
1 can pumpkin puree 
¾ cup butter 
2/3rd cup water 
3 cups sugar 
1.5 teaspoons salt 
3.5 cup all-purpose flour 
1 teaspoon ground cinnamon
1 teaspoon ground nutmeg 
½ teaspoon ground ginger
½ teaspoon ground cloves 
Once you get these ingredients, check out the tools you'll need to make the bread.
Tools Needed
To make the pumpkin bread you'll be needing-
After you gather the pan just move straight to the bread-making process.
How to Make Pumpkin Bread? Easy to Follow Steps!
Who doesn't love the smell of freshly baked pumpkin bread right? Well, then let's start baking some bread.
Step 1 of 3: Mix The Ingredients Together
The first step is to mix all the ingredients together. For this, you'll have to take 2 large bowls. In one of them mix all the dry ingredients except sugar.
Then use a hand whisk to mix them all together nicely.
Now on the other bowl, take the butter and sugar. Then mix them using a beater. After that add the pumpkin puree. When the mixture becomes fluffy and smooth, add the dry mixture to it. Then beat all of them together at low speed.
Now poke and see if it's too stiff, if yes, then add some water and whisk again. If not then move to the next step.
Step 2 of 3: Pour The Mixture into The Loaf Pan
Now brush the loaf pans with some vegetable oil. Slowly pour the mixture into the pan. Now with a spatula spread the mixture evenly in the pan. And then move to the baking part.
Step 3 of 3: Bake The Pumpkin Bread
Now preheat the oven to 350 degrees Fahrenheit. Then place the baking pans inside and bake for 60 minutes. 
After that insert a toothpick into the bread. And see if it comes out clean. If yes then take the pans out. Otherwise, bake for another 10 minutes. Now let the pans cool for 10 minutes. Then pour the pumpkin bread onto a rack.
And wait for it to cool down completely. Then cut it into pieces. One loaf should have 8 pieces of bread. And enjoy your pumpkin bread.
Quick Tips
You can check out these tips. That'll answer a lot of your queries. 
Do I Have to Grease The Loaf Pan Before Pouring Bread Mixture?
Yes, you'll have to take 1 teaspoon of olive oil. Brush it on the pan, then remove the excess oil. Now sprinkle some flour on the pan. After that, pour the bread mixture into it.
Or you can use baking spray and sprinkle flour as well. Then pour the pumpkin bread mixture.
Can I Freeze The Pumpkin Bread?
Yes, you can wrap your bread before cutting it with aluminum foil. And then put it in a container on the plate. You can store it for 3 months. Then before serving, let it thaw in the freezer overnight.
Can I Make Pumpkin Bread Gluten-Free?
Yes, you can use gluten-free flour to make it gluten-free. Keep other ingredients the same while you use the GF flour. And the amount used should be equal to the flour amount.
Now, your pumpkin bread is finally ready to be devoured!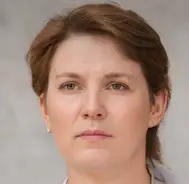 Latest posts by Leah Greenstein
(see all)