As a beginner baker, you need to start with an easy recipe. One that's both delicious and hassle-free. A perfect example of it is a dutch oven bread. 
You will be surprised at how easy it is to make it. Trust me, it's no exaggeration. Only four ingredients, a dutch oven, and some time are required. That's it. You don't even need to go through the strenuous process of kneading it.
Its delicious taste is the cherry on top. 
Sounds amazing right? Check out our no-fail dutch oven bread recipe below. Try it out by yourself today!
Level: Easy
Serving Portion: 1 loaf (16 slices)
Preparing Time: 15 minutes + rising
Baking time: 45 minutes + cooling
Total time: 1hr +
Nutritional Facts( Per Slice):
| | |
| --- | --- |
| Calories | 139.8 |
| Total fat | 0.7 g |
| Saturated fat | 0.1 g |
| Carbohydrate | 28.7 g |
| Protein | 4.0 g |
Necessary Cooking Equipment 
Cooking dutch oven bread is as easy as it gets. Apart from a few ingredients, you just need one piece of equipment. And that is a-
Dutch oven with lid (between the sizes of 5-quart and 7.5-quart)
Ingredients 
3 to 3-1/2 cups (125 grams per cup) of all-purpose flour
1 teaspoon of active dry yeast
1 teaspoon of olive oil
1 teaspoon of salt
1-1/2 cups of water (70° to 75° Fahrenheit)
Step-By-Step Guidelines 
Now that you have your ingredients ready, we can start with the recipe. Let's jump in.  
Step 1: Mix Ingredients
Take a small bowl to activate the yeast. In a mixing bowl, combine the yeast and warm water. After that, set it away. Make that the yeast is in proper condition. Or the bread won't rise. The yeast plays a big role in developing the dutch oven bread. So using a good one is important. 
Take another larger bowl and mix in the flour and salt thoroughly. Then, in the middle, form a pit. Add in the yeast solution and stir to combine. Mix it until a dough is formed, but don't knead it. 
Step 2: Prepare The Dough
After getting to that stage, cover it and set it aside. Let it rise for around 1.5 to 2 hours. Then take off the lid and scrape off the sides. Make it into a round shape. Then set it aside again for 1.5 to 2 hours. 
After that, take it out and roll it with a bit of flour. Make it into a round shape and transfer it into a greased bowl. Take one teaspoon of olive oil to grease the bowl. Dust it with flour. Put the dough inside and cover the top with a bit of flour. Then set it aside. 
Step 3: Place It Into The Oven And Bake 
In the meantime, preheat the oven to 450 degrees Fahrenheit. Place the dutch oven along the lid inside the oven. Keep it in the middle rack for around 45 minutes to 1 hour. Once it's heated, take it out to place the dough. 
Remove the dough from the bowl and dust it lightly with flour. Then set it inside the dutch oven with care. Use mittens to avoid any burns. Bake for 45 minutes. Once it's baked, take it out. Use a spatula to take out the bread. Then use a piece of cloth to cover it for 10 minutes to cool it down. 
That's it! With a few easy steps, you now have freshly baked Dutch oven bread. Use a sharp knife to cut clean slices and enjoy!
Some Important Tips 
Just in case you still have some confusion, check these tips out.
What To Use If You Don't Have A Dutch Oven For Bread?
You can use a clay pot/casserole dish/any large pot. It has a lid and is oven-safe. If there is no lid, use a large deep roasting pan or stainless steel bowl to cover it. Of course, it won't compare to a dutch oven. But it'll do the job. 
Why Did Your Dutch Oven Bread Not Rise?
Your Dutch oven bread didn't rise because the pot was too close to the heat. Raise the oven rack so that the bottom of the oven isn't as hot. It's possible that your oven is hotter than you thought. Use an oven thermometer to confirm that your oven is at the proper temperature.
Do You Need Parchment Paper For Bread in a Dutch oven?
Not necessarily. Parchment paper is used to place the dough inside the hot dutch oven. But you can still do it with your bare hands. You just need to be a bit careful. But if you're still not sure about it, you can use other alternatives, like a wet towel. 
How Do You Store Dutch Oven Bread?
Large crusty loaves can be kept at room temperature for a day or two. Keep it unwrapped to preserve the crispy crust. Freeze it if you want to keep it for a longer amount of time. Cut the bread in single-day portions and wrap it to freeze it. 
That's all we have to share from our end. We did our best to describe each step in extensive detail. Hope you try out this recipe by yourself.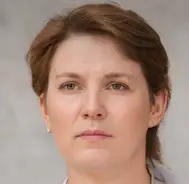 Latest posts by Leah Greenstein
(see all)