Do you know what's so special about new haven pizza? The New Haven uses a spicier sauce and the cheese is less than usual. But the dough is what creates the hype. The crust is extremely thin and the charring on the pizza is like the cherry on top.
Those who grew up in New Haven and later moved out surely miss this pizza. Sadly, the New Haven pizza isn't available in other regions.  
However, we have just the perfect New Haven pizza dough recipe for you. If you want to make this pizza at home, let's get started!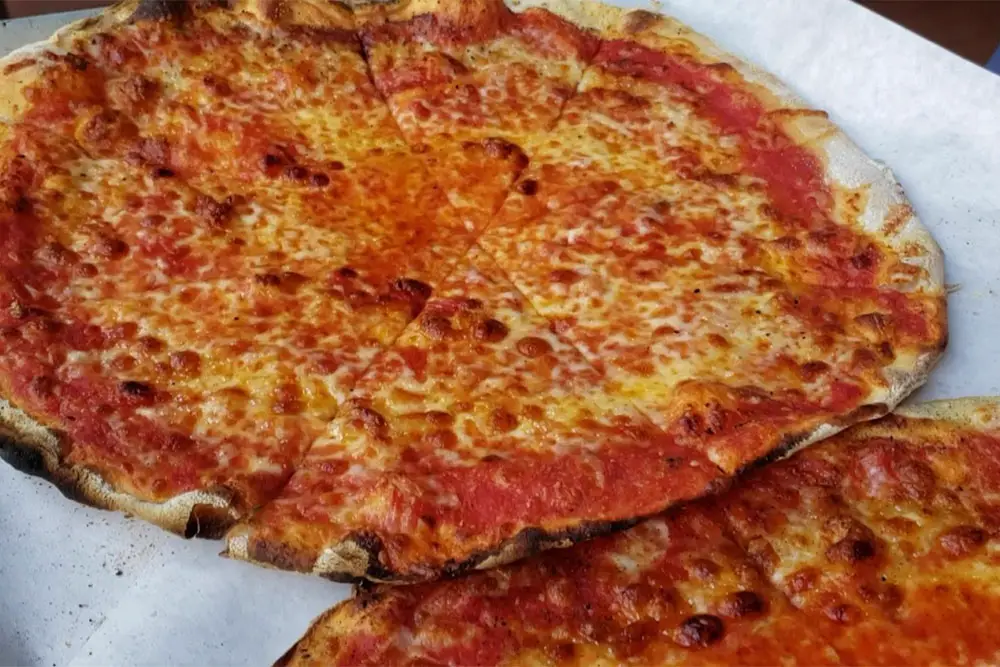 Level: Intermediate 
Serving Portion: 8 servings 
Preparing Time: 24 hours
Total time: 24 hours
Nutritional Fact (28g) 
| | |
| --- | --- |
| Calories  | 72 |
| Total Fat | 1.3g |
| Saturated Fat | .1g |
| Cholesterol  | 0mg |
| Protein | 1.8g |
Ingredient List For the Dough 
4 cups 00 flour (from Italy) or 2 cups all-purpose flour and 2 cups bread flour
Italian Yeast or regular yeast for pizza
1 tablespoon Mediterranean sea salt
1 large tablespoon malt or 2 teaspoons sugar 
1.5 cups slightly warm purified water
3.5 tablespoons olive oil
Step-by-Step Instruction For Making the Dough-
New Haven's Pizza dough recipe is a lot like a New York-style dough recipe. But New Haven's Pizza can be different in some aspects. Let's have a look at how to prepare this pizza dough: 
Step 1: Activate the Yeast
Heat 3/4 cup water to 120 degrees Fahrenheit. The water should not become too hot since this will destroy the yeast. Pour the warm water into the cup then slowly add yeast and malt or sugar. Stir the ingredients together. 
Allow at least 5-10 minutes for the yeast to rest.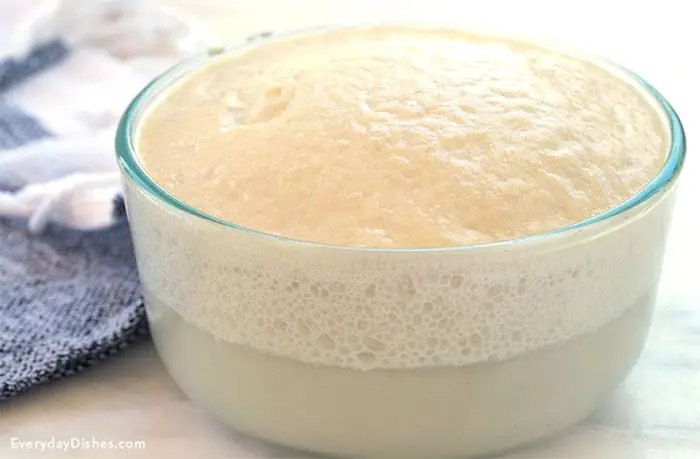 Due to the yeast, you should see approximately a .5 inch foam. If no foam emerges after a few minutes, the yeast was either killed by the hot water or is no longer viable.
Don't forget to look for expiration dates in the box as well.
Step: 2 Combine the ingredients in a mixing bowl.
In a mixing dish, stir flour, olive oil, and salt. Combine the warm water and yeast mixture in another large mixing dish.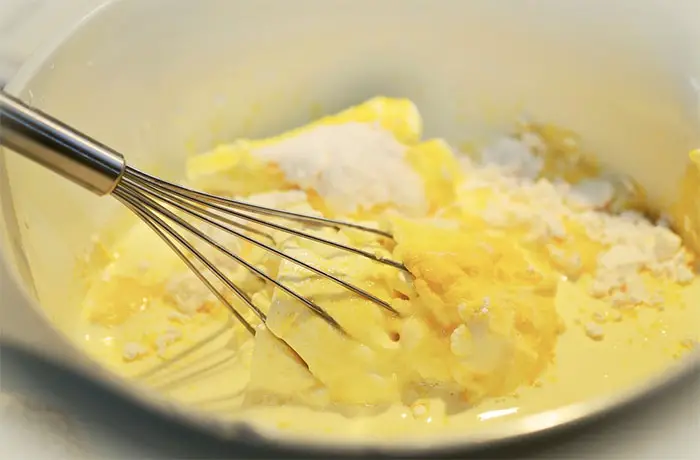 To avoid flour from sticking to a big stainless steel bowl, spray it with nonstick spray. Using a big spoon, stir everything together. Pour in another 3/4 cup of heated water after this.
Step 3: Knead the Dough Ball
Rub the mixture into a ball as it begins to solidify. Knead the dough until it has a nice texture. This dough will feel neither too dry nor too moist. But moist enough to allow the yeast to rise. 
Let the dough ball rest and rise in the dish for 1 to 2 hours.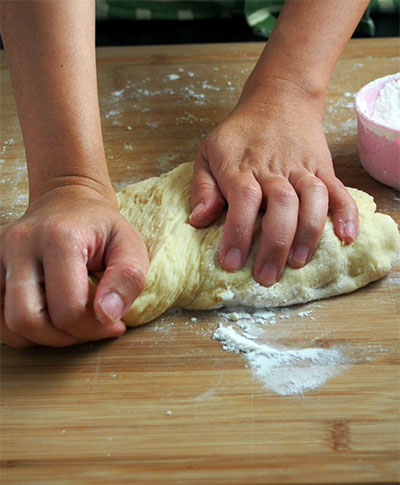 Make sure you follow the ingredient quantities. If you do so, you will not need to make any changes. A lot of people might need to add extra water or extra flour depending on the consistency.  
If the dough feels too dry to you, add some water to it. It may also require a small amount of extra virgin olive oil. If the dough is too damp, add more flour. In that case, keep some extra flour even after kneading. 
Step 4: Stretch Out the Dough
On a wooden cutting board, knead the dough. There will be enough dough left enough to create four small pizzas. New Haven's pizza is incredibly thin. It's tough to get a really thin dough.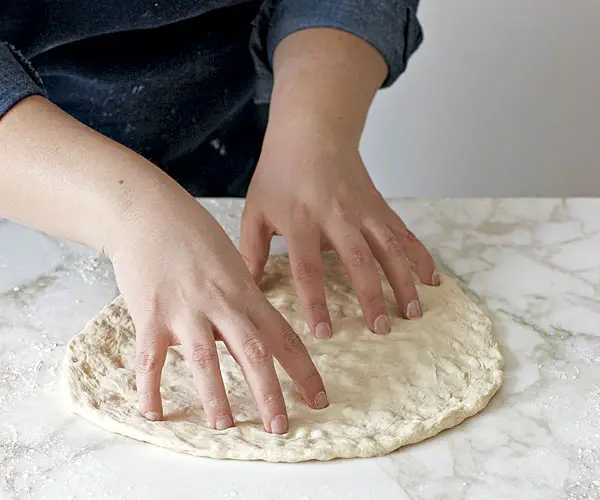 Continue to knead and turn the dough. By pressing outward with your fingertips on the cutting surface or pizza peel, you may stretch the dough. You've stretched the dough too thin if you can see through it.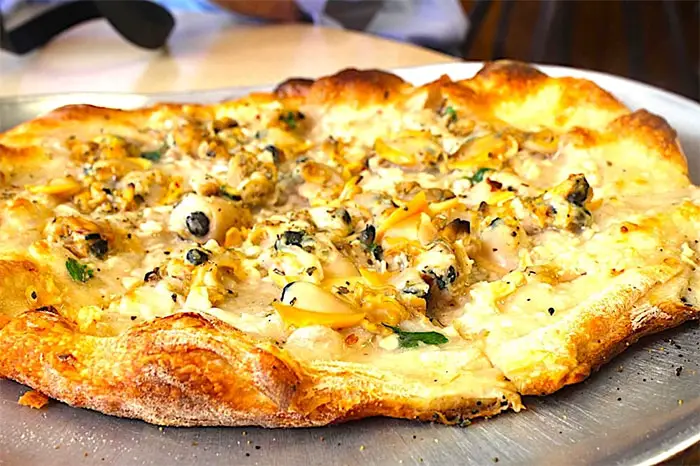 Sprinkle some cornmeal on a pizza peel. This will help it fall off the peel more easily and give some taste. The dough should be thin enough to look like a crust. Then you have to put it on the spatula. 
There you have it, the famous New Haven pizza dough recipe!
Some Important Tips- 
You will be able to complete the recipe without difficulty if you follow our directions. However, if you're having problems, have a look at these suggestions. 
Is it necessary for me to knead the dough for a certain amount of time? 
Knead as long as you feel the dough is smooth enough to go. Because every person kneads the dough differently and takes time differently. So, knead until the dough is soft and smooth. 
How Do I Knead the Dough?
Feel free to use your hand while kneading the dough. This way you might make a mess at first. But you'll understand the texture thoroughly. 
How Wet Should the Dough Get?
It should be wetter than NY-style dough. It cannot be too dry. If the dough is dry, feel free to add water. 
New Haven is famous for this dough recipe. President Bill Clinton also loved this pizza. You'll definitely get a flavor of Connecticut sitting at your home. So, try the recipe out and let us know how it was. Take care!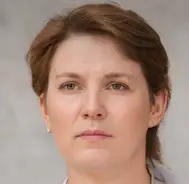 Latest posts by Leah Greenstein
(see all)