Need some easy baking and entertaining summer dessert? 
You should totally go for this cobbler's recipe! With freshly picked berries and cold ice cream, cobbler smells like summer. We highly recommend using blackberry for the sweet-tart flavor.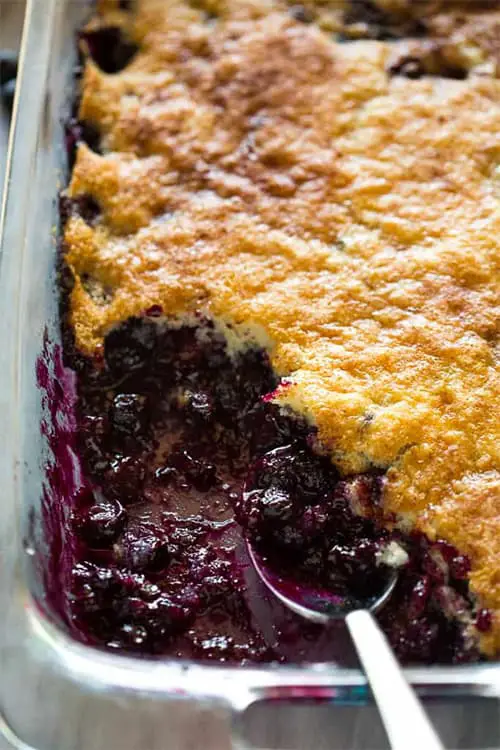 Level: Intermediate 
Serving Portion: 6 servings
Preparing Time: 20 minutes 
Baking time: 45 minutes
Total time: 1hr 35 minutes
Nutritional Facts( Per Slice):
| | |
| --- | --- |
| Calories  | 152.1 |
| Total Fat | 1.1g |
| Saturated Fat | 0.0g |
| Cholesterol  | .3mg |
| Protein | 1.9g |
Ingredient List
For the Blackberry Filling: 
6 c. blackberries
1/2 c. granulated sugar
Lemon juice and zest of 1/2 lemon
1 tbsp. cornstarch
1 tsp. pure vanilla extract
Salt
For The Biscuit 
1 c. all-purpose flour
1/4 c. granulated sugar
1 1/2 tsp. baking powder
1/2 tsp. kosher salt
4 tbsp. Butter 
1/4 c. milk
1 large egg
Egg wash
Coarse sugar
Vanilla ice cream
Step-by-Step Instruction For Cobbler-
We've made the recipe easy. Even if you're an amateur cook, you should find it easy to follow. Let's try it- 
Step 1: Preparing The Blackberry Filling
In a large bowl, throw your blackberries. Add granulated sugar, lemon juice, lemon zest, cornstarch, vanilla essence, and salt. Mix well and let it sit for 30 minutes. 
Step 2: Making The Dough 
While the blackberry mixture appears to be fruit syrup, preheat the oven to 350 degrees Fahrenheit. In another large bowl, mix flour, sugar, baking powder, and a pinch of salt together. Knead the cubes of butter with your hand until the mixture is well blended. 
Now, lightly beat an egg. Add the egg to the milk and stir it until it's well combined. Soon it'll turn into dough.
Step 3: Prepare to Bake The Dough 
Make big blobs of dough. Graze the blobs of dough with egg wash. Shift the blackberry mixture to a skillet. Top it with the blobs of dough. Then sprinkle them with some coarse sugar.
Step 4: Baking The Cobbler 
Bake the cobbler for 45 mins. The biscuit on top of the blackberry mixture should look golden brown. Once the cobbler is cooked, the blackberry filling will turn bubbly.
Step 5: Serve The Cobbler 
Now that your cobbler is cooked, take it out of the oven. And let it rest for 10 minutes before you serve. Don't forget to add ice cream on top while serving it! 
And that's it, your cobbler is ready!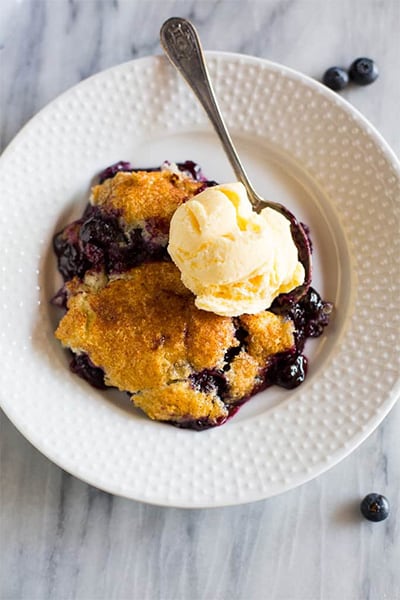 FAQs
To make this summer-friendly cobbler, you need some extra tips. We have some suggestions for you to upgrade your blackberry cobbler.
What Kind of Skillet is Oven Friendly? 
Stainless steel is the most approved skillet for its durability. 
How Do You Zest Lemon? 
With a zester, you can zest lemon easily. Make sure you zest the colorful yellow outer skin of the lemon. If you zest too deeply, you'll add the bitter white part of it. You don't want that. 
Can You Granulate Sugar at Home? 
Yes, you can. Blend the sugar in the blender. The sugar will be granulated. 
Now just take a bite of your blackberry cobbler. It'll bring you all the summer joy!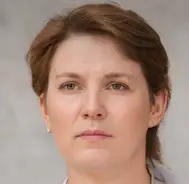 Latest posts by Leah Greenstein
(see all)