We aren't kidding around. Lou Malnati's pizza sauce has to be one of the sweetest sauces the world has ever tasted. Within a bite of Lou Malnati's pizza, the sauce melts in your mouth that feels like heaven. 
The secret behind Lou Malnati's sauce is their exquisite tomatoes. Don't worry if the copycat doesn't taste exactly the same. But surely, it will put a happy face on anyone.
So, let's not wait any further if you want to cook this delicious sauce-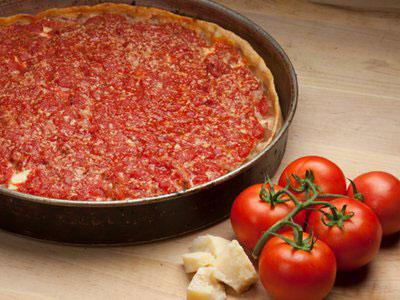 Difficulty Level: Easy
Servings: 4-6 servings
Preparation Time: 40 minutes
Cooking Time: 30 minutes
Total Time: 70 minutes
Nutrition Facts:
Serving Size: 1 (1217) g
Servings Per Recipe: 1
| | | |
| --- | --- | --- |
| Nutrition Aspects | AMT. PER SERVING | % DAILY VALUE |
| Calories | 69 | — |
| Fat  | 1 g | 2 % |
| Saturated Fat | 1 g | 5 % |
| Trans Fat | 0 g | 0 % |
| Cholesterol  | 0 g | 0 % |
| Sodium | 0.707 g | 31 % |
| Total Carbohydrate | 17 g | 6 % |
| Dietary Fiber | 3 g | 11 % |
| Sugars | 9 g | 36 % |
| Protein | 3 g | 5 % |
Ingredients
1 (28 ounces) can of 6 in 1 crushed sweet tomatoes (drained for 45 minutes)
1 (28 ounces) can of diced tomatoes (drained for 45 minutes)
2 tablespoons of sugar
1 teaspoon of garlic salt
1 teaspoon of oregano
 ¾ cup of warm water ( Temperature at 105°-110° F)
Step By Step Process For Lou Malnati's Sauce Recipe
We hope you're ready with your ingredients by now. If so, let's get started with making the sauce-
Step 1: Make a Tomato Paste
The secret behind Lou Malnati's Pizza Sauce is their sweetest tomato. Basically, they collect their tomatoes straight from California. These tomatoes are said to be the sweetest as they refer. Yet, we won't have our tomatoes from California. 
But we recommend getting a can from Lou Malnati. It's better to get one because they are hard to recreate. But get some sweet tomatoes at your reach. 
Otherwise, add 2 tablespoons of sugar to get an approximate sweetness.
So first, get the can of sweet tomatoes in a bowl and pound them for a while. Lou's kitchen tries to keep the raw essence of the tomatoes. 
So, they use fewer ingredients on their puree. Make sure the tomatoes are sweet and well-ripened. 
Afterwards, get the other diced tomatoes and mix them with the sweet tomatoes. You can try using your hand to squeeze the tomatoes. Otherwise, you can use a blender to combine them.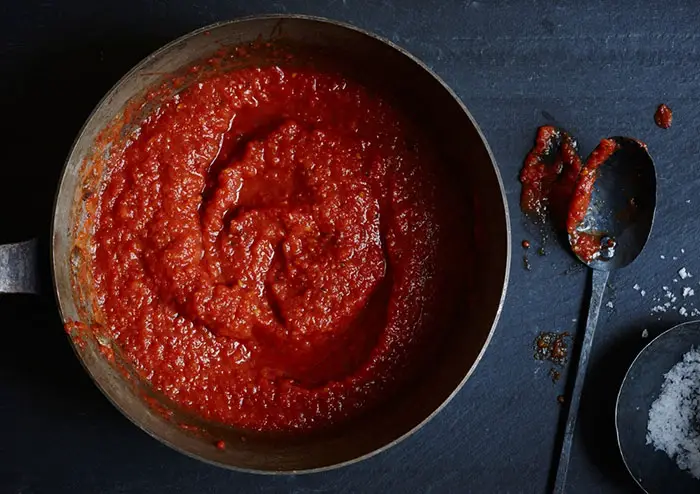 Step 2: Cook the Tomatoes
Take ¾ cup of warm water in a pot. Pour the paste of tomatoes into the pot. And Let the tomato simmer at low heat for 2 hours. 
There is a chance of your tomatoes not being as sweet as Lou Malnati's. So, you can add 2 teaspoons of sugar by this time. Then mix with the salt and oregano. Stir it for 3 minutes.
Remember to keep big chunks of tomatoes as well. Let the tomatoes simmer in the pot for the next 30 minutes. And that's it.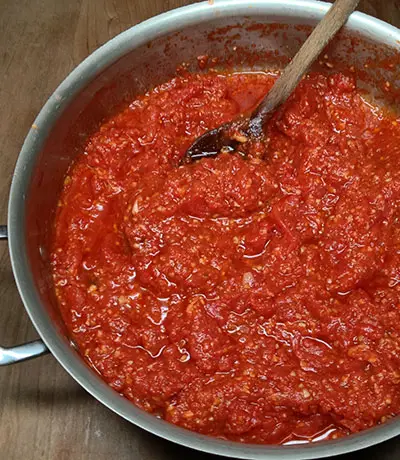 Step 3: Mixing Other Ingredients 
Lou Malnati's sauce is made using their special canned tomatoes. It includes Sweet tomatoes, Tomato juice, Citric acid, and a smidgeon of Salt. You can use as many ingredients as you want. It will add some extra flavour to your sauce.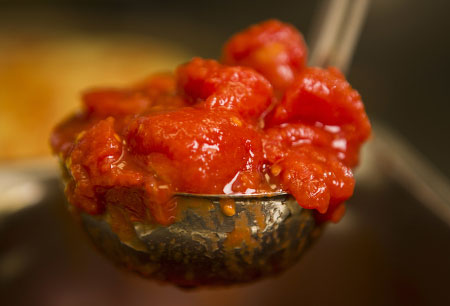 Some Important Tips
If you go through the process, you will be able to carry out this easy recipe. The recipe is not so complex either. But in case you want to know more about the sauce, here we got some tips-
Can We Use Any Other Tomato For This Sauce?
Yes. To let you know, Lou Maltani's Pizza has a sweetened flavour that keeps the essence of the sauce. Also, you can use San Marzano or Muir Glen's or any sweet tomatoes. In case, you want the exact taste but can't get them, you can add sugar into the tomatoes.
Can I Use Lou Malnati's Canned Tomato On My Pizza?
From our perspective, we would suggest getting their in-house canned tomatoes. They import those directly from their farm in California. But, it's quite unfortunate that they don't sell canned tomatoes anymore. However, it won't hurt to ask. Hope you get lucky with it.
Does Malnati Use Salt In Their Tomato Sauce?
It's not clear whether they use extra salt in the tomato sauce. There is also a chance to add salt to their canned tomatoes. But you can use salt as long it serves you a good flavour for your sauce.
By now, you have a good idea of making this delicious sauce.  We can guarantee you a heavenly bite with this savoury pizza sauce. Let us know how your experience was with Lou Malnati's pizza sauce.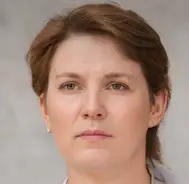 Latest posts by Leah Greenstein
(see all)