Among all the bread types, challah can be your favorite. To be honest, it's on the preferred list for a lot of us.
But there's confusion regarding whether challah is sweet or not. Without being sure, you don't want to risk eating it.
So you've been wanting to know: is challah bread sweet?
Well, it's slightly sweet because it has honey in it. But you can't compare it to a dessert. However, you can make it sweeter if you want. However, to make sweet challah bread, there will be some changes to the main recipe.
To know what the recipe is, you have to read the whole article. So let's start with the reading.
What Does Challah Bread Taste Like?
Well, challah bread is traditional Jewish bread. It's quite popular among people for its taste and looks. Its flavor is different from other traditional bread.
But the thing is it's easier to make than the other bread recipes. You can have an amazing taste of freshly baked bread without minimum effort.
Now let's come to how challah bread tastes?
This is more like asking if dark and bittersweet chocolate taste the same. 
But in terms of challah, well, it's slightly sweet but not sugary sweet. There's a slight sweetness to it. But this sweetness only enhances the flavor. So you can't say that it's sweet bread nor that it's regular bread. But it's tastier than the regular bread with a bit of sweetness.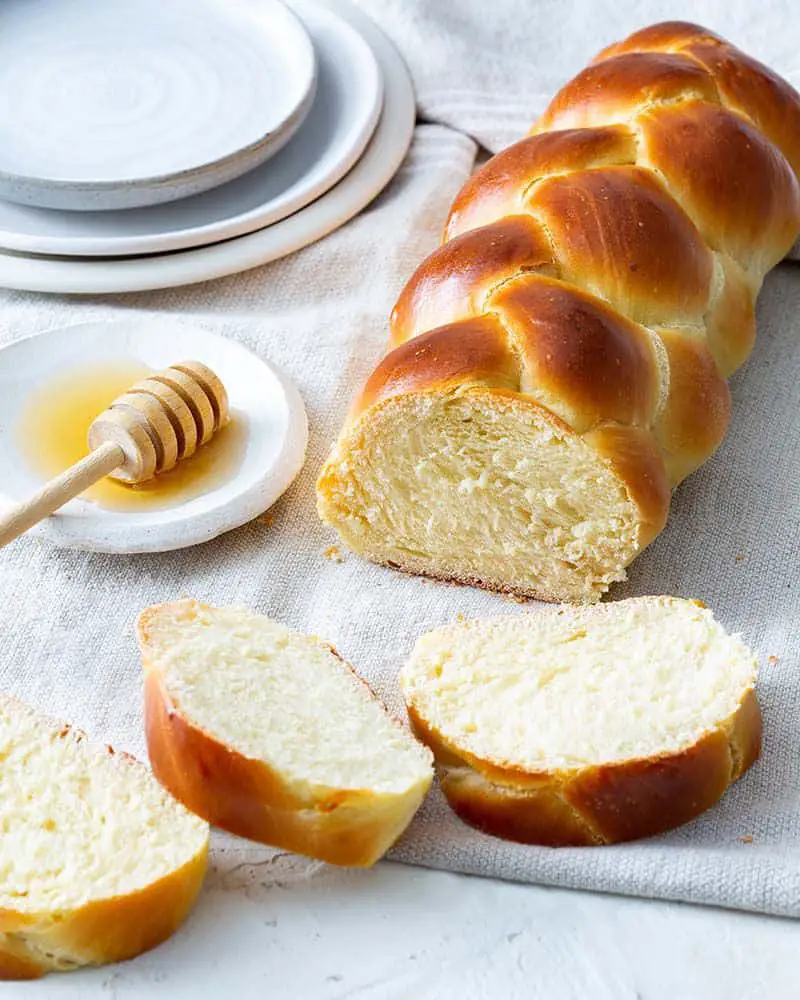 The ingredient that makes the bread sweet is honey. So you can imagine how adequately sweet it is. But it doesn't have the extra calorie count like sugar. Moreover, honey has a milder flavor than sugar that compliments the original bread recipe.
How to Make The Challah Bread Sweeter?
Let's say you didn't know that the bread will be less sweet than usual. So you now want to make it a bit sweeter. 
So here we will give you three alternative ways to sweeten your challah bread. Do check them out.
Sprinkle Powdered Sugar
Well, after the bread is baked, you can make it sweeter. For that, you'll need powdered sugar. Just sprinkle the sugar on all over the top side of the bread.
Then enjoy the bread with a sweeter kick than before.
Add Maple Syrup
Maple syrup is our go-to option for pancakes. This can also be an option to sweeten your challah bread. 
But you have to get good quality maple syrup for that. Wondering which one you should get. Here are some options you can try out:
Butternut Mountain Farm Pure Vermont Maple Syrup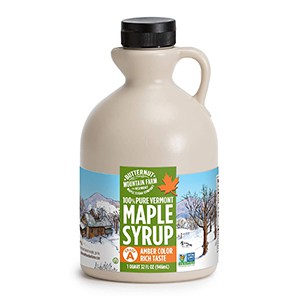 Wholesome Yum Keto Maple Syrup
Choose any one of these and take half a cup of maple syrup. Now, pour it over one loaf of challah bread.  After that, you can just devour the bread.
Pour Honey
The bread mixture already contains honey. But who said that you can't add some more. So when the bread is freshly baked, pour 3 tablespoons of honey over it.
Honey will add natural sweetness to it. Depending on how sweet you want you can adjust the amount of honey. Finally, warm it up for you to eat. 
With these methods, you can make the bread sweeter after the bread is baked.
How to Make Sweet Challah Bread?- 5 Easy Steps!
You might want to enjoy the sweet challah bread. So, you're wondering if there's a way to make it sweeter from scratch.  For your ease, we made some changes to the original recipe. 
Ingredient List
So here's the ingredient list for the challah bread-
1 tablespoon of dry active yeast
2 cups of brown/white sugar
2 cups and 1 teaspoon of warm water (preferably 45 degrees celsius)
1 tablespoon salt
5 eggs
9 cups of all-purpose flour
½ cup and 1 teaspoon of vegetable oil
So now head to your nearby grocery store and collect the ingredients. After that, dive into the bread-making process.
To make sweet challah you'll need to follow the steps one by one. By the end, you'll have perfectly sweet challah bread. So, start with the making process.
Step 1: Mix The Ingredients
In a large mixing bowl, combine the yeast, 1/3 cup sugar, and warm water. Then stir to dissolve the sugar. Set the mixture aside for 5 minutes or until a creamy layer develops on top. Now to produce a loose sponge, add 3 cups of flour. Mix them together again.
After that, take a separate bowl and add 4 eggs to the bowl. After that, mix 1 tablespoon of salt and ½ cup vegetable oil with it. Add 1 cup of sugar to the mixture. Now stir all together and pour the mixture into the previous bowl of the flour mixture. 
Now keep mixing all the ingredients together and add a cup of flour at a time. As you've already added 3 cups of flour before, now you'll add another 6 cups one by one. 
Keep mixing the dough in between adding the flour.
While mixing the dough, you'll notice that it's slightly sticky. But it won't stick to your hands due to wetness. So this amount of flour will ensure the perfect consistency of the dough.
Step 2: Knead The Dough
Now it's time to knead the dough properly. For that, transfer the dough to a plain floured surface. And then start kneading it. Keep kneading for 5 minutes straight. After that, try and make a round shape with the dough.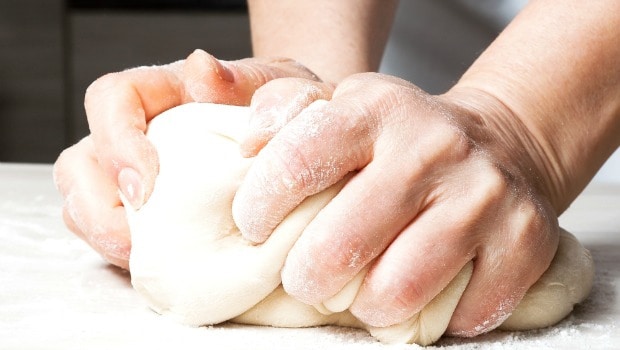 Now take a bowl that is oiled. Then transfer the dough there. Flip the dough around 10 times inside the bowl. So that the dough can absorb some of the oil.
Now let the dough rest for 1 hour and cover it with a damp cloth. Also, keep the dough in a warm place. After 1 hour the dough should be doubled in size. Then again knead it for 5 minutes. 
Step 3: Make The Egg Glaze
To make the egg glaze, you'll need to make a mixture as well. Mix 1 teaspoon of oil and 1 teaspoon water with 1 egg. 
Then add 2 teaspoons of sugar to it. Then give all of these a good mix. Now, refrigerate the mixture in a bowl.
Step 4: Shaping The Bread
You'll have to cut the dough into 4 equal portions. Now take 1 portion and divide it into 3 small pieces. Now roll the small pieces and make them look like a rope.
 The width of it should be about your thumb's thickness. The length should be approximately 12 inches. The rope needs to be wider in the middle than the ends.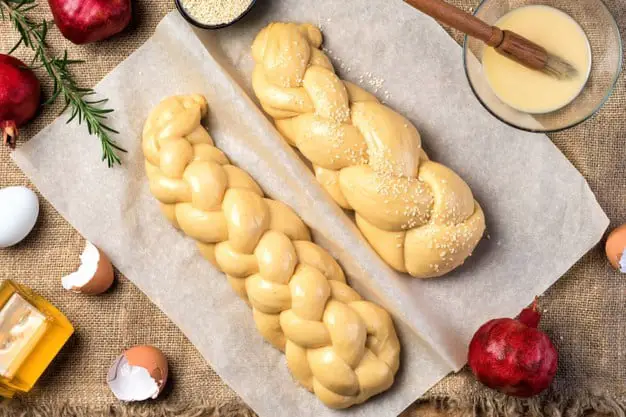 Now take the 3 rope-like doughs and pinch one end of these together. Then braid the dough as you braid your hair. When you reach the bottom again, pinch the 3 ends and the end upside down. So that it looks good.
Step 5: Glaze And Bake The Bread
Now, remember the glaze you made earlier? Well, take that out from the refrigerator and then brush that over the bread loaves. 
Then grease baking sheets and put the bread there for 40 minutes. You can use parchment paper as the baking sheet for its non-stick surface. After that, the bread will increase in size.
Now you can apply another layer of the glaze on top.
Then preheat the oven to 175 degrees celsius. Bake the bread in the oven for 20 minutes. Now take the bread out and apply another coat of glaze on top.
Put it in the oven for another 10 minutes. And you'll see how the top part of the bread has become golden brown.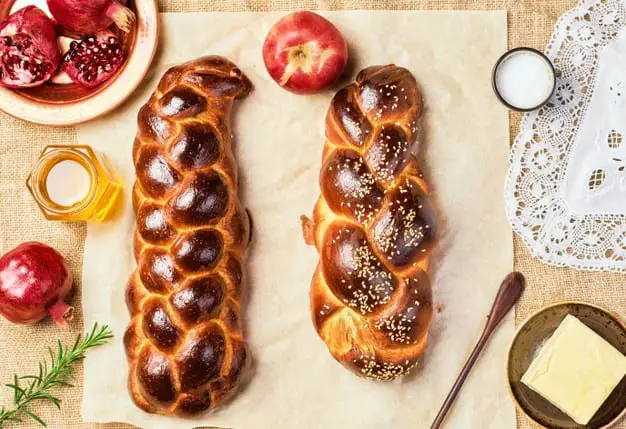 Let it cool down and cut into pieces of your choice. Now eat the sweet challah bread as you wish.
So this is how you make the challah bread sweeter than it is. You can serve it on its own or with any dessert item.  
If you want to store the bread for later,  just wrap it up with kraft or butcher paper.
FAQs
Question: Is challah bread or cake?
Answer: Challah is the bread and not a cake. It is more of kosher loaf bread. It is also known as braided bread due to its looks and making procedure.
Question: What is special about challah bread?
Answer: Well, challah is a traditional bread that the Jews used to make. In Jews culture any bread made for the Jews ritual is challah. It also has religious value to them.
Question: Can I put challah bread to rise overnight?
Answer: Yes you can. Before that, do let the dough rise outside in a warm place for an hour. Then punch the dough down. Now just leave it overnight to rise for the second time.
Endnote
Big applause for you for making it to the end. So we've answered is challah bread sweet or not.
Now it's your time to make the bread as you like. If you want to know something, just type in the comment box.
Thank you for your time!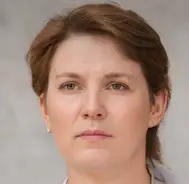 Latest posts by Leah Greenstein
(see all)