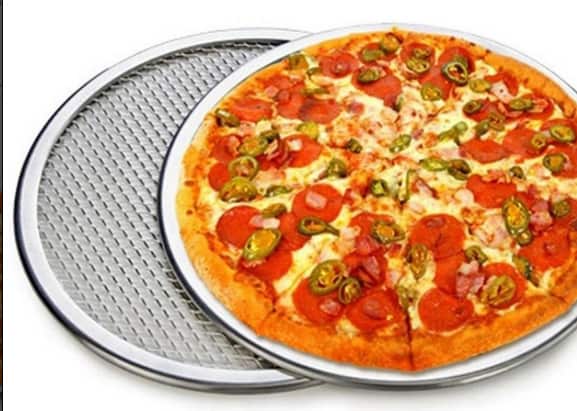 Heard about pizza screens and you think they're really cool?
Well, this equipment is often used by professional pizza makers. Because it assures the best quality pizza. 
So, how to use a pizza screen properly? 
Firstly, you have to pick the right-sized pizza screen. Then you have to season the pizza screen. Prepare your dough into a thin circle and place it on the screen. Once the pizza is done, peel out your pizza carefully. Finally, clean the screen properly.
To be honest, this isn't all of it. That's why we've explained the purpose of the pizza screen. We've also included how you can use it. 
So, do give this piece of ours a chance! 
Why Use a Pizza Screen?
Before knowing how to use the pizza screen, aren't you curious about what it actually is? 
Well, it's best if you learn about it beforehand. 
So, what is a pizza screen? 
It's a pizza-making tool made with aluminum mesh. It's designed in such a way that your pizza will receive proper airflow and heat. This enables the pizza to be cooked evenly.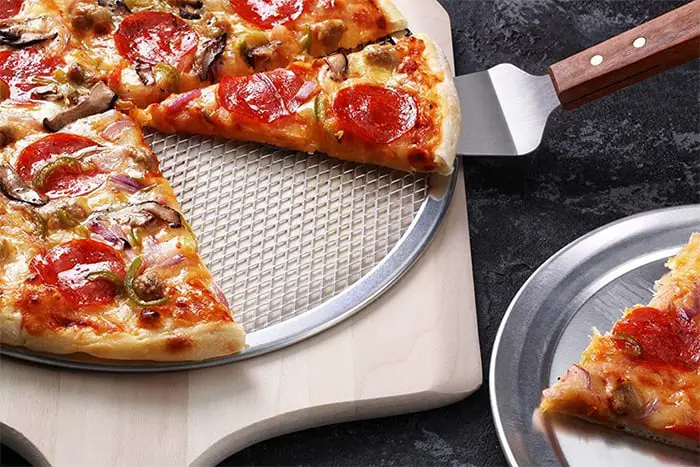 Now, why should you use a pizza screen? 
Well, this pizza equipment has many benefits. This makes it a preferable choice for professional pizza makers. 
Crispier Crust & Fast Cooking 
First of all, with a pizza screen, you'll get a crispier crust. Because the screen won't hold the heat like a metal plate. To be more specific-
The dough will get enough heat with the help of the holes in the screen. Furthermore, you can get a properly cooked pizza faster than you would expect. 
The average time for making pizza is around 30-35 minutes. Because sometimes it takes a bit of time for the cheese to melt. 
But with the screen, it'll take about 10-20 minutes to get a perfectly baked pizza. The cheese will be all melted and stretchy as well within that time. 
However, there's a chance of the crust getting too hard. This is only if you don't rotate the screen along with the pizza. Nonetheless, it can be quite difficult to soften the dry and hard pizza crust. 
Aesthetic Looking Pizza
Your pizza won't have any rough edges too. Because the seamless rims of the pizza screen will allow easier ventilation. Your pizza will look picture perfect! 
Now, a pizza stone can be beneficial while making a pizza as well. So, are you confused between a pizza screen and a pizza stone now?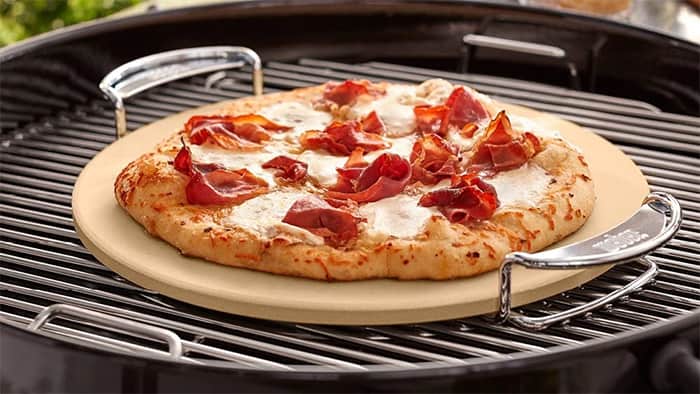 Well, don't worry! There are some significant differences between the two- 
| | | |
| --- | --- | --- |
| Aspects  | Pizza Screen | Pizza Stone  |
| Cooking Time (dough+cheese) | 10-20 minutes depending on the temperature | 25-35 minutes depending on the temperature |
| Crust Type | Best for thin-crust, but also useful for thick crust | Best for thick crust |
| Price | Cheap | Expensive  |
| Cleaning Process | Difficult | Easy |
So, according to the table, the pizza screen offers you crispy thin crust pizza quickly. In reverse, with pizza, it'll take some time to get a properly baked thick crust pizza. But when it comes to cleaning pizza stone wins hands down.
Now, we hope you aren't confused anymore and have picked which one to use! If you have chosen the pizza stone, we hope you can use it properly. Plus you can also use the stone for other cooking purposes too.
But you might think the pizza screen is an easier option (which it is). So, let's take a look at the next segment. 
4 Easy Steps to Use Pizza Screen Properly
It's time to get to work! Handling a pizza screen is not that difficult. It's a piece of equipment mostly used by experts. However, you don't have to be one to use it.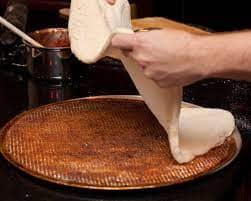 There are 4 easy steps that you must follow to utilize the pizza screen. This way you can make pizza like a pro-
Choose the Proper-Sized Screen 
Now, there are lots of screens available in different sizes. Therefore, it can get difficult to understand which is the correct one for you. 
But no need to worry! Because we're here to help you with that. How to choose one? 
Well, the size of the screen depends on the oven you're going to use. We have mentioned a few in case you are curious- 
| | |
| --- | --- |
| Oven Type | Pizza Screen Size |
| Electric home oven | 12 inch  |
| Propane oven  | Two 16 inch or 4 14 inch  |
This is just the basic information on which size you should get. But to be honest-
It's best if you check out your oven size and capacity before getting a screen. 
Season Your Pizza Screen
Now, seasoning your pizza screen is necessary. Because that's how you can guarantee the dough won't stick to it. 
How to season a pizza screen? 
Well, it's quite easy! First, take your pizza screen and wash it with soapy water. But make sure the water is hot. 100 degrees Fahrenheit should be fine. Otherwise, it'll be difficult to clean it.
Scrub the screen gently with a stiff brush. Rinse it with water and pat to dry it fully. 
Now, take your oil bottle. You can use olive oil or other organic oil. Pour ½ tablespoon of oil into a small bowl. 
Grab a baking brush to dip it into the oil. Then dab your pizza screen evenly with it. Don't miss any corner! 
By the way, to make things easier, you can just spray oil on it. But make sure, you aren't using expired cooking spray. Because we don't want you to be sick.
It's time to heat the oven at 350-400 degrees Fahrenheit. Allow the screen to bake for an hour or so. Once the time's up, turn your oven off. Let the screen cool down inside. 
There you go! The pizza screen is all set for your pizza dough. 
Lay Down Your Dough on the Screen 
Once you're done kneading your dough, take a portion out of it. Make an even and thin circle out of it. 
Now, take your pizza screen out of the oven. Lay down the circle on it. If you find warped edges, try to fix them gently. 
Place the Screen Back in Oven
After that, start decorating the circle with pizza sauce, filling. You can add either basil or oregano on top for better flavor. Then use your pizza peel to place the pizza screen in the oven again. 
Now, just let the pizza bake in the oven. Once done, take the pizza screen out using the peel again. 
And that's it! See? It's not that hard to use a pizza screen! 
How to Clean a Pizza Screen? 
Now, this is the trickiest part. As we've mentioned before, it's quite hard to clean your pizza screen. 
Why so? 
Well, making one mistake with the cleaning process can mess with your pizza afterward. For example-
The pizza will stick to the pizza screen and it can be difficult to take it out.  
So, how to avoid this? 
Well, you have 2 options in hand- 
Option 1: Use Hot Soapy Water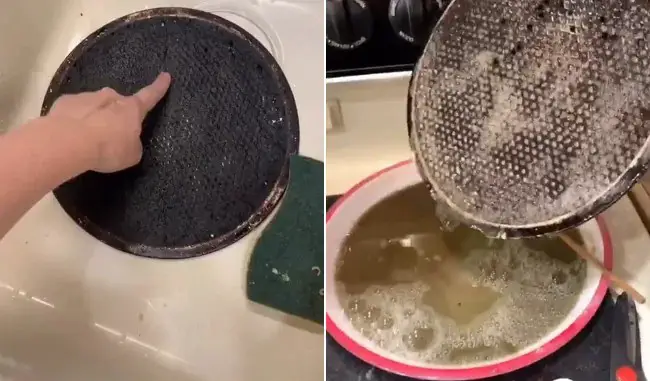 First, boil 2-3 cups of water for about 8 minutes. Mix 3 drops of liquid dishwasher into the hot water.
Now, grab the pizza screen and dip a stiff brush into the hot soapy water. Use the brush to softly scrub the screen. This should get rid of the hard and burned dough crust from the screen. 
Don't have a brush with you now? 
No worries! Here are some good ones for you- 
Outset 76621 Himalayan Salt Block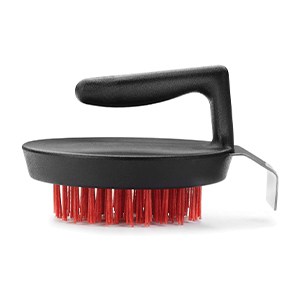 ooni Pizza Oven Brush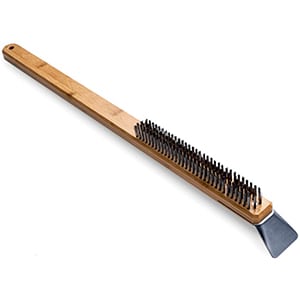 Use them gently to clean your pizza screen! This is the easiest way of cleaning the pizza screen! 
Option 2: Burn the Pizza Screen inside Oven
Yup, you can clean your pizza screen by burning it. This method is actually recommended by professionals. 
Because using detergent on the screen and scrubbing can damage the metal screen. Plus doing that can also make it hard to peel off the pizza from the screen. Just how sometimes you face difficulties as pizza dough keeps sticking to your pizza pan. Hence, cleaning the pizza screen with heat should sound better. 
To do this, you'll need to set the oven to 375 degrees Fahrenheit. Wait for 20 minutes. Then take it out of the oven. You can use a wooden spoon or spatula to get rid of the burned filling and dough pieces. 
How to Take Care of Your Pizza Screen? 
Now, we have gone through almost everything. But do you know how to store your pizza screen?
Well, if you don't, we're here to help with that. Because storing the pizza screen properly is important. Otherwise, it might get damaged. And no one wants that! 
So, how can you store pizza screens? 
No matter what type of pizza screen you have, you should have a rack to store it. Because a rack can keep your pizza screen safe from accidental bents. It also lets you grab the screen easily.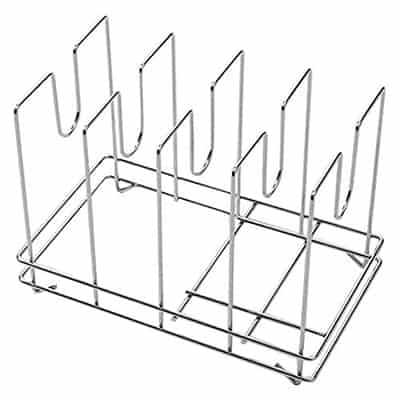 Furthermore, this type of rack isn't the regular kitchen rack. It's called a pizza screen rack. Most pizza makers have it. But you can get one for yourself as well. It's easy to purchase and cheap.
So, this is the best way to keep your pizza screen safe and sound!
FAQs
Question: Can you use a pizza screen on a pizza stone?
Answer: To be honest, it's best if you don't use both the pizza screen and stone together. It can complicate stuff and can ruin your pizza. We suggest you either use a pizza screen or a pizza stone for making a pizza.
Question: Is pizza screen worth it?
Answer: Well, we think a pizza screen is worth it. Because they will help you get a properly cooked, delicious pizza. Furthermore, if you choose aluminum pizza screens, you won't have to stress about the cleaning process. Because it's dishwasher safe and durable. 
Question: Why does my pizza keep sticking to pizza screen?
Answer: The answer is simple. You haven't coated the screen with oil. Or you have washed your pizza screen with cold soapy water. Either way, your pizza will stick to the pizza screen. To prevent it you can clean the screen by burning it. Before laying the dough, make sure to apply oil. 
Bottom Line
That's basically it on how to use a pizza screen. Hopefully, you now know how you can utilize the tool correctly. 
Also, a piece of advice-
It's better if you don't reuse the pizza screen before cleaning it. Because this can make your pizza taste a bit bitter. 
Anyway, we hope you'll be able to use the pizza screen properly. Good luck!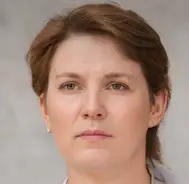 Latest posts by Leah Greenstein
(see all)