Like many people out there, you probably like snacking on sausages. However, you might also have asked, what is the best way how to tell if sausage casing is edible? Well, you must first realize that sausage links are made using different material types. 
Traditionally, natural casings are made using animal intestines. However, it's also possible to find artificially made types. These are also edible, but one still must learn more about them. 
Types of Sausage Casings 
There are various types of sausage casings, with the most common types including:
Type #1. Natural Casings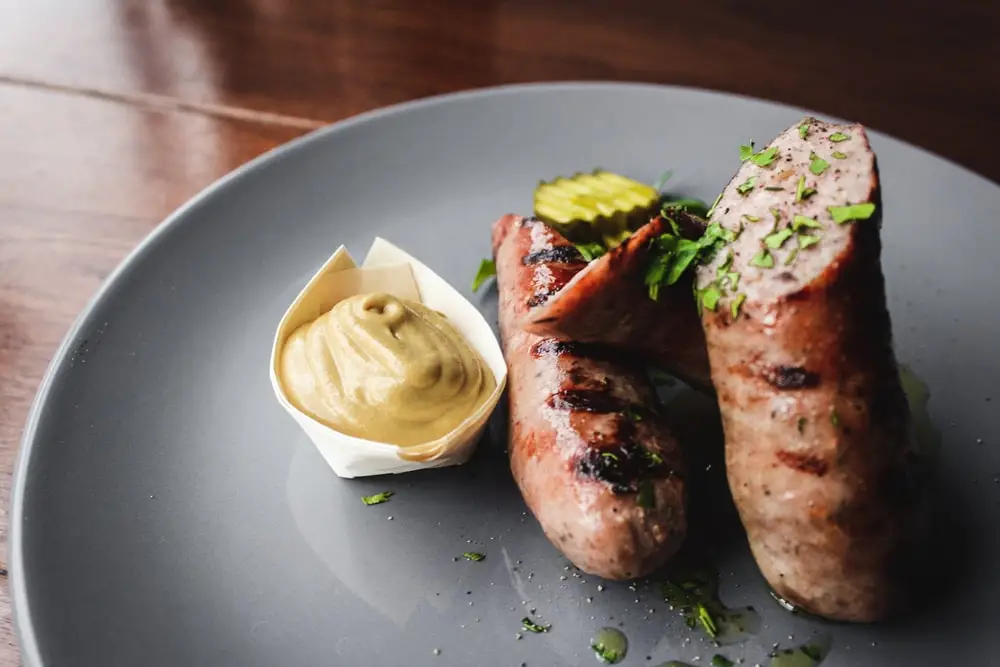 Source: Unsplash.
The natural casings are made using the intestines of animals such as goats and cows. Some producers also make it using submucosa, a layer of collagen in the intestine of an animal. It's a sausage casing technique that has been popular for hundreds of years.
While machinery has reduced the need for cleaning intestines before use, it's only helpful for organic sausage production. There are various benefits of using the natural casing type.
It tends to have a rich flavor and a unique visual appeal. The smoked and cooked flavors can get through the casing and complement the taste of the meat. However, natural casings also tend to have irregular shapes or sizes.
Type #2. Synthetic Casings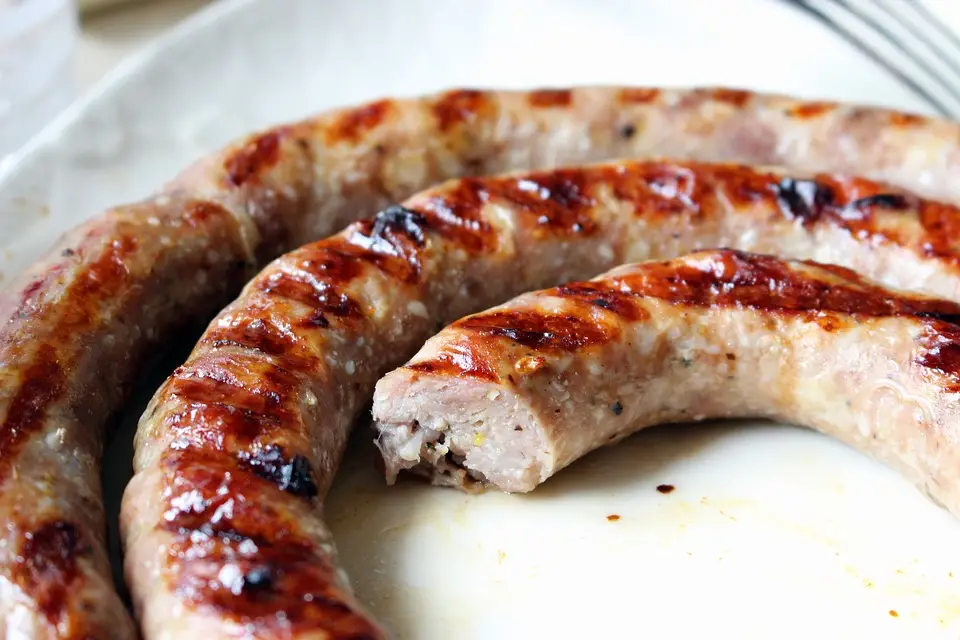 Source: Pixabay.
The artificial sausage casings feature materials such as collagen and cellulose. However, synthetic sausage casings aren't always edible or healthy. 
The collagen made casings are the most common types. Usually, brand companies make them using the hides of animals such as pigs and cows.
Some brands also tend to include products such as bones and tendons in such products. The benefit of collagen casings is that they are pocket-friendly products. 
They are also easier to use than the traditional casing types. That is because they provide improved weight and sausage size control benefits.
The cellulose casings feature viscose material from cotton linters or wood pulp. These casings tend to be strong and permeable to smoke. However, users must peel them off after the cooking process is complete.
The plastic casings aren't edible and are ideal for those who want non-smoked product alternatives. Some man-made casings require soaking procedures before you can puncture them to remove any accumulated air bubbles.
Type #3. Alternative Casings 
If you can't find any natural or artificial casings, there are some alternatives that you can pick. 
Which ones are these specifically?
Well, we recommend that you pick casings made using muslin strips. We recommend that you learn more about using muslin strips for sausages. Usually, this process involves a few simple steps.
Start by folding your casings lengthwise, and then stitch all its edges together. Doing this will ensure casings form tubes. Many people also like using plastic sausage casings.
If you don't want to use casings, consider creating links by combining these ingredients using foil. 
The other wrap alternative is made using plastic and then place them in the fridge for a few minutes. You might also have to add some binder to your sausage casings. Some common binder ingredients include soy protein and bread crumbs.
Are Sausage Casings Edible?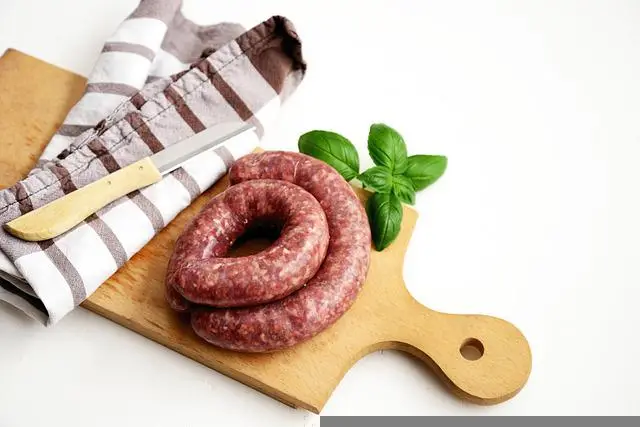 Source: Pixabay.
All sausage casings are safe to consume (expect the synthetic types of course). Whether someone will enjoy consuming them is another topic altogether. 
The cellulose and natural casings are healthy for consumers. You have likely come across store-bought types, which have different casing types. 
But, be cautious. Why?
It's because some casings are not healthy for consumption and are difficult for the digestive system to break down. Some collagen casings are only designed to help hold products like salamis together. But you always have to peel them off.
So what happens if you accidentally ate sausage casing? Well, there is nothing to worry about if you accidentally ate sausage casing. 
It might lead to stomach upsets, but nothing significant to cause health concerns. However, this doesn't mean that you should always consume sausage casings. One common example among meat lovers is the Johnsonville sausage casing.
How to Make Sausage Casings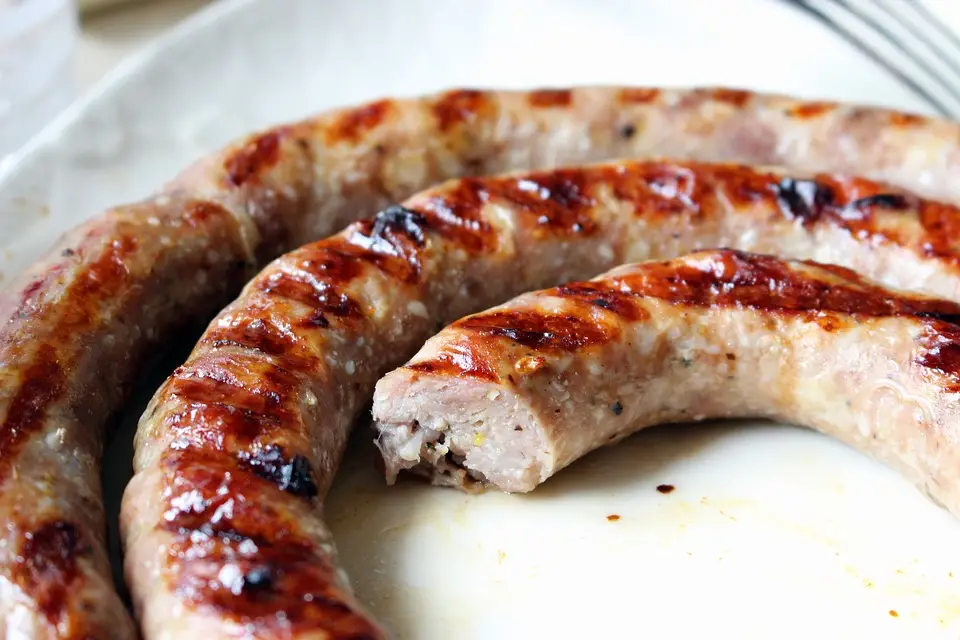 Source: Unsplash.
The steps involved in preparing sausage casings before struggling at home are easy. Usually, they come packed in salt, so you must wash them off before proceeding. Here are the other steps involved in this process:
Set the casings in a dish, and clean them with running water. Ensure you are gentle during this process to avoid causing damage to the structure of the casings.
Set the casings in some cold water for a few minutes before you can rinse them once again. 
Then, take each casing one at a time, and clean them with cold water. Ensure the cold water gets through the casing to eliminate all the salt in the meat.
Once you complete the rinsing process, set the sausages in a water bowl with one end dangling on one side of the bowl. Doing this will reduce the need to struggle in finding the open ends of the casing when stuffing. 
PRO TIP! We came across this Youtube Video on Sausage casings which should be useful.
Frequently Asked Questions (FAQ)
Are All Sausage Casings Edible?
Yes, most sausage casings are edible, particularly the natural types, which mostly come from animal intestines. However, the synthetic types are man-made and aren't edible. Even though the casing can be cooked, removing it is possible. 
What Happens if You Eat Plastic Sausage Casing?
There is nothing that will happen if you eat plastic sausage casing. However, expect some slight stomach discomfort if you consume a synthetic type. Fortunately, there are no serious health concerns with consuming such a product. 
Are Sausage Casings Digestible?
Yes, sausage casings are digestible, particularly the types that come from animals. However, the synthetic types are not digestible and expect the body to expel them as excretion. The types made using collagen tend to cause digestive complications.
How Can You Tell if a Hog Casing Is Bad?
Yes, natural sausage casings can go bad. Common reasons for this issue include poor storage measures and failing to check the expiry dates of the meat. The other reason also involves failing to prepare the sausages using the right technique. 
How Do You Clean the Pigs Intestines in a Sausage Casing?
The cleaning process for sausage casings involves flushing, scraping, and cleaning. Resources like water and salt are crucial for this process. It also involves the removal of the exterior fat layer and the inner mucosa of the sausage casings.
You can use various techniques to tell if sausage casings are edible. You have to determine its type first or consult with the brand maker. Natural casings are the best for consumption, and others generally require removal.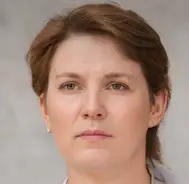 Latest posts by Leah Greenstein
(see all)