Have you been annoyed with your current vegetable peeler? Is it because you can't just peel anything at one go? On top of that, you've to put a lot of pressure while peeling.
This has made you realize that the peeler isn't sharp enough. 
Are you wondering how to sharpen peeler?
Well, you can use a flat file or nail file. Scratch the peeler with that to make it sharp. Or try using a stone or sandpaper tool. Either of them will sharpen your peeler. If you don't feel like using any tools, remove the peeler blade, turn the blade and place it again. 
We know that we've missed a few details here. Because that's saved for the next parts. Why don't you check that out?
Can I Sharpen My Peeler? – Your Question Answered
Yes, you can sharpen your peeler at home. But for that, you'll need to follow a method. Because without the proper guideline, you'll end up with a destroyed peeler. You'll also have to be sure if your peeler actually needs sharpening.
Well, first try to peel a squash. See if the peeling stops in about 2-3 cm rather than going to the end.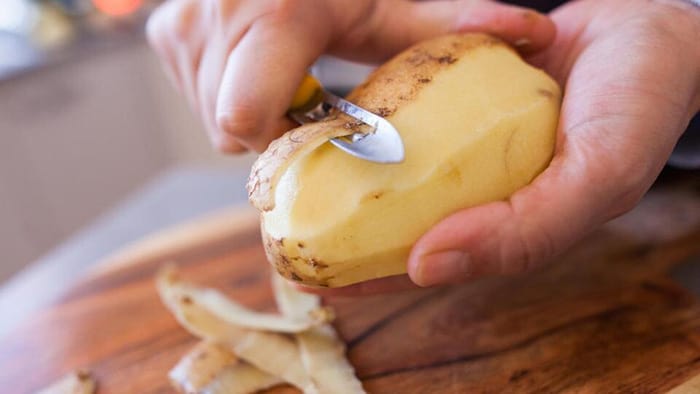 Also, see if you're putting too much pressure to peel it off. Then do the same with a cucumber/potato. See if the peel comes off at a time or the peel tears halfway. If it tears, consider that it needs sharpening.
Lastly, take a tomato and try to peel it. If the peeler fails to catch the tomato peel, it's not sharp enough.
That means it's time to sharpen your peeler. Otherwise, you won't be able to use the peeler. You'll also lose energy and put a lot of pressure to peel with it. To know how to sharpen, see the next segment. 
How to Sharpen Peeler?-5 Alternative Methods to Follow!
Well, sharpening a peeler is not like mirror polishing a knife. Rather it's quite easy and simple. But still, you need to be sure about the method you want to use.
So we presented some alternative methods for you to try. First, have a look at how these ways compare to each other –
| | | |
| --- | --- | --- |
| Alternative Methods | Time Needed | Difficulty Level |
| No tools | 5 minutes | Easy |
| Sandpaper  | 8-10 minutes | Easy |
| Stone  | 15-20 minutes | Easy to medium |
| Flat file | 20-25 minutes | Medium |
| Knife  | 15 minutes | Medium |
Now, you've got a basic idea of how the alternatives work. Without any delay, let's start with the detailed process for each method. 
Using No Tools
Sharpening the knife can be possible without even using any tools. Well, this might sound a bit unrealistic to you, but it's possible.
If you have a peeler with a high arch, you can use this method. Also, the material of the peeler should be high-quality plastic yet bendable. The blade should also be symmetric. So if your vegetable peeler falls under this category, you're lucky.
Because sharpening it just got a lot easier. Plus you won't be needing any other tool. Among all, this one is the easiest and quickest method.
Let's start.
First, hold the arch and bend the blade outwards. Try to put balanced pressure, so that the blade falls out of the peeler.
Now take an edible marker. and mark the side you've been using till now. Just put a dot or something. No need to mark the whole blade. Then turn the blade and put it back.
To do that, you might need someone else to hold the arch. So that you can bend and put it back on the peeler. That's it!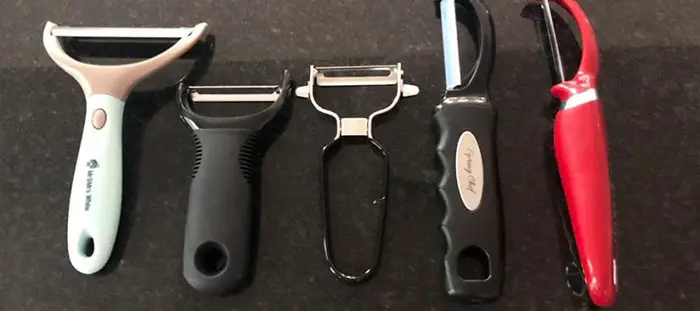 What happened is, in the symmetric blade, the other side of the blade is sharp and unused. So simply just turning the blade will present you with a peeler with a new blade. You didn't have to buy or use any tools.
But what if your peeler doesn't have a symmetric blade. Well, in that case, there are other methods you can try. Keep scrolling. 
Using Sandpaper
For this method, you'll need sandpaper and a wooden piece. The piece should be about 12 inches. It's because you'll have to hold it. Now wrap the sandpaper on the wooden stick.
Then rub it on the peeler blade back and forth. Do this for about 8 minutes. The peeler would be sharp by now. 
Using A Stone
Another way is to use a stone. There's no need to find any specific type of stone as any of them would do. Then just place the peeler on a surface.
Now put something over the handle, so it doesn't move. Then take the stone, and rub it in a circular motion on the blade.
Continue doing it for 5 minutes. But don't press the stone too hard towards the blade during this time. Otherwise, the blade would break. Once you're done, the blade will be sharpened. But as you used a stone, the blade might be a bit rough.
So you can file the blade 5 times to ensure it's even and smooth. 
In the end, you'll see, the peeler edge is perfectly sharpened.
Using A Flat File
In this method, you'll only need a flat file and a magic marker.
Once you get the files, take the marker. Then color the blade edge with the marker. Now see if the blade is stable and doesn't tend to move.
If it tends to move, then roll a piece of cardboard. Then fit it inside the peeler, to hold the blade steady.
It'll ensure that the blade doesn't move while you sharpen it. Now take your diamond flat-file and stroke into the cutting edge. Keep doing it 20-25 times.
By the time, the blade would be sharpened and no more dings would be there. 
You can do the same with a nail file as well. But in that case, you've to stroke 30-35 times in a back and forth direction. The peeler blade will finally be sharpened. 
But not all nail files will bring you the same result. Therefore, here are a few trustworthy ones we've tried out.
Revlon Shape-N-Buff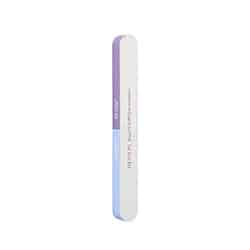 Nail File Buffer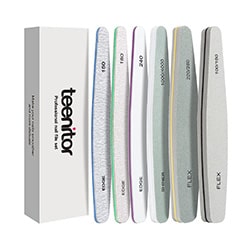 Get your one today and sharpen that peeler to perfection! Trust us, these will definitely work. 
Don't feel like buying a new tool? Why don't you take a look inside your kitchen?
Using A Knife
Using a knife to sharpen a peeler is not that hard. All you have to do is take an old knife. We don't recommend taking new ones. Because it'll scratch the knife and you have to polish the knife blade as well.
So now hold the knife at an angle over the peeler blade. Then start sliding the knife smoothly from one end to another and then back and forth.
Keep doing it for 15 minutes. The peeler will be sharpened as new by now. So, be careful when you're peeling your fruits and veggies.
But if your peeler is all rusty and the ding is really deep, it can't be sharpened. In that case, you have to buy a new one.
How to Take Care of Your Peeler?
Once you get your new peeler, you can get to work in the kitchen. Well, a peeler has multiple uses. But taking care of it is easy. All you have to do is follow these few tips  –
Keep it away from knives and other utensils
Make sure that you don't use any metal scrubber to clean it
Wipe the peeler after peeling fruits before keeping it on the sink
Try to keep the peeler blade dry to avoid rust
Try to file it once every 15 days
Just use a flat-file to do that, you'll need about 3-4 scratches.  With that, we're done with today's topic. Hope you got to know the ways of sharpening a peeler.
FAQs
Question: Can I use gritstone to sharpen the peeler?
Answer: Yes, you can use a gritstone. But gritstones are great if you're sharpening a knife. But that's not true for peelers. Because the blade shape is different. And it's not much for scrubbing on the gritstone.
Question: Can I sharpen a rusty peeler?
Answer: No, you can not sharpen a rusty peeler. First, you'll have to remove the rust. Then start with the sharpening process.
Question: Can I use a Dremel on the peeler?
Answer: Well, you can't use a Dremel. Because that would be too harsh on the peeler blade. If you do that, the peeler might break. 
EndNote
Here we are at the end of this article on how to sharpen peeler. Hope you understood the methods we explained.
Do share a before and after picture of your peeler with us. Just ask any questions in the comment segment below.
Thank you!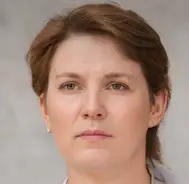 Latest posts by Leah Greenstein
(see all)