We assume that you want to mirror polish your knife so that it looks shiny and plain. But the process of mirror polishing is really tiring. There are a lot of procedures that don't work. So it's a hassle.
So you're wanting to know how to mirror polish a knife?
To do that, you've to clean the knife first. Next, sand it using different grits. Once the sanding is over, you'll see your reflection on the knife. It should be clear as a mirror. If it's not clear,  you have to sand it more.  You can stop when you're satisfied.
So this isn't as easy as it sounds. But with proper guidance, you can actually have a mirror polish on the knife. To get that guidance, read the whole article.
Should You Mirror Polish A Knife?
Well, mirror polishing somehow became a trend. This has been going on for a while now. But mostly, amateur cooks do so.
Because professional chefs don't give much thought to the looks of the knife. They're more into the usage of it. The chefs don't prefer having a mirror polish for their knives. 
It's because, after mirror polishing, the food tends to stick to the knife. It can get hard to smoothly cut fruits, veggies, or meat with it.
Well, mirror polishing is also a lengthy process. Although the effect might look like magic to you. Even sometimes, you get scratches on knife blades. So you can get rid of knife blade scratches, by mirror polishing.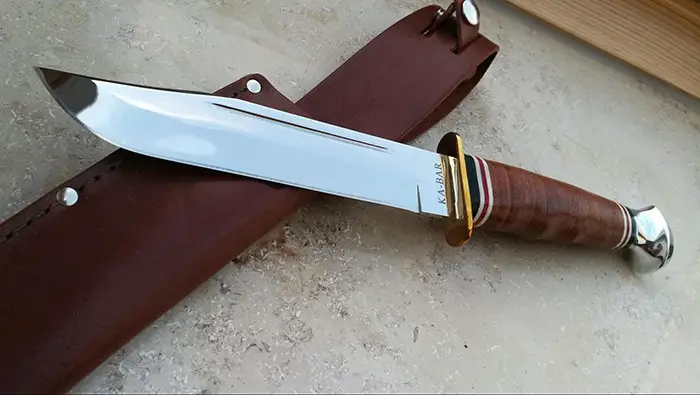 There's a reason why people might want to get a polish. Before polishing, you have to remove the knife scratches. Otherwise, the knife will look like a broken mirror. So you need to know how to mirror polish a knife.
Even before that, you need one quick overview of mirror polish's pros and cons. 
| | |
| --- | --- |
| Pros | Cons  |
| Shiny outlook | Not food safe |
| Covers up scratches | Makes the knife less efficient |
| Reduces rust build up the possibility  | Lengthy process |
Now that you know the pros and cons, it should be easier to decode. Now, if you decide to mirror polish your knife, we've discussed that in the next segment. Just check it out.
How to Mirror Polish A Knife? -4 Easy Steps!
Well, there are different types of blade polishes. But mirror polish is quite time-consuming. 
Well, mirror polishing your knife is not an easy task. . But we tried our best to show you the easy way. The steps are kept simple to understand for you.
So just go through them and polish your knife accordingly.
But wait before that, to check the tools you'll be needing.
DA Sander
Sand Paper Discs (600, 1000, 1500)
Water Spray Bottle
Knife holder
After getting the tools, start with the polishing. 
Step 1 of 4: Wash The Knife
First, you need to wash the knife clean. For that, take a bowl and pour 6-8 cups of water. Then add 1 teaspoon of liquid dishwashing soap. After that, stir and make foam from it. Then dip the knife in it for 20 seconds. Now wipe out the knife with a  cloth.
Then wash it with tap water. Then again dry the knife by wiping it.
Step 2 of 4: Attach Sandpaper to The Sander
Now attach the knife to a knife holder. This helps because the sanding process is lengthy. So your hands might get numb if you hold them that long. 
Also attaching will ensure that you won't break or destroy the handle during sanding. Because if you do so, then you'll have to rehandle the knife. 
After getting the holder, start working just as we mentioned. 
Now you need to attach the sandpaper to the sander. First, you'll have to stick the 600 grit sandpaper to it. Spray both the knife and sandpaper with some water. This makes sure that the knife or sandpaper doesn't get too hot during the sanding.
Step 3 of 4: Sand The Knife
Now start the sander and keep sanding the knife. First, you'll have to sand it with the 600 grit sandpaper. Keep sanding the knife till the sandpaper rips and squeezes.
This can take up to 10-15 minutes. After that, stick the 1000 grit sandpaper to the sander.   Continue sanding for another 10-15 minutes. Now see if you can see your reflection clearly on the knife. It should be just like looking at the mirror.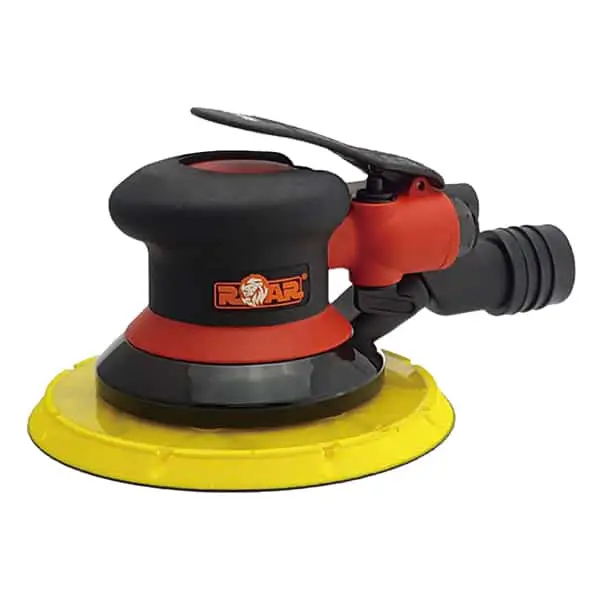 If you don't see that clear reflection, attach the 1500 grit sandpaper. Sand the knife just like before. By now you should see a clear reflection. If not then, try using 3000 grit for 5 minutes.
Also, don't forget to spray water on the knife. And spray the sandpaper each time you change the grit. So once you're done, sanding, move to the next step.
Step 4 of 4: Wipe The Knife
Lastly, spray some water on the knife. Wipe the knife with a clean and dry cloth. Once you're done wiping, you'll see the mirror polish is done. You can finally see your reflection through it.
Tips on Maintaining Your Mirror Polished Knife
So you can say it's been quite a long process of mirror polishing the knife. It seems that you wouldn't want to do that anytime soon.
So it's better if you just protect it from outside damage such as rust.  It's definitely important to maintain your carbon steel knife. Then you'll have fewer chances for the polish to wear off.  Check the tips below to your benefit.
Tip 1: Wipe Clean The Knife
What we do is wash the knife with soap and water after each usage. And during washing, we scrub the knife. And excessive scrubbing can remove the mirror polish. But what you can do is, wipe the knife to clean.
For example, you might have just cut some fruits. So just dampen a cloth and wipe the knife gently with it. Then take another dry cloth and wipe it dry.
This way you won't be scrubbing it each time after usage. This way, the polish will last longer.
Tip 2: Keep it in A Separate Box
Now after you mirror polish a knife, you need to be careful about scratches. Because 1 little scratch will affect the whole mirror finish.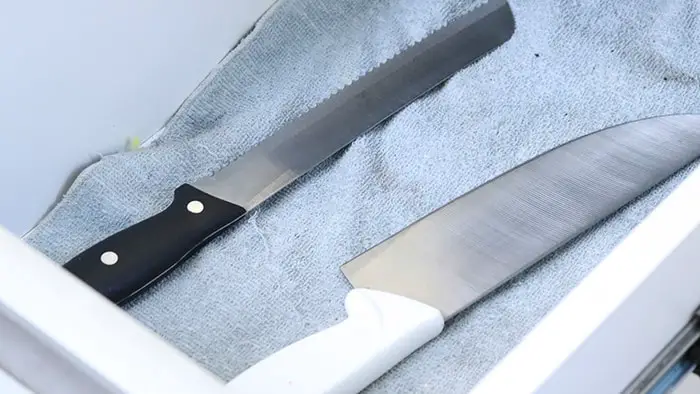 So to prevent scratching you need to take some measures. Like you need to take a box then add a cotton napkin at the bottom. And then put the knife above the napkin. And then add another folded napkin over the knife. Then close the box lid and keep it in a drawer.
Don't put other knives or utensils on that box. That box should be for that one mirror polished knife.
Now, you'll finally be able to see your reflection on your mirror-polished knife.
FAQs
Question: Can I use a whetstone to mirror polish my knife?
Answer: You can use a whetstone to remove knife scratches. But it won't give you the exact finish as sandpaper. But it can work as a pre-stage before sanding it.
Question: Can I mirror polish a rusted knife?
Answer: No you can't mirror polish a rusty knife. You have to remove the rust first. And then start with the mirror polishing process.
Question: What should I use to remove rust from the knife?
Answer: You can use WD40 to remove rust from your knife. Spray it on the rusty parts of the knife and wait for 15 minutes. Then wipe off the rust. 
Parting Words
Looks like you made it to the end of this article. In the article, we answered how to mirror polish a knife. Hope you got your answer.
If you have any questions, just comment below.
Good luck!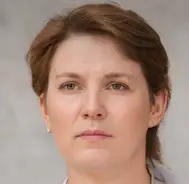 Latest posts by Leah Greenstein
(see all)