If you're mostly in the kitchen, it's obvious that you use your knife every day. It can happen that you're putting a lot of pressure on the knife's tip. Suddenly, you see that the tip of the knife is bent.
Now it's too annoying to even look at the tip let alone work with it. 
Are you wondering how to fix a bent knife tip?
Well, you can use a hammer to hit the bent tip. Keep hitting it until the tip is straight. Also, be careful not to break it. Or you can clamp the knife between the wooden blocks. The pressure will straighten the knife tip. You can even try to heat the knife and beat it with a pestle. 
All these methods are easy but crucial. So you'll have to follow the instructions carefully. So, see the instructions down below.
Can You Fix A Bent Knife Tip?
Well, yes, you can fix a bent knife tip. But it will depend on how bent it is. If the tip is bent and at the breaking point, it's not fixable. 
To check, see if the tip is getting separated from the knife. If yes, then you can't make it straight. In that case, you have to attach a new tip. Or you'll have to buy a new knife.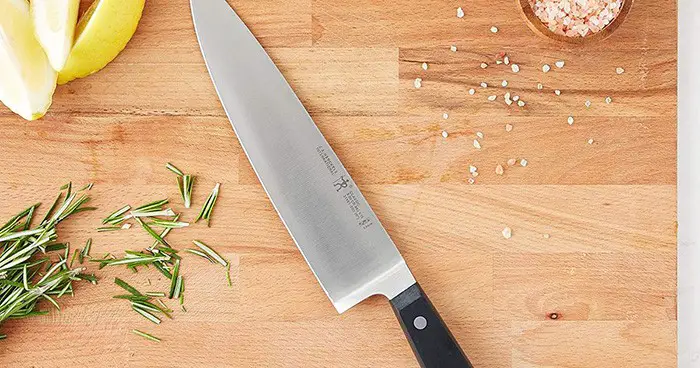 But if it's only bent but not separating, you can fix it. Hence, we've mentioned all the alternative ways just below this segment. 
How to Fix A Bent Knife Tip? Detailed Instructions!
As you already know, it's possible to fix a bent knife tip. But it's a tricky procedure. Because any mistake would break the knife tip. So no matter which alternative you go for, just be careful with it.
Now let's move on to the 3 different ways to fix a bent knife. Choose the one that seems feasible to you.
But wait, here's a quick comparison of the alternatives. Do have a look.
| | | |
| --- | --- | --- |
| Alternatives | Time Needed | Effectiveness  |
| Using A Hammer | 20 minutes | High |
| Clamp between Wooden Block | 60 minutes | High  |
| Heat the Knife | 40-50 minutes | Medium to high |
Well, now that you've been through the comparison, head to the details.
Use A Hammer
For this method, you'll need a medium-sized brass hammer. Also, try to manage a flat surface. It can be a plain and flat wooden piece. The wood piece should be double in height and width as the knife. Now attach the knife with a knife holder.
It will ensure that the knife stays in place while you use the hammer.
Once you've secured the knife, place the straight flat wooden piece underneath it. Now take the hammer and hit the tip. Do not hit it hard otherwise the tip will break. Instead, go with soft but frequent hits.
As you carry on hitting, you'll see it coming back to the shape. Once it comes back, see if the whole knife is in the shape it should be.
If you feel like you could use one or two more hits, go for it. Otherwise, the work here is done. All you have to do is, remove the knife from the holder and use it.
Here's one important tip. While hitting, make sure you only hit the tip. Because if you accidentally hit the handle, it can break. Then you'll have to rehandle the knife. So be careful.
Clamp Between Wooden Blocks
Another is to clamp the knife within wooden blocks. You can create the blocks yourself. Or you can just order 2 same-sized blocks. 
Make sure that the blocks are at least 1 inch wider than the knife's width. But the height should be the same as the blade excluding the handle height.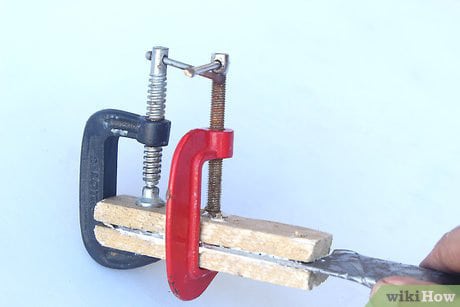 Once you get the blocks, put the knife between them. It should look like a sandwich. Then use a clamp to tighten it. Keep tightening it slowly, a little pressure at a time. Otherwise, the tip will break.
So slowly keep pressing it until the tip is straightened by the pressure. Once it's done, unlock the knife from it. 
Finally, the knife is ready to use.
Heat The Knife
Another way is to heat the knife. To do that, you've to take the knife and hold it above the stove. Turn the fire on and put heat on the bent tip.
Hold it on the fire for about 5 minutes. Now that it's hot enough, put it on a flat surface. Then hit it with a pestle. Keep hitting till it's straightened. You might need to reheat it after 3-4 hits. Altogether it should be done by 8-10 hits.
There are a lot of pestles in the market which themselves aren't strong enough. So here's what we use for the job.
Nice2Mitu Granite Pestle only Replacement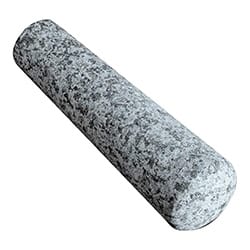 ChefSofi Granite Replacement Pestle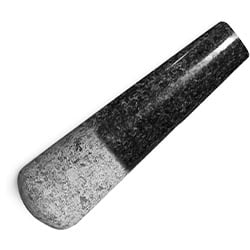 Once you're done hitting with your new pestle, it should be straight. Now just dip the knife into a cold water bucket. So that it cools down the blade.
You can now use the blade as you like.
How to Prevent Your Knife from Getting A Bent Tip?
Well, it's not that hard to maintain a knife so that the tip doesn't bend. All you have to do is follow the instructions and the knife's lifespan will increase drastically. 
Tip 1: Don't Open Cans with A Knife
A lot of time we try to open the can with a knife. Most of the time, it hampers the knife tip. In most cases, it might end up breaking the knife tip as well.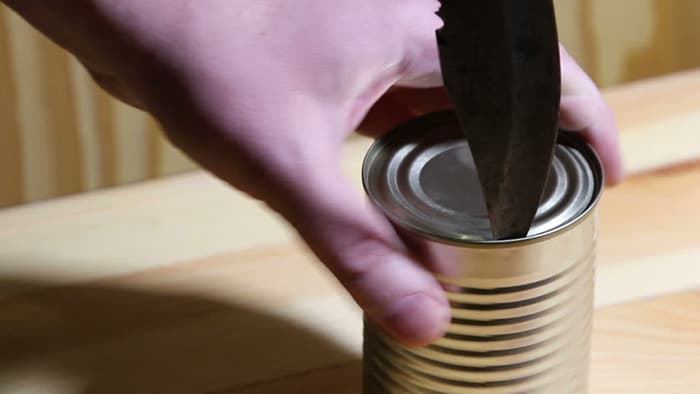 So always use a can opener to open cans and not a knife. In case you're looking for a can opener, here's what we suggest:
KitchenAid Classic Multifunction Can Opener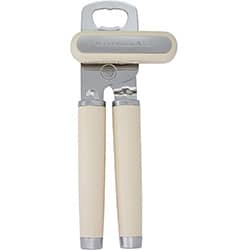 Kitchen Mama Electric Can Opener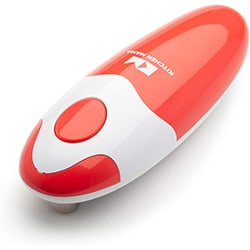 So use the opener to open your canned foods. Even if you don't use a can opener, there are safe ways to open a can. Try to look into those.
Tip 2: Keep The Knife Away from The Fire
Well, you should never get the knife near the fire. Otherwise, it will make the knife material easy to bend.
So if it's hot and you try to work with it, the tip might bend. So try to keep it away from direct heat. This way the knife will be fine.
Tip 3: Keep The Knife Separate from The Utensils
Your knife should be kept in a separate compartment altogether. Always try to keep it between a towel. So that it doesn't move, get scratches, and bend the tip.
You won't have to worry about removing scratches on the knife blade. Some of you keep the knives together and separate them from other utensils. But knives themselves can harm one another.
So keep one knife wrapped in one towel.  This way, you can avoid disfiguring your knife in any way possible.
FAQs
Question: Why did my knife get bent?
Answer: Your knife can get bent for multiple reasons. It can be that the knife was misused. Or you've tried to cut meat or bones with a fruit knife. So it couldn't handle the pressure and it broke.
Question: Is there any other way to fix my bent knife tip?
Answer: Well, yes there's another way to fix my bent knife tip. You can just put it between hot plates and press them. It'll straighten the bent tip.
Question: Can I use a knife that's tip is bent?
Answer: No, we don't recommend using a knife that has a bent knife. Because it won't get you a better cut. You might even break it in the process. 
Endnote
We're at the end of this article on how to fix a bent knife tip. Hope you liked the alternative solutions.
Here's an extra tip. You can try to reattach a broken tip with the help of a superglue. Or you can just use whetstone to grind a new tip.
If you have any more concerns, just comment down below.
Thank you!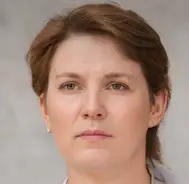 Latest posts by Leah Greenstein
(see all)