Are you looking for an easy chicken thigh recipe with balsamic vinegar? Bites of which will give you the sweet taste of honey? This recipe will make your ordinary chicken recipe from boring to brilliant.
Honey balsamic grilled chicken thigh is a recipe you can keep on hand. One that you can cook any time for friends and family. You can also prepare it as an alternative to chicken breasts. In simple words, this recipe is such an easy and dazzling solution.
So, if you're ready to get into cooking, let's get started.

Difficulty Level: Easy
Serving Portion: 4 servings
Preparing Time: 75 minutes
Cooking Time: 30 minutes 
Total time: 1 hour 45 minutes
Nutrition Facts:
Amount Per Serving (3.5-ounce or100-gram chicken thigh)
| | |
| --- | --- |
| Nutrition | Amount |
| Calories | 109 |
| Protein | 13.5 grams |
| Fat | 5.7 grams |
| Carbohydrate | 0 |
Required Cooking Equipment
Kitchen thermometer – You'll need it to measure the temperature of the chicken while cooking.
Ingredient List
4 bone-in, skin-on chicken thighs
½ cup balsamic vinegar
¼ cup chicken broth
⅓ c. honey
2-4 cloves garlic, peeled and crushed
¼ tsp. Freshly ground black pepper
1 tsp. fresh rosemary
Olive oil/ avocado oil
2 tbsp. Butter
Kosher salt
Canola oil, for greasing
Chopped chives, for garnish
Chopped parsley, for garnish
Lemon wedges, for garnish
Directions For Cooking Honey Balsamic Grilled Chicken Thighs
Cooking this recipe is easier than you think. The process comes with a marination part, a cooking part, and a serving part. So without any further ado, let's dive right in.
Step 1: Marinating The Chicken
Balsamic vinegar is the main ingredient for this marinade.
Take a medium-sized bowl. Combine ½ cup balsamic vinegar, ¼ cup of chicken broth, and 3 tbsp. of honey. 
Add 2-3 cloves of crushed garlic, ½ tbsp. salt, and ¼ tsp. black pepper to taste. Next, add 1 tsp. Fresh rosemary to add a fresh herbal flavor.
Now whisk all the ingredients until well mixed. Reserve ½ cup of it to make the glaze later.
Add remaining ⅓ cup of marinade to a large bowl with 4 chicken thighs.
Marinate the chicken for at least 1 hour in a refrigerator.
Step 2: Making The Glaze
There are two parts to the cooking of this recipe. First, prepare the glaze. And second, to cook the chicken. Even though the glaze is to be added last, it is to be cooked before. 
As the chicken is kept sitting in the refrigerator, it's ideal to prepare the glaze now.
Take a medium saucepan, add 2 tbsp of butter and melt it. Add the remaining ½ cup of balsamic marinade.
Put in other ingredients like honey (2 tbsp.), crushed garlic (1/2 cloves), and rosemary. Stir until you mix all the ingredients.
Boil the mixture at a high temperature. After 1 minute, reduce the heat to simmer. 
Wait for around 10 minutes or until the glaze has reduced by half. Stir occasionally so it doesn't form a cluster at the bottom.
Step 3: Cooking The Chicken
Take out the chicken from the refrigerator which was kept for marination. 
Take a grill pan and preheat it for 10 to 15 minutes. This will give the chicken a dazzling sear.
Now turn the heat of the grill to medium or medium-high heat.
Add 1 tbsp. of olive or avocado oil and the chicken to the skillet. Let the excess marinade drip off of the chicken before adding it.
Don't move it as it cooks. This will help to add a crusty sear.
Cook the chicken for about 15 to 20  minutes, 8-10 minutes on each side. 
Remember, there is honey in the balsamic vinegar. So if it is left to caramelize for too long, the glaze can burn off.
Measure the temperature of the chicken with a kitchen thermometer. You'll know the cooking is done when the internal temperature of the chicken reaches 165 ℉
Step 4: Serving the Honey Balsamic Grilled Chicken Thighs
Once you're done with the cooking, it's time to serve. 
There are lots of ways to serve this recipe. However, if you want a genuine taste, you can serve the chicken with chopped chives and parsley. Add some lemon wedges along.
You can always add an extra spring of rosemary to garnish.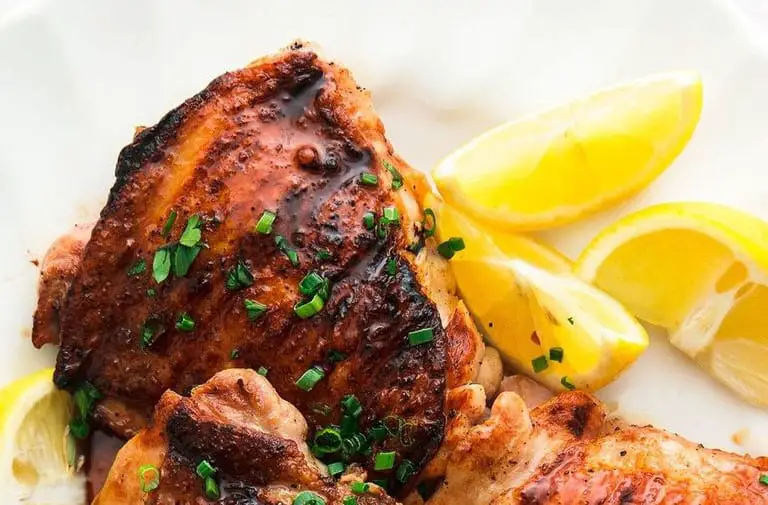 Some Important Tips Regarding Honey Balsamic Grilled Chicken Thighs
Although we've explained the recipe as much as possible, here are some extra tips for you. These will help you learn more about the honey balsamic grilled chicken thighs.
Is Honey Balsamic Grilled Chicken Keto Friendly?
Chicken thighs have high-fat content. Whereas, it is completely free from carbohydrates. So yes, you can have this recipe in a keto diet. 
Can I Marinate The Chicken Overnight?
Yes, you can marinate the chicken overnight. In fact, the longer you keep it to marinate, the greater the flavor will be.
How Long Can The Chickens Be Stored?
Once cooked, the chickens can be stored for 4-5 days in the refrigerator. Without surprise, the taste will not be affected. But, it's not recommended to store it longer than that.
Well done! That's the tastiest honey balsamic chicken grilled thighs you have ever tasted. We can smell your dish from here.
If this recipe satisfied you, let us know in the comment section. Till then, all the best.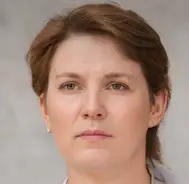 Latest posts by Leah Greenstein
(see all)