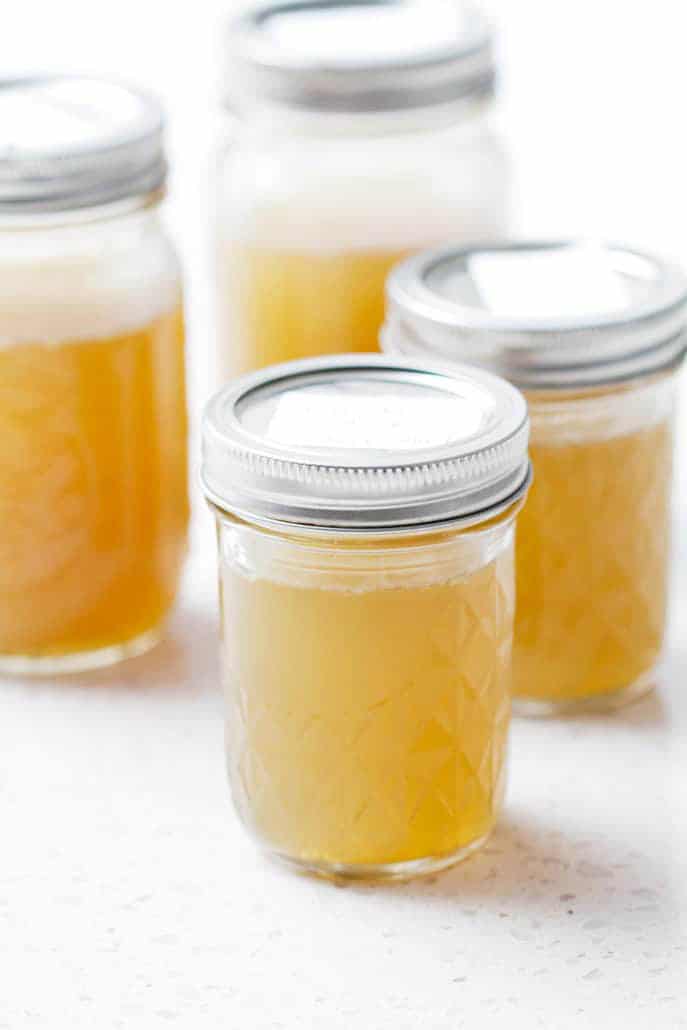 Source: bonappetit.com
Let's take you 7,000-10,000 years back in Southeast Asia. The regional people used to make chicken soup using the broth. More or less, everyone was obsessed with the taste.
But in Greece, they understood the broth's nutritional values. So the broth became more of a medicine.
With time, the recipe traveled across continents. Then 2500 years ago, it became a part of Chinese medicine.
Chinese people named it bone broth and started mass consumption. This was to improve the overall health of people.
Now you can see how the chicken broth is a part of Chinese, Korean and Japanese cuisine. And why it's the base ingredient for many recipes like soup, ramen, etc.
Chicken broth has now become widely popular all over the world. We see ready-made chicken broth at stores as well. You'll see them in both liquid and solid cube-like forms. 
To be honest, the taste and nutritions differ between homemade and store-bought ones. The store-bought ones have preservatives, which compromises the flavor and taste.
That's why you should always choose to make your own broth. 
Level: Easy to Medium
Serving Size: 2 persons
Preparation Time: 30 minutes
Cooking Time: 4 hours
Resting Time: 30 minutes
Straining Time: 15 minutes
Chilling Time: 8 hours
Total Time: 13 hours 15 minutes
Ingredients You'll Need
Chicken (meat, bone, neck) 2.5 pounds
Celery 2 ribs
Onions 2 medium-sized
Carrots 2 medium-sized
Peppercorns 10 pieces
Bay Leaves 2 pieces
Dried Rosemary 1 teaspoon
Dried thyme 1 teaspoon
Water 2 liters
Salt as per taste
Nutrition Facts
| | |
| --- | --- |
| Calories (1 cup of Chicken Broth) | 245 |
| Fat  | 14g |
| Sodium | 80g |
| Cholesterol | 61g |
| Protein | 21g |
| Carbohydrate | 8g |
Recipe Procedure
So without delay, let's start with the secret recipe. You will have to follow the steps. And at the end, you'll have a proper chicken broth.
Step 1 of 5: Prepare The Ingredients
First, you'll need to make the ingredients ready. So cut the onions into quarters. Then chop the carrot in 6-8 cm chunks. Also, cut the celery ribs in 6 cm chunks.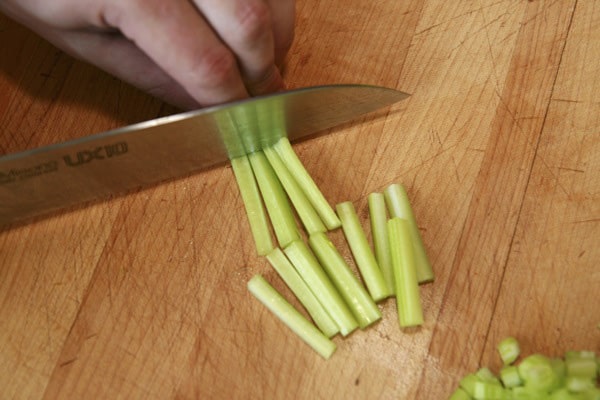 Source: seriouseats.com
Now, take the chicken and break the backbone. Then cut it into medium-sized pieces. Do not throw away the neck or wings. You will need both bone and meat for this recipe.
Well, take the dried rosemary and crush them. With that, all preparation is done.
Step 2 of 5: Put The Ingredients into The Pan
To start off the stock, put the chicken on the pan. Now add water. Then turn the heat off. And let it simmer for 5 minutes. Then add the carrot, onion, and celery. Stir them once lightly.
Now add all the other ingredients. Here's a thing. You may want to use the broth as a base ingredient. Then don't add any salt. Because you'll be adding salt later on.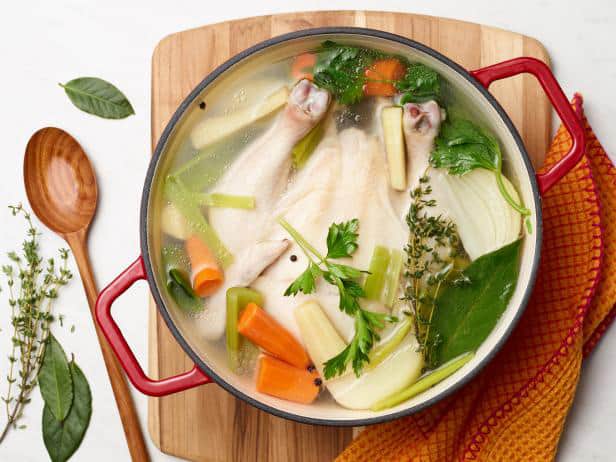 Source: foodnetwork.com
If you're going to use the broth directly, add salt as per your preference.
Step 3 of 5: Simmer The Broth 
Now it's time to simmer all the ingredients. But don't cover the pot. Making a good broth means to cook without the lid.
Watch when first it starts to boil. Until then, keep the heat high. Once it starts boiling, keep the heat low. Otherwise, all the liquid will dry up.
Now keep simmering for 3 hours and 55 minutes. After that, turn off the heat. Also, don't forget to throw the foam at the top of the broth in between. 
Now get on to the next step.
Step 4 of 5: Let it Come to Room Temperature
Now, wait for 30 minutes for the broth to come at room temperature. While waiting, do not cover the pot. Because that will only delay the cooling down process.
Step 5 of 5: Strain And Freeze The Broth
After 30 minutes, strain the broth. And only store the liquid in an airtight glass jar. Keeping it in a glass jar makes sure it stays well for a month.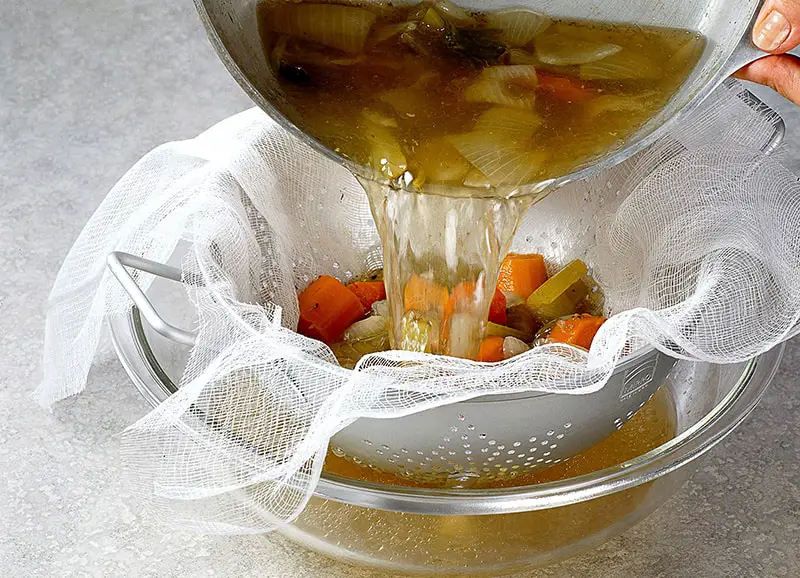 Source: bhg.com
Now, put the broth in the freezer and wait for 8 hours. After that, use it for your soups, stews, curries, and so on.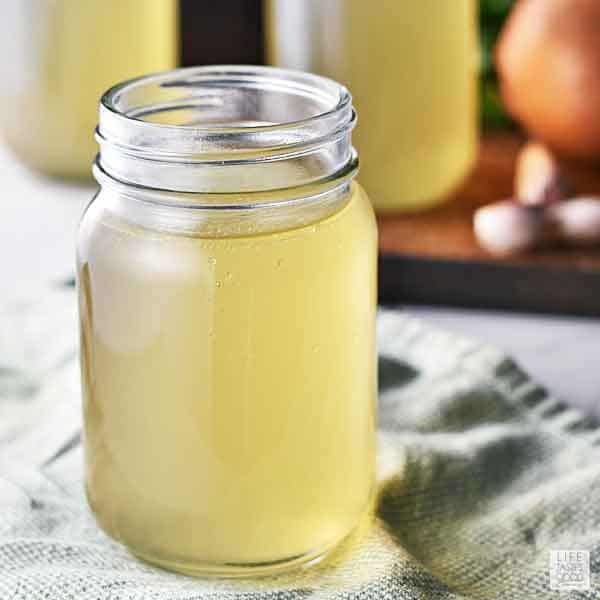 Source: ourlifetastesgood.com
See how easy it was to make the best homemade broth ever.
Tips to Follow
We thought these tips might save your broth. And you can make the perfect broth every time you try. So let's see.
Is Chicken Broth and Chicken Stock The Same?
Now chicken broth and stock are two different things. So keep that in mind while making it.
Chicken broth is made from both meat and bones. And it's simmered for less time than the stock. That's why the broth has a light flavor of the chicken. 
Can I Add Veggies with Chicken And Simmer Together?
Well, a lot of people tend to add all the ingredients together and then simmer. But that's not the right method.
Because broth generally has a light flavor. But if you put veggies along with the chicken, they overpower it. So the actual taste and flavor of the broth change.
How Can I Adjust The Salt Of the Broth?
Start with adding less salt than needed.
This might sound weird to you. But let's explain. As the salt depends on your taste, we prefer adding a bit first. Then let it simmer for a while. When the broth is almost cooked, check the salt.
If you think it needs more salt,  again add in a little amount. Then check again.
Because the last thing you'll want is a salty broth. And it would be of no use. So be careful about it.
As you've finally mastered making chicken broth, it's time to reap its flavor and benefits.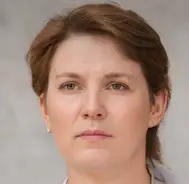 Latest posts by Leah Greenstein
(see all)