Who doesn't like a sauce-infused cheesy deep-dish delight? But most often the crust becomes soggy. That lessens the joy of having deep-dish pizza.
However, the recipe of one of the prominent deep-dish pizza chains can save your day.
You guessed it right. Talking about the mighty Godfather's pizza here. These guys just dominate in a deep-dish style. 
Here, we will guide you to recreate their pizza dough. With easy step-by-step instructions and important tips at the end.
So, grab your apron and try this out for a delicious treat!
Difficulty level: Easy
Serving size: 4-5 people
Making time: 30 minutes 
Resting time: 4 hours 
Total Time: 4 hours 30 minutes 
Nutrition Info
Serving Size –  ⅛ slice (50g)
| | |
| --- | --- |
| Carbohydrate | 25 g |
| Protein | 5 g |
| Sugar | Less than 1 g |
| Saturated Fat | 1 g |
| Trans Fat | 0 g |
| Polyunsaturated Fat | 0 g  |
| Monounsaturated Fat | 1 g |
| Cholesterol  | 0 mg |
| Sodium  | 290 mg |
| Dietary Fiber | 1 g |
| Total Calories | 140 Kcal |
Ingredients For The Dough
Flour- 4 cups
Water- 2 ½ cups
Active Dry Yeast- 2 tablespoons
Salt- 1 ½ tablespoon 
Soybean Oil- 4 tablespoons
Sugar- 1 tablespoon
Dry Non-Fat Milk- 1 cup
Required Kitchen Hardware
Bowl
Heavy-duty mixture
Whisk
Wrap
Rolling pin
Step by Step Dough Making Procedure
The dough making is not a tough thing to do. However, we have included these steps for you so you don't miss anything. Follow these and make the perfect pizza crust.
Step 1: Activate The Yeast
The first job to do is to activate the yeast. This is a crucial step for any type of pizza dough. Activated yeast will create a fragrant earthy flavor.
First, add three cups of warm water. Warm water holds a bit high temperature from the normal room temperature. For example, 115 to 120 degrees F.
Now add sugar and yeast, 3 tablespoons of both. Then slowly mix till everything dissolves. But do not stir too fast. It may reduce the heat of the water. The yeast won't dissolve if the water becomes cold.
Leave the mixture aside for 5 minutes. Let the yeast rise.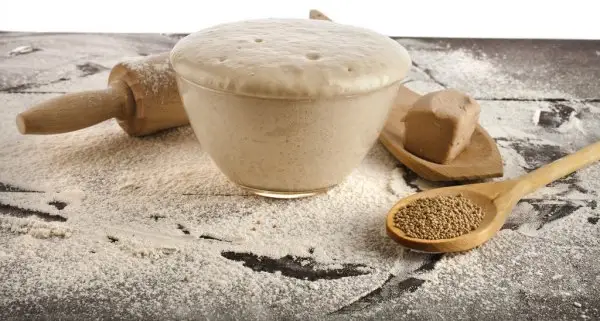 Step 2: Adding Other Ingredients
Once the yeast is activated, add salt and olive oil to it. Add the milk powder and the flour slowly to the mixture.
If you are mixing the flour with your hands knead very slowly. Add flour continuously, knead and slowly form the dough
If you are using a heavy-duty mixture, put all the ingredients together and mix them. But using hand is preferable as you can feel the consistency more accurately.
For the dough mixer, use the paddle. Mix on speed "two" for 2 minutes. Then put on the dough hook. Knead the dough on speed "two" until a ball forms.
Add water if needed. Make sure to keep the texture between tight and sticky.
Once, you reach this consistency, grease a bowl with oil. Place the dough ball in between and cover the dough with wrap. Leave the dough for resting for about 4-8 hours.
Let rest at least 3 hours if you have a busy schedule. 
Step 3: Readying for Baking as Pizza
You have done a great job so far. Your dough is finally ready to become a beautiful pizza crust.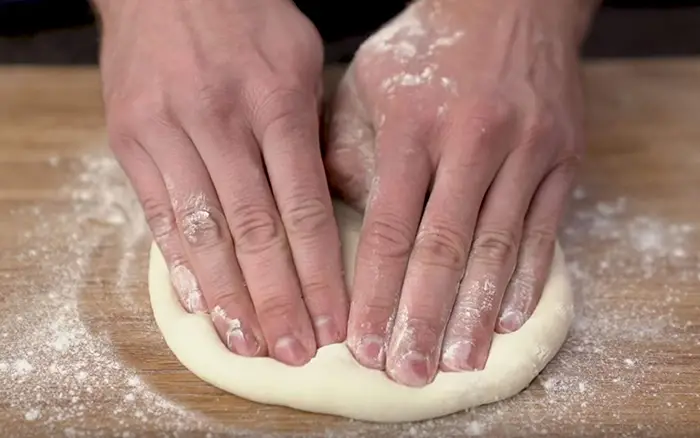 Use a rolling pin, flatten the dough in a circular shape. Godfather's classic is a deep-dish pizza. So you have to roll a big dough sheet. Like sufficient for a 16 inches pan. But if you have smaller than that, you can cut off the edge later. 
Oil the pan properly and place the dough in the middle. Using your hand, try to stretch it out.
After 20 minutes, the dough will rise again. Message it back to the plain surface.
Finally, it is ready to be a pizza. Add your favorite toppings, cheese, and bake.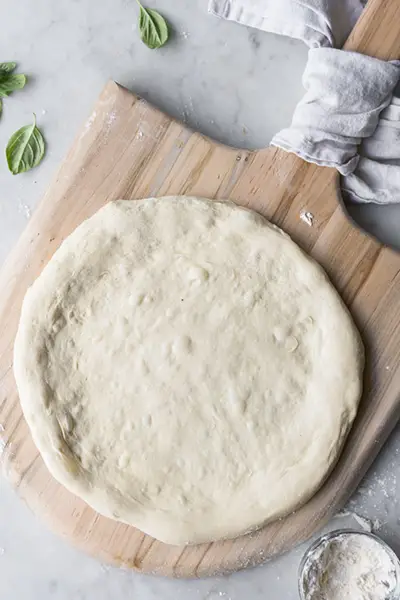 Some Important Tips
Your pizza dough should be ready by now. . However, if you have some confusion, check out our tips-
I waited 5 minutes, but the yeast is not actuated yet, what to do?
You can wait for up to 20 minutes, no worries. But try to choose an active yeast next time.
Stretching using oil seems hard to me, is there another option?
You can use cornmeal instead of oil for stretching.
Can I use vinegar to make the dough more fluffy and flavorful?
A very little amount of vinegar can be used. Like a couple of mL. It will indeed make your dour dough a little more fluffy and flavorful.
Seems we have reached the end of this discussion. Thank you for staying with us. We hope you will follow this recipe and try it.
Good wishes from us!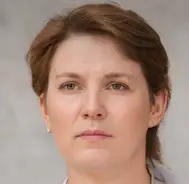 Latest posts by Leah Greenstein
(see all)