Everyone wants something cold in summer, right? How would it feel to have a cold sorbet? It would be great especially if you're having a hot flash outside! 
Well, mango sorbet is what you're looking for! Mangoes, limes, and sugar are the ingredients, made for each other in a sorbet. The tart and sweetness offset each other perfectly.
On a hot day, this is the ideal method to cool off. The thick, creamy texture of sweet mangoes contrasts well with the bright, sharp lime juice. This perfect combination makes up the mango sorbet that everyone craves in summer! 
You are probably wondering how to prepare this yummy sorbet. Well, it's your day today! We've got the recipe for you, provided below.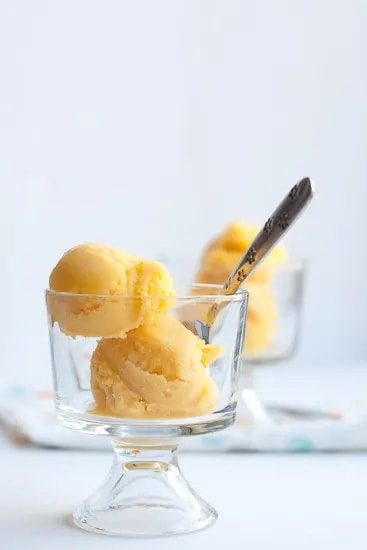 Yields: 1 quart
Preparing Time: 25 minutes
Chilling Time: 90 minutes
Total Time: 1 hour and 55 minutes
Nutrition Facts
| | |
| --- | --- |
| Calories | 49 |
| Potassium | 138 mg |
| Carbohydrates | 12 g |
| Fiber | 1 g |
| Sugar | 11 g |
| Vitamin A | 895 |
| Vitamin C | 30 mg |
| Iron | 9 mg |
| Calcium | 0.1 mg |
Ingredient List
1 cup of regular sugar
1 cup of mineral water
3 ripe mangoes which are about 2 ½  pounds
3 tablespoons of lime juice
Pinch salt
2 tablespoons of tequila, vodka, or rum (optional) or 2 tablespoons of light corn syrup. This is optional
Direction For Preparing Mango Sorbet
Well, this recipe might seem complex, looking at the sorbet. Guess what? This is very easy to prepare. Moreover, we've got the recipe for you in 6 simple steps. So that you can prepare this delicious mango sorbet very easily. 
The steps are provided below.
Step 1: Making The Syrup
In a medium saucepan, heat the salt, sugar, and water. Continue doing it till the salt and sugar have fully dissolved. Now, allow cooling for about 30 minutes.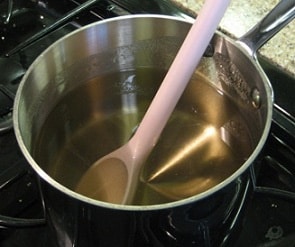 Step 2: Preparation of the Mangoes
Peel the mangoes' exterior skin with a vegetable peeler. Remove the flesh off the mango's massive flat white seed in the center. Peel and discard the seed. Chop the mango flesh coarsely. There should be about 4 cups of diced mango.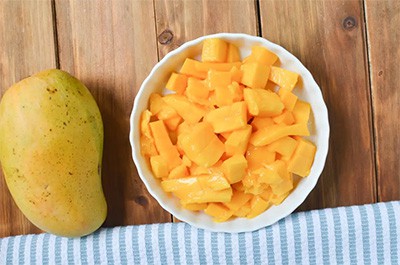 Step 3: Blending Mango, Lime Juice, And The Simple Syrup
In a blender, combine the mango chunks, lime juice, and simple syrup. Blend until the mixture is smooth. This might take up to 15 minutes.
Step 4: Chilling The Mixture
Fill a medium mixing bowl halfway with the mixture. Refrigerate until totally chilled, covered with plastic wrap. Refrigerate it for an hour.
Step 5: Processing in The Ice Cream Maker After Refrigeration
Mix in the rum, tequila, corn syrup, or vodka. Do it when you're ready to put the chilled lime mango purée into your ice cream machine. In your ice cream maker, process the ingredients. You must do it according to the instructions of the ice cream maker.
Step 6: Refrigerating Sorbet Until It's Firm
Freeze for at least 6 hours, placing the mixture in a plastic storage container. Finally, you have your sorbet ready!  Scoop it up in your bowl and enjoy!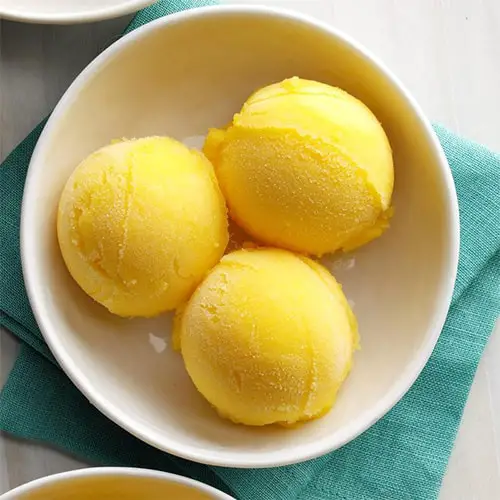 Few Important Tips Regarding Mango Sorbet
The recipe has already been covered in detail. But you still need some necessary tips. These might be helpful in terms of the convenience of the recipe and come in handy!
What Can I Add to The Sorbet to Make It Kid-friendly?
You can add soda drinks like fizzy drinks to make it kid-friendly. Or just remove the alcohol from the recipe.
What Extra Can I Add to The Sorbet?
Well, there are some fun pairings to sorbet. You can add a combination of pineapple and rum, grapefruit and honey, or peach and chardonnay.
How Do I Freeze Sorbet Made at Home?
Homemade sorbet will keep in the fridge for approximately a month before becoming too frosty. Serve the sorbet immediately. Allow a few minutes for the sorbet to soften on the counter before scooping it into serving glasses.
Is Eating Sorbet Okay for The Vegans?
Well, it contains nothing like meat, milk, cheese, or butter. Thus, it is okay for vegans to have it.
Can I Make My Sorbet Less Sweet? If Yes, How?
Xanthan gum can also be a solution. It helps to provide texture and thickness without using a lot of honey or sugar.
Well, we tried our best to wrap up the recipe as much as we could. Try out our recipe and soothe yourself with this breathtaking mango sorbet! Leave a comment below for any queries regarding this.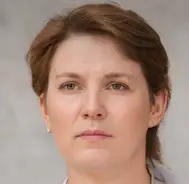 Latest posts by Leah Greenstein
(see all)