Eggs are delicious, easy to prepare, and one of the significant meal ingredients today. One common argument to consider is the chicken egg vs. ostrich egg debate. 
Both makeup for notable nutritional powerhouses, but there is more about these eggs than the average person has considered. Fortunately, we have identified everything you need to know about both.
Join us as we take a look at all these factors in the guide below:
Chicken Eggs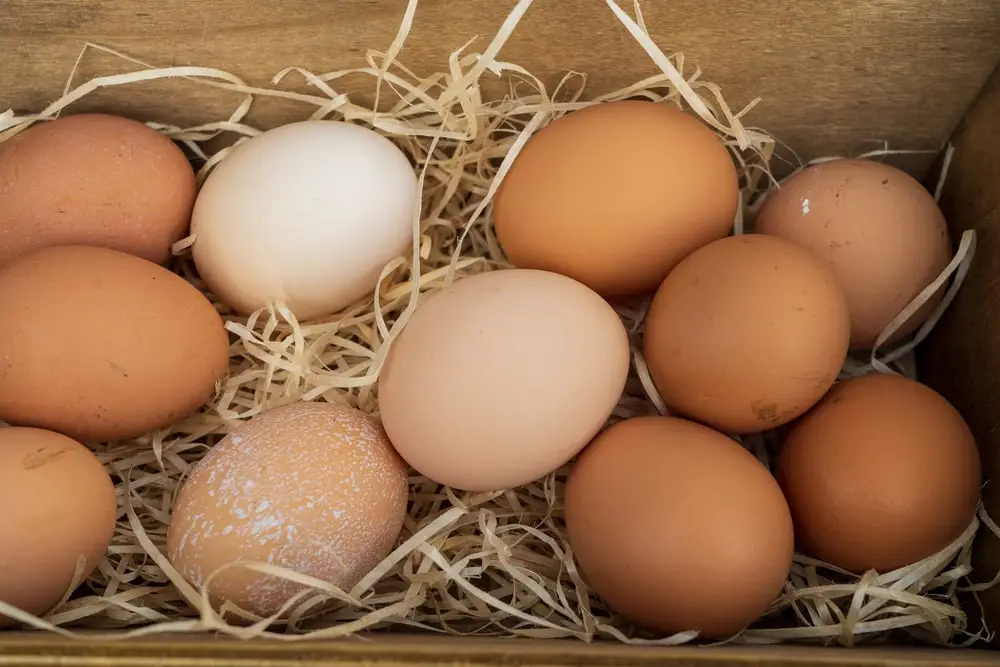 Source: Unsplash.
A recent report showed that the average American consumes up to 275 eggs yearly. 
Even though eggs were once under intense criticism for their cholesterol, they are nowadays popular for containing large diversity of nutrients.
 Eggs are an affordable source of protein and make up for excellent additions to healthy diets. 
According to a recent report by the USDA, one chicken egg contains the following ingredients:
72 calories.
4.75 g fat
1.55 g saturated fat
0.4 g carbohydrates
6.3 g protein
However, you also have to realize that the nutrients in free-range eggs are the same as the cage-free or organic types. 
Generally, the nutrition for any chicken egg your find tends to be similar. However, the numbers might vary on factors such as the size of the egg and the preparation method.
Chicken eggs are also rich in various minerals, including phosphorus, zinc, potassium, and selenium. 
Eggs are also an excellent source of vitamins in the body such as B, E, A, and K. Furthermore, eggs are also rich in nutrients such as choline, which are crucial for brain functions such as memory and creativity. 
A recent National Institutes of Health report showed that eggs could deliver up to 28% of choline. 
The yolk of an egg also contains an average of 2.8 grams of protein, while the larger ones can contain over 3.7 grams of protein. 
Ostrich Egg Nutrition
Source: Unsplash.
One of the notable aspects of an ostrich egg is that it contains large amounts of protein and essential amino acids for the body. Plus, ostrich eggs also contain omega-3 fatty acids, which are vital for body functions.
Here are the ostrich egg nutrition details you should consider:
1900 calories.
110 g of fat.
240g protein.
One ostrich egg also weighs up to 6 pounds and might take up to 50 minutes to get ready, and is almost similar to having up to 25 eggs. From a practical perspective, ostrich eggs are not suitable meal items.
So, how many calories are in an ostrich egg?
While an Ostrich egg contains up to 2000 calories, it also provides lots of nutritional value. Additionally, the cholesterol level is also lower compared to the amount you find in chicken eggs.
But then again, there is no benefit if comparing a single chicken egg to an alternative that is up to 8 inches long and weighs 7 pounds.
Anyone who can consume an entire ostrich egg will undoubtedly get a rich supply of calories. An ostrich egg delivers up to 2100 calories, while an adult's recommended amount average is 1800 calories.
The average amount of fat in ostrich eggs is also significant, and you must be careful when consuming one. A recent report by the Cleveland Clinic also recommends that each individual get about 77 grams of fat from their diet. 
The average adult requires about 0.9 grams of protein daily to manage optimal body weight. We have curated the following argument to help you put things much better into perspective. 
Based on the USDA's DRI Calculator, a 30-year-old woman weighing 154 pounds should get about 55 grams of protein daily.
However, one ostrich provides more than sufficient fat for a body type for up to 5 days. The average ostrich egg protein is also significantly high.
So are you searching for an ostrich egg for sale? Well, you may have to consult with popular regions for being home to the bird or local wildlife and conservation groups in your area. The average ostrich egg price is between $30 to $50.
Here is a Youtube Video to help you learn more about ostrich eggs.
How Do You Cook Ostrich Eggs?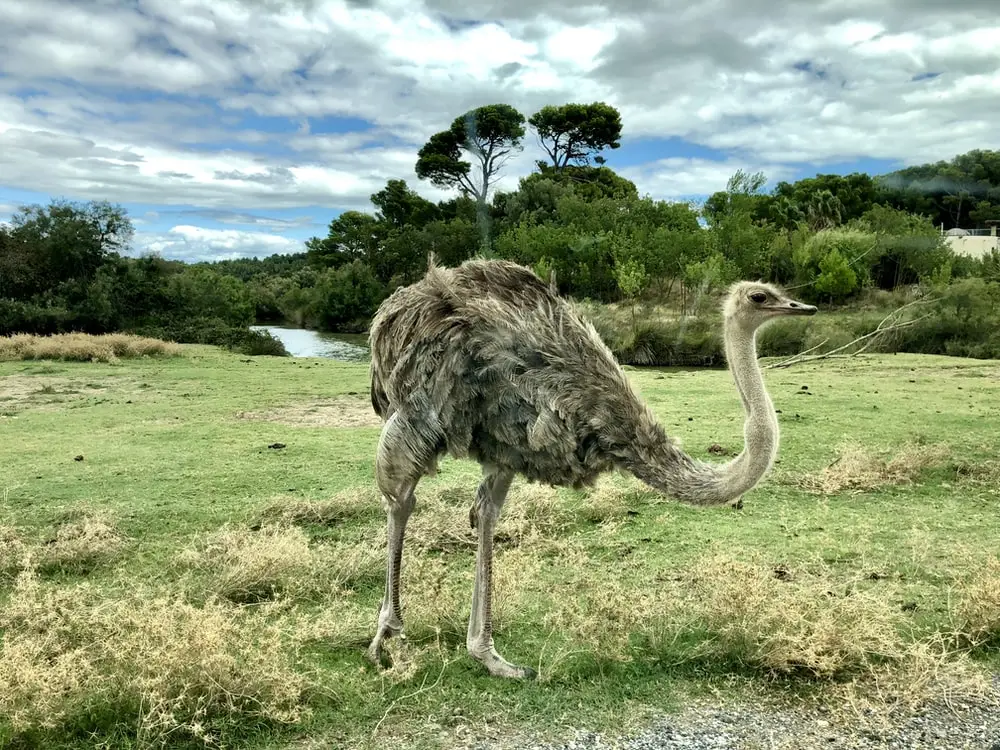 Source: Unsplash.
Cooking ostrich eggs involves the same steps as preparing chicken eggs. There are various recipes out there that you can pick for meal preparation procedures. While you may need significantly considerable cooking resources, both eggs require the same resources.
Most people who have never had ostrich eggs before tend to boil them because it's a straightforward approach. Expect an ostrich egg to take up to one hour to boil effectively. 
However, scrambled or fried ostrich eggs are also typical, especially among indigenous groups and outdoor enthusiasts. Gordon Ramsay is also famous for having several ostrich egg recipes, with this Youtube Video being a good example. 
The steps involve lining up your pan with olive oil and then cooking the egg for up to 20 minutes. Scrambling is the easiest approach, and you might need an amply-sized skillet for this process.
What Else Can You Do With Ostrich Eggs?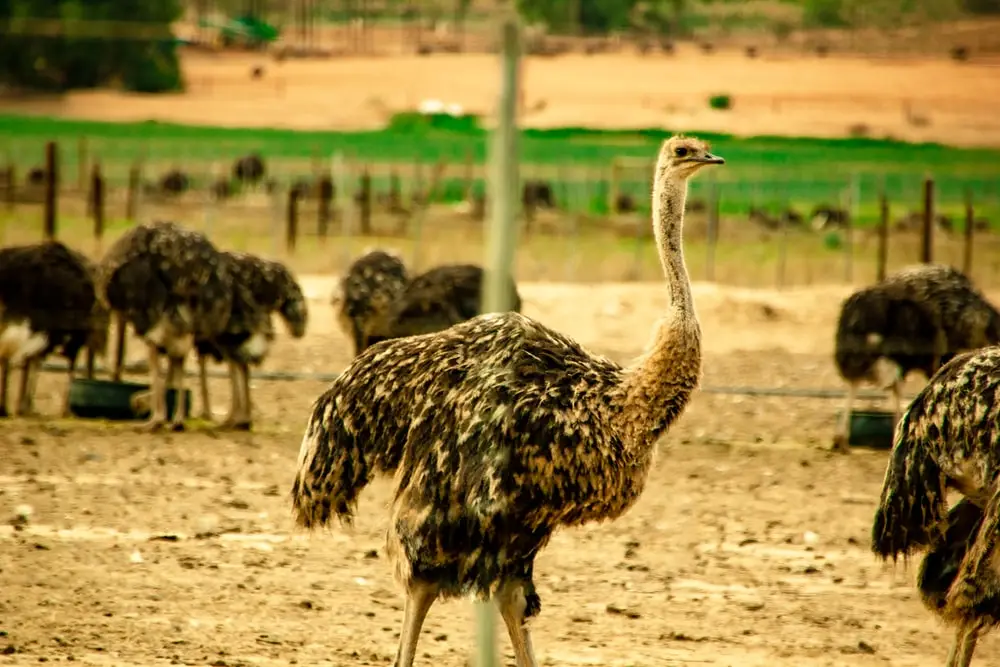 Source: Unsplash.
You can do various things with ostrich eggs, but getting them is often a challenge. The reason is that it's often costly to access the eggs, and not many people are willing to pay that much for them.
Luckily, there are various other things that you can do with ostrich eggs. A good example is that an empty ostrich egg is applicable for arts and crafts projects. The eggs are also available in various sizes, giving you even more room for creative projects.
You can also research online for some inspiration. People use the eggs to paint patterns and even to add interior spaces as part of design procedures. However, ostrich eggs often undergo sterilization procedures to make them suitable for human use.
Some cultures have even used ostrich eggs for applications such as fertility treatments. 
Frequently Asked Questions (FAQ)
Are Ostrich Eggs Healthier than Chicken Eggs?
For each serving, ostrich eggs contain a significant amount of choline and vitamins. It also contains vitamin B12, folic acid, and riboflavin. However, ostrich eggs are enormous, and it's impossible to consume an entire egg alone.
Why Are Ostrich Eggs Not Eaten?
There are various reasons why it's not practical to eat ostrich eggs. The most common example would be that ostrich eggs are not economical to consume or access. On average, one ostrich egg is similar to up to 23 chicken eggs.
How Much Bigger Is an Ostrich Egg than a Chicken Egg?
Ostrich eggs rank high among the largest egg sizes, but the ratio of the egg size to that of the bird is relatively small. On average, an ostrich egg measures 16cms long and 12cms wide, with an average weight of 6 pounds. That is over 20 times the size of a chicken egg.
Does an Ostrich Egg Taste Good?
Yes, an ostrich egg tastes good and provides various health benefits. Ostrich eggs contain large amounts of nutrients and also make up for excellent additions to everyday meals. The ostrich egg vs chicken egg taste argument depends on your personal preferences.
There are various factors to consider in the chicken egg vs. ostrich egg argument. While ostrich eggs generally seem healthier, the chicken egg is a notable dietary contender. Ostrich eggs are, however, not commonly based on a practical and economic perspective.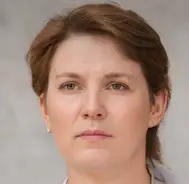 Latest posts by Leah Greenstein
(see all)