On a clear chilly morning, who can say no to a cheesy Pizza from Casey's. In fact, their breakfast pizza is Iowa's favorite grab n' go breakfast meal. 
Casey's serves a variety of pizzas, but their breakfast pizza is truly remarkable. The cheesy sauce is a great option for making a quick breakfast pizza at home. And nothing can beat a breakfast meal like this.
If you want to recreate your own Casey's Pizza,  we've got you covered. Be with us till the end if you want to have this delicious Pizza at your home.
Difficulty Level: Easy
Serving Size: 6-8 Servings
Preparation Time : 3 Hours 
Cooking Time:  20 minutes
Total Time: 3 hours and 20 minutes
Nutrition Facts:
Serving: 0.5 pizza
| | |
| --- | --- |
| kCal | 556 kcal |
| Carbohydrate | 21.5g |
| Fat | 38.3 g |
| Saturated Fat | 18.6 g |
| Protein | 30.4 g |
| Cholesterol | 0.279 g |
| Sodium | 1.193 g |
| Potassium | 0.166 g |
| Fiber | 0.8g |
| Sugar | 1.6g |
| Calcium | 0.495 g |
| Iron | 0.002 g |
Ingredient List
For Dough 
½  cup (120ml) warm water (in between 100-110°F)
1 and ½  teaspoons of instant yeast 
½  tablespoon (6g) of granulated sugar
1 tablespoon (15ml) of olive oil
1 tablespoon (15ml) of vegetable oil
¼  teaspoon of salt
1 cup (220g) of all-purpose flour 
For Cheese Sauce
2 Tablespoons of butter
2 tablespoons of flour
1 cup of milk
1 cup of shredded cheese cheddar or mozzarella
¼ tsp of salt
For Your Toppings
6 slices cooked bacon or 1/3 lb cooked breakfast sausage 
4 eggs cooked and scrambled (seasoned with salt & pepper)
1 cup cheese cheddar or mozzarella or a combo of both
Step-by-Step Process of Making Casey's Pizza
You can carry out this Pizza with all the ingredients mentioned above. So, let's get started.
Step 1: Make The Dough
Heat the water to about 100 and 110 degrees Fahrenheit to begin. Spread the yeast on top of the water. Sprinkle sugar on top of the yeast after that. Now you must wait until the water gets foamy.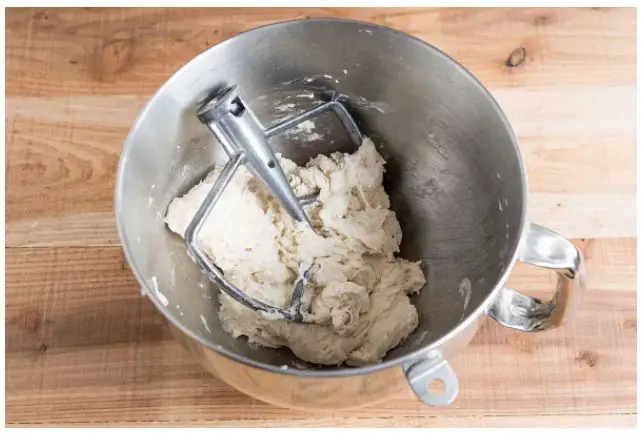 Once the water is foamy, get to your mixing bowl and pour in the yeast mixture. In a mixing bowl, whisk together the all-purpose flour and salt.
Now, at low speed, mix for roughly 2 minutes. Proceed to mix until the bottom of the basin is free of dry flour clumps. Then, drizzle in the oil and continue mixing on low for another minute.
Finish with a medium-speed mix for 8 minutes. At this level, the dough should be rather soft.
Now, take the dough and roll it into small balls. Put the dough balls in a plastic container afterward. Place the dough in the refrigerator now.
After 2 hours, remove the dough from the refrigerator. Allow it to cool to room temperature for at least 10-15 minutes. Cover the dough with a towel to keep it from drying out.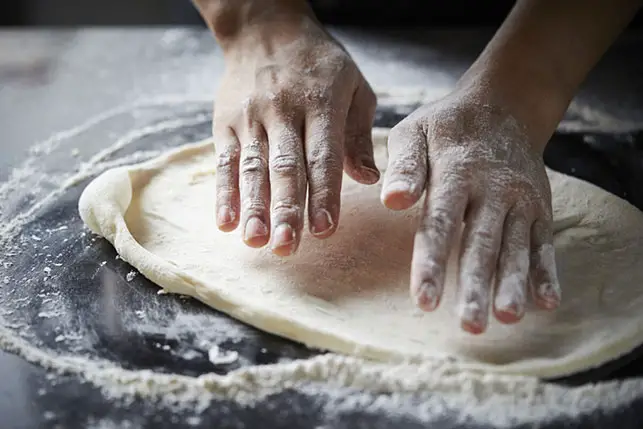 Then to keep the dough from sticking, dust it with flour. Now, roll out the dough, stretch it out, and form it into a round pizza crust.
It's time to spray your pizza pan with vegetable oil. Place the dough on the pizza pan after that. Pull and stretch the dough to the pizza pan's edge.
And there's our crust.
Step-2: Make The Cheese Sauce
Now, we'll be making the sauce.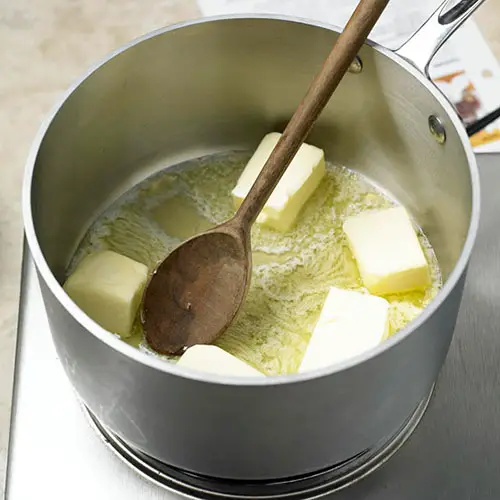 To begin, melt the butter in a medium saucepan over medium heat.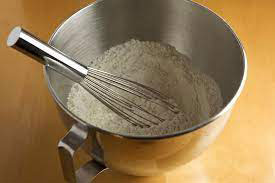 In a separate bowl, whisk together the flour and salt until a paste forms. Slowly pour in the milk. Stir it constantly until it is completely absorbed and there are no lumps for 2 minutes.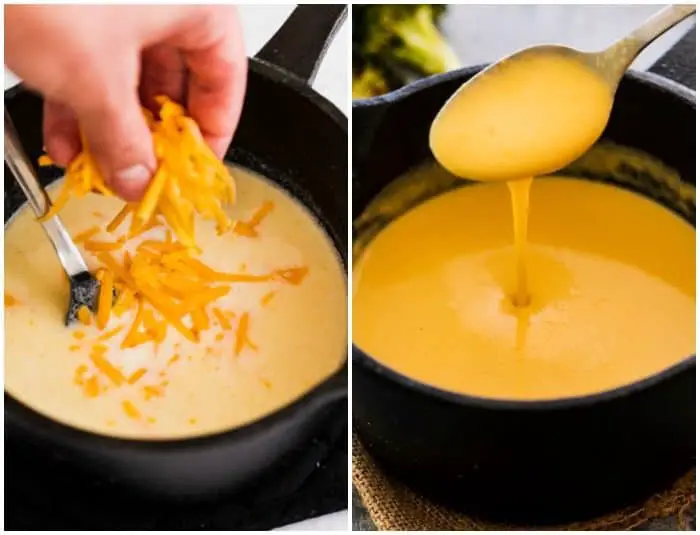 Add the cheese, stir until smooth, heat for 1 to 2 minutes until it has melted.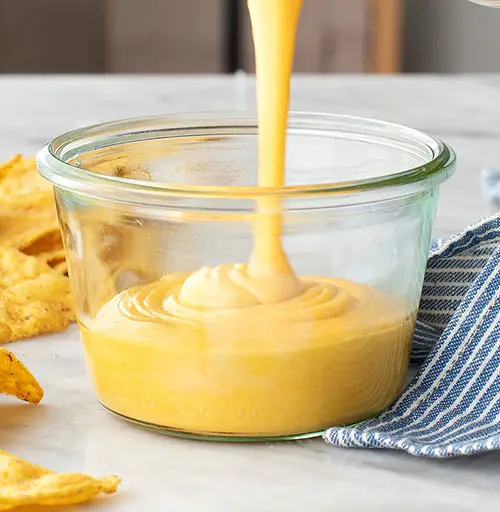 And there's our cheese sauce. 
Step-3: Assemble The Pizza
Now comes the crucial part. We'll assemble the things down and make a delicious pizza. 
Preheat the oven to 450 degrees Fahrenheit before beginning. Then brush the pizza crust with olive oil. 
After that, ½  to ¾ cup cheese sauce should be spread throughout the pizza crust. Let it settle within the edge and all over the pizza.
Now add the cooked and crumbled bacon or sausage to the cheese sauce. Evenly distribute the cooked and seasoned scrambled eggs throughout the pizza afterward.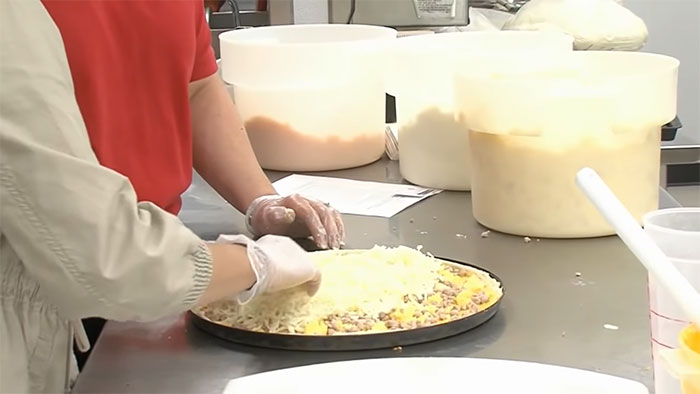 For the toppings, use a cup of mozzarella or cheddar cheese. You can also use a mix of the two on top.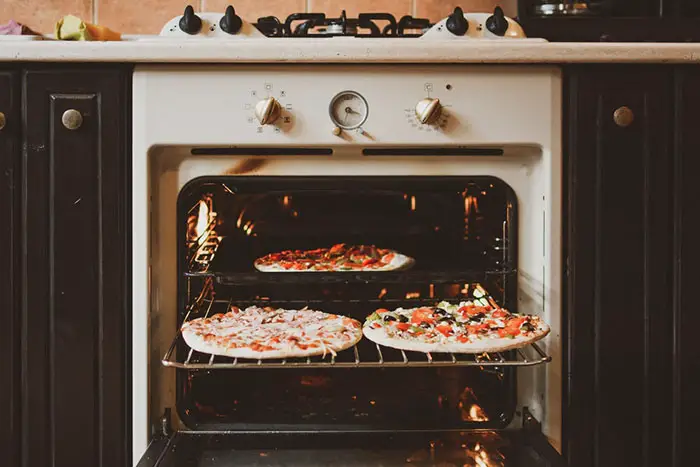 Bake the crust until the cheese has melted. Check if the crust is golden brown for 15 minutes. It should take roughly 8 minutes to complete this task.
The cooking time will vary depending on the type of crust you use. But, you need to air fry at 450 degrees for 4 minutes for this recipe. 
Allow for 5 minutes of cooling time after that. Let the cheese sauce set and avoid oozing.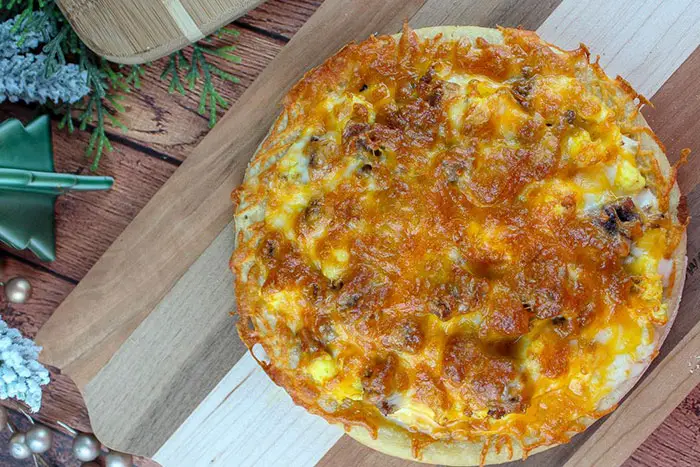 And that's done. Our Queen of Breakfast Pizza is ready at your service.
Some Important Tips
If you go through the process, you will be able to carry out this easy recipe. But in case you want to know more, here we got some tips-
What's On Casey's Veggie Breakfast Pizza?
Casey's Veggie Breakfast Pizza is made with cheese sauce or sausage gravy. And, that is topped with scrambled eggs, green peppers, onions, and mozzarella. Also,  they add their special cheddar cheese to the pizza.
What Cheese Does Casey's Pizza Use?
Every pizza at Casey's is handcrafted from scratch with the freshest ingredients. They use 100 percent whole milk mozzarella cheese, fresh hand-cut veggies, and quality meats on their homemade crust. 
Now that you have a complete recipe, what are you waiting for? Grab a bite of this delicious pizza freshly baked at your home.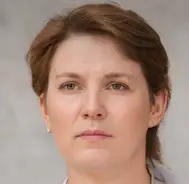 Latest posts by Leah Greenstein
(see all)