Often you don't find good restaurants for vegetable enchiladas. Whereas, you can see a lot of restaurants serving chicken enchiladas. 
Well, that's why black bean enchilada is such a recipe that you can make at home. And you won't be missing the restaurant at all. So, prepare this recipe and call your friends over for dinner.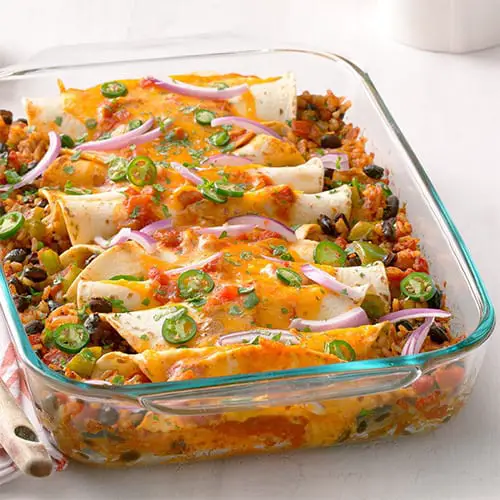 Difficulty Level: Easy
Serving Portion: 9 servings
Preparing Time: 10 minutes
Cooking Time: 50 minutes 
Total time: 60 minutes
Nutrition Facts
Black bean vegetable enchiladas can provide you around 566.9 calories per serving.
Amount per serving (approximate values)
| | |
| --- | --- |
| Nutrient | Amount |
| Fat | 15.1g |
| Cholesterol | 45.5g |
| Sodium | 1.3805g |
| Potassium | 0.6734g |
| Carbohydrate | 79g |
| Protein | 32.9g |
Cooking Equipment
Cast iron skillet (large)
9×13 inch baking dish
Ingredients
6 cup homemade enchilada sauce (4c. Tomato sauce, 2c. adobo sauce, garlic)
6 tablespoons of olive oil
3 cup chopped red onion (about 3 small red onions)
3 chopped red bell pepper 
3 bunch of broccoli/1 small head (about 3 pounds) of cauliflower (sliced into small pieces and florets removed)
3 teaspoon Frontier Co-op Ground Cumin
3/4 teaspoon Frontier Co-op Ground Cinnamon
15 to 18 ounces baby spinach (about 15 cups, packed)
3 can or 15 ounces of drained and rinsed black beans or 4 ½ cups cooked black beans 
3 cup Monterey Jack cheese (shredded and divided)
1 ½ teaspoon salt
Freshly ground black pepper
24 whole-wheat tortillas (8" in diameter)
A handful of chopped cilantro, for garnishing
Directions To Cook The Perfect Black Bean Enchiladas
Step 1: Preheat The Oven
Foreheat the oven to 400 ℉. Place one rack in the middle and one in the upper third. Line a baking sheet with parchment paper after greasing it with olive oil.
Step 2: Prepare The Filling
Take a large skillet and heat it over a stove at medium temperature. Spout a few drops of olive oil. Put in onions and a pinch of salt.
Cook until you see the onions become tender and translucent. Continue cooking like this for 5 to 7 minutes.
Now add broccoli and bell pepper. Reduce the heat to medium-low. Keep stirring so that they don't get stuck at the bottom.
Cover the skillet so that the heat isn't convected. Cook and stir once or twice every minute. Cook for 8 to 10 minutes. To understand if it is done, you can look at the color of the broccoli. 
If it becomes brighter green and starts to turn golden in the edges, it's done.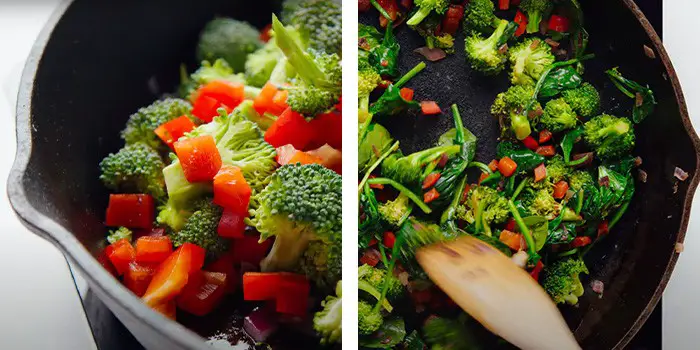 Step 3: Spicing Up The Mix
Now the vegetables are ready to combine with spices. Add cumin and cinnamon into the skillet. Mix and cook well for around 30 seconds. Don't stop until you can smell a slight smokey sweet fragrance.
Throw a few handfuls of spinach into the skillet and mix them well. Don't mix all the spinach at once. Add a few handfuls, mix and repeat. 
Cook until all the spinach reduces to almost one-third and wilts completely.
Step 4: Seasoning The Filling
Transfer all the roasted contents of the skillet to a medium-sized bowl. Put in both the cooked and the rinsed black beans. Add 2 tbsp. homemade enchilada sauce. Drizzle a few drops of lemon juice to enhance the taste.
To season the mix, add 1/2 tbsp. of salt and 1/2 tsp. freshly ground black pepper. Stir it well so that the ingredients mix properly.
Step 5: Making Enchilada Sauce
In a medium skillet, heat olive oil at medium temperature. Add 4 c. tomato sauce, 2.c adobo sauce, and garlic. Stir it twice every minute. Let it simmer for around 5 minutes.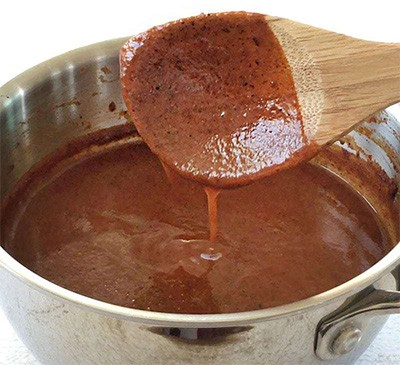 Step 6: Enchiladas, Assemble!
Pour ¼ cup enchilada sauce into the baking dish. Tilt it from side to side until the bottom is coated evenly. Take a tortilla and spread ½ cup of the vegetable filling down the middle of the tortilla.
Then wrap from one side and then the other. Place the seam down against the edge of your baking dish. 
Do this for the rest of your tortillas and filling mixture. Now, pour the extra sauce over the enchiladas as shown in the picture. Pour sour cream and lemon juice on top.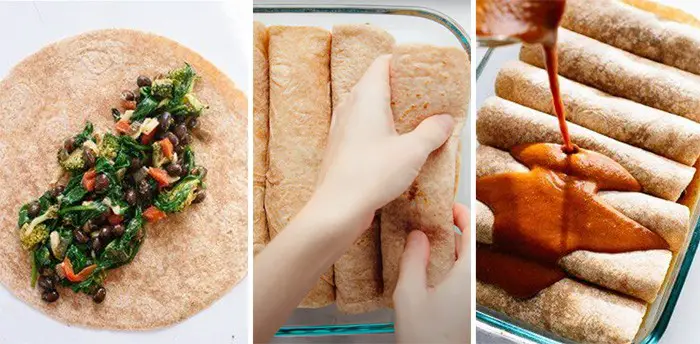 Step 7: Bake It To Make It!
Load the baking sheet into the preheated oven. Bake (covered) in the middle rack for around 20 minutes. If the color of the tortillas is not brownish, transfer the tray to the upper rack. Bake uncovered for another 3-6 minutes.
Step 8: Serving Hot And Fresh Enchiladas
Take the baking sheet from the oven and rest it for 10 minutes.  You can sprinkle some chopped cilantro down the center of the enchiladas. Add some avocado slices and lime slices. And there you go. You're ready to serve.
Quick Questions About Black Bean Enchiladas
Is This Recipe Vegan?
Yes, this recipe is completely vegan. You can add vegan cheese instead of sour cream if you like.
What Can Be A Substitute To Black Beans?
You can always use kidney beans if you don't like black beans. They are very similar to black beans once they are baked.
You can also use chickpeas instead of beans.
Are Enchiladas Unhealthy?
Well, enchiladas are not exactly what one calls healthy. But considering its low-calorie value, it's not too unhealthy either.
Can I Add Cheese?
If you are not a vegetarian, but still want to eat this vegetable enchilada, you can add cheese. You can add it while cooking the filling or stuffing the tortilla. You can also add pepperoni on top of the tortillas.
Congrats! Now you have the recipe for the best vegetarian black bean enchiladas. Go ahead and invite your friends over. They're gonna like it for sure.
Feel free to share any ideas about this recipe in the comment section.
Till then, best regards.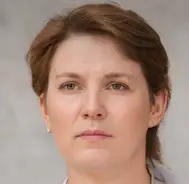 Latest posts by Leah Greenstein
(see all)