Want an out-of-body experience? Then stuff your mouth with our rendition of BJ's Brewhouse's Great White Pizza.
Our recipe for the Great White is sure to satiate your cravings. Deep-dish pizzas are pizzas made in an "American image". It's made in a deep pan rather than a flat board or pan. 
It has the structure of a pie rather than a pizza. This makes it a heartier meal than a traditional pizza. 
This American rendition of Italy's pride was discovered by the working class during WW2. The inspiration behind this was to utilize leftovers to make a pie.
Difficulty Level: Hard
Serving Size:  112-120 pizzas
Preparing Time: 1 hour 15 minutes
Cooking Time: 30 minutes
Baking Time: 15 minutes
Total Time: 2 hours
 Nutritional Facts( Per Slice):
| | |
| --- | --- |
| Calories  | 330 |
| Total Fat | 14g |
| Trans Fat | 0g |
| Saturated Fat | 6g |
| Cholesterol  | 47g |
| Sodium | 910mg |
| Total Carbohydrates | 32g |
| Dietary Fibre | 2g |
| Sugars | 3g |
| Protein | 19g |
Ingredient List
2 cups of Flour
1 Packet of Instant Dry-Yeast)
1 Tsp Salt, Sugar & Olive Oil
3-4 Cups of water
½ a cup Butter
1-pint Cream
4 Oz Cream Cheese
1 clove of Garlic (Diced)
¼ tsp Salt and Pepper
1 tsp of Italian Seasoning 
1 cup Parmesan
Shredded Gouda & Low Moisture Mozzarella (to your preference)
Mushrooms (to your preference)
Diced Tomatoes (to your preference)
Grilled Chicken (to your preference)
Cookwares you'll need
Deep-Dish Cast-Iron Pan
Baking Oven
Kitchen Mixer with Dough Hook
Step-By-Step Direction for Making A BJ's Brewhouse Pizza 
Ready to make your Deep-Dish Pizza? Let's get to mixing! 
Step 1: Mix The Dough
In a large mixing basin, combine 2 cups of flour, yeast, salt, and sugar. Add 3-4 cups of warm water and 1 tbsp olive oil and turn the mixer on.
Mix in the mixer till the dough becomes sticky and then transfer to a floured board. Next, knead the dough by hand for a solid 10 minutes.
Oil a bowl with a few drops and put the dough ball in it. Cover with a towel and set aside for 60 minutes to rise in a warm location.
Step 2: Make The Sauce
Meanwhile, we should make our white sauce.
Start by adding ½ a stick of butter and melting it down. Then, add 1-pint of Cream and
4 oz Cream Cheese along with 1 clove of diced garlic.
Next, add 1 tbsp of Italian Seasoning and ¼ tbsp of Salt & Pepper. Finish with 1 cup grated parmesan. Continue to cook the mixture on medium until the sauce thickens.
Step 3: Assembling the Pizza
Next, we need to assemble the pizza. Begin by rolling out and resting the rested dough on the pan. Remember to oil the pan with a tbsp of oil.
Next, ladle the sauce on the pizza and spread it out.
The next step is to add your cheese. Use a dry kind of cheese. We recommend a mixture of good quality Gouda and low-moisture mozzarella. On top of the pizza, sprinkle the mixture.
Then, dice some mushrooms (of any kind) and spread them over the pizza. Next, add some diced grilled chicken and tomatoes on top of the mixture.
Step 4: Bake and Serve
For the final step, set the oven at 500 degrees Fahrenheit. Then, bake your deep-dish pizza for 10-15 minutes, or until cooked through.
Remember to check for doneness afterward, by looking at the crust. If it's golden brown and crisp, it's perfect.
Take the pizza out, and the cheese should now be bubbling. The chicken should have a darker color.
The tomatoes should have a slight char on them, along with the mushrooms. The crust should have a lovely golden-brown tint to it.
Deep-dish pizzas are also known as "Chicago-Style" pizzas. The end product should make anyone from Chicago proud and teary-eyed.
Remove the pizza from the oven and slice it into 6-8 slices. And feast your eyes on the layers of cheese as you take out a slice!
Bon-Appetit!
Some Important Tips- 
You will be able to complete the recipe without difficulty if you follow our instructions. However, if you're having difficulties, take a look at these suggestions.
Is My Deep-Dish Pizza Meant To Be Doughy?
Yes, it is. The dough forming the base should be soft and doughy. However, the crust should be crunchy.
How Do I Check If My Deep-Dish Pizza Is Done?
The quickest way to test the doneness of your pizza is using a thermometer. Stick a thermometer at the center of the pizza, up to the base. If the temperature registers above 190 degrees Fahrenheit, it is perfectly done.
Why Is My Pizza Soggy In The Middle?
The most common reason is that your oven wasn't hot enough. Set at a minimum of 500 degrees Fahrenheit. The toppings are another factor, they may have released too much moisture.
We hope you like this dish and will give it a try. We tried keeping it as easy as possible for your better understanding.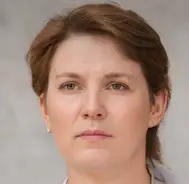 Latest posts by Leah Greenstein
(see all)