Let us accept this inevitable fact, mastering the art of cooking is not only about your cooking skills, but it's also about the cooking resources that you have available. Take, for instance, when you are outdoors camping, and you still want to enjoy quality grilled meats or chicken – you need a good grill that is up to the task. For this reason, we have compiled useful information on the best camping grill for you to consider. 
When choosing a camping grill, you want a portable unit, without causing any compromise on its cooking ability. More so, the grill should also come with various ease of use features, to make cooking a convenient process. Most likely, you are going to settle for a propane grill, because it's the most advantageous source of power. That said, propane is a highly flammable gas, and you also have to practice caution at all times. This way, you can enjoy cooking high quality food outdoors and still stay safe regardless of the presence of the propane gas grill.
Let's get started:
How to Buy the Best Camping Grill
Temperature Control
To cook the best meats on a grill, you have to control the temperature, otherwise, you might not like the result. When using gas grills, the process should be fairly convenient because they come with knobs, which make it easy to regulate the heat level. 
When using charcoal grills, the process can sometimes be challenging, especially if you don't have a knob to control the heat. You might have to adjust the temperature manually through the use of water, or perhaps controlling the amount of charcoal used.
Surface Cooking Area
The grill has to provide adequate space to cook your meals. Whether you want to cook for one, or perhaps for many people, ensure that you get a grill that is up to the task. More so, a home and commercial grill also have different surface areas. For a large family or get-togethers, consider something with a surface area of 150 sq inches or higher. However, for a small family, find a unit that is 100 square inches or smaller.
Burners and Griddle Installation
As far as burners go, there are two main factors to consider. The first is the number of burners that are available on the gas grill. Having several burners is convenient because you can cook different meals at the same time. Your ability to modify the cooking surface can also be a convenient feature to consider. The grill should let you place a griddle on the cooking surface, which is also suitable for cooking different types of meals.
On average, a proper burner provides an average of 6,000 BTUs of power and higher. Ensure that you check the unit for this metric before investing.
Grates
Most if not all camping grates feature a furnace, which you use to cook the food. Furthermore, most of these grills are usually made using stainless steel material. The material is excellent because it can resist heat, it's a good conductor and is also simple to clean. 
A better option for enjoying tasty food would be to go for a cast iron grill, because this also makes it easy to control the flavour. Porcelain-coated materials are also excellent but tend to be available for the costly models only.
Ignition
The best camping grill should also ignite with ease, and you should not have to use a lighter or matchsticks for the process. For this reason, most high-end grills come with an electric or push-button ignition for ease of use. It's an important feature that you should consider when getting a grill, as it will make things convenient. However, when using charcoal grills, there is no need to press a button, because this can make things much more complicated.
Construction
The overall design structure of the grill is also a crucial factor to consider. To be specific, you want a grill that has a heavy-duty design, without being overly burdensome. Furthermore, you want the grill to have a unique finish that is resistant to issue such as rust, or elements such as dust. The unit also has a stable design, whereby you can use it on sandy beaches or perhaps grassy surfaces, without any issues.
Ease of Transpiration
Your ability to transport your grill conveniently should also be a pivotal factor to consider. The cooking unit should have cool-touch handles, which are also ergonomic. The cool-touch handles mean that the handles stay cool, regardless of the cooking temperatures. This way, you can quickly relocate or store the grill conveniently. Furthermore, the grill should have a compact design because camping involves a lot of movement. It should be small, without causing any issues on your ability to set up and cook meals.
Fuel Tanks
For those who have propane grills, you might have to get extra tanks and get them refilled. Thus, ensure that you check your cooking grill, to determine the size of the tank and whether it suits your cooking needs. Most high-end grills come with disposable tanks, which you can throw away or release after the cooking process. If you are going for a more extended camping trip, consider getting a large sized tank. However, a large tank is often heavy and will increase the weight of the grill.
Shelves
One useful feature that you will appreciate on a grill, are the shelves, which are helpful for cooking in various ways. A grill with two shelves on either side can make cooking easy because you can access items such as condiments with ease. More so, the unique grill design also lets you access things such as towels, water and more at your convenience. For this reason, ensure that you go for a grill with a detachable shelf, which you can clean for later use.
The Grill Brand
Just in the same way as buying various types of consumer products, you want to get a grill for a reliable brand. The common brands to consider include Weber, Pit Boss, Char-Broil, Cuisinart and more. Choosing products from a reputable brand provides a host of benefits. You get a grill that comes with a warranty, high-end features and accessories. These are among some of the top brands when it comes to producing high quality grills. They have products with various functions, and you will easily get a reliable grill from one of these brands.
Best Camping Grill Under $100
Pit Boss Grills PB100P1 Pit Stop Single-Burner Portable Tabletop Grill
With the Pitboss PB100P1 portable tabletop grill, you have an excellent addition to your contemporary kitchen. This unit provides an exceptional 305 square inches of cooking space, to make it ideal for cooking many meals at a go.
Even more, the grill comes with a 10,000 BTU stainless steel burner, which can deliver high quality power results each time. The PB100P1 portable grill also comes with foldable legs, to make it simple to move around small spaces.
Thanks to the unique push-button ignition, the grill lights up fast and is highly convenient to use. The grill even comes with a lower grease tray slides for easy access. A good camping grill should have a heavy-duty design and should withstand the hassles associated with outdoor cooking. This is why the Pitboss PB100P1 is made using high-quality stainless-steel material. The material is not only durable but can provide years of reliable performance for your needs.
To make things better, this grill even comes with a flame tamer. Yes, you can easily customize the quality and precision of the flame on this unit to match the food you are cooking. Thanks to the easy to customize user controls, this grill makes aspects like heat control a breeze. This way, you can prepare your meats or vegetables with ultra, precise settings.
The Good
305 square inches of cooking space
Stainless steel body and hood with dome thermometer
Folding legs for easy portability
10,000 BTU stainless-steel U-shaped burner
The Bad
Could use ergonomic grills
It takes a few minutes to heat up
Weber 121020 Go-Anywhere Charcoal Grill
Travel along to your campsites with a handy grill such as the Weber 121020 Charcoal Grill. Even if you love spending time outdoors, this grill brings you back to life with some of the best-grilled foods.
Designed to be compact to fit in your track, and also big enough to feed several people – this grill is an excellent recommendation.
You can lock the lid in place by using pivoting legs and carry it around using one hand. The Weber brand has also done well to include lid hangers on this grill. The hangers let you place the grill on its side to provide a practical obstacle against issues such as wind when cooking. More so, the grill also has a nickel-coated grate, which is easy to clean, and porcelain steel lid is built for longevity. 
Are you searching for a compact grill that can also cook meals for many people? Well, this grill can hold as many as six burgers, and it also comes with a specially made burger press. On top of that, the grill is compact and lightweight for convenient grilling on the go. The lid locks for easy portability and the dampers provide exceptional heat control benefits.
The Good
Can hold up to six burgers with a burger press
Compact and lightweight for grilling on the go
Porcelain-enamelled lid and base retain heat
Lid locks for easy portability and dampers for heat control
The Bad
The heat control knobs are small
Could use improved stability
Char-Broil Grill2Go X200 Portable TRU-Infrared Liquid Propane Gas Grill
The Charbroil X200 is also an excellent addition to your camping regimen. The grill comes with features that make it easy to cook while still enjoying the benefit of a camping grill.
It's a roadworthy powerhouse, which does not mind living on the road. Thanks to its rugged construction and latching lid, you can expect a grill that does it all. Whether you want a camping grill or perhaps just a convenient addition to your camping experience, then you will like the Char-Broil X2OO Grill. It comes with an in-built push-button ignition, which does not require any batteries to operate.
The grill also comes with an exceptional 9,500 BTU burner, which powered using a small and disposable LP cylinder. Whether you are going fishing, camping or simply relaxing at the beach – this unit is perfect for your needs. Weighing in at 20 pounds, the grill is small but offers an exceptional 200 sq. inches of cooking space. The grill can cook different types of food, including vegetables, chicken, burgers and more.
Thanks to the die-cast firebox and aluminum lid, this unit is built to survive any type of outdoor adventure. The top is also hinged to the rest of the grill, which is a convenient design if you have limited space to cook. When it's time to go, packing up is simple and straightforward thanks to the superior design of the grill. The quality rust-resistant and durable construction helps to enhance the longevity of the grill.
The Good
Roadworthy and built to travel easy
Cast aluminum firebox and lid with steel latches
High impact frame with legs and carry handles
No flare-up TRU infrared cooking system
The Bad
Somewhat heavy for some users
The exterior finish is not durable
Best Camping Grill Between $100 to $200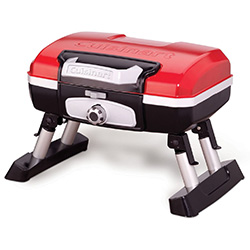 Cuisinart CGG-180T Petit Gourmet Portable Tabletop Gas Grill, Red
Portable, Powerful and Pronounced. These are just some of the few benefits you can expect when using the CGG-180T gas grill.
This unit is compact, and you can place it anywhere for optimal user convenience. More so, while the grill is small, the large cooking surface size makes it ideal for various types of cooking. Furthermore, the grill heats up fast and uses a far less amount of energy than a conventional grill. To make things better, the grill provides an exceptional 145 sq. inches of grilling area. 
On top of that, the foldaway legs on the grill mean that its simple to set up and store, in your already limited space. The CGG-180T best camping grill also comes with a powerful 5,500 BTU burner, which is ideal for an array of foods. Thanks to the aluminum legs and stabilizing feet, you can be sure that this grill sits stable on any floor surface.
You will also appreciate the unique grill design, that offers years of reliable cooking performance. It's a heavy-duty unit, designed to resist exposure to elements such as dirt, dust and more. The grill also has useful features such as the briefcase-style handle, which makes it simple to transport. Weighing in at 13.5 pounds, this grill is easy to carry, but still powerful at the same time.
The Good
Portable gas grill with 143 square inch cooking surface
Powerful 5,500 BTU stainless steel burner
Porcelain-enameled grate and stabilizing design
Integrated lid lock is easy to set up
The Bad
The lid lock is not durable enough
Has only one burner
Masterbuilt SH19030819 Smoke Hollow PT300B Propane Grill
Any cooking enthusiast will know that the Masterbuilt Brand is among some of the leading companies in producing cooking resources. This is why this list would not have been complete without the Masterbuilt SH19030819 smoke hollow propane grill.
Capable of providing well over 205 square inches of cooking surface and a convenient warming rack, this unit is an excellent addition to your cooking regimen. It also comes with an exceptional 10,000 BTU stainless steel burner, that can heat your food with extraordinary results.
Getting a grill that provides access to useful features is highly essential when you want to make kitchen meals. This is why the Masterbuilt SH19030819 grill comes with a host of unique features to make grilling your sausages, fillets, chicken and more, a breeze. Thanks to the inclusion of a stainless-steel drip tray, this camping grill lets you retain the vital food flavours each time. It also comes with foldable stainless-steel legs, which make it easy to store the grill even in small spaces. 
With its durable and robust steel construction, this unit lets you enjoy convenient outdoor cooking whenever you need it the most. Whether you want to go camping, tailgating or even boating, this unit is perfect for your needs. The grill also has a host of additional features such as large carry handles, a locking lid and more, which make it convenient to use.
The Good
Provides close to 205 square inches of cooking surface
Foldable steel legs for convenient storage
Stainless steel drip tray included
Compact design is easy to transport
The Bad
The handles heat up when the grill is used for several hours
Could use improved heat metrics
Weber 50060001 Q1000 Liquid Propane Grill
The weather is great outdoors, and the river water is glistening. Grab your portable Weber Q1000 gas grill, and call your friends for some outdoor cookouts.
Designed to suit your portability and reliable cooking needs, this grill is an excellent solution for your needs. It comes with many different features that make grilling a convenient experience. 
As you can always expect a good grill, this unit has a heavy-duty design, and it's built to live life on the road. It can get tossed around in the car, and sit stably even on rock surfaces. You will also appreciate that it sets up fast, and is easy to clean, thus making it convenient for the outdoors. Controlling and adjusting the heat levels on the grill is also a simple process. 
For instance, the grill is not only suitable for cooking, but it also has sleek styling, to let you grill with class and style. The grill also features a large grip handle and control knobs, which make it easy to customize the functionality of the machine. The sturdy front and rear cradles also mean that the grill will sit stable on most types of floor surfaces. You can also be sure of reliable starts each time when you use this machine. Whether its burger, brat, kabab or even a hot dog, this unit will deliver the results when required. You will also get the ability to customize the temperature level by customizing the control burner valve.
The Good
8,500 stainless steel burner and 189 square inch surface
Porcelain-enamelled cast iron grates and aluminium body
Fully assembled out of the box
Push-button ignition and infinite control burner
The Bad
Has only burner
The exterior frame is prone dirt
Best Camping Grill Between $200 to $300
Weber 51040001 Q1200 Liquid Propane Grill, Red
You are one step closer to enjoying some of the best-grilled meats on the consumer market? Why? the Weber Q1200 is an excellent way for you to cook grilled meats for the entire family.
Featuring one stainless steel burner that can provide 8,500 BTU, this unit is powerful enough for most cooking projects. The cooking surface area is also an essential factor to consider when buying an excellent grill for your needs. Thus, this unit provides an exceptional 186 square inches of cooking area, to make it perfect for cooking various types of meals.
There are various types of grill cooking surfaces, and choosing a proper one is crucial. Thus, the Q1200 comes with a porcelain enameled cast iron grates are durable, and the aluminum body is light in weight. The grill also comes with an in-built thermometer, which makes it easy to make temperature measurements. With the glass-reinforced nylon aluminum frame, this unit is durable and can provide years of reliable cooking performance. The grill even features an easy electronic start ignition, which makes it easy to start each time.
Made using durable cast aluminum material, this unit comes with a durable and highly efficient cook box system. The system will require minimal care, and can withstand the heat needed to cook at any temperature level. Furthermore, the shape of the cookbox when combined with the shroud offers optimal circulation and heat distribution benefits.
The Good
One burner that produces 8,500 BTU and with 185 square inch space
Inbuilt thermometer and folding side tables
Glass-reinforced nylon frame and removable pan
Cast iron cooking grates and aluminium body
The Bad
Could use more burners
Cleaning the grates is not easy
Coleman RoadTrip 285 Portable Stand-Up Propane Grill
Experience the exceptional cooking quality associated with using the Coleman RoadTrip 285 Portable Grill. This unit comes with two quick-fold legs and two wheels which allow for hassle-free setup.
Furthermore, the grill is also easy to transport, to take your camping trip and tailgating experiences to the next level. As one of the best grills on the market, you can expect a host of various other unique features to make cooking ease. Aside from being easy to use, the grill is easy to set up and perfect for use in outdoor spaces. 
For instance, the Roadtrip 285 grill comes with as many as three independently controlled burners. Yes, that's right, you can control the heat power of each burner individually. The power ranges of these units fall between 3,250 to 20,000 BTUs and with a 285 square inch grill grate spacing. This way you can wow your friends or family with your ability to cook grilled foods with ease. If you want more meal options, then you will appreciate the fact that this unit comes with interchangeable cooktops. 
These cooktops make it easy to switch the grill grates with a griddle or stove grate. The grill also comes with various other convenient features for ease of use. To be specific, the sliding side tables help to keep utensils and your sauces handy.
The Good
Can provide up to 20,000 BTUs of power
Three adjustable burners for optimal heat control
285 square inches of grilling space
Easy to set up with quick folding legs
The Bad
The folding legs are small
The grill is somewhat heavy for some users
Overall
Spending time outdoors camping with friends or family can be an excellent way to spend your leisure time. However, your experience outdoors are only as good as the equipment and resources you have with you. This is why the best camping grill is an excellent addition to your camping regimen. When getting a camping grill, your best bet is with a gas grill, that will provide convenient power. A charcoal grill is not easy to use, and electric grill requires a power outlet. 
Also, consider checking for aspects such as temperature control, grill design, the weight and more. By using this approach, you should get a good grill, that matches your needs.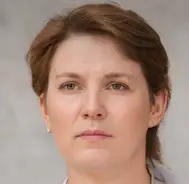 Latest posts by Leah Greenstein
(see all)