Barnaby has established its ground for more than 50 years. Since then, people have been so crazy to have their thin crust pizza.
People who grew up in Chicago and outstate, can't help but fall for this delicious Pizza. The crust is so thin yet so beautifully melts in the mouth. It surely feels like heaven. 
So, if you want to know about Barnaby's pizza recipe, we got you covered. We brought you the recipe for such delicious pizza.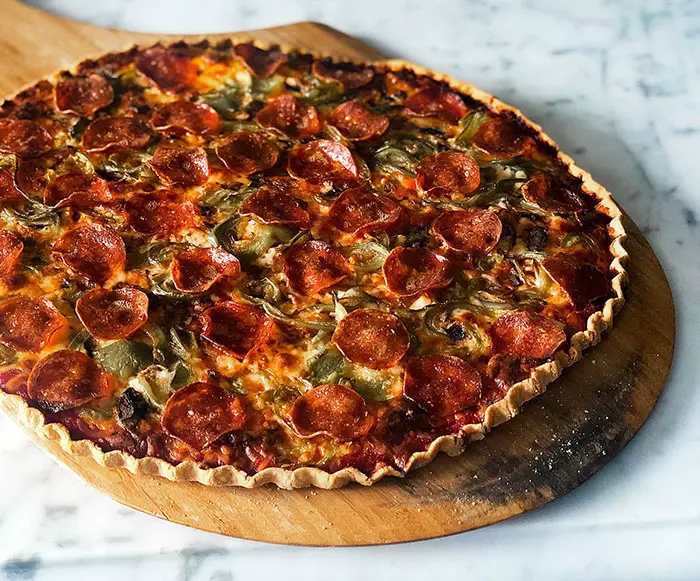 Difficulty Level: Easy
Serving Size: 6-8 Servings
Preparation Time : 3 Hours 
Cooking Time:  20 minutes
Total Time: 3 hours and 20 minutes
Nutrition Facts:
For each serving, the nutrition facts are:
| | |
| --- | --- |
| kCal | 404 cal |
| Carbs | 48g |
| Total Fat | 16g |
| Protein | 17g |
| Cholesterol | 0.022g |
| Sodium | 1.4 g |
Ingredient List
For Dough 
330g of All-Purpose flour
170g of water (heated to 90 degrees on medium speed)
6g of salt
1 tablespoon sugar
4g of rapid rise yeast
30g of cubed cold butter
For Sauce
1 (8 ounces) can Tomato Sauce
40g or 2.5 tbsp Tomato Paste
1/2g or strong pinch Oregano dry
5g Salt
10g Sugar
For Toppings
4-5 oz of Pepperoni
6-8oz of Regular Mozzarella
1 tablespoon of Parmigiano-reggiano
1 tablespoon of dried Oregano
8-10 Spicy Banana Peppers
¼ cup of Cheese
Step-by-Step Process of Making Barnaby's Pizza
You can carry out this Pizza with all the ingredients mentioned above. So, let's jump into the steps-
Step 1: Make The Dough
First, prepare the dough. For that, pick a food processor. Put the all-purpose flour, salt, and yeast in it. Give the mixture a quick pulse to mix and add the cubed cold butter right after that. 
It's better to mix it with butter as it stores the flakiness and crispiness. You can also use oil but it toughens up within 5 minutes. That process crushes the signature of the thin crust of the pizza. 
Following that, you should add warm water. Let the mixture blend for 20 seconds to come together. It will start to pebble up before it fully combines. 
Let the ingredients come together in the food processor. Then take it all out on a surface. Squeeze and give the dough a circular shape.
This can take about 45 to 60 seconds of gentle kneading. Afterward, take this dough to a bowl. Let the dough rise to room temperature for two hours. And, that's it.
Step-2: Make The Sauce
Now, shift to make the sauce. To let you know, many of the sauce-making processes follow to cook the sauce. But, try not to cook this. 
So,put the sauce, tomato paste, dried oregano, salt, and sugar in a pot. Then blend them in a blender. If you can use an immersion blender, that's great. Otherwise, you can add all these to a blender and mix it all up. And there's our sauce.
Step-3: Assemble The Pizza
Coming to toppings, you need to have your pepperoni and cheese ready. Many pizzerias go with pre-sliced pepperoni. You can get that as well. However, if you don't have the pre-sliced version, just cut your pepperoni stick into  8 inches slices. 
Now, grate your cheese in a bigger shredded portion. Also, keep your cornmeal ready to give the pizza a better texture. 
We are almost to the endgame. Now, we'll be making the pizza and it won't take any more than 15-20 minutes. 
So, get the dough now. You need to preheat the dough at 550 degrees. Then, knead the dough for a few minutes. Then, let the dough rest for 15 minutes.
Grab your dough and a roller now. Start rolling the dough in a flat pizza board that has a width of 6-7 inches.
Now, put some cornmeal over a pizza board and place the crust over it. Then put the sauce and spread it over the crust.
Next, Place the shredded mozzarella cheese and pepperoni slices on top. Put a good amount of spicy banana peppers as well. Sprinkle some generous amounts of Parmigiano-Reggiano and Dried Oregano.
Right after that, we'll let it bake in the oven for 10 minutes at 550 degrees. You will see a dark and crispy bottom crust with brown cheese. That's when you need to take out your pizza.
After that's done, you'll get a brown-orangey color over it. So, that's it! Your trip to Chicagoland is all ready! 
Some Important Tips
If you go through the steps, you can easily carry out the recipe. But in case you want to know more, here we got some tips.
Do Barnaby Come With Vegan Options?
Yes, they do. Their Mishawaka Veggie Crust Pizza is a gluten-free pizza. Season the raw mushroom and add pickled red onion to get a gluten-free version. Or else, you can try basil leaves, garlic, olive oil, and Calabrian chilies.
Why Is My Barnaby Pizza Crust Hard? 
It's possible that it was baked for too long at a low temperature. The pizza must be baked quickly at a high temperature to achieve a good crust. Some reasons for hard pizza crust include overly hard dough, improper rising, or the use of a rolling pin.
Now, you have a complete recipe for your Barnaby pizza. 
So, what are you waiting for? Grab a bite of this delicious Barnaby freshly baked at your home.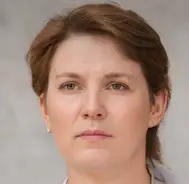 Latest posts by Leah Greenstein
(see all)